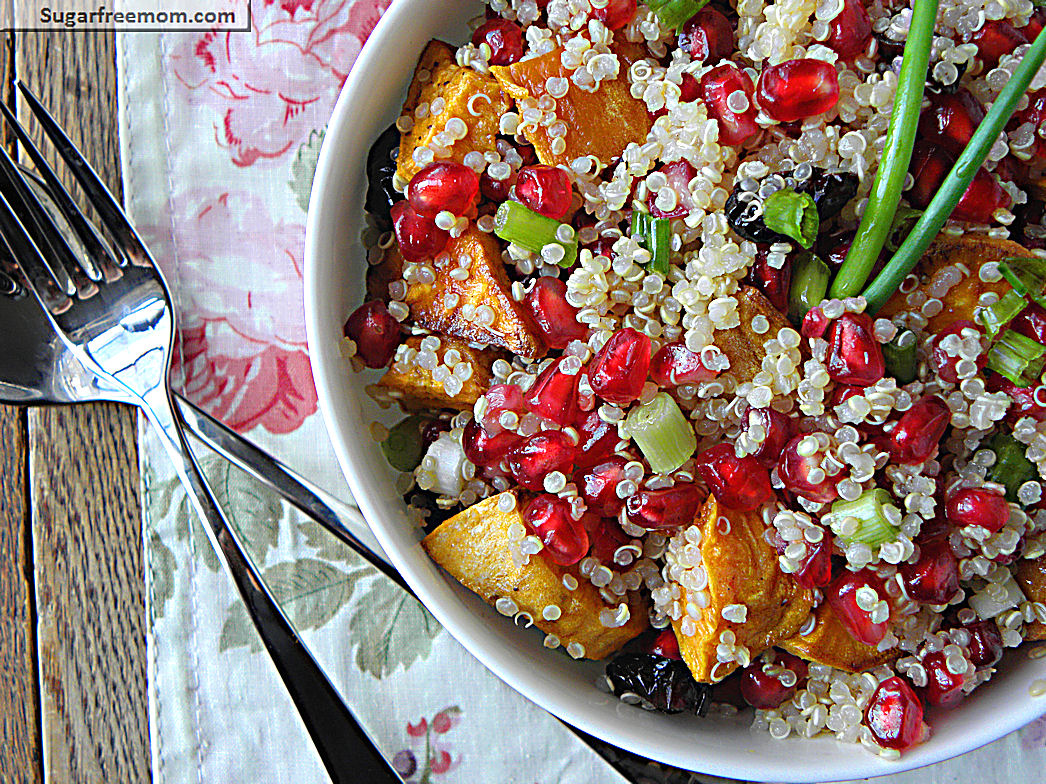 Savory and sweet eloped, married and made this beauty! A delicious dish served with roasted sweet potatoes and sweet fresh pomegranates.The pomegranate not only adds an a nice contrast to the savory sweet potatoes but incredible color that makes this dish so inviting.
The other star player in this dish is the fabulously healthy quinoa! If you've never made a dish with quinoa before this is on the one to try first! Quinoa packs a healthy punch of protein and vitamins providing a high quality main dish or side dish meal.
Adding a simple dressing makes this an easy dish to serve for yourself or company any day of the week.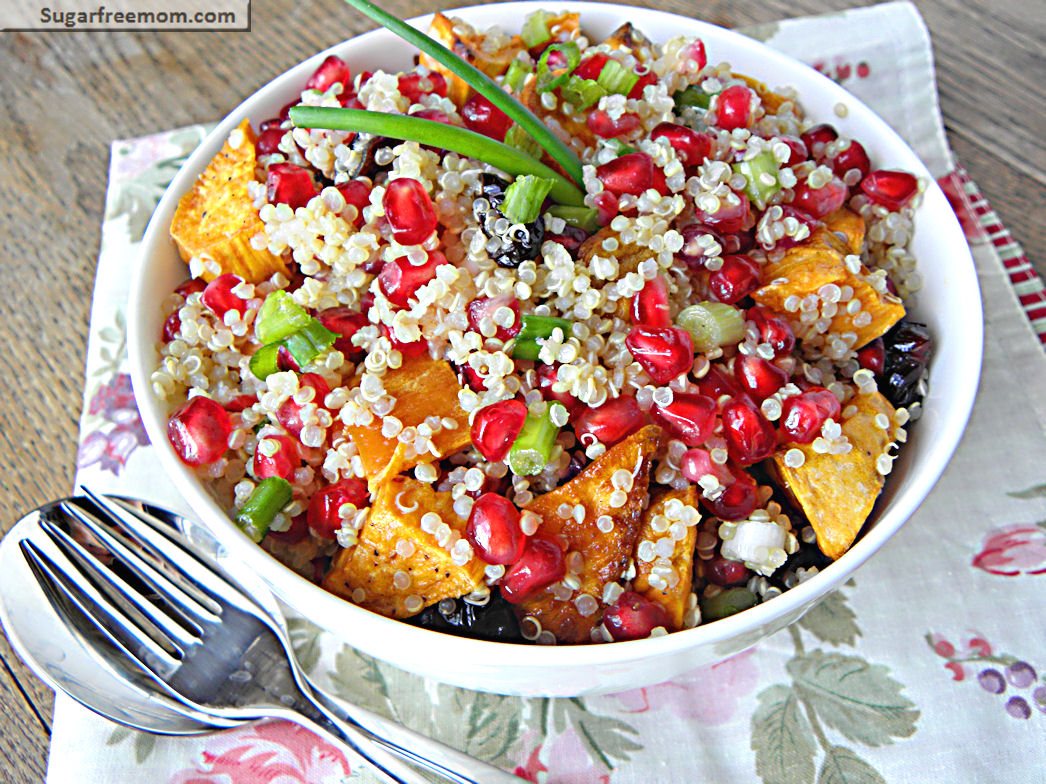 Nutrition Info
Servings: 2*( Main Dish) Calories per serving: 556* Fat: 25g* Cholesterol: 0mg* Sodium: 388mg* Carbs: 90g* Fiber: 14g* Sugars: 38g* Protein: 9g* Points+: 10*
Servings: 4* ( Side Dish) Calories per serving: 278* Fat: 13g* Cholesterol: 0mg* Sodium: 194mg* Carbs: 45g* Fiber: 7g* Sugars: 19g* Protein: 4g* Points+: 5*
Pomegranate Sweet Potato Quinoa
[sc:Ziplist]
Ingredients
2 cups chopped, peeled sweet potatoes
1 tablespoon canola oil
¼ teaspoon salt
¼ teaspoon pepper
2 scallions
1 cup cooked quinoa*
¼ cup dried cranberries, no sugar added
Dressing
2 tablespoons olive oil
2 tablespoons apple cider vinegar
salt & pepper to taste
*Click the highlighted links to see how to clean a pomegranate easily and how to cook qiuonoa.
Directions
Preheat oven to 400 degrees. In a bowl mix olive oil and sweet potatoes together, lay on baking sheet. Season with salt and pepper. Bake for 30 minutes. In a serving bowl mix together pomegranate seeds, scallions, quinoa, dried cranberries and toss with dressing. Once sweet potatoes have baked and cooled add to the rest of the ingredients. Serves 2 or 4.