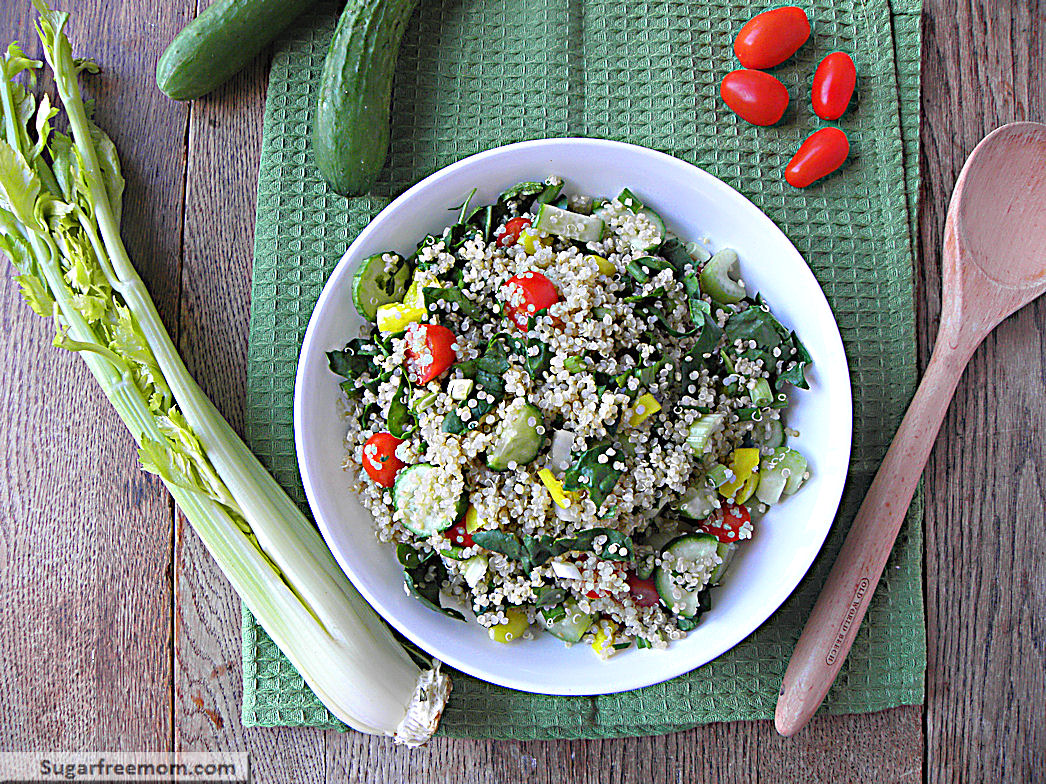 If you are looking for a perfect meatless dish filled with tons of healthy veggies, this is your recipe!
A wonderfully easy recipe requiring only the chopping of the veggies and the boiling of the quinoa. No draining needed, toss together then add this fantastic dressing below.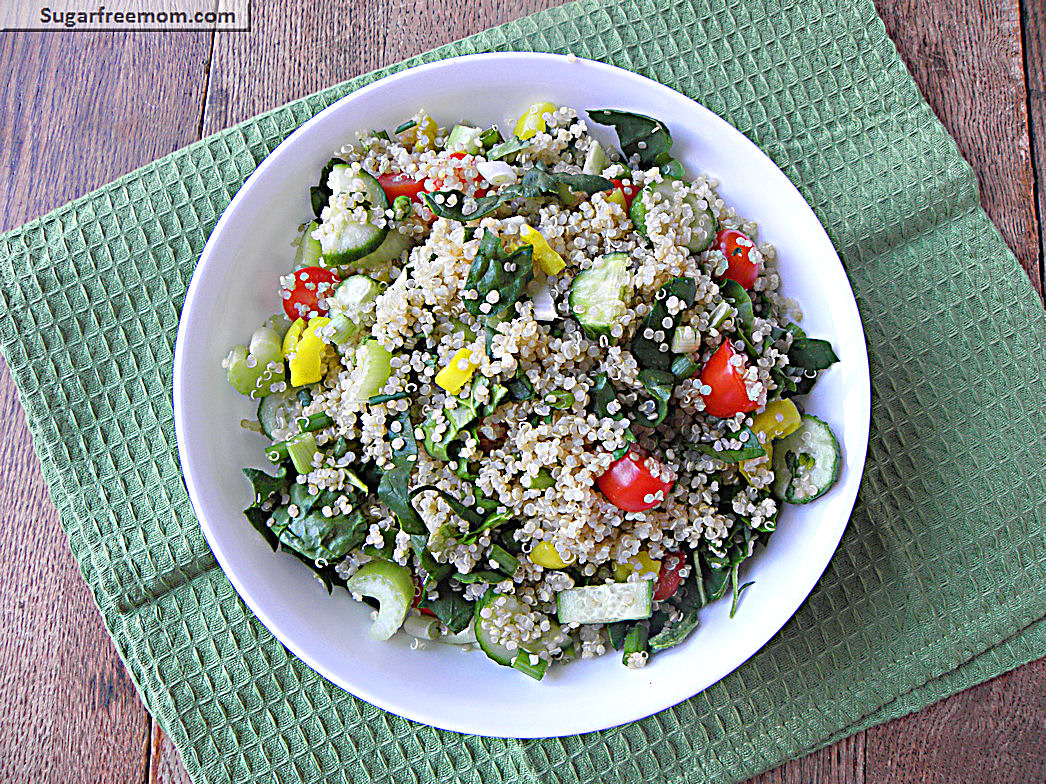 Made once and eaten twice or more. If you don't have to share it with anyone, YOU will LOVE feasting on this all by yourself over a few days. I did 🙂
My MEAT loving hubby was intrigued, had a few bites and really liked it!
THAT says A LOT!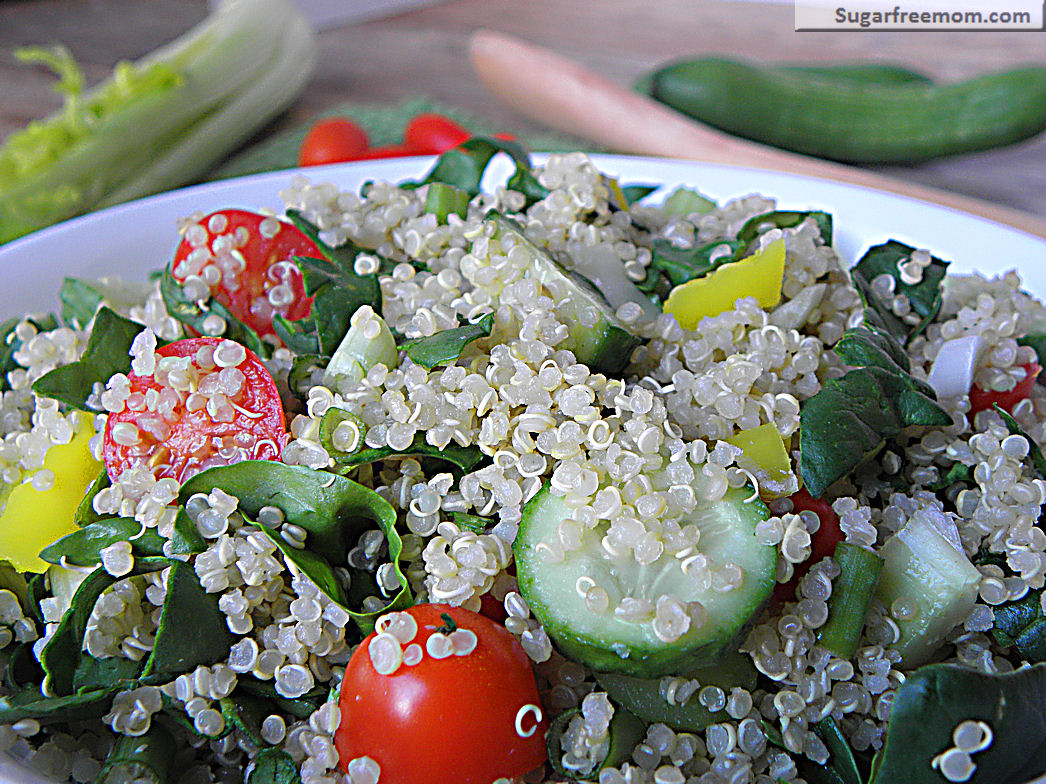 Seen here without the dressing at the time, but once tossed with......oh my! Be careful not too overeat on this salad.
Overeat on a salad?
Yes. I'm serious. You will really want to. 😉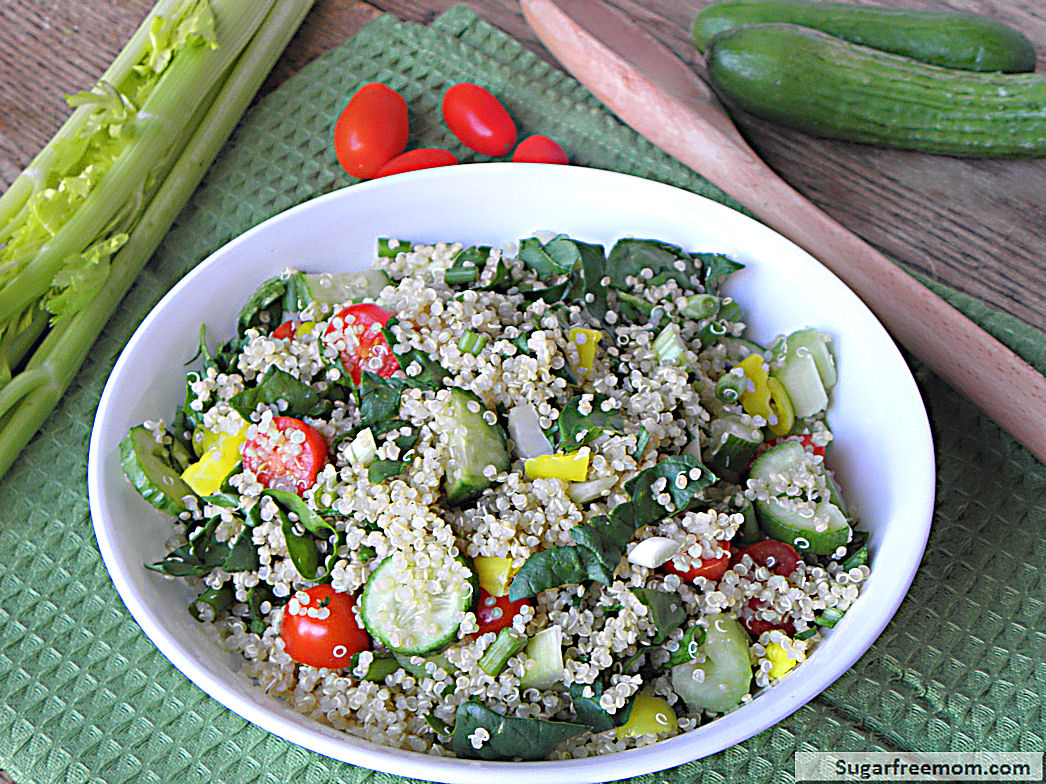 Vegetable Quinoa Salad with Balsamic Dressing
[sc:Ziplist]
Ingredients
1 cup uncooked quinoa
2 cups water
1 cup fresh (packed) spinach
1 stalk celery, chopped
1 cup sliced cucumber
1 cup cherry tomatoes, halved
2 scallions, chopped
¼ cup mild banana peppers rings
Balsamic Dressing
2 tablespoons extra virgin olive oil
2 tablespoons balsamic vinegar
½ teaspoon salt
½ teaspoon pepper
1 teaspoon minced garlic
½ teaspoon garlic powder
Directions
Place one cup of dry uncooked quinoa in a pot with water. Bring to a boil. Cover and simmer for 15 minutes until all water is absorbed. Remove from heat and allow to cool. In a large serving bowl add your chopped vegetables. In a small bowl whisk together dressing ingredients. Combine cooled quinoa with vegetables and toss with dressing. Makes about 4 ½ cups.
Nutrition Info
Servings: 4* Calories per serving: 247* Fat: 10g* Cholesterol: 0mg* Sodium: 318mg* Carbs: 33g* Fiber: 4g* Protein: 7g* Points+: 6*
Other Quinoa recipes you might like: