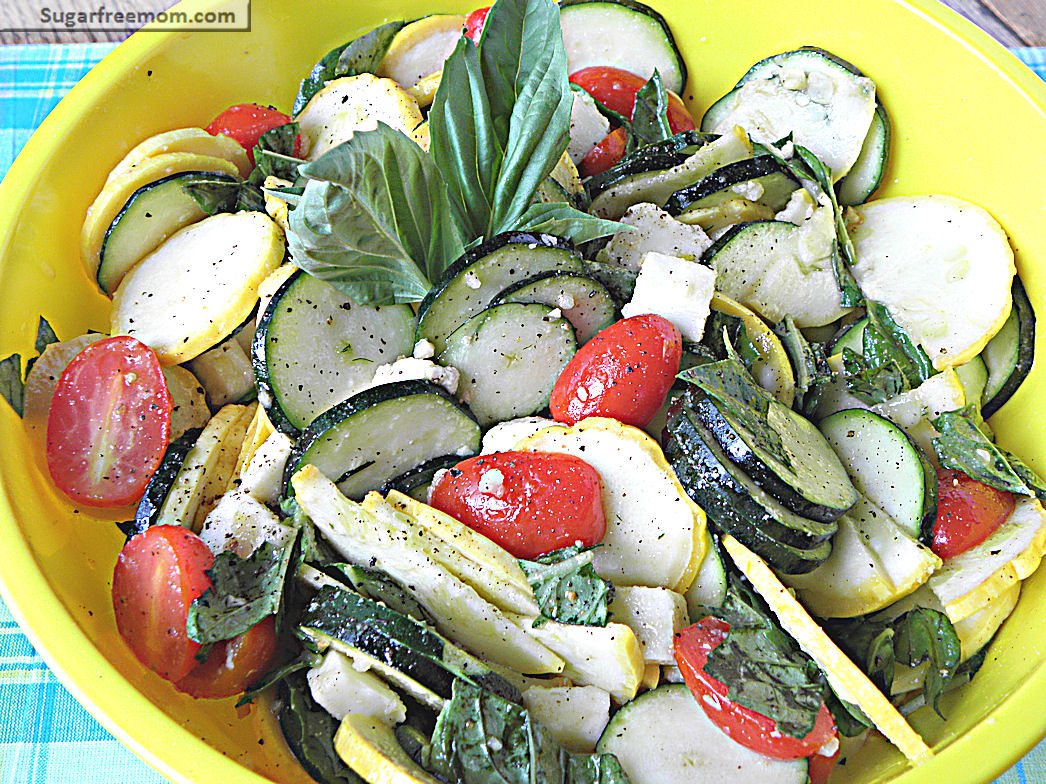 Zucchini and summer squash are abundant at this time of year. If you are looking for a great way to use some up if you have too many from your garden this recipe is perfect for you. Takes not time to slice these up, toss with a terrific dressing and it is a perfect side dish to any meal or even served as an appetizer for a party.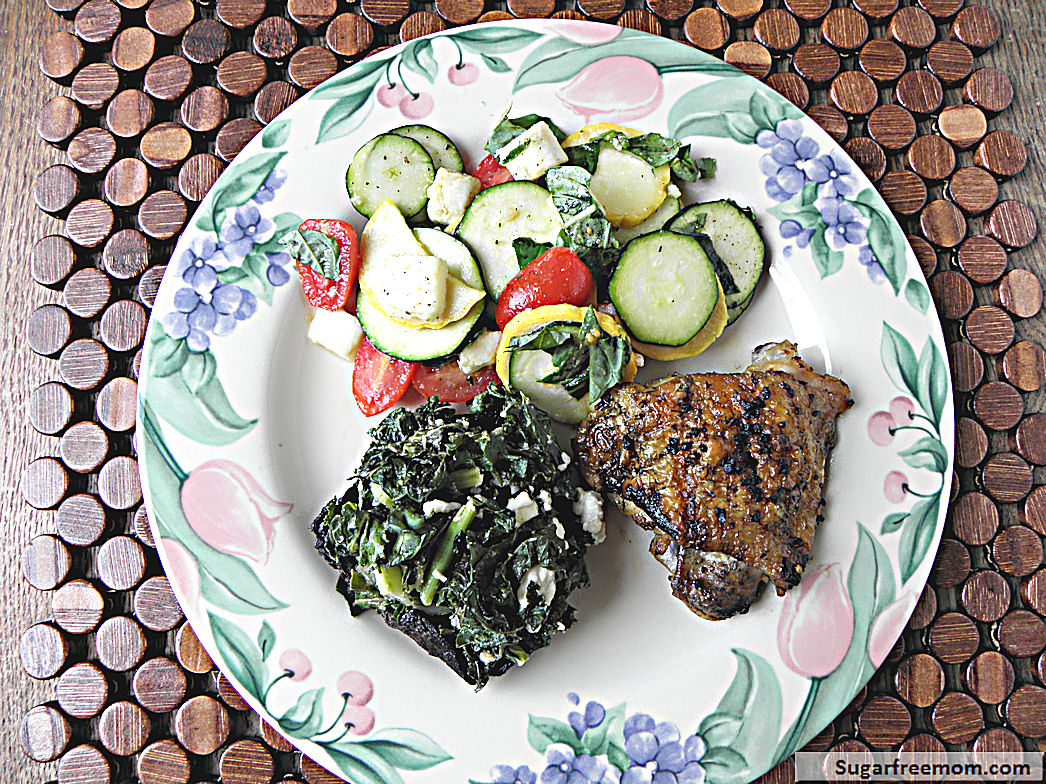 This past week you saw my Feta Kale Stuffed Portobello Mushroom Caps recipe and probably remember seeing this plate too. 🙂 I enjoyed this zucchini salad with a grilled chicken thigh and my huge mushroom and it was super filling and satisfying!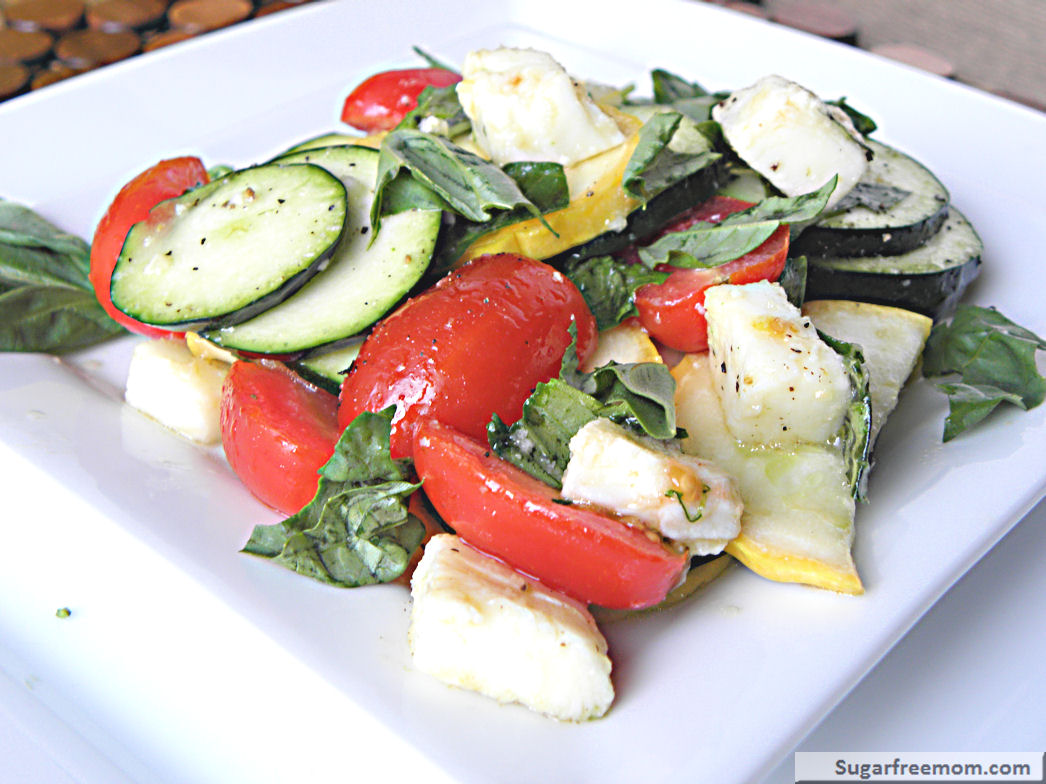 Having a delicious caprese salad has always been and will always be my favorite salad of all times. Unfortunately I like to eat too much of it, specifically the delicious mozzarella. Adding a good amount of zucchini makes for a great filler so you really won't even notice you are eating less mozzarella in the whole dish.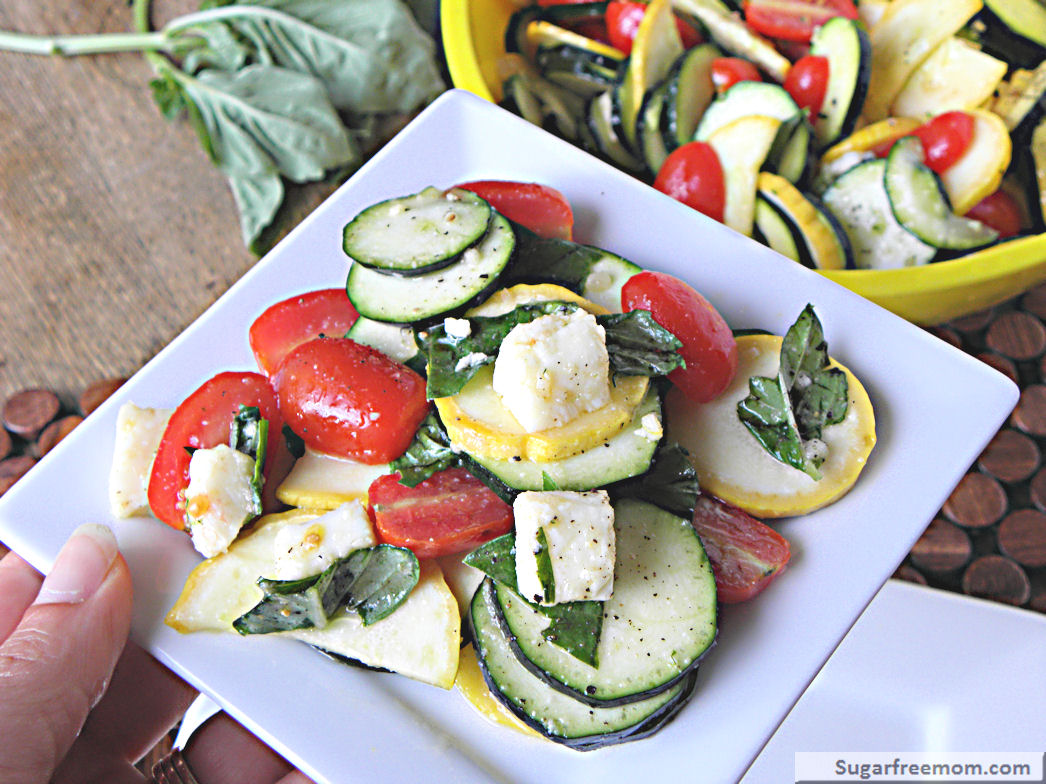 Raw Zucchini Squash Caprese Salad
Author:
Prep time:
Total time:
Ingredients
2 medium zucchini or 4 cups sliced
1 large yellow summer squash or 2 cups sliced
2 cups grape tomatoes, halved
1 cup fresh basil, coarsely chopped
4 ounces mozzarella, cubed
Dressing
2 tablespoons extra virgin olive oil
2 tablespoons red wine vinegar
1 teaspoon minced garlic
1 teaspoons salt
1 teaspoon garlic powder
pepper to taste
Instructions
Add all vegetables, basil and cheese to a large bowl.
Whisk dressing ingredients together in a small bowl and toss over vegetables. Gently stir to combine.
Chill or enjoy immediately.
Keep refrigerated for up to 3 days.
Serving size:
1 cup
Calories:
87
Fat:
6g
Carbohydrates:
5g
Sugar:
3g
Sodium:
98mg
Fiber:
1g
Protein:
5g
Cholesterol:
9mg
Notes
Weight Watchers PointPlus: 2*
The Sugar-Free Mom Cookbook has been Released!! Hitting shelves in days and Amazon is selling it at a discount right now!