These Sugar-Free Brownies are incredibly fudgey and easily made gluten free!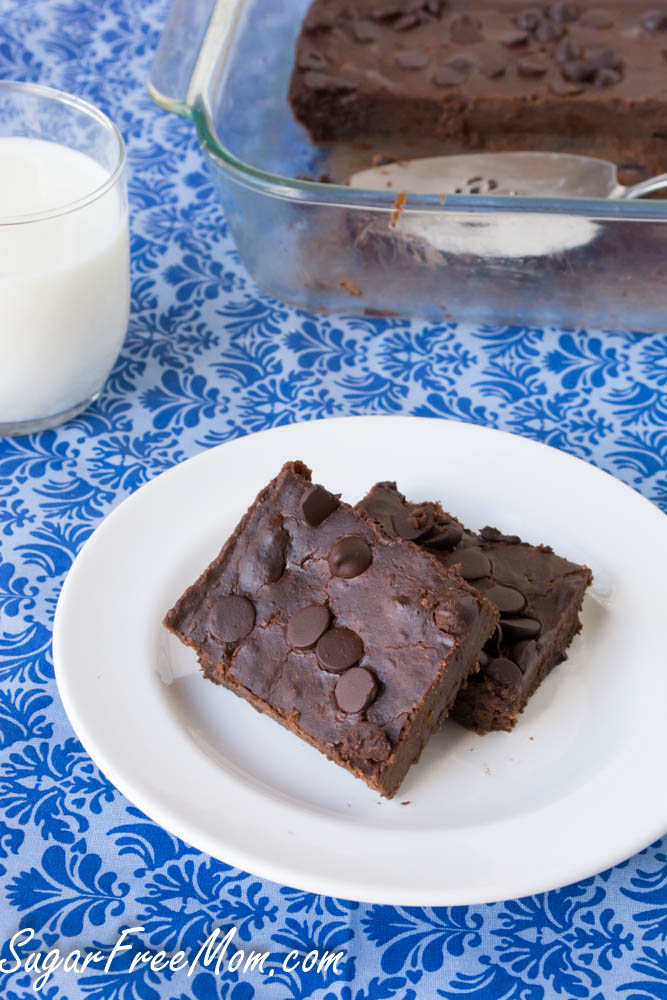 This recipe was originally published on January 11, 2012 and it sure is a very popular recipe to date, but since then I discovered my allergies to wheat, so I wanted these to easily be adapted for a gluten free life style. Now you can make these whole wheat or gluten free and of course without any sugar added!!
My more popular brownie recipe on my blog is the flourless brownie recipe, but sometimes I run out of that secret ingredient. When I made this recently for the kids, they fell in love with them all over again and dare I say think they are better than my flourless recipe?!! Either way this recipe is a winner! You can make both then decide!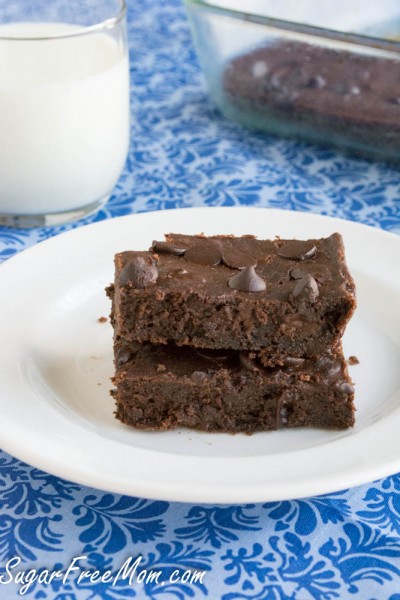 Of course my other motivation for making these wasn't just to make my kids happy, I wanted to get rid of the horrid pics I took back then!! But I did leave one below for you to laugh at. 🙂
If you can't find sugar -free chocolate chips you can use the highest grade of cocoa you can find in chocolate chips or even a candy bar and break it into pieces. I use Lily's sugar free chocolate chips because they are sweetened with stevia.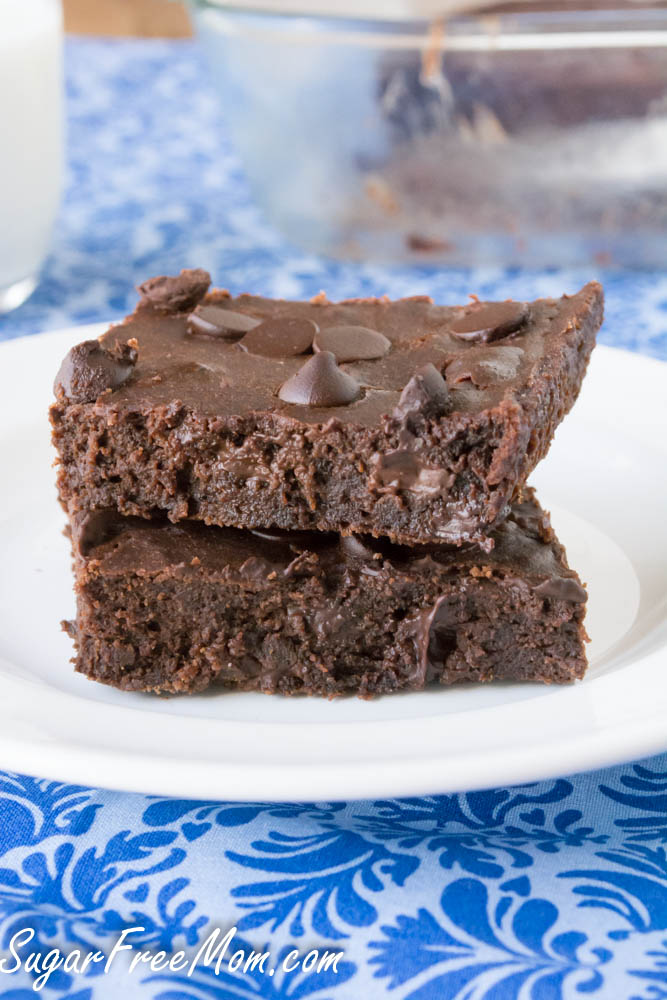 SO now after you wipe the drool off your chin you can laugh below at the horrid and sad pictures I left just to amuse you today!
(OLD SAD PIC)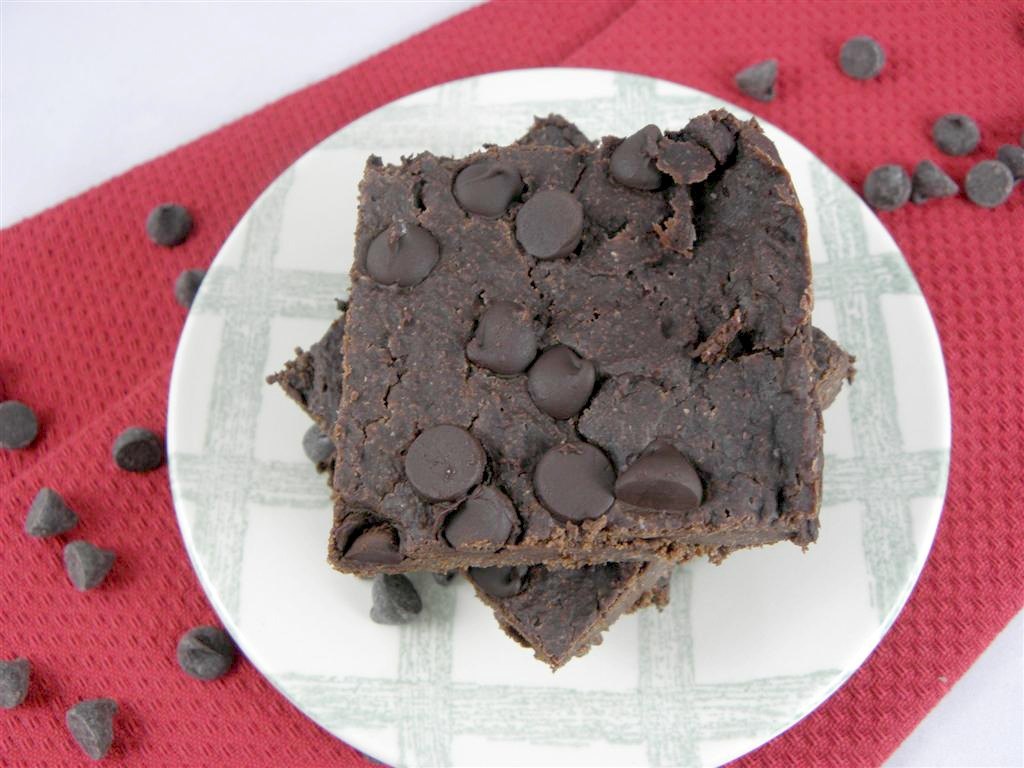 (OLD SAD PIC)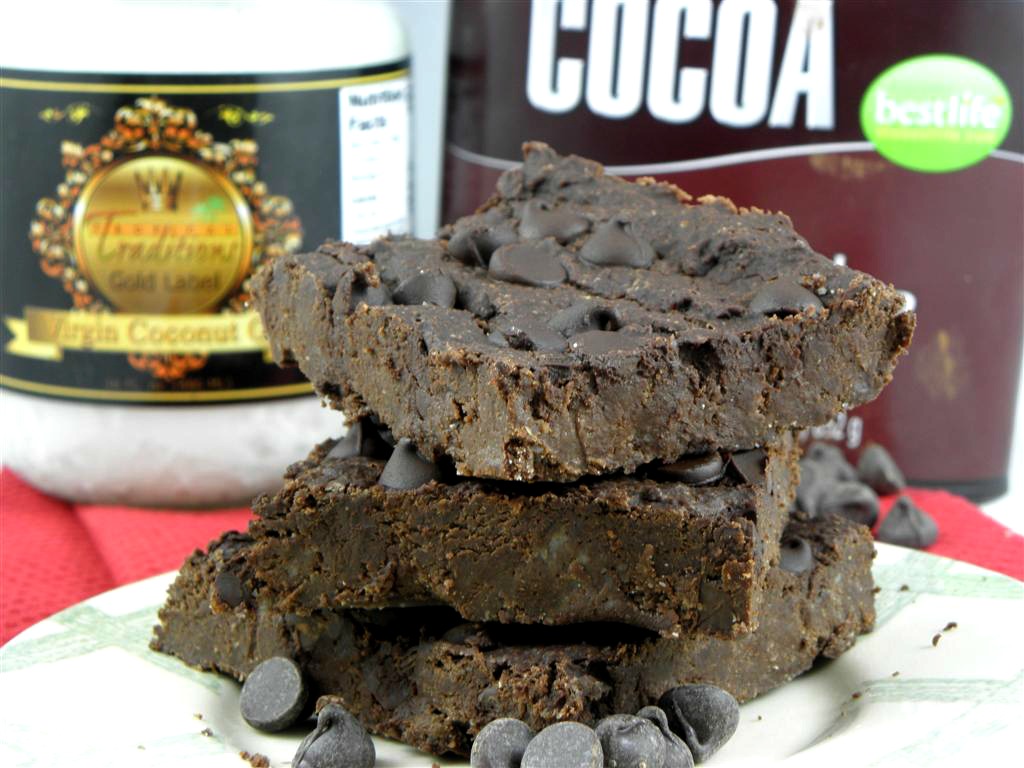 I have tried making a bunch of sugar free brownie recipes and really love how these came out. I had guests and never shared they were sugar free, in fact one guest actually ate 3!!!
See its not that because I choose a sugar free life style that I have to give up chocolate! No its just that I need to make it more pure and more wholesome than boxed brownies without refined sugar that causes ....well.... you know the after effects of sugar highs don't you? If you haven't read my post about the sugar-free sweeteners I choose to use you may want to read, Top 3 Refined Sugar Free Sweeteners to get more info.
Embrace the chocolate I say!
Its not your enemy.
Now refined sugar THAT is not my friend! It causes me too much grief to allow it back in my life. You can read about my sugar free journey here.
You won't feel awful or get a spike in blood sugar after eating one of these scrumptious brownies, but I guarantee you may not be able to eat just one! A nice addition to these brownies would be to add some chopped walnuts. Unfortunately my boys are allergic but I can only bet they would be even more yummier!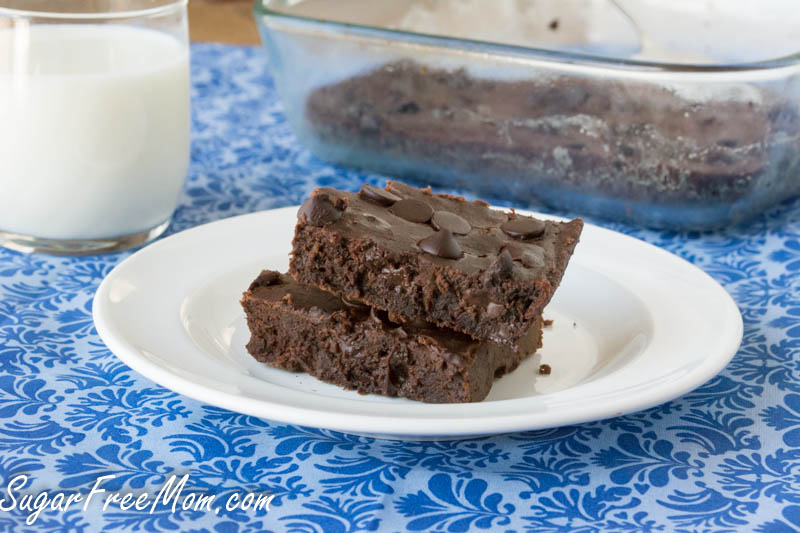 Brenda's Notes: (Updated April 16, 2014)
I adapted the temperature in the original recipe reducing the time to bake these.
I added an egg as one was not in the original, but if you have an egg allergy you can sub a flax egg or leave it out entirely.
I also subbed butter for the coconut oil in the gluten free version, but either will work.
To make this gluten free: Remove the whole wheat pastry flour and substitute it with your favorite gluten free four blend. I used Bob's Red Mill. Add ½ teaspoon xanthan gum.
Use 2-4 packets Sweetleaf Stevia (4 makes them super sweet) or 4 -6 tsp. of this powdered stevia by Sweetleaf.
Pure stevia extract is used within the recipe so I could compare and because it is the extract it is much sweeter and you do not need as much.
Nutrition info has been updated to include sugar free chocolate chips where the original was optional.
P.S. I realize that the title of these is Sugar-Free brownies and applesauce is included in this recipe, But because it is only a small amount the natural sugar is still only 1 gram.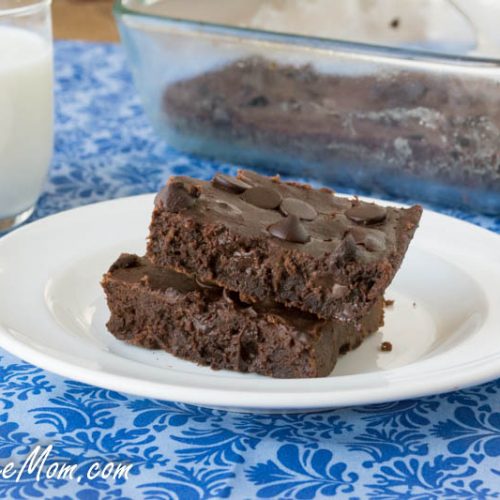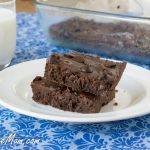 Print
Sugar Free Chocolate Brownies Recipe
Instructions
Preheat oven to 350 degrees.

Whisk together oil, milk, vanilla, applesauce and egg.

Add cocoa, flour, baking powder, salt and stevia (xanthan gum for gluten free) and mix well.

Stir in chocolate chips.

Add optional nuts if desired.

Line an 8 by 8 baking dish with parchment paper.

Pour batter into pan and top with a few more chocolate chips if desired.

Bake for 20 minutes.

Allow to cool for about 10 minutes before slicing.
Notes
Weight Watchers PointsPlus: 4*
Nutrition
Serving:
1
g
|
Calories:
127
kcal
|
Carbohydrates:
15.8
g
|
Protein:
2.7
g
|
Fat:
8.4
g
|
Saturated Fat:
5.8
g
|
Cholesterol:
15
mg
|
Sodium:
102
mg
|
Fiber:
3.7
g
|
Sugar:
1
g