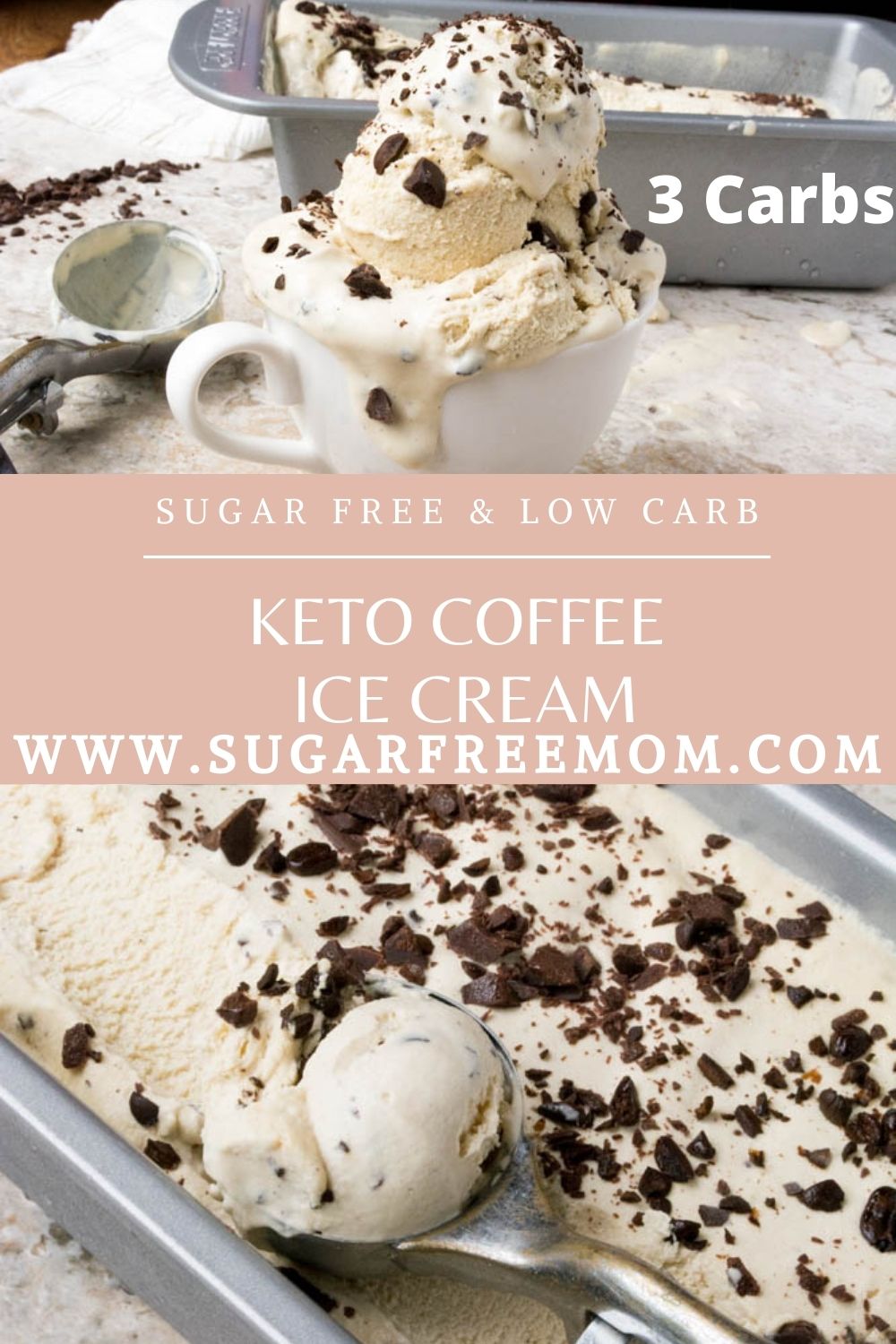 This Sugar-Free Keto Coffee Ice Cream is low carb, gluten free and guilt free! Just 3 total carbs per serving!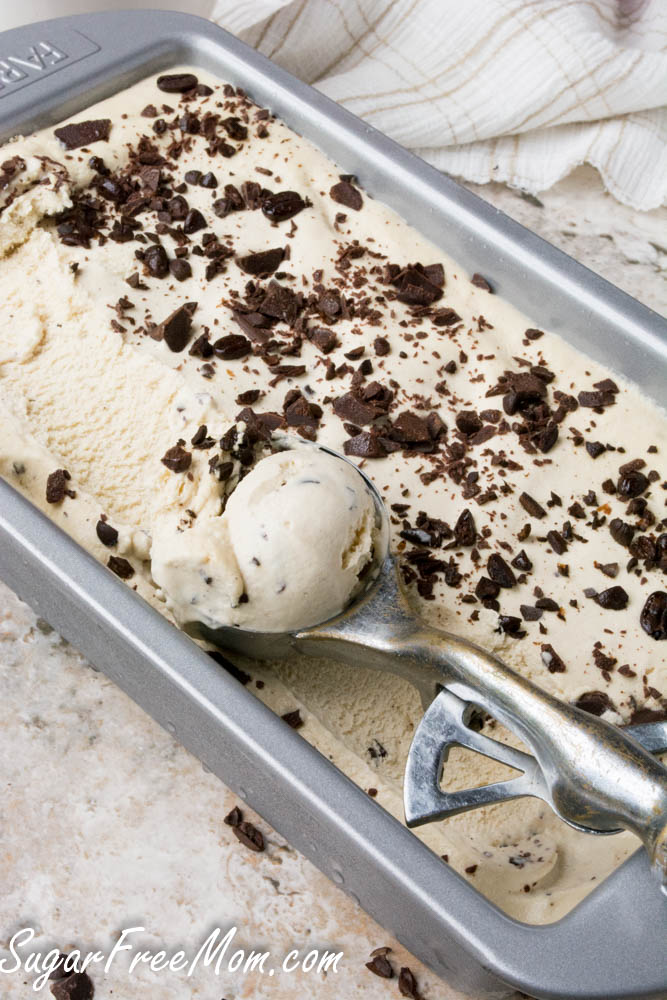 One bite of this creamy sugar free keto coffee ice cream and you'd never know it was sugar free or low carb! In fact, I think it might easily convert someone over to the sugar free, low carb life style in just a single bite!
Father's Day is coming up and every year I try to WOW my hubby with an awesome example of a sugar free and low carb dessert that tastes anything but healthy. He's never been a fan for this way of life as much as I have. I'm always trying to get him to come over to my side and that means through his stomach of course.
What better treat than ice cream to show my love how much I love him! Going the extra mile when it comes to treating him special, will show love more than even words can say. I know it means a lot to my hubby and he appreciates the time I take to make him something spectacular. And this recipe is spectacular!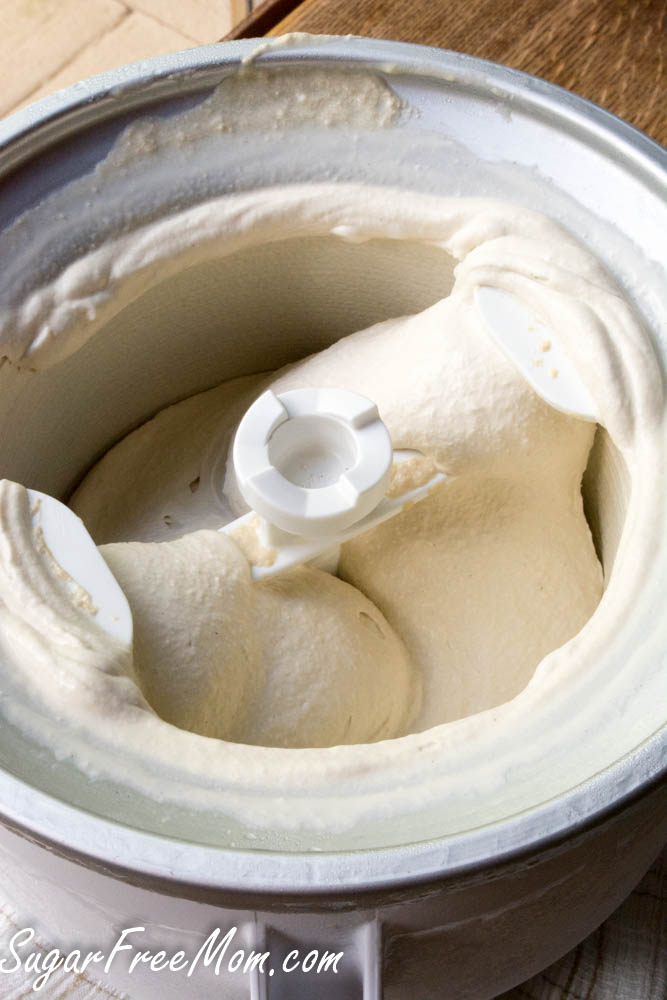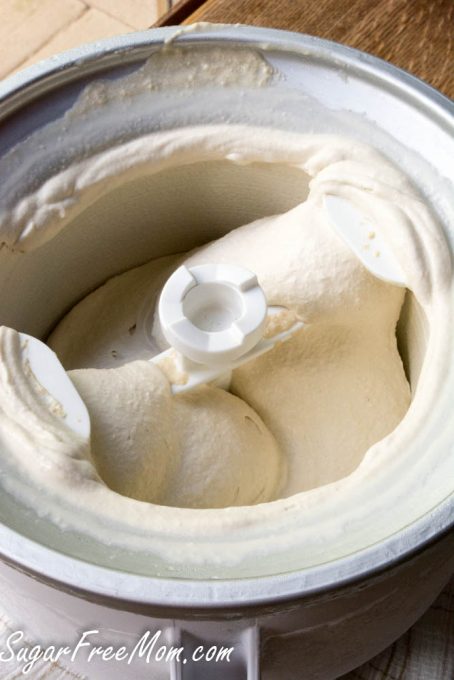 CAN I MAKE THIS WITHOUT AN ICE CREAM MACHINE?
Using an ice cream machine is truly the very best way to create that texture of ice cream you'll remember from before your low carb days. If you have a stand mixer, like a KitchenAid, you can get an attachment to make ice cream so you wouldn't need another separate appliance. I have this one.
If you really want to try this recipe, but don't have an ice cream machine, you could whip the heavy cream to stiff peaks then follow all the instructions through step 7, and fold the whipped cream into the mixture on the stove. Pour into the loaf pan and freezing. I can't say this is the best method for a creamy ice cream, but let me know if you do try it.
ANOTHER OPTION is to make my COFFEE SEMIFREDDO which is exactly this recipe but no churning and no ice cream machine needed!
For the best results I highly recommend using an ice cream machine or attachment.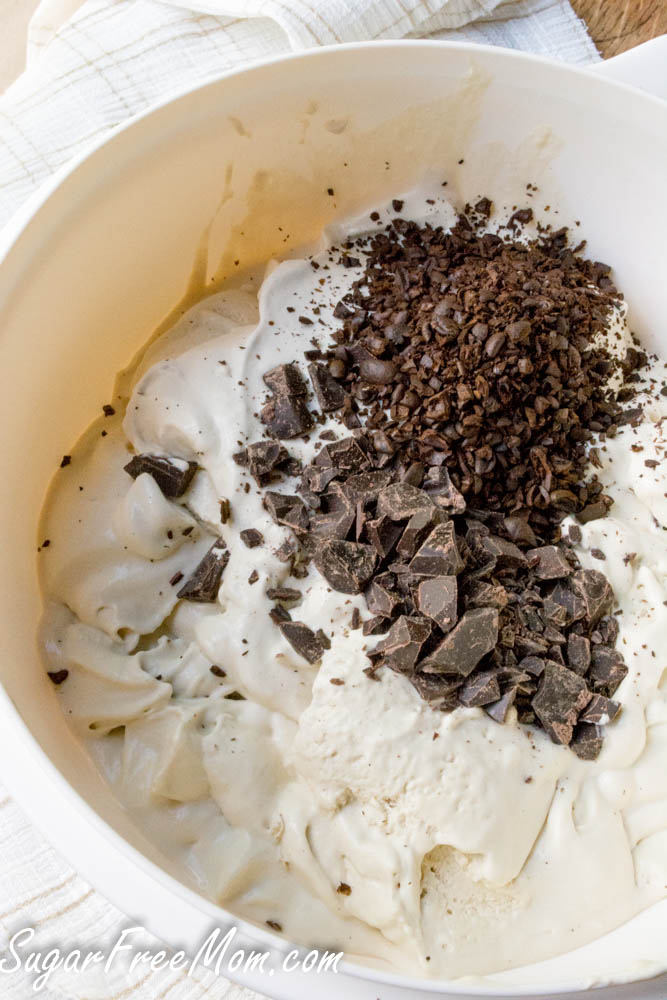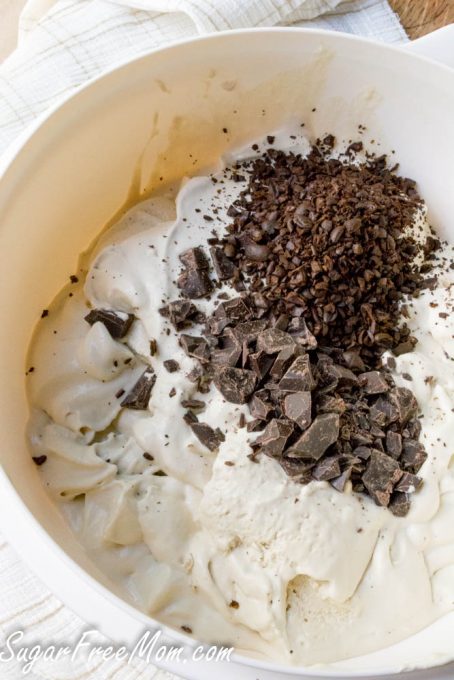 CAN I SWAP THE SWEETENERS USED?
In June 2016, I created this recipe using Swerve confectioners sweetener and adding vodka to keep the texture soft. Swerve confectioners sweetener is low carb, but doesn't have as much sweetness as typical sugar, only about 70% as sweet.
Over the last few years I've been having better luck with ice cream texture using liquid Allulose. Allulose comes in a liquid, and granulated form. You should only use the liquid form for this recipe.
In my opinion, Allulose is the best option for ice cream, but again it isn't as sweet as using other sugar free sweeteners so that is why I also include vanilla liquid stevia to make this ice cream sweet enough.
Use my updated Sweetener Conversion chart to look up the different sweetener options and find the right amount to use.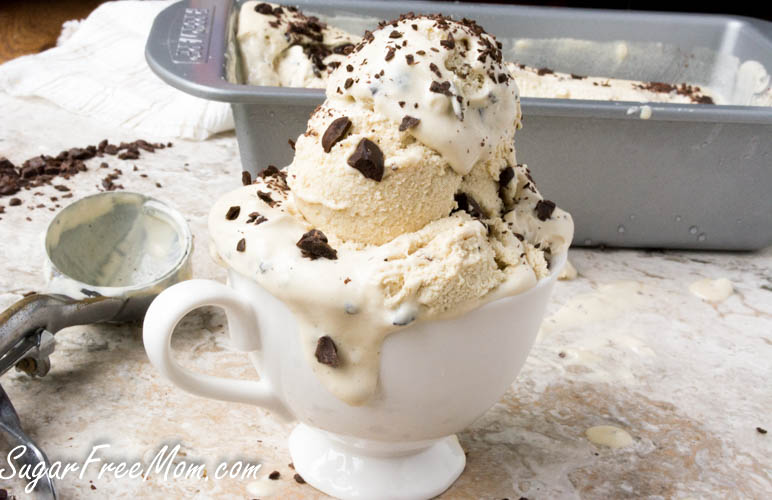 CAN I LEAVE OUT THE COFFEE?
Ice Cream is my hubby's favorite dessert of all time and the flavors of something coffee inspired make him even more delicious with happiness. He's not much of a chocolate fan, but I am, so I had to throw in a little just for me!
But if you or your hubby are not fans of coffee flavored ice cream, yes you could leave it out. Though you will need to replace the liquid amount of coffee used with something else. You could use more Half & Half or heavy cream.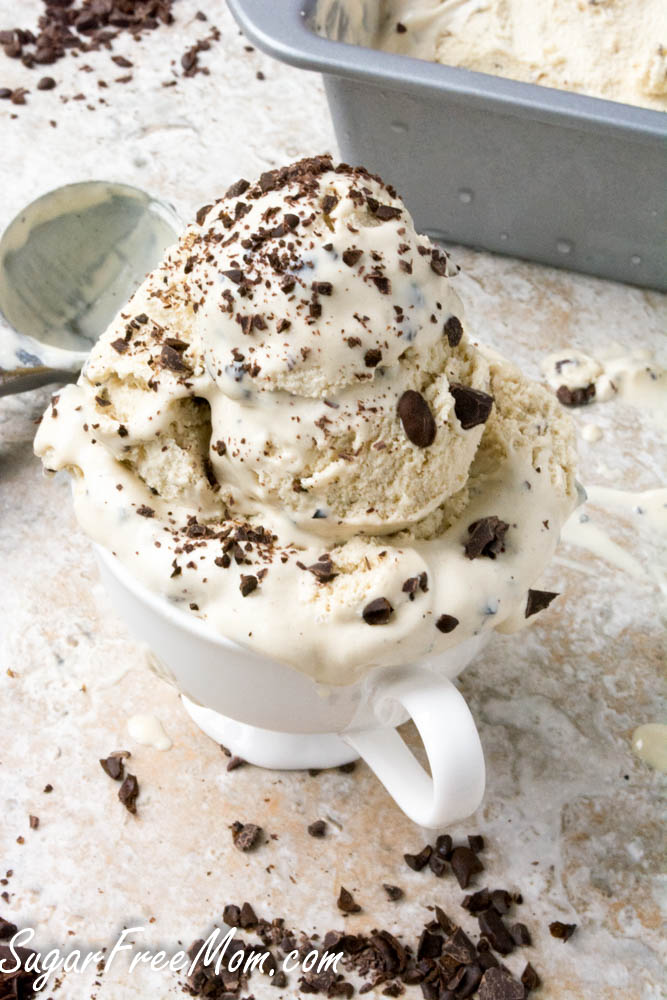 DO I HAVE TO USE THE VODKA?
If you decide to make this without and ice cream machine or you plan to use another sweetener besides Allulose, then yes I would say you definitely want to keep the vodka in the recipe to help with softness and texture of the ice cream after freezing.
My husband thought this was one of the tastiest ice creams I've ever made and that it has no after taste and doesn't taste "sugar-free', which means a heck of a LOT to me!
When his tummy is happy, he is a happy man. I like to indulge him is desserts I don't normally make, just to show him how much I care and appreciate the father and husband he is.
Sure ice cream at home sounds difficult and not worth the time, but I'm here to say, it's worth it! And it's not as troublesome as you'd think.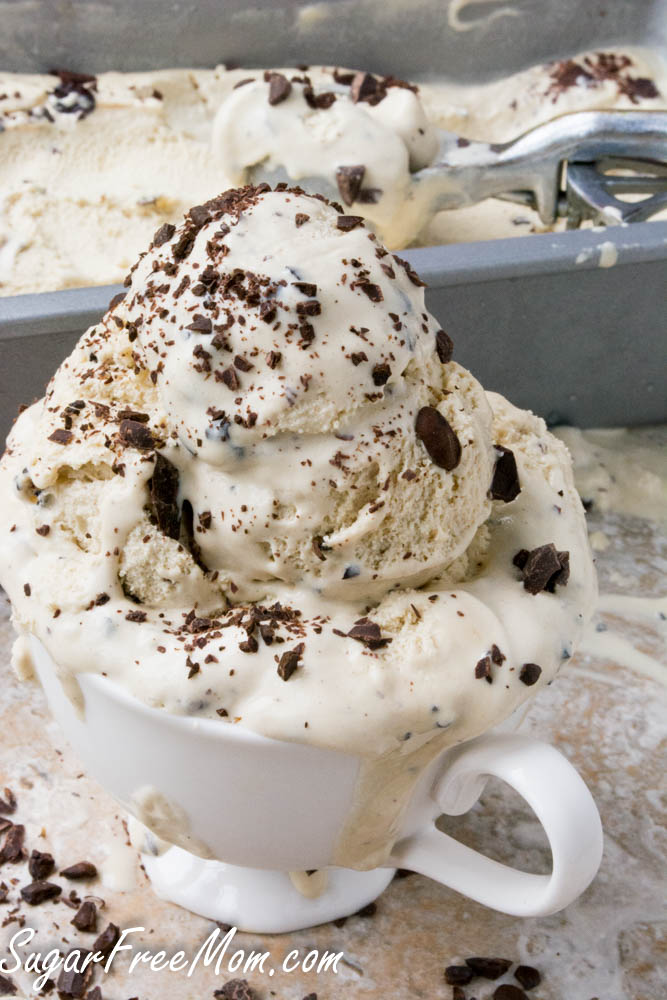 MORE SUGAR FREE KETO ICE CREAM FLAVORS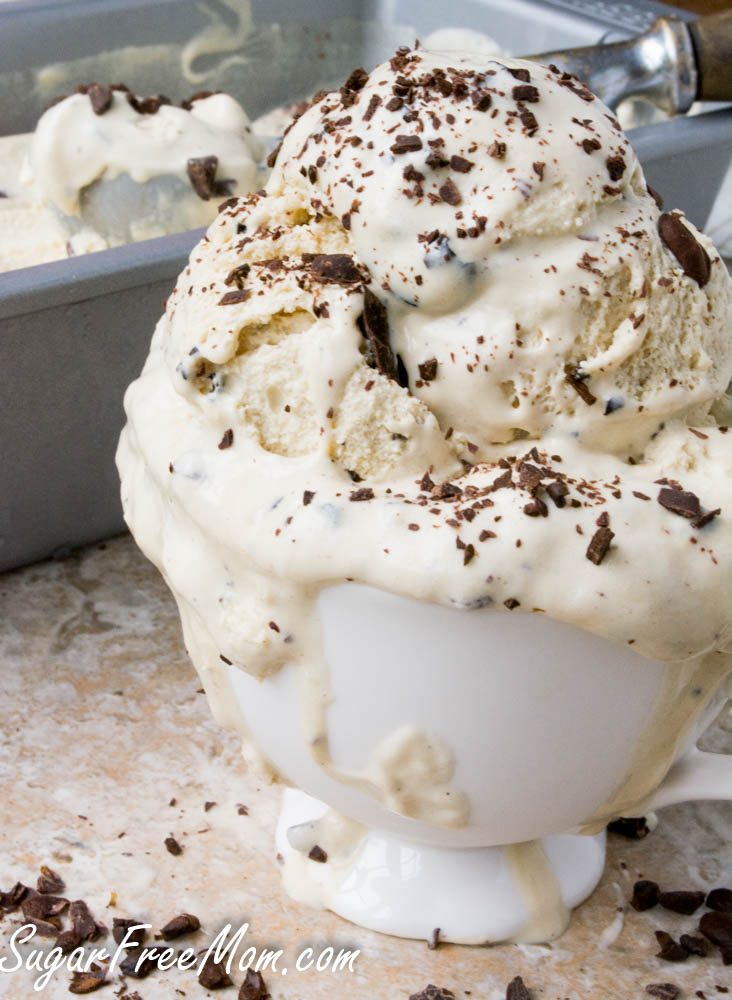 BRENDA'S BEST TIPS
Best results for ice cream if you do use an ice cream machine!
The 2.4 sugar grams are coming from the natural sugars within the cream and half and half used here.
Use a food processor for the coffee beans and chocolate to make them finer in texture if you don't like chunky bites in your ice cream or leave it out, totally optional.
The vodka helps make homemade ice cream retain its creamy texture and not get so icy once frozen overnight, but it is optional.
ALLULOSE in the liquid form is best to retain the nice soft texture after freezing.

SUGAR FREE KETO COFFEE ICE CREAM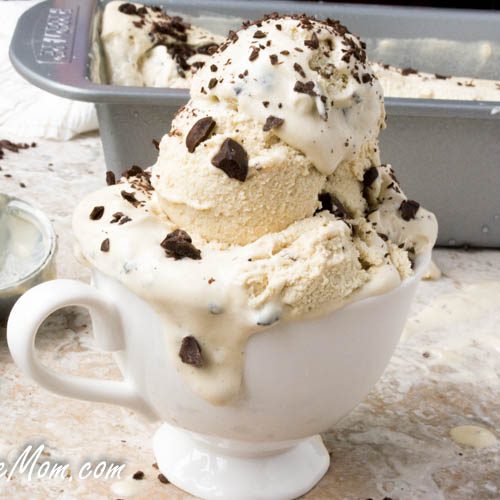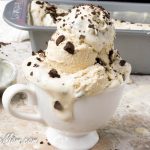 Print
Sugar-Free Keto Coffee Ice Cream
Servings
8
servings @½ cup
Instructions
Whisk the coffee, cream and instant coffee together in a saucepan over medium low heat until simmering, but do not boil.

In a bowl stir together the egg yolks, sweetener, stevia and salt.

Pour a small amount of the cream mixture into the egg mixture to temper it then gradually add the remaining egg mixture into the sauce pan on the stove.

Bring this to a boil, reduce to simmer, constantly stirring until mixture thickens and coats the back of the spoon, 175 degrees F.

Once thickened, pour into a clean bowl and allow to cool for 30 minutes.

Cover and place in the refrigerator for 2-3 hours.

Once cooled, stir in vodka if using, then pour this into an ice cream machine and follow manufacturers instructions.

I used my KitchenAid ice cream attachment and it took about 20 minutes for the texture of soft serve ice cream.

When done, remove to a bowl and stir in chocolate and coffee beans. Pour into a container of choice and freeze for 3 hours or over night.

Allow to sit on counter to soften for about an hour before serving.
Notes
Total Carbs 3g
Net Carbs 3g
This recipe was published first in June 2016 and updated in June 2021. 
Nutrition
Serving:
1
serving @ ½ cup
|
Calories:
189
kcal
|
Carbohydrates:
3
g
|
Protein:
3
g
|
Fat:
18
g
|
Saturated Fat:
11
g
|
Polyunsaturated Fat:
1
g
|
Monounsaturated Fat:
3
g
|
Cholesterol:
114
mg
|
Sodium:
60
mg
|
Potassium:
80
mg
|
Sugar:
1
g
|
Vitamin A:
290
IU
|
Vitamin C:
1
mg
|
Calcium:
60
mg
|
Iron:
1
mg