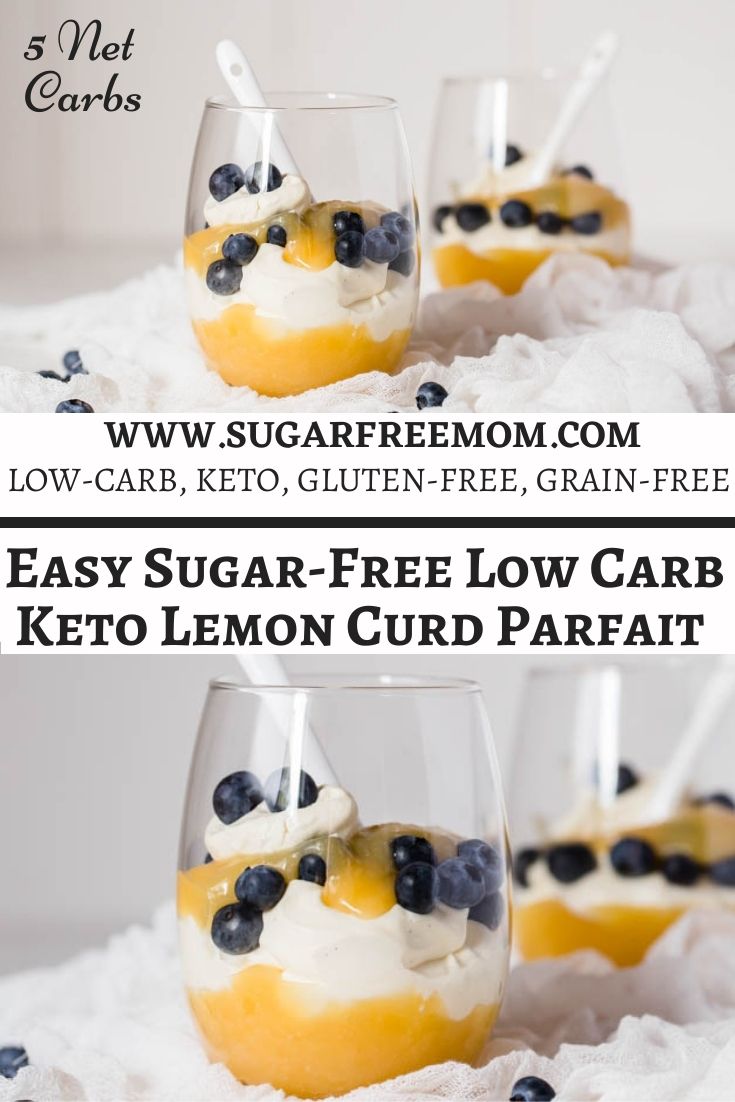 This tangy Sugar Free Keto Lemon Curd is layered between creamy Mascarpone cheese with optional blueberries, making these quick and easy keto lemon curd parfaits! Just 5 net carbs per serving!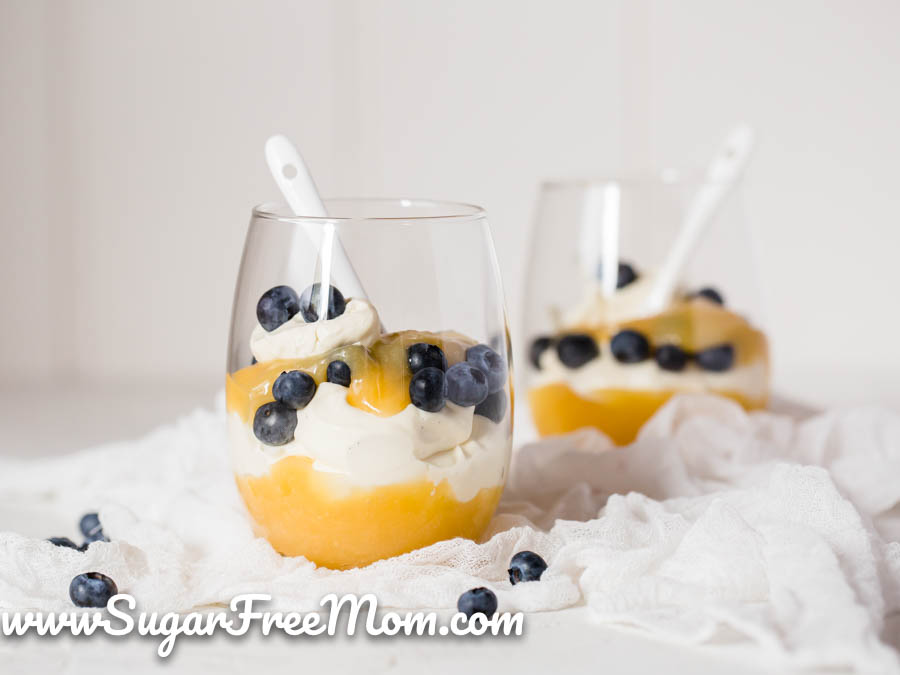 Easy Sugar Free Homemade Lemon Curd
With just 7 simple ingredients you probably already have in your keto kitchen, you can make this perfectly tart lemon curd in no time at all! All you need is an egg, fresh lemon juice, lemon zest, butter and heavy cream to make this easy low carb lemon curd.
Lemon desserts are a favorite for my hubby and dad, so making this lemon curd recipe for Father's day was a must! This wonderful recipe is a delicious, rich, thick dessert spread full of lemon flavor, almost like a lemon jam!
You could use other citrus fruits as well like lime, or orange. It's wonderful as a topping but in today's recipe with pair this tart and tasty lemon curd between luscious smooth, sugar free whipped cream.
We use mascarpone cream cheese in this recipe because it's richer and thicker in comparison to traditional cream cheese, though you could swap it out if you prefer.
About 2 ounces of a regular lemon curd recipe has 33 total carbs, according to the Cronomoter app, and will spike your blood sugar. When you are looking to lose weight, balancing your blood sugar is key for weight loss.
Our sugar free version has just as much flavor as traditional lemon curd without the sugar. Just 6 total carbs per serving and it won't spike your blood sugar so it also won't cause sugar cravings either.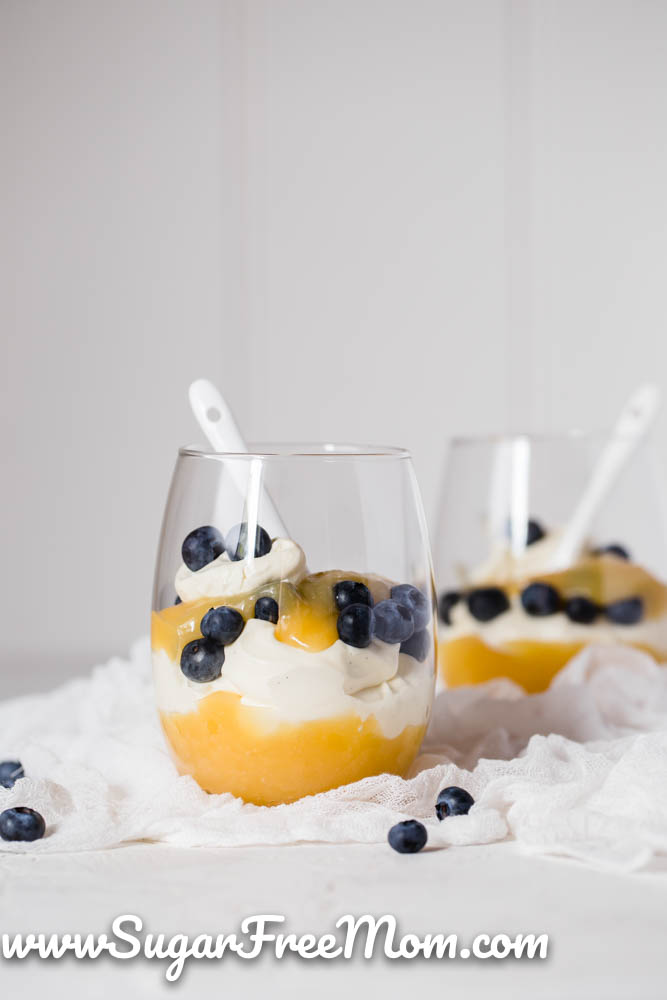 How to Enjoy Traditional Lemon Curd
You could eliminate the cream and berries to make this lemon parfait recipe and simply just use the lemon curd today as a scrumptious sugar free keto lemon spread on keto toast, low-carb bread, Keto biscuits, keto muffins, keto scones.
Tastes like a ray of sunshine in one bite without added sugar!
Tools to make Keto Sugar-Free Lemon Curd
Microwave bowl- You can make this recipe in the microwave or use a double boiler if you prefer. The microwave will be quicker to make this lemon curd but if you're opposed and have more time, opt for the drive top method below.
Double boiler - A double boiler is great to have on hand in your keto kitchen. It's something I use regularly and helps to have one rather than looking for a clean bowl to fit perfectly over a pot on the stove.
Electric whisk - Of course this isn't completely necessary, but it is convenient to help work quickly rather than whipping cream by hand for this recipe. An electric hand mixer or stand mixer will also be efficient.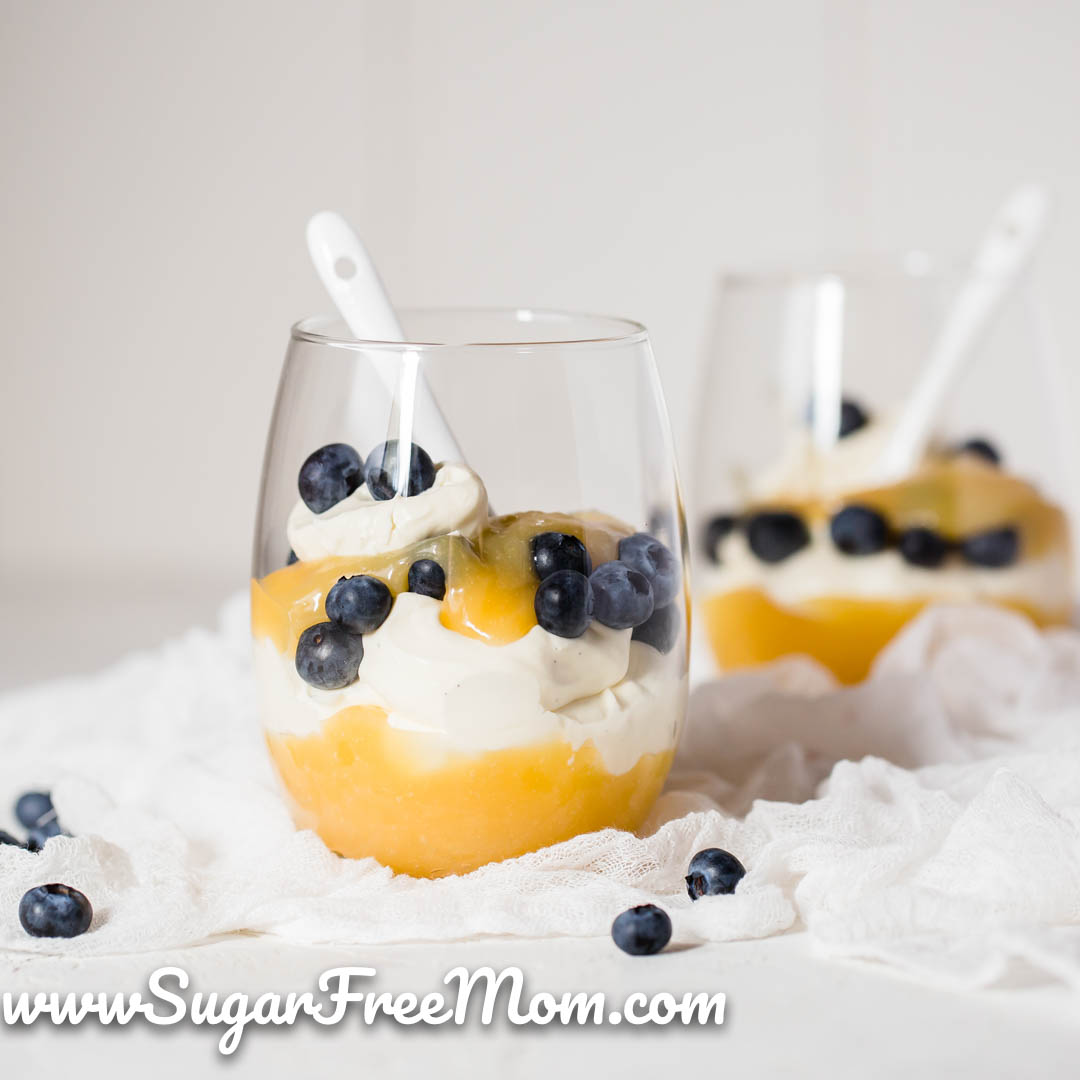 Can I change the Low Carb Sweetener?
​For the best texture for a smooth lemon curd, you will want to avoid using a low carb granular sugar alcohol. A powdered sugar free sweetener will work best.
You could also use all lemon liquid stevia or liquid Monk Fruit, instead of the combination I used here. I use a combo of sweeteners as it helps to alleviate any aftertaste.
Sometimes an aftertaste of certain sweeteners causes a cooking effect or a metallic taste, which you will want to avoid in this no bake dessert as it will be very noticeable.
Can I make this Keto Lemon Curd Dairy Free?
You could make this perfect recipe dairy free by swapping out the butter with coconut oil and swapping the heavy cream with coconut cream. For the mascarpone, you could swap it with dairy free cream cheese.
Can I use regular cream cheese instead of mascarpone?
Yes if you can't find mascarpone, which is Italian cream cheese, you can swap it with regular cream cheese.
Mascarpone is nice and soft coming from the fridge, so it is easier to combine in the mixer with the other ingredients.
You will need to allow your regular cream cheese to come to room temperature for at least an hour to soften a bit before incorporating together with the other ingredients.
If you skip this step, you will have a lumpy cream cheese mixture and it won't look pretty when layered between the lemon curd in the serving glasses.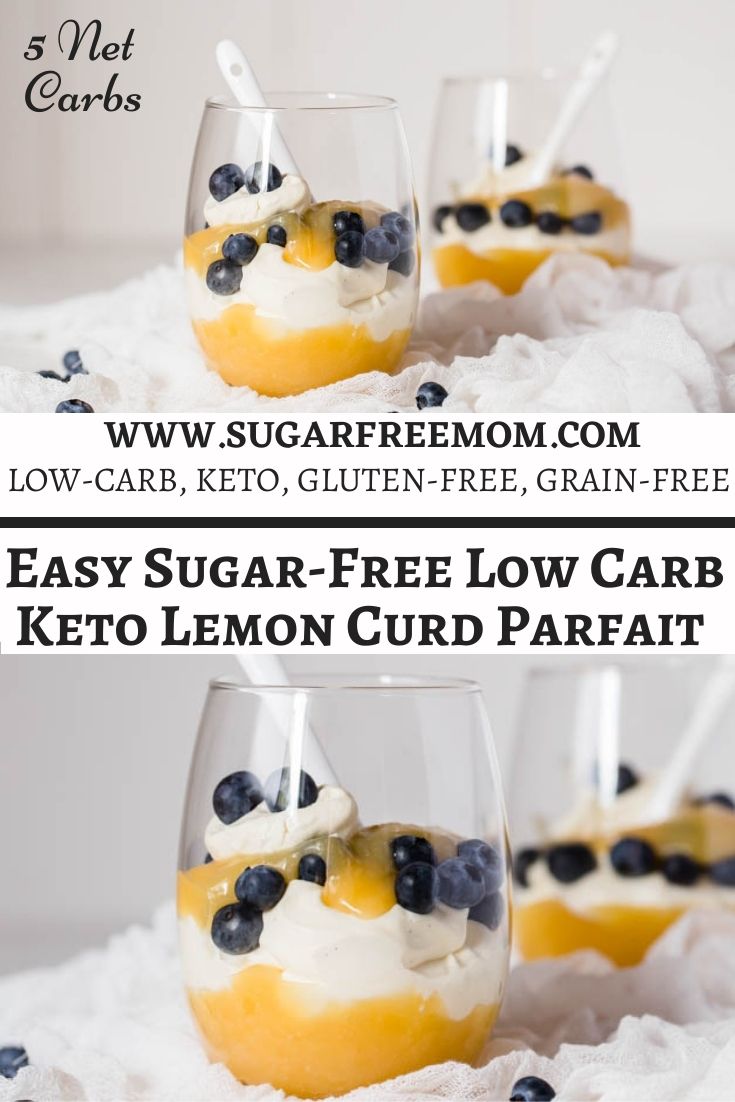 Favorite Desserts for Lemon Lovers
This lemon cream pie could be turned into a lemon meringue pie just by swapping the cream for sugar free stiff egg whites.
This no churn keto vanilla ice cream could be changed to lemon simply by swapping out the vanilla extract.
Air Fryer Lemon Shortbread Cookies
Slow Cooker Lemon Custard Cake with blueberries
Sugar Free Lemon Curd Parfait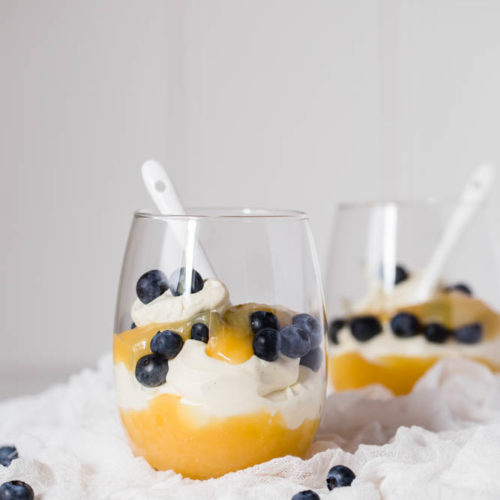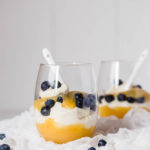 Print
Sugar Free Lemon Curd Parfait (Keto, Low Carb)
The perfect pairing of tart lemon curd, with fresh bursting blueberries and a rich and creamy mascarpone cream. So pretty, layered in a glass, and simple to pull together too.
Instructions
Lemon Curd
Whisk eggs and sweeteners in a large microwave safe bowl. Add lemon juice and zest and whisk until combined. Drop squares of butter on top.

Microwave in 1 to 2-minute bursts, whisking in between until the butter is melted and the mixture is hot. If you don't want to use the microwave you can add the ingredients to a small saucepan and heat over medium-low heat on the stove top until thickened.

Microwave in 30 second bursts until mixture is thickened. Whisk the cream in at the end.

Place in a bowl with cling wrap on the surface to avoid forming a skin, and chill until you are ready to use. The curd will thicken more as it cools.
Mascarpone Cream
To make the mascarpone cream, add it to medium-sized bowl, and use a hand electric mixer or a whisk attachment with a stand mixer to beat the mascarpone, sweetener and vanilla together until they are smooth and well combined. Taste and adjust sweetener if needed.

Whisk the cream through the mascarpone until softly combined.
Assembly
Layer the curd, mascarpone and fresh blueberries in decorative glasses or pots.

Garnish with an optional ingredient of fresh berries, or other fresh fruit, fresh herbs, or lemon zest to serve. This can be enjoyed cold from the fridge or room temperature.
Notes
The components can be made separately and stored in the fridge for up to five days.
The parfaits can be assembled up to 24 hours in advance and stored in the fridge.
Blueberries are optional and not included in nutritional info.
Net carbs: 5 g
This recipe was first published in March 2020.
Nutrition
Serving:
1
serving
|
Calories:
455
kcal
|
Carbohydrates:
6
g
|
Protein:
5
g
|
Fat:
45
g
|
Saturated Fat:
23
g
|
Polyunsaturated Fat:
1
g
|
Monounsaturated Fat:
5
g
|
Trans Fat:
1
g
|
Cholesterol:
89
mg
|
Sodium:
173
mg
|
Potassium:
37
mg
|
Fiber:
1
g
|
Sugar:
3
g
|
Vitamin A:
1134
IU
|
Vitamin C:
7
mg
|
Calcium:
62
mg
|
Iron:
0.1
mg