These are the BEST CHEWY LOW CARB KETO Sugar-Free Chocolate Chip Cookie you will ever need or want!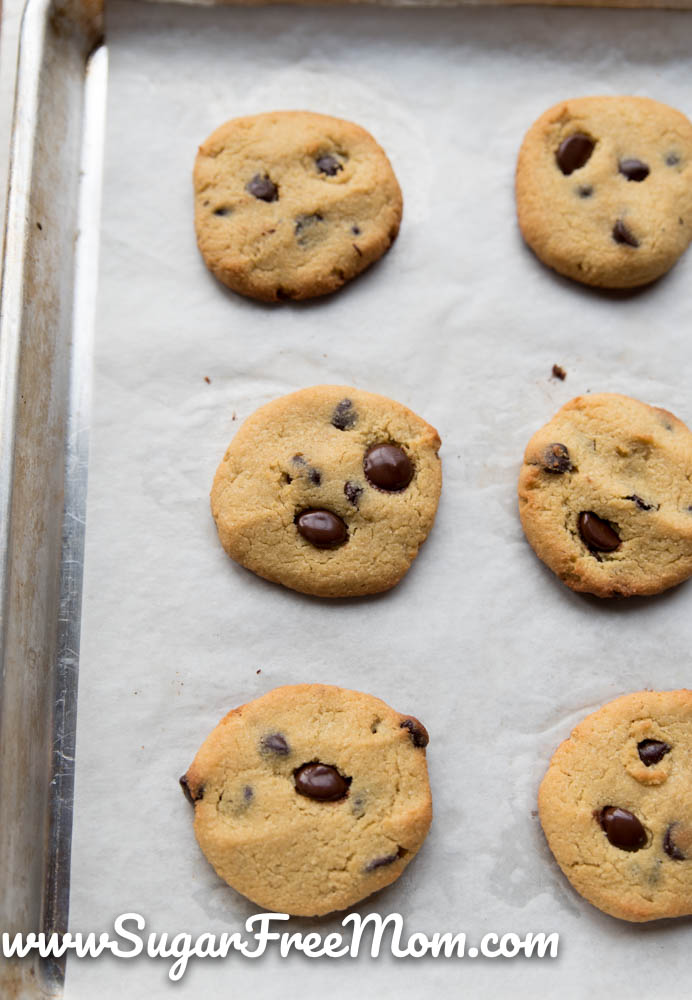 Creating that traditional tender inside, chewy bite of a sugar and gluten filled chocolate chip cookie, I thought was simply out of reach. I've been working on this recipe for years, quite literally. I've researched what makes the best the chocolate chip cookie and found 3 important elements that need to happen to achieve perfection of a low carb sugar-free cookie and I'm sharing the secrets today!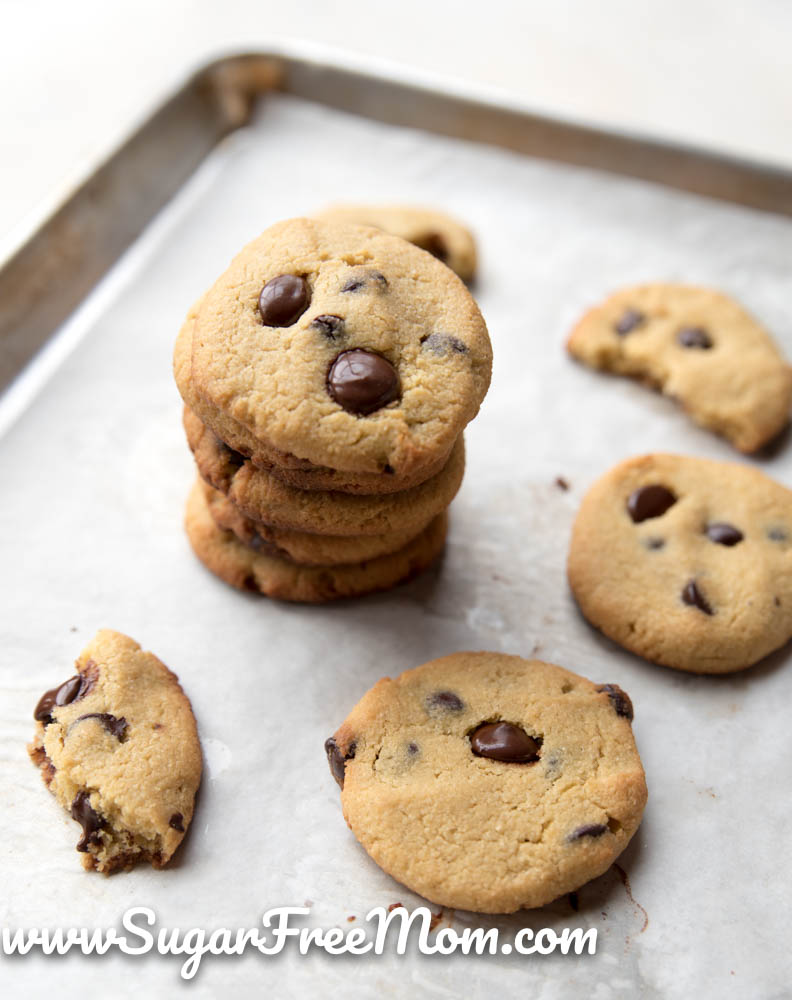 Number One important inclusion to the perfect chocolate chip cookie? You need extra egg yolks. Additional Egg yolks provide more fat than just using eggs alone which helps create a smooth and creamy texture that is undeniably what may have been missing in my past attempts.
Number Two? You must CHILL the DOUGH for at least 2-3 hours. This is hard to swallow because who really wants to wait that long when you're craving some cookies? In a traditional recipe using gluten, the chilling allows the gluten strands to relax. Chilling the dough also gives the flour time to rehydrate, especially helpful so our cookies won't be dry. My recipe makes 30 cookies. Bake a dozen, prepare the rest and freeze them! When you want some cookies just pull out the already perfectly shaped little cookies and bake!
The FINAL most important part of making a gluten free, low carb, sugar free cookie get that "bite" to it that just really can't be beat? The secret ingredients is.........drum roll please......... GELATIN POWDER!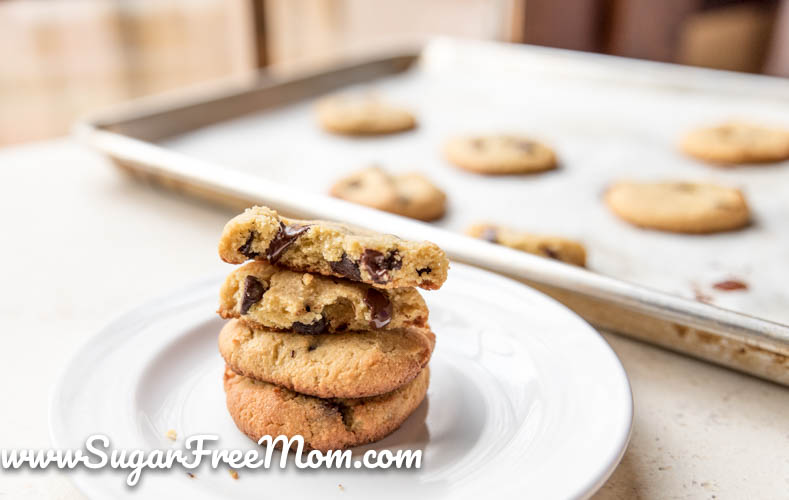 For some reason the gelatin powder helps the low carb flour I've used in this recipe, have that chewy factor I felt was always missing in other cookies. Gelatin of course is used in most jelly type desserts but when you add it to these cookies it helps bind. It acts like a glue, almost like gluten would act in a recipe which creates this chewy texture!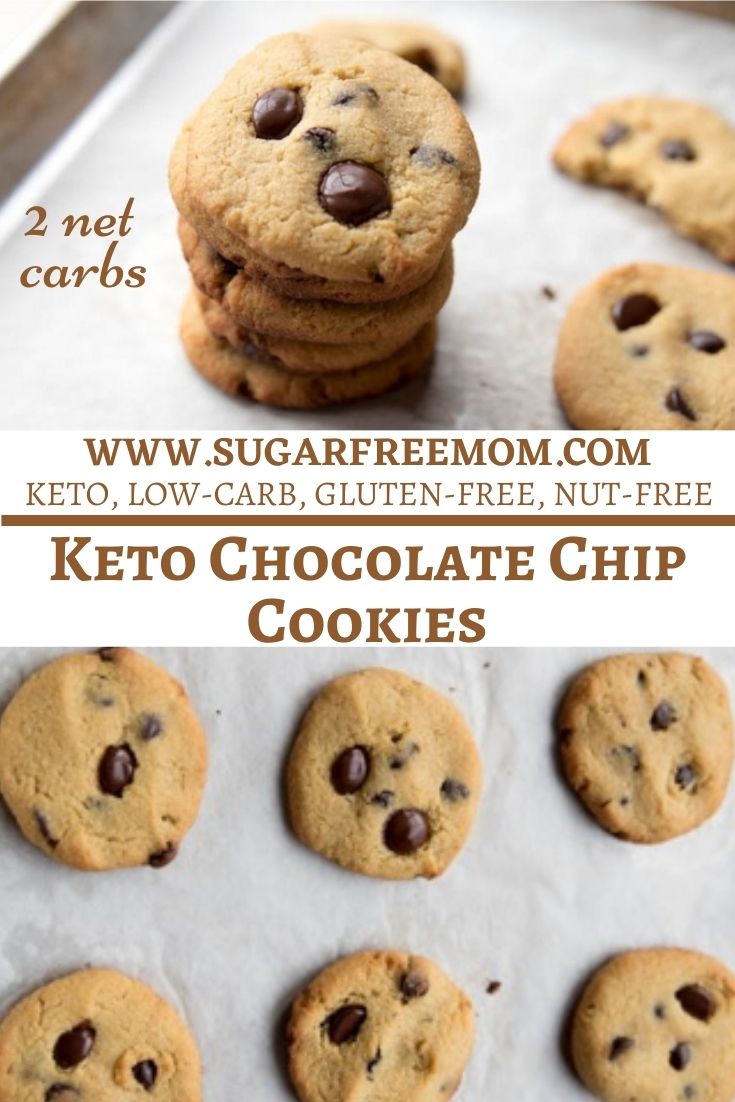 KETO CHOCOLATE CHIP COOKIES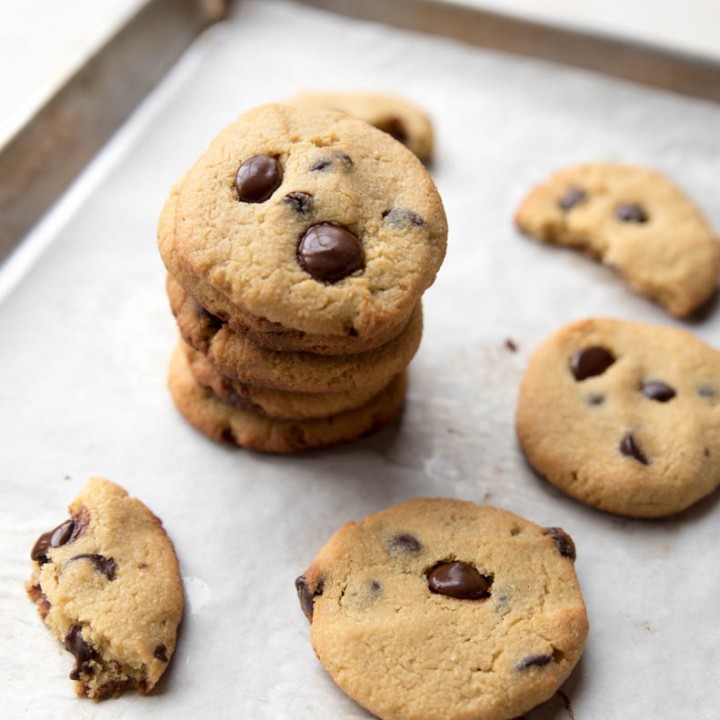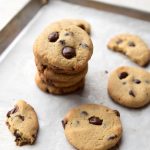 Print
Low Carb Keto Chocolate Chip Cookies (Nut Free, Gluten Free)
Instructions
Place the first 7 ingredients together in a stand mixer and blend on high until well combined.

Add the next 5 dry ingredients to the mixer and blend until combined.

Stir in the chocolate chips by hand. Form a ball and wrap in plastic wrap.

Using about a tablespoon of batter, make 30 balls of dough. Flatten them and place on a parchment lined baking sheet. You can bake 1 dozen and freeze the remaining cookies between parchment paper in an air tight container.

When you're ready to bake preheat the oven to 350 degrees F and bake for 18-20 minutes. Cool and enjoy!
Notes
1 Cookie= 2 Net Carbs
Brenda's Notes:
I've made these cookies without the tahini and instead used an additional ½ cup of the sesame flour. With that change you would be able to get 30 total cookies instead. My hubby stated they were more cake like and loved them. I prefer the addition of the tahini and feel it creates more of that chewy bite.
If you don't have a nut allergy in the family feel free to use almond flour in place of sesame and a nut butter of choice in place of the tahini.
I've also made these without any cream cheese and again felt while they were good cookies, they were more cake like. The cream cheese adds more fat and more of that texture. You could replace with a dairy free cream cheese if needed or possibly try coconut cream in its place.
UPDATE: Dec 2018 I added 1 teaspoon of baking soda and these expanded nicely and are more chewy. If you like a dense more like a chips ahoy cookie don't added the baking soda. If you prefer a chewier cookie, add 1 teaspoon of baking soda when you add the baking powder. Please note that using baking soda with sunflower seed butter  or tahini will cause a chemical reaction with the natural chlorophyl from the sunflowers and sesame will  turn the inside of the cookies green. 
Nutrition
Serving:
1
serving
|
Calories:
127
kcal
|
Carbohydrates:
3
g
|
Protein:
5
g
|
Fat:
11
g
|
Saturated Fat:
4
g
|
Cholesterol:
45
mg
|
Sodium:
109
mg
|
Potassium:
46
mg
|
Fiber:
1
g
|
Vitamin A:
225
IU
|
Vitamin C:
0.2
mg
|
Calcium:
21
mg
|
Iron:
0.4
mg