Whole Wheat Banana Chocolate Chip Muffins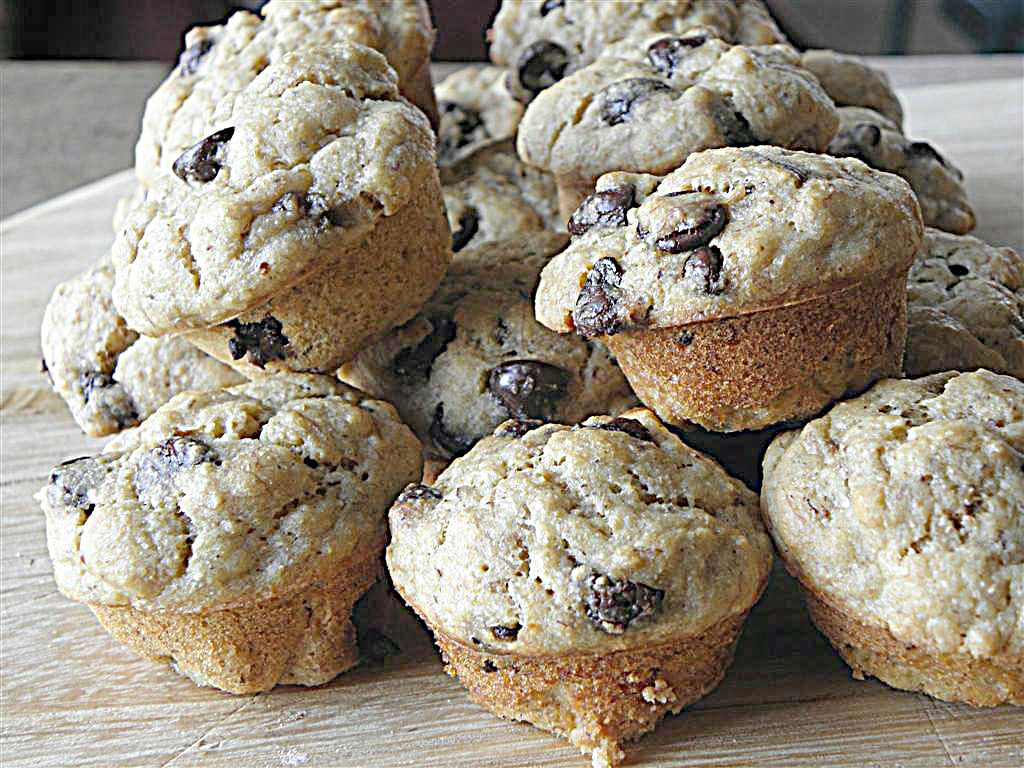 There's just something about mini foods that are irresistible. My kids love anything in a mini little package. Whenever they are at the market with me and happen to see mini muffins in a cute little package they want them. I never do buy them of course. Super expensive and loaded with preservatives and other ingredients I can't pronounce. So I decided to just take my blueberry banana bread recipe, omit the blueberries, add chocolate chips, and some cream cheese to make them super soft and delicious and they were VERY happy. If you skip the chips these babies are pretty good even without them and for 1 point plus you can eat at least 4 and feel pretty darn satisfied! There is no butter, oil or sugar in these, but you do have to watch the chocolate chips if you use them, many contain sugar. I find my grain sweetened ones at whole foods. Seriously how can you beat a moist and yummy mini muffin for 32 calories? You must try them and let me know what you think!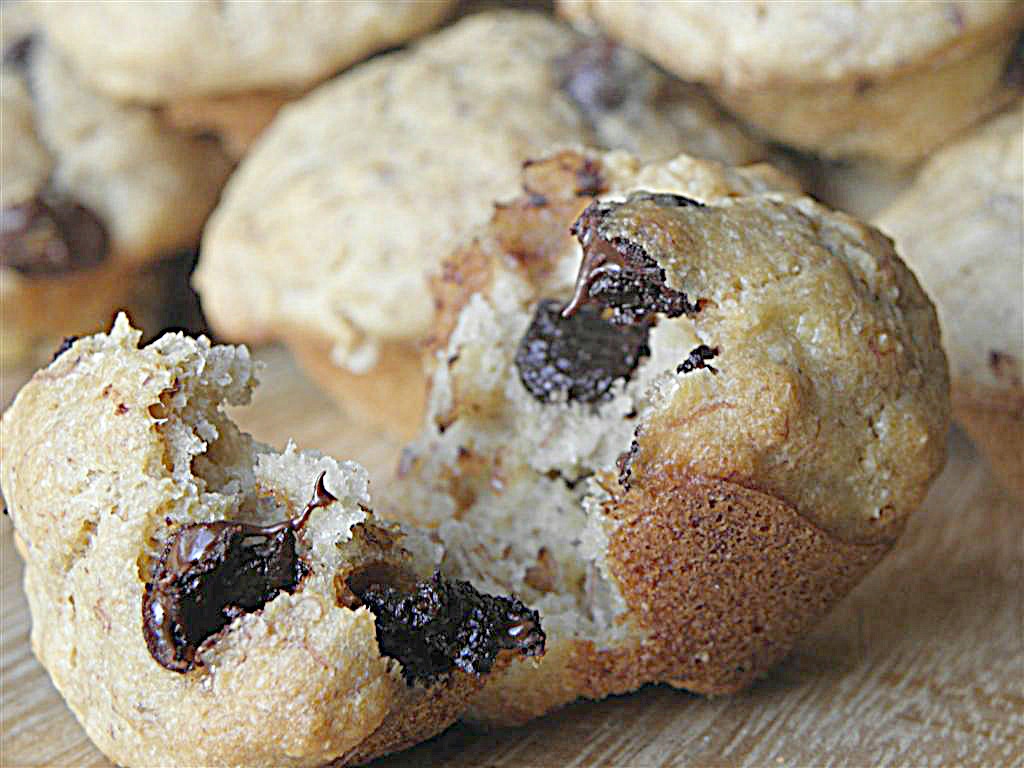 Nutrition Info with Chocolate Chips
Servings: 36* Calories: 61* Fat: 3g* Fiber: 1g* Carbs: 9g* Protein: 2g* Points+: 2*
Nutrition Info without Chocolate Chips
Servings: 36* Calories: 32* Fat: 1g* Fiber: 1g* Carbs: 5g* Protein: 1g* Points+: 1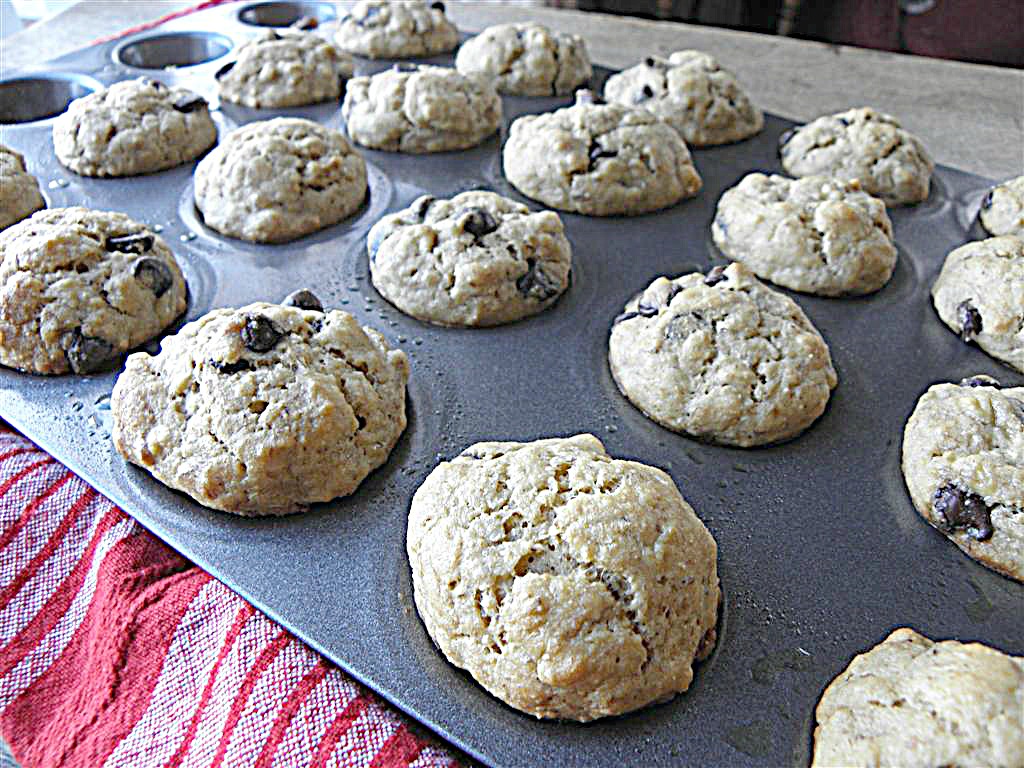 Whole Wheat Banana Chocolate Chip Mini Muffins
Author:
Ingredients
3 very ripe bananas, mashed
2 eggs
4 oz cream cheese, light, softened
2 c. white whole wheat flour
1 tbsp. flaxseed meal
½ c. applesauce, unsweetened
½ c. milk of choice ( I used 1%)
1 tsp. vanilla extract
1 tsp. baking powder
1 tsp. baking soda
6 packets stevia, powdered
½ tsp. salt
optional: 1 c. chocolate chips (sugar free or grain sweetened or unsweetened carob chips)
Instructions
Preheat oven to 350 degrees. Spray mini muffin pans with nonstick cooking spray.
In a large bowl or stand mixer, combine the flour, baking soda, baking powder, flaxseed, stevia, and salt and mix well.
In another bowl, whisk the eggs, vanilla extract, applesauce, and milk. Add them to the mixer and combine well.
Add cream cheese and banana's and mix until combined.
If using chocolate chips, mix them in now.
Using an ice cream scoop or spoon, pour the mixture into each cup. If you want more mini muffins, fill them ¾ of the way. If you want larger ones as I have made which only makes 3 dozen, fill them level to the top of the cup.
Bake for 30 minutes or until a toothpick in center comes out pretty clean. Let them cool for a few minutes then finish cooling them on a wire rack.
These can be frozen in a ziploc bag once cooled or an airtight container. Thaw them the night before you want them for breakfast or a snack.