This Fat Head Pizza is made without grains, made without nut flour and is gluten free, keto and fabulous! My super easy new method for working with fat head dough will make your life even better!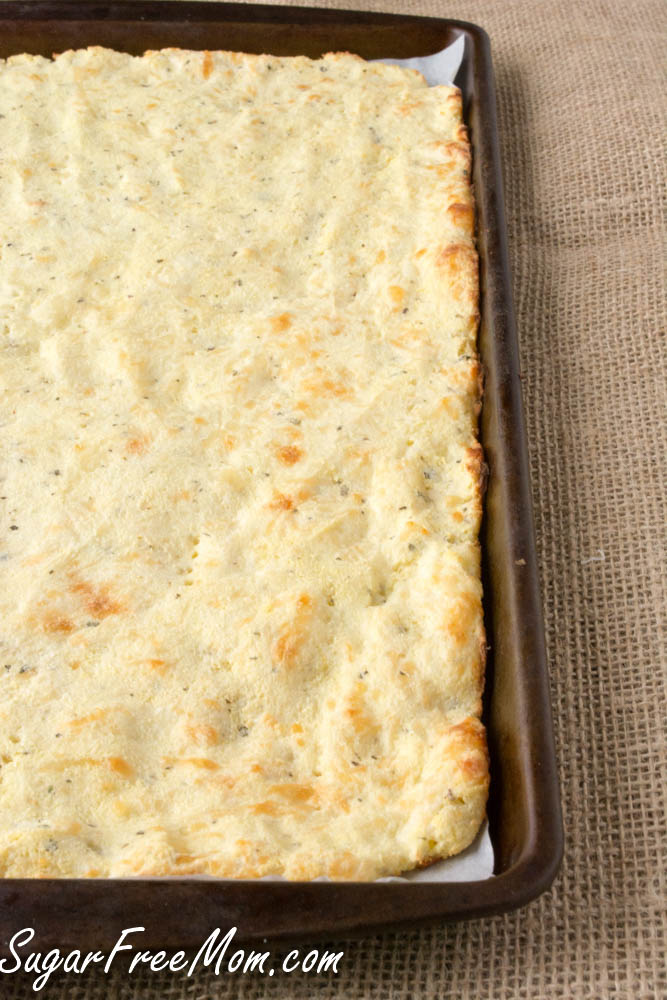 Keto Fat Head Pizza
Pizza is one of the most guilty pleasures we indulge in when trying to watch our weight, lose weight or even just eat healthier.
It tastes so bad for you and well.....usually it is. Loaded with hefty toppings galore, one piece is never enough. It's never enough because traditional pizza is not made with healthful flours that would keep you full and satiated.
Do you know anyone that can eat one piece of pizza? Neither do I. But Fat head dough has changed the world for all us, keto and low carbers! The orginial fat head dough was made using almond flour, cream cheese and mozzarella, and it was genius! But when you have a child with a nut allergy, making anything with almond flour is an issue so I use coconut flour and I think it works fabulously!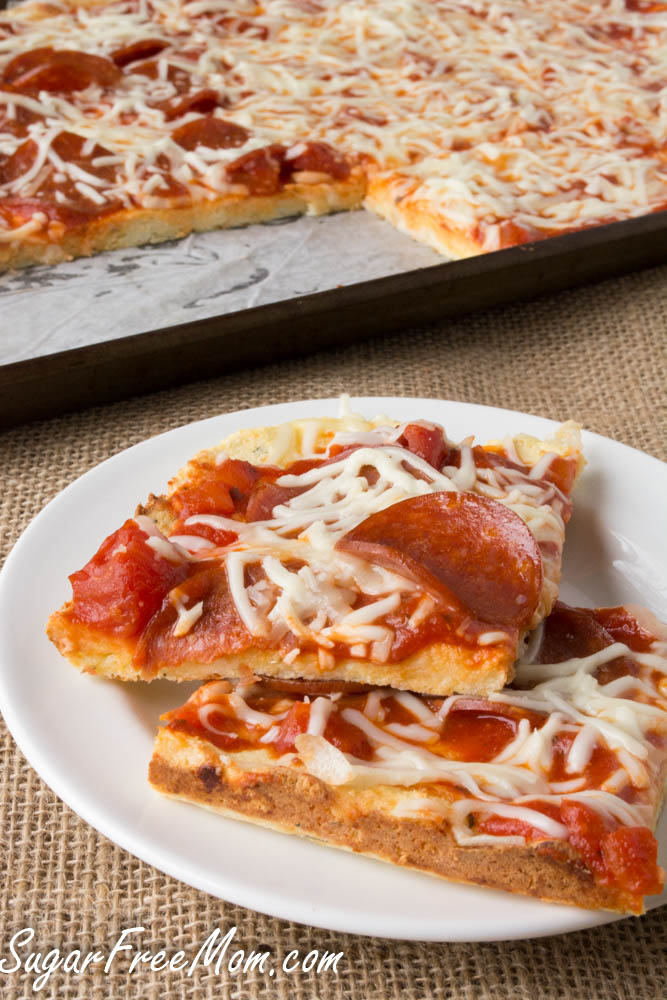 I'm not the first one to create this type of pizza but the original recipe, called Fat Head Pizza.
I tried the original recipe with my adaptions to the nut flour and the amount was too small for a family of 5.
I'm certainly not going to make a pizza all for myself, so I reinvented and worked on their recipe to make it work for us in our family. This way it is plenty big enough for everyone to have at least 2 pieces if they wished.
Cauliflower Pizza Crust
The most popular type of grain free pizza is the cauliflower pizza crust. And while I've tried that and I personally love it, my family could taste the difference. It was eaten but not something they would want on a weekly basis. While I love my cauliflower pizza recipe, this fat head pizza dough resembles more of the texture that my kids enjoy.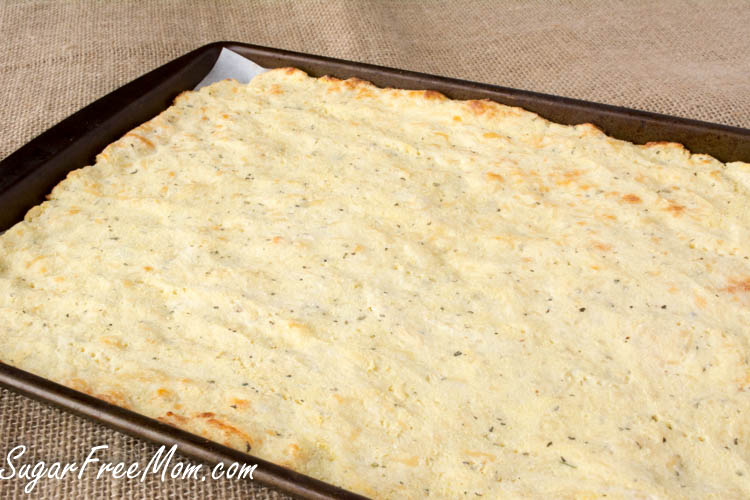 With this pizza they could eat it weekly and not tire of it or complain.
Why? Because it clearly resembles a real flour dough pizza! Unlike cauliflower crust pizza which is hard to hold and easier to just eat with a fork, this pizza can be held like a traditional piece of pizza.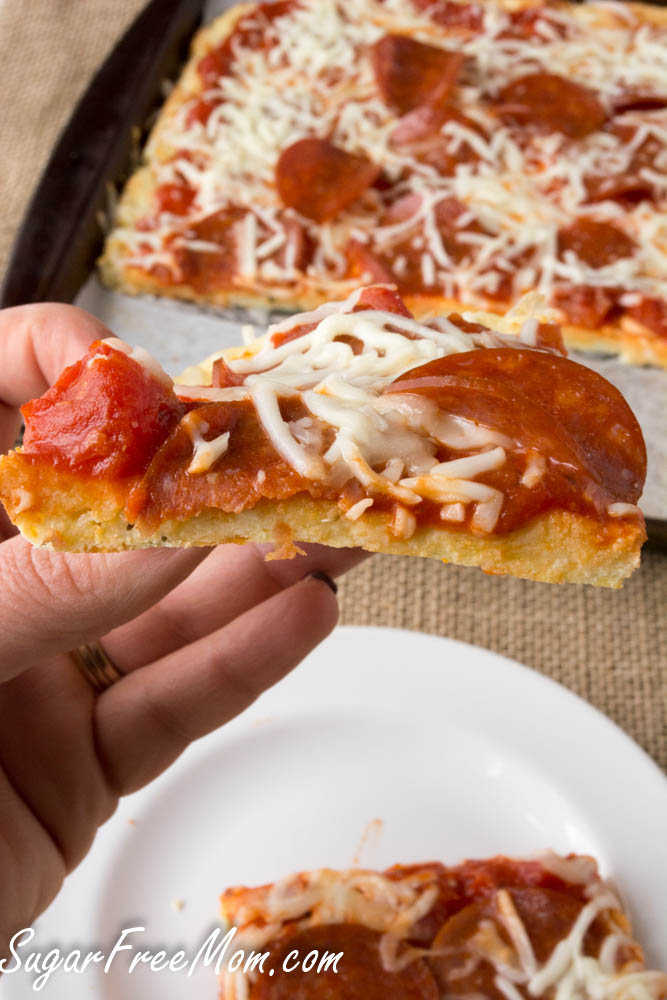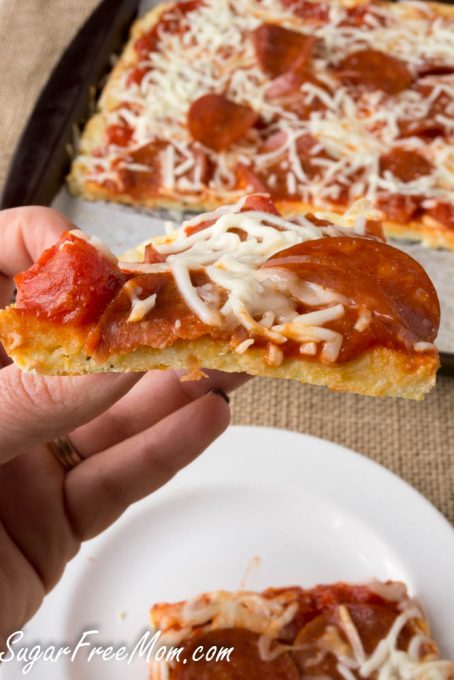 I did try to make this without parchment paper. I greased the pan and maybe it was my baking pan, but it did stick, which I hate.
So parchment works. May not be as crispy on the bottom as you might like, but it is what it is and it works for us. You could also try a pizza stone to get it a bit crispier. I'm just thrilled I can make a pizza my entire picky family will eat and it's low carb and grain free and absolutely delicious!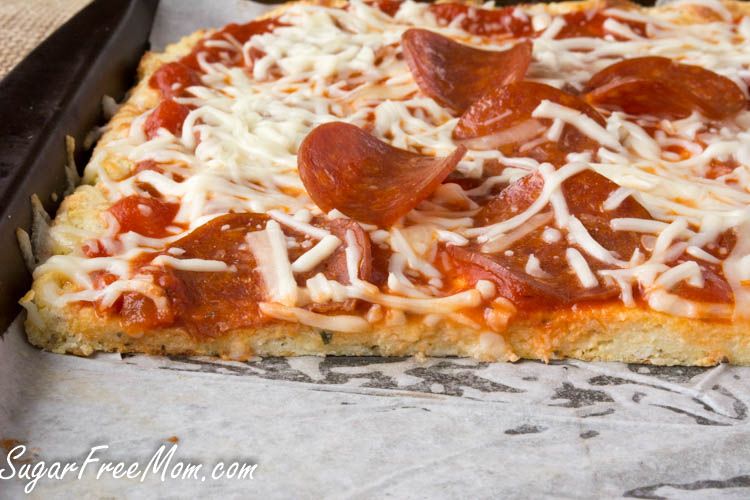 While we all ate 2 pieces, I decided to keep the nutrition information to one piece. You can decide for yourself if 2 pieces is worth the amount of carbs.
Enjoy!
You might also like: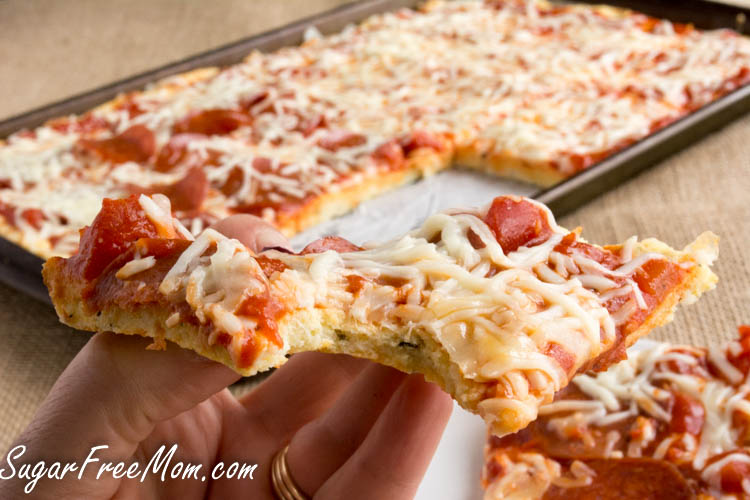 Is Coconut a Nut?
I'd like to clear up this constant question get asked almost daily about whether coconut is a nut. While the US Food & drug Administration (FDA) claims that coconut is a tree nut becomes it comes from a tree, it is in fact a FRUIT. People who have tree nut allergies may be allergic to coconut as well, but being allergic to coconut is not the same as having a tree nut allergy.
My own son was diagnosed with a Peanut and Tree Nut allergy at the age of 2. He has safely eaten coconut all these years without issue and he is now 14. Coconut is a fruit, called a drupe. It's like a peach with a pit.
The American College of Allergy, Asthma and Immunology says it well: "Coconut is not a botanical nut: it is classified as a fruit, even though the FDA recognizes coconut as a tree nut. While allergic reactions to coconut have been documented, most people who are allergic to tree nuts can safely eat coconut. If you are allergic to tree nuts, talk to your allergist before adding coconut to your diet."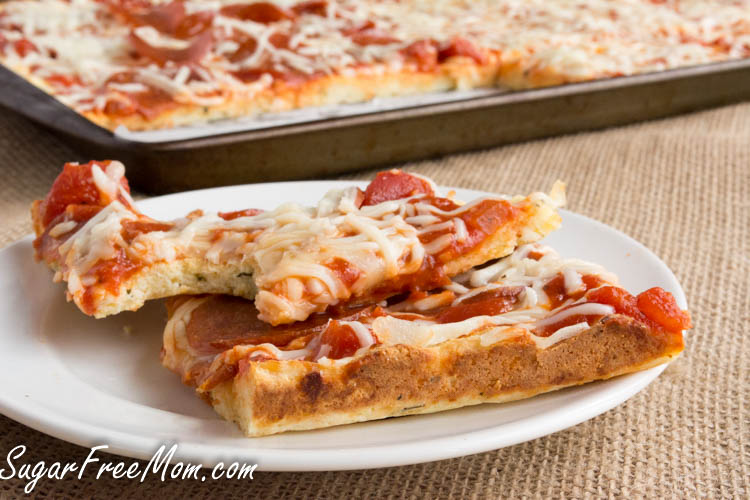 Low Carb Keto Meal Planning
Our membership is simple.
You can subscribe for a month to try it out or you can subscribe for a yearly membership. Each Friday you will get a meal plan that comes to your email. You'll have that early in order to go food shopping before the meal plan begins on Sunday. You will be able to view and print the meal plan and the shopping list. If you don't like a meal, simply delete it and swap it with another meal you like. The shopping list will automatically adjust. It's the best software available out there for a customizable menu plan. Not many other low carb or keto meal plans allow you the option to remove, add, start with a blank menu and create your own if you so wish. Learn More about our meal plans!

Keto Nut Free Fat Head Pizza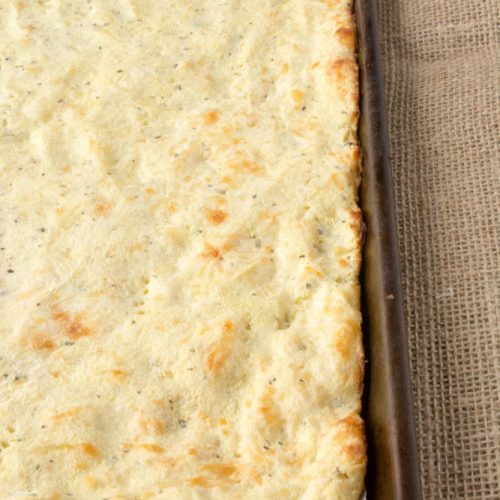 Print
Grain Free Nut Free Low Carb Pizza
Instructions
Preheat oven to 425 degrees. NEW METHOD: Place all ingredients into a food processor and process until combined. Remove and place into a microwavable bowl and microwave for 2 minutes or double boiler to melt mixture over low heat on the stove. Stir again to combine.

Wet your hands and spread mixture onto a parchment lined baking sheet or use a rolling pin between two pieces of parchment. For a thin crust, measure out a 12 x 16 rectangle or this recipe makes two 12 inch round pizzas.

Spread as evenly as you can all the way to the edges of the pan, continue to wet your hands with water if necessary to prevent sticking.

Using a fork make holes into the crust.

Bake for 12 minutes or until slightly browned.

Add your toppings and bake 5 more minutes to melt cheese.
Notes
Nutritional information does not include toppings.
Net Carbs: 2g
This recipe was first published in February 2015 and updated with video in July 2020.
Nutrition
Serving:
1
slice
|
Calories:
206
kcal
|
Carbohydrates:
6
g
|
Protein:
12
g
|
Fat:
14
g
|
Saturated Fat:
7
g
|
Cholesterol:
94
mg
|
Sodium:
402
mg
|
Potassium:
61
mg
|
Fiber:
4
g
|
Sugar:
1
g
|
Vitamin A:
460
IU
|
Calcium:
208
mg
|
Iron:
0.5
mg