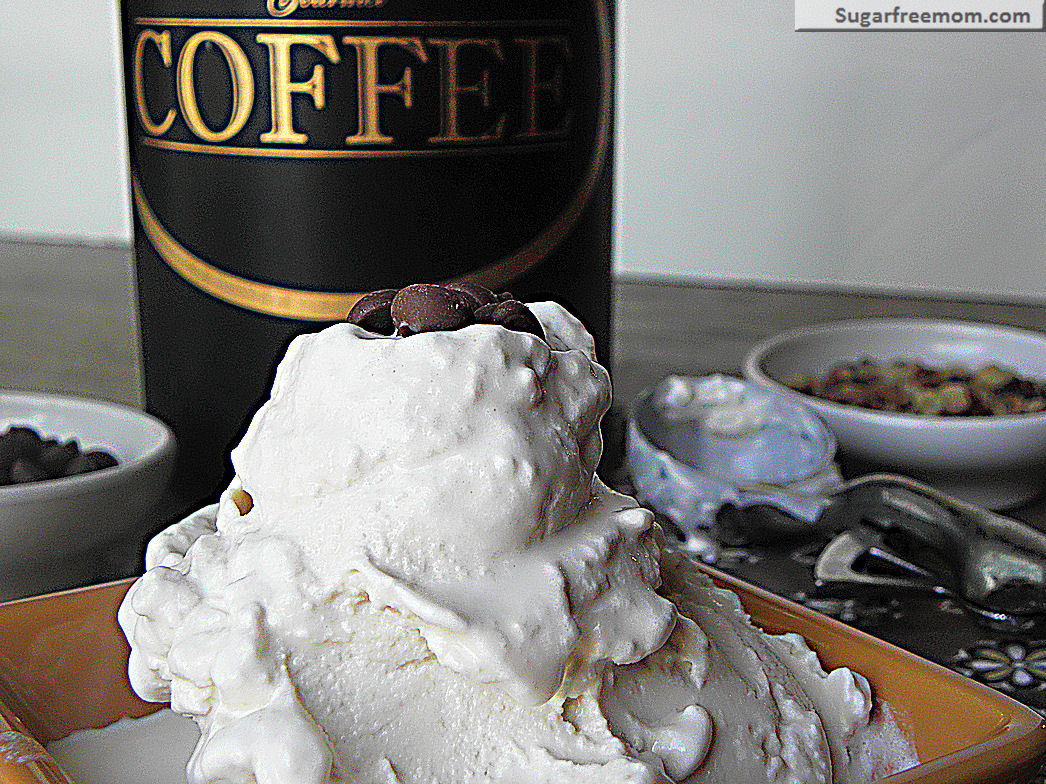 Do you have anyone in your family that just doesn't want you messing with their favorite foods or treats, especially ice cream? When I mean messing....... I mean changing it, making it healthier, lighter, better for you. You know.....all the stuff I do here on my blog!!
Recipe make overs are my passion!!
I love a challenge and my hubby's favorite coffee ice cream was in my plans for Father's Day. I had worked on about 4 versions before I was happy with the results, especially for HIM.
My hubby is not a sugar-free man nor does he have a fondness for healthier, lighter versions of the things he loves, especially his ice cream. He is also not allergic to anything like dairy or eggs so I was able to keep dairy in this recipe. I did however remove the egg yolks and made it without sugar of course. 🙂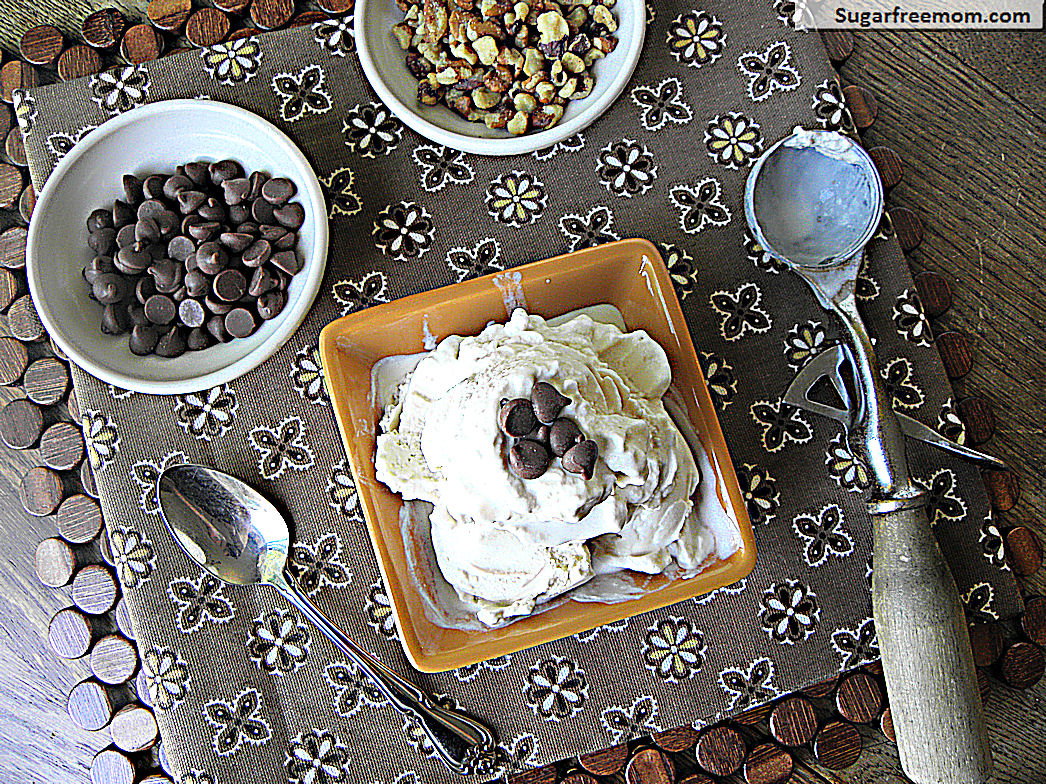 Ice cream making can be tricky especially when removing the typical ingredients that make it so creamy and luscious. Removing the egg yolks removes some of that creaminess so I added so some arrowroot powder to thicken it a bit. Worked fabulously!
After much trial and error I was able to make a tasty, creamy, sugar- free coffee ice cream without all the preservatives or artificial ingredients in a typical store bought sugar-free ice cream.
Yes it is still high in fat and you could certainly buy a lower fat ice cream at the store. Yes it might not be as low calorie as some other light ice creams you could buy. BUT it is homemade and MUCH more natural than anything store bought any day!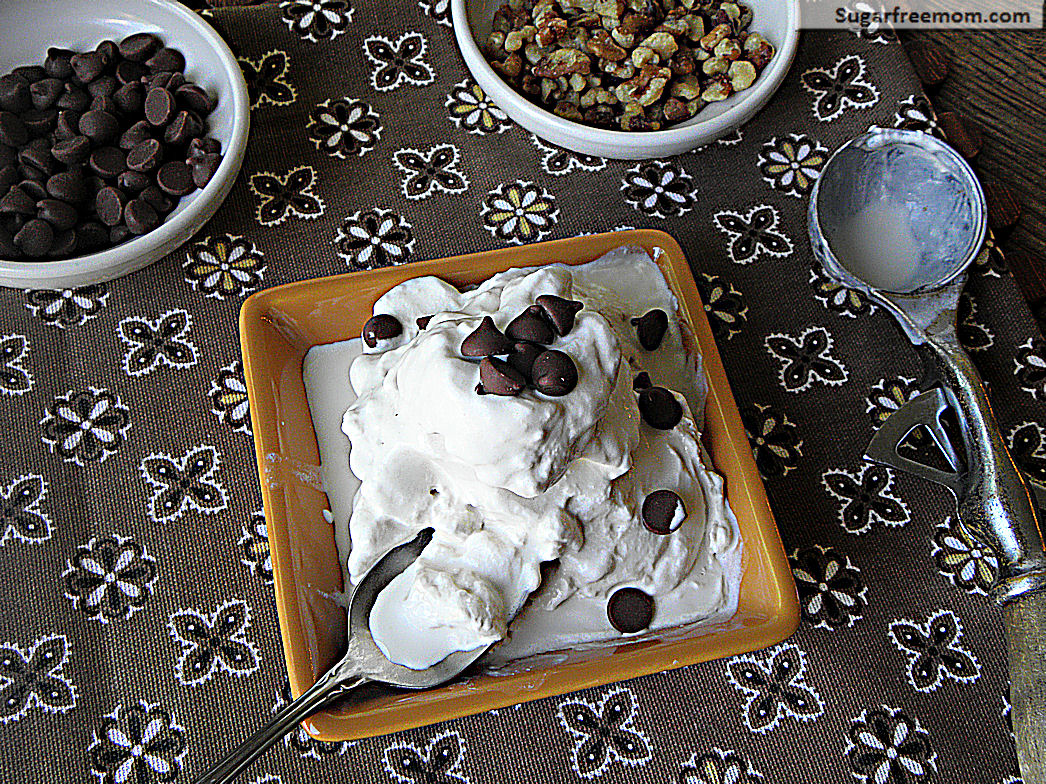 Since I have made this multiple times varying the ingredients I can say that skipping the heavy whipping cream and replacing it with another cup of half & half will yield less fat and calories, but it will not be as creamy. It was still tasty and my kids liked it and I would be happy with it, but I knew my picky hubby would not care for it. But it is an option for you should you choose to go with the less fat/calorie choice.
Healthier Low Carb Coffee Ice Cream {Egg & Sugar Free}
Author:
Prep time:
Total time:
Ingredients
½ cup chilled strong brewed coffee
1 cup heavy whipping cream
1 cup half & half
2 teaspoons arrowroot powder
1 teaspoon vanilla extract
1 -½ teaspoons [url href="http://iherb.com/p/9674?at=0&rcode=yaj035" target="_blank"]Liquid toffee stevia[/url]
Instructions
Whisk together all ingredients.
Using a funnel pour carefully into your ice cream maker.
Follow instructions for your machine.
Mine was thick and creamy within 15 minutes
Serving size:
½cup
Calories:
182
Fat:
18g
Carbohydrates:
3g
Sugar:
.1g
Sodium:
37mg
Protein:
2g
Cholesterol:
63mg
Notes
Weight Watchers PointsPlus:5*
Nutrition Info {using only half & half}
Servings: 4* ( ½ cup)* Calories per serving: 158* Fat: 14g* Fiber: 0* Carbs: 5g* Cholesterol: 45mg* Sodium: 50mg* Protein: 4g* Points+: 5*
Frozen treats not requiring an ice cream maker: