How to Make Crepes that are Low Carb, Keto, Paleo, Nut Free and Perfect for Savory or Sweet fillings! These crepes are filled with a Creamy Sugar-Free Maple Cream that whips up easily in a blender.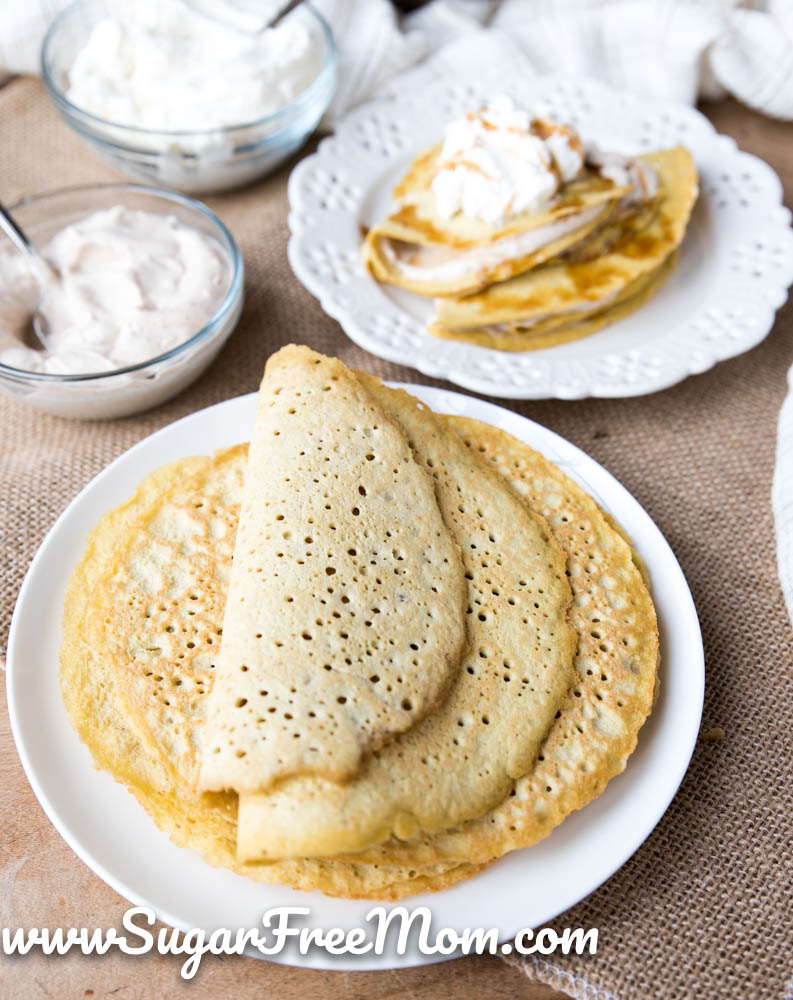 Keto Crepes
Crepes are like very, very thin pancakes and can be sweet or savory. Usually they are served with fillings but often they are already stuffed with the filling. When in France, you will find them at outside markets. Of course I was unable to enjoy any of these traditional crepes when we visited France back in 2018 because none of them are gluten free. Once I came home from that trip I knew I needed to make my own version that I could enjoy, as well as my family.
I'm all about re-creating those once loved foods or foods we find when we travel so that I will never ever feel deprivation on a sugar free, low carb, keto diet. Where there's a will there's a way, that's been my motto for a long long time and I know that has helped me battle my sugar cravings since I gave up the white stuff over 14 years ago.
I will never post a recipe I've not tried many times and this recipe is no exception. I've made this with different variations and ratios and ingredients to get just the right crepe, which is pliable and won't rip. I started my crepe quest one day when I was making coconut flour pancakes and thought maybe if I just thin these out a bit I can make crepes and the keto crepe recipe testing began!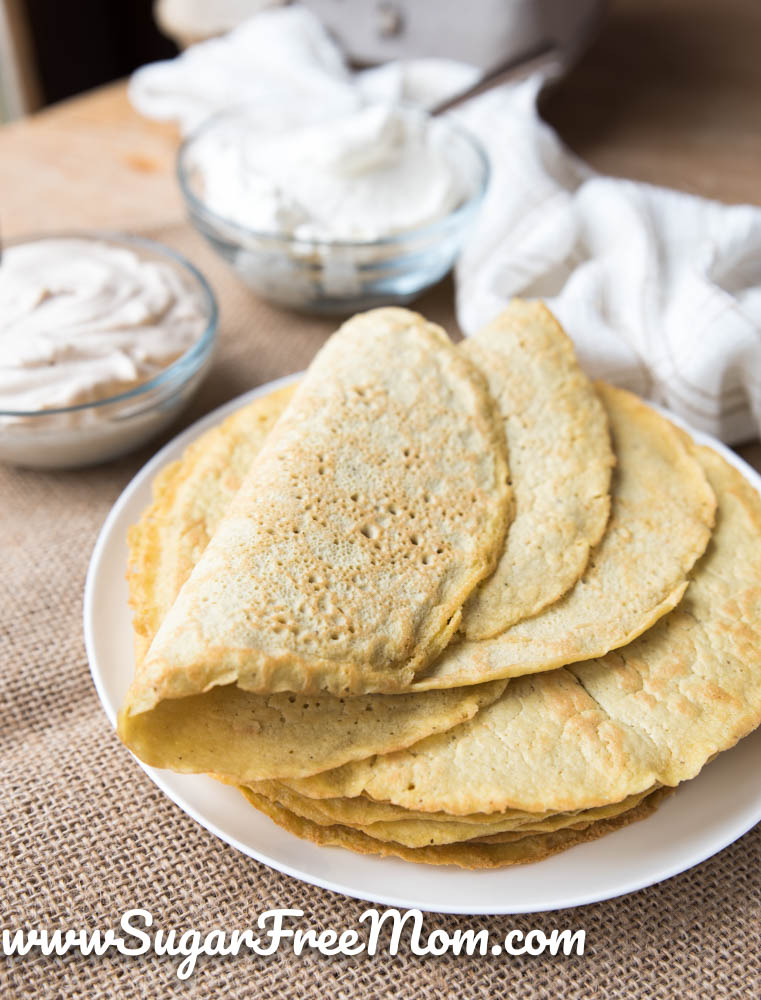 Low Carb Crepes
Now I can't tell you these are exactly like a soft pillowy, melt in your mouth, identical to traditional kind of crepe made with white flour. For one, I doubt you'd believe and two, if anyone ever says something like that, I'd question them endlessly. Seriously without gluten, recipes that certainly require it are hard to duplicate without it. But I do think I've got a really, really, really, good recipe that will make you feel like you're eating a traditional crepe, especially once you add some of my Sugar Free Maple Cream Filling inside!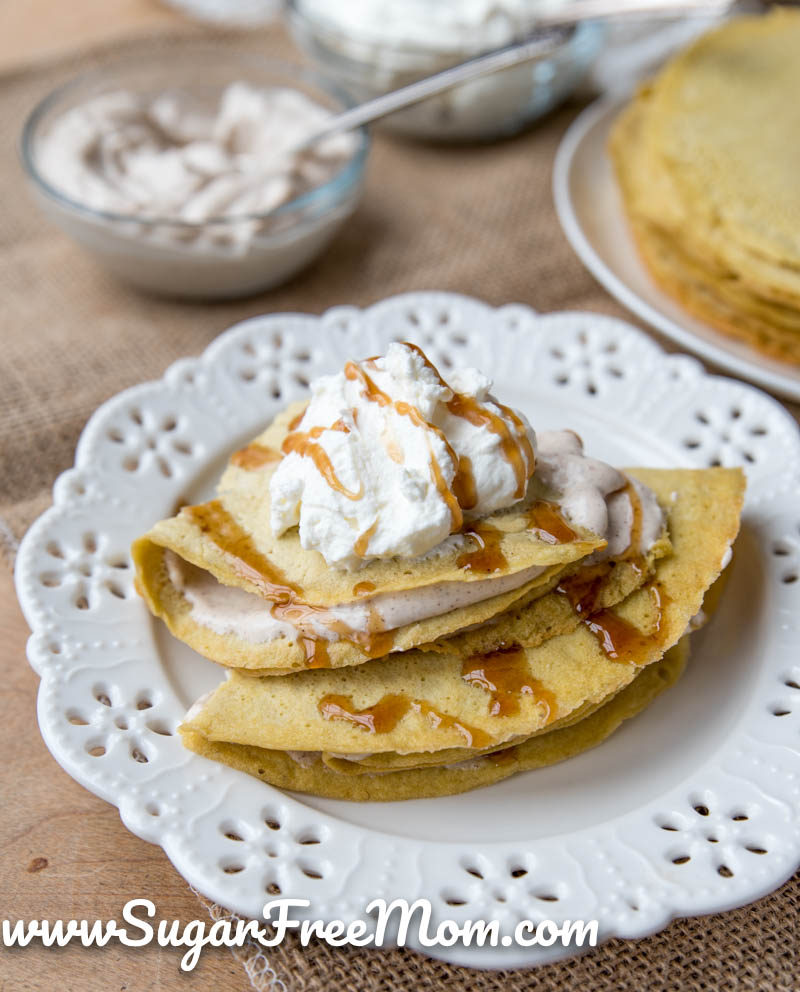 Keto Crepe Tips & Tricks
Whether you're working with an electric or gas stove, you've really got to be careful of the heat on these. Medium heat to low is best on an electric stove which is what I have. Sadly I had a gas stove for years but we moved and now I'm learning on an electric to get just the right amount of heat. Too hot and you're crepe will clump in the center when you pour in the pan or they will get crispy on you, not enough heat and you'll be standing forever waiting and waiting.
You can swap out the sesame flour with almond flour if you have no nut allergies in the family like we do. I do NOT suggest using coconut flour. My first 5 attempts were with coconut flour and no matter what I tried adding to make them become pliable they did not hold together well enough to roll. I tried a number of additions like flaxseed, gelatin powder and changed the ratios of liquids more times then I can count, but in the end sesame flour worked best.
I've made these a bunch of times with just the eggs, water, flour and no coconut cream or cream cheese. I've also tried these without eggs and using broth instead of water. Nothing worked well enough to roll or have a pliable texture. Like I said above I've tried coconut flour and it just continued to rip. Almond flour and Sesame flour are pretty similar in texture and I do believe you'd have positive results using almond flour if you have no allergies in the family like us. Please let me know if you try it.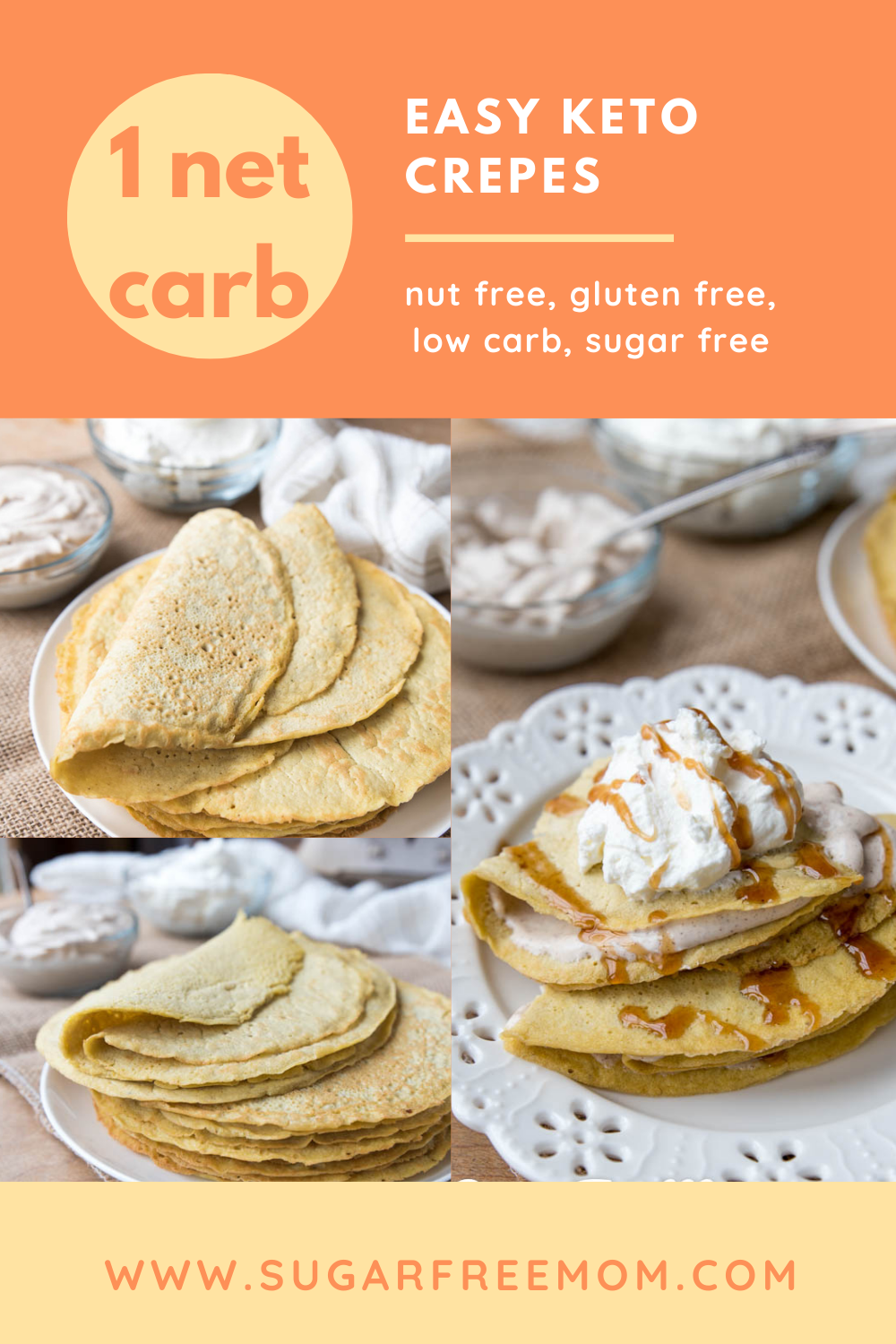 Need some Savory filling ideas? Try eggs, hams and cheese, or mushrooms, onions and sausage or chicken.
If you're a Sweet Crepe lover try:
Low Carb Keto Crepes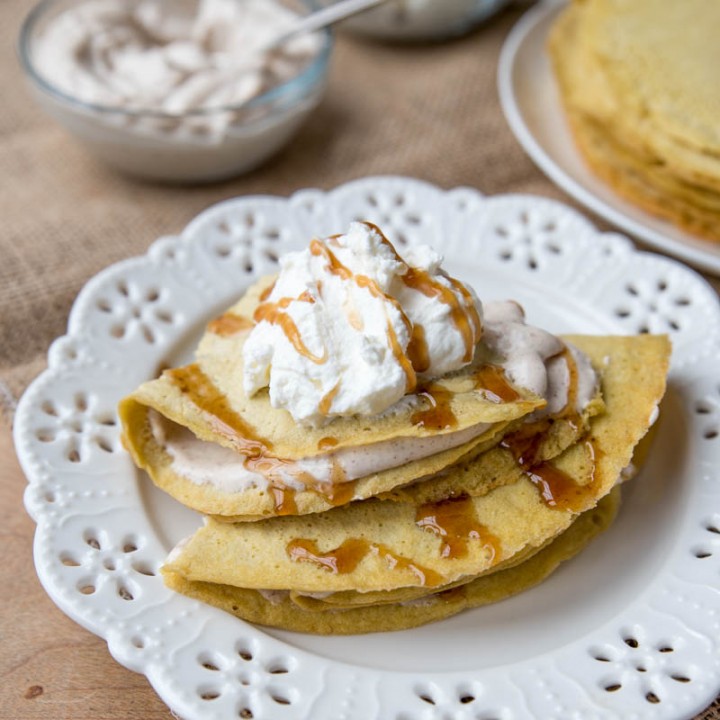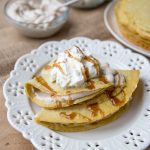 Print
Low Carb Keto Nut Free Crepes
Ingredients
Optional Maple Cream Filling -serves 6
Instructions
Add the crepe ingredients to your blender and blend until smooth.

Heat a small non stick pan with butter or olive oil cooking spray to coat lightly.

Add ¼ cup of batter to the skillet, lift off the heat while you swirl it all over the bottom of the skillet. Allow to cook 2-3 minutes.

Once you start to see some bubbles forming in the center of the crepe and you can loosen your spatula around the edges without it ripping, you can carefully flip it over. Cook another minute on this side and simple slide it off the pan onto a baking pan or plate to cool while you make the rest. Remember watch the heat, if you start to see too much browning on the crepe you made, it will be crispy and hard to roll. Reduce the heat a bit until the next one is more pliable once cooked.

Once cooled you can stack these on top of each other and refrigerate in a covered container.
Notes
Net Carbs for 1 crepe: 1g
Nutritional Information does not include filling or toppings.
This recipe was first published in Feb.2018 and updated with video in Nov.2020.
Nutrition
Serving:
1
crepe
|
Calories:
104
kcal
|
Carbohydrates:
2
g
|
Protein:
4
g
|
Fat:
9
g
|
Saturated Fat:
3
g
|
Cholesterol:
54
mg
|
Sodium:
70
mg
|
Potassium:
50
mg
|
Fiber:
1
g
|
Vitamin A:
80
IU
|
Vitamin C:
0.2
mg
|
Calcium:
29
mg
|
Iron:
0.8
mg