These Amazing Low Carb Cinnamon Rolls are made with Nut Free Fathead Dough! They're Grain Free, Gluten Free, Sugar-Free, Keto and the texture is so much like traditional rolls you will shock your family and even yourself!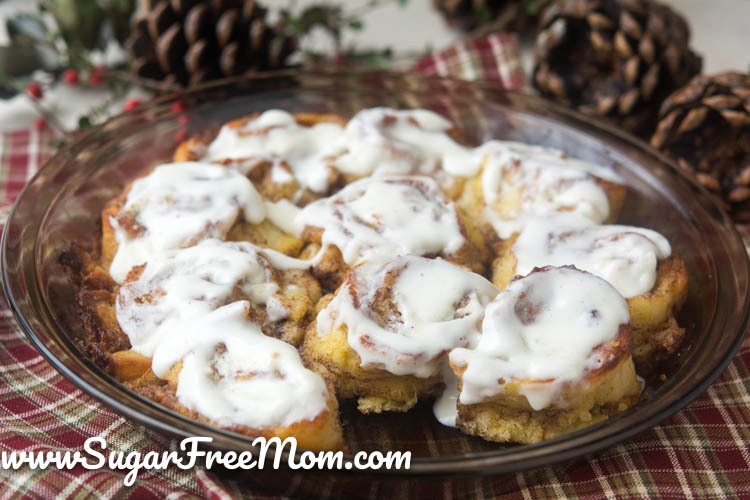 Low Carb Cinnamon Rolls
The holiday season, specifically Christmas is not complete without a breakfast of CINNAMON ROLLS, agreed?!! These beauties can hold their own in deliciousness and easiness to traditional sugar carb laden cinnamon rolls. The Magic Dough needs just a few ingredients to transform it into the texture you've been missing if you've been on a low carb diet for some time now.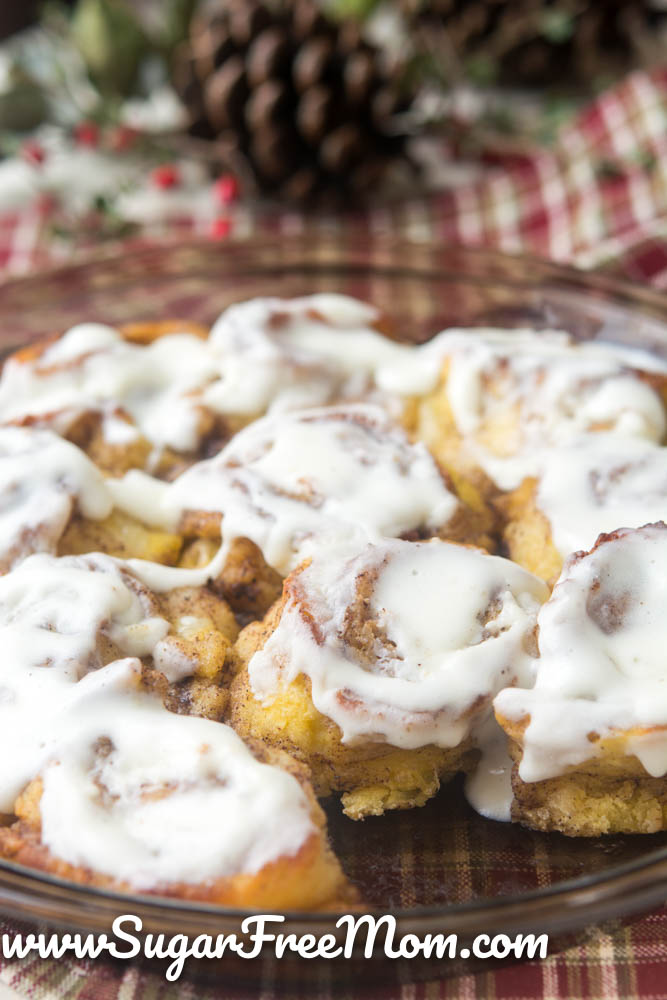 Unlike the classic Fathead dough made with almond flour, my dough is made with coconut flour and honestly I don't want to toot my own horn, but it's pretty perfect in the ability to make you feel like your biting into a fluffy carby roll! I've used this magic dough for many recipes being savory or sweet!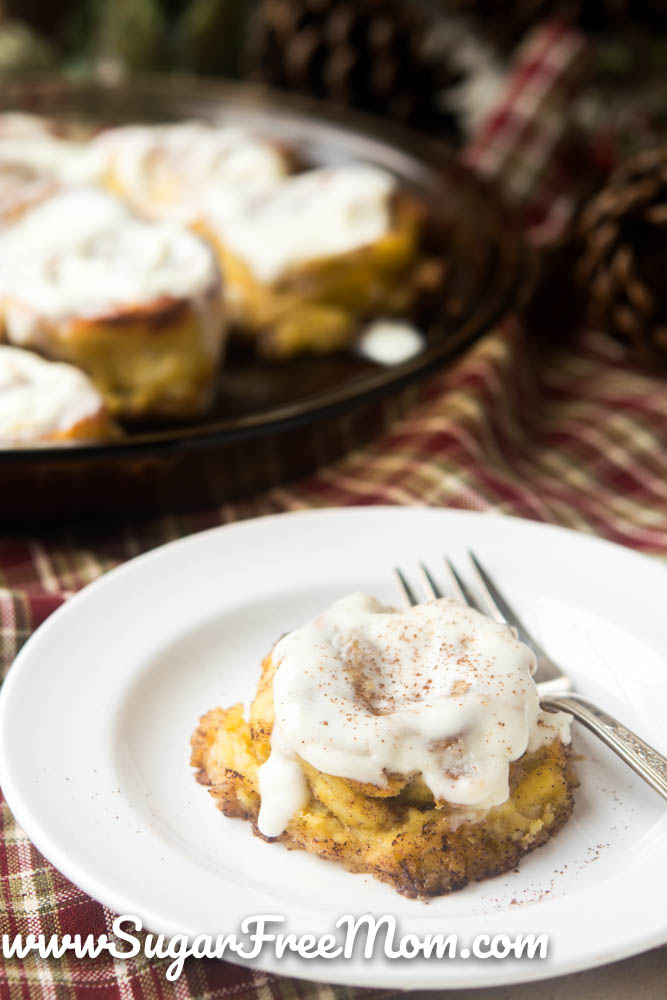 Fathead Dough
My most popular use of this magic dough is my FATHEAD BUTTERY DINNER ROLLS, also for PIZZA, CALZONES and Cranberry DANISH!
You can make this ahead, just cook it and don't frost it. Once cooled after cooking, cover and refrigerate. Reheat in the oven at 350 with aluminum on top so it doesn't get too browned for about 20- 30 minutes. Remove the cover for the last few minutes then top with the frosting before serving the morning you want these.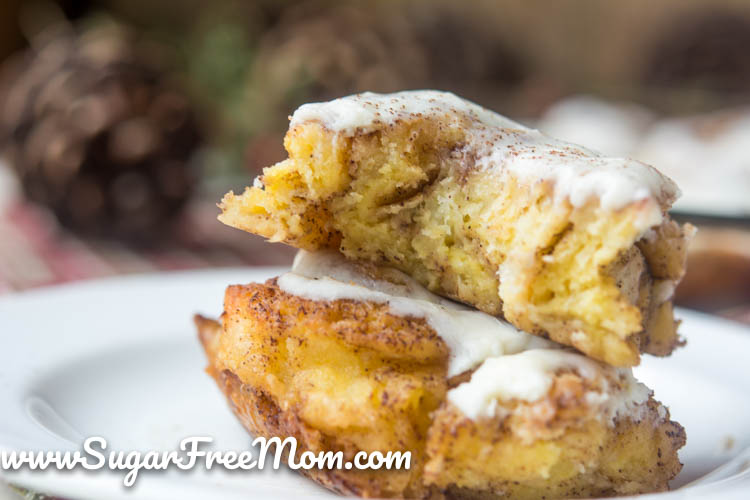 Prep Ahead Cinnamon Rolls
I've not yet tried to make these ahead without baking them until the next day so for now I don't recommend that. I'd just bake them as is then cool, cover and refrigerate. Reheat the morning you prefer and top with frosting, that's a must and wouldn't be the same without it!
My TASTE TESTERS:
Hubby- the carb and sugar lover actually LOVED these eating 3 of them! Claiming if I make these for Christmas he'll not feel deprived at all or missing the kind from the can!
The two youngest kids loved them as well.
The picky teen, thought they were too sweet. UGH? Cinnamon rolls are meant to be a sweet treat. Anyway, I'll take it, maybe his taste buds are changing and prefers less sweetness and for that I'm fine with.
Merry Christmas!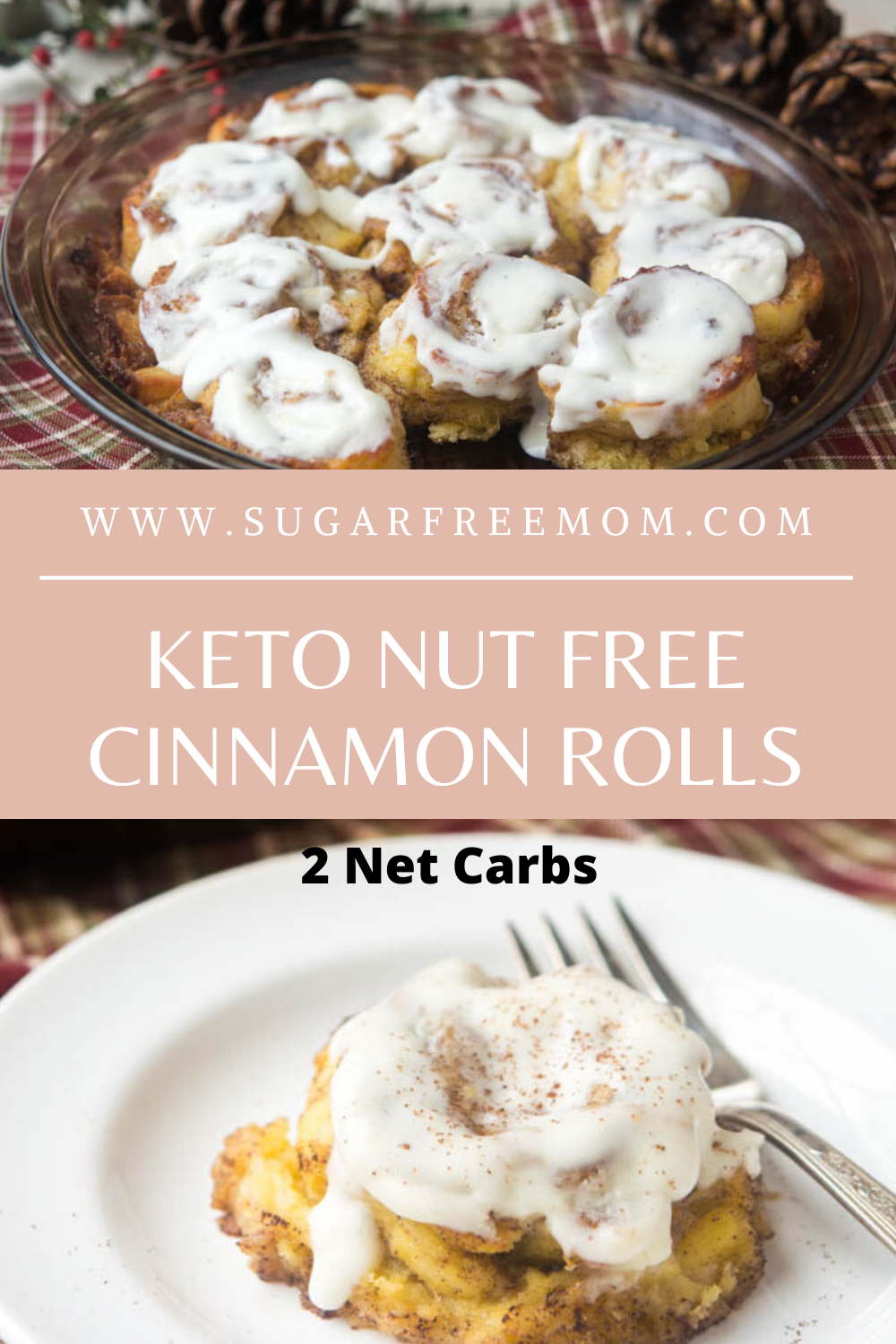 UPDATE!! I prepared this recipe and DID NOT bake it. I covered it well and tight with plastic wrap and refrigerated it on Christmas Eve. The morning of Christmas I let it sit on the counter for 1 hour before baking. The only difference I noticed was that it took about 25 minutes instead of 15 minutes to bake in order for the dough to fully cook and get browned. I also reduced the amount of sweetener as a few comments mentioned it was too sweet. I was out of the Sukrin brown sugar sub so I used Swerve confectioners instead for the Cinnamon "Sugar". I prefer the Sukrin though, as I felt and my hubby, the Swerve left a bit of an aftertaste. But as far as texture it was just as good as having made it fresh.
Keto Cinnamon Rolls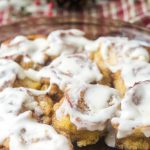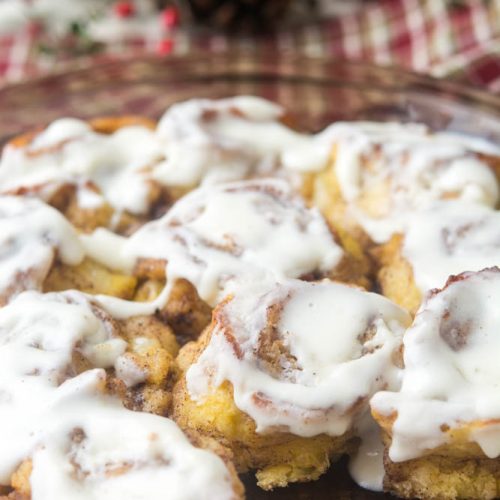 Print
Keto Low Carb Cinnamon Rolls (Fathead, Almond Flour Free)
Ingredients
Instructions
Preheat the oven to 400 degrees F.

New Easy Method below in Notes or Combine the mozzarella and cream cheese and melt together either 2 minutes in a microwave or over the stove on low heat. Stir until smooth. 

Add the remaining dough ingredients, wet hand and thoroughly incorporate as much as possible.

Roll the dough on a piece of parchment paper, top with another sheet of parchment since the dough is quite sticky, about 16 by 8 in.

Slice into 12 strips. Set aside.

Combine the melted butter, sugar free sweetener and cinnamon. Mix well to combine, use half the mixture to spread onto the strips of dough. Roll them up and place them on a greased or parchment lined pie dish. Use the remaining butter mixture to pour over the tops of the cinnamon rolls.

Bake 15-18 minutes. While they are baking you can make the frosting.

Add the frosting ingredients into a blender and blend until smooth.

Once rolls are hot out of the oven spread the frosting over the tops of the rolls and enjoy!
Notes
NEW METHOD:  Add all ingredients for the dough into the food processor, then add to a microwavable bowl and microwave for 2 minutes, it's much better and easier to combine. Then proceed with recipe to roll it out, add cinnamon sugar filling and roll up using the ends of the parchment paper to help you roll it over. Then slice into 12 pieces and bake as follows. 
Nutrition
Serving:
1
roll
|
Calories:
219
kcal
|
Carbohydrates:
4
g
|
Protein:
6
g
|
Fat:
19
g
|
Saturated Fat:
11
g
|
Cholesterol:
77
mg
|
Sodium:
303
mg
|
Potassium:
144
mg
|
Fiber:
2
g
|
Sugar:
1
g
|
Vitamin A:
590
IU
|
Calcium:
162
mg
|
Iron:
0.4
mg