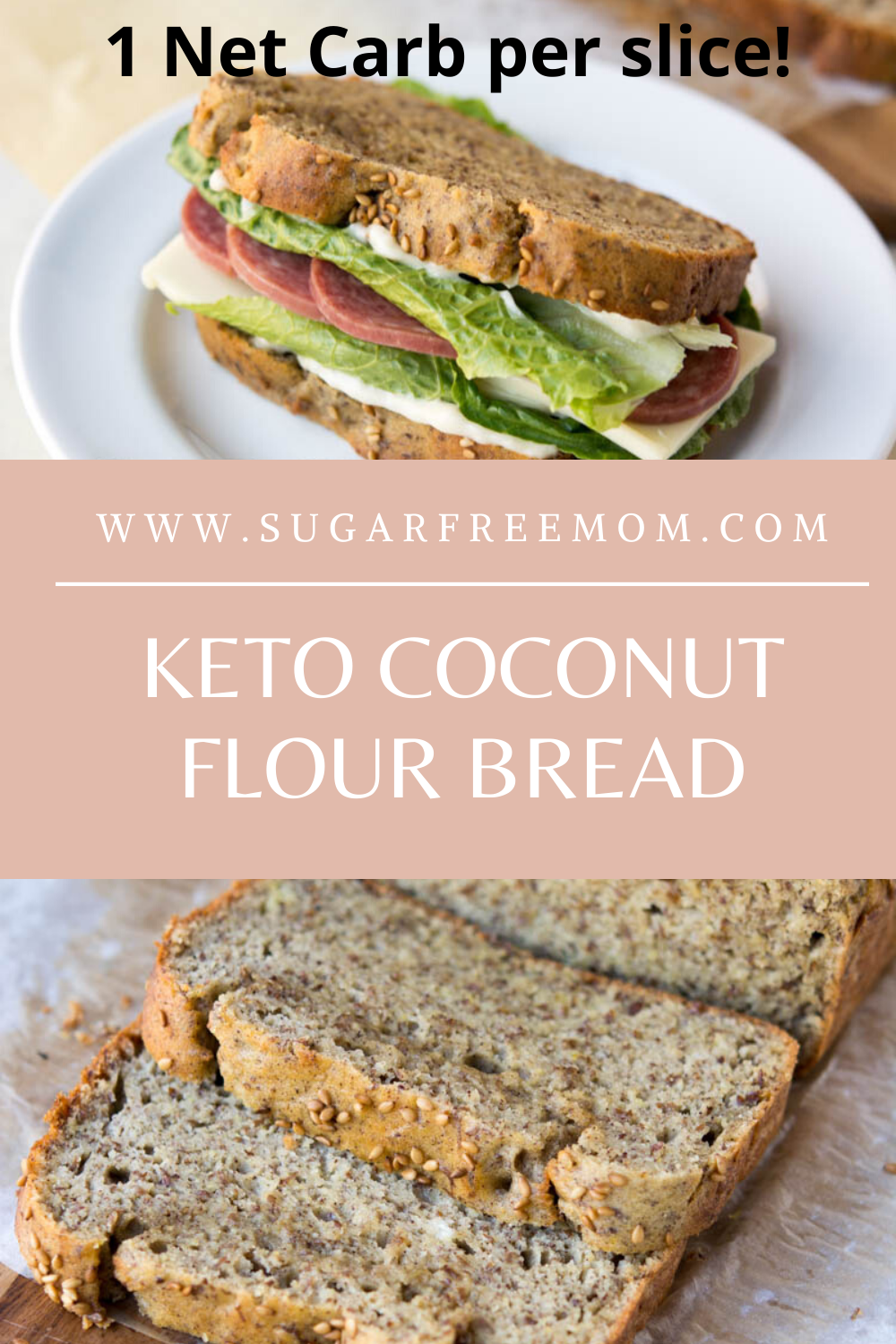 This is the BEST Keto Low Carb Coconut Flour Bread you'll have try! The texture of this keto bread resembles soft wheat bread and it's perfect for low carb sandwiches!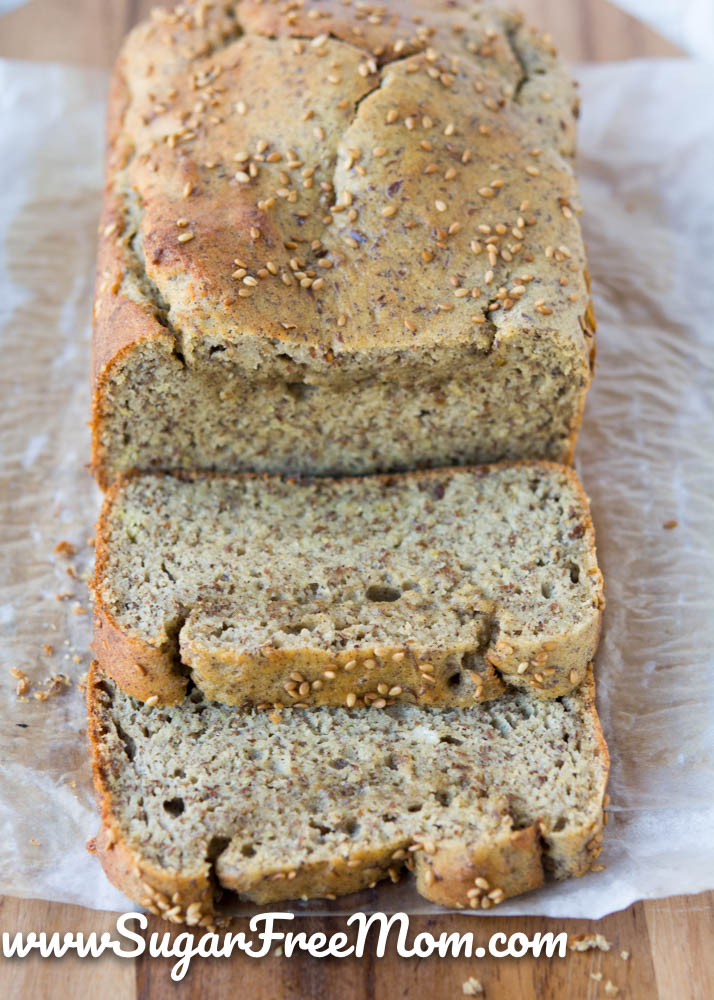 This is the low carb bread recipe of your dreams! No, I mean it, this is the best keto bread made with coconut flour you will ever find on the internet! None will compare, not even an almond flour keto bread recipe! You probably have all the ingredients need to make this easy low carb bread!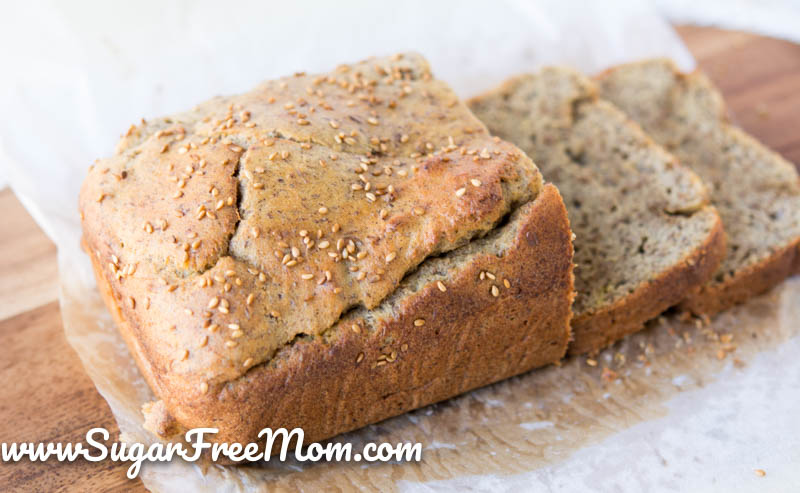 Keto Bread versus Cloud Bread
Following a low carb diet now for the last 5 years has led me to the deepest desire to make a real slice of bread for sandwiches. The biggest struggle with making a keto bread is that in my home, my youngest has a tree nut allergy and almond flour isn't something I can use. Learning to work with coconut flour has been challenging to say the least, but with the right amount of liquid, masterpieces can happen and this low carb bread is one of them!
The biggest difference with this bread and my Cloud Bread recipe is that it has substance. While the cloud bread is low carb and great for making Cloud Bread French Toast, I felt it wasn't quite right for typical sandwiches I was hoping for, it's very airy and light. So the experimenting with coconut flour has continued for quite a few years.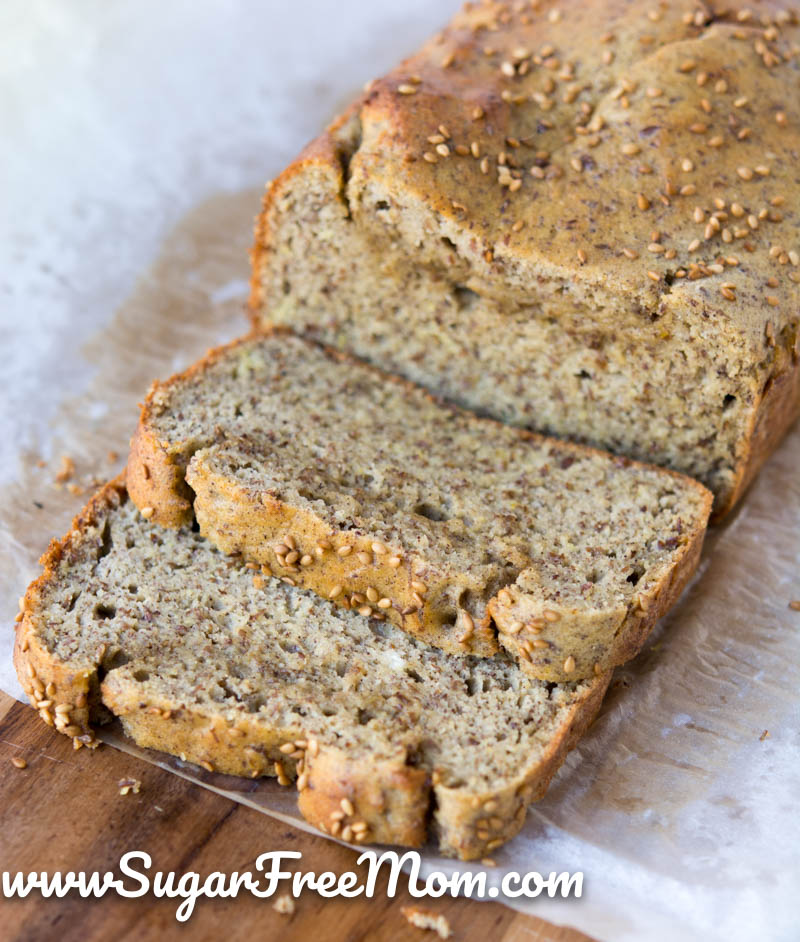 Low Carb Bread versus Traditional Bread with Gluten
The biggest issue and challenge with bread recipes that are low carb is always the lack of using gluten which comes from refined flours. Since there's no refined flours and no gluten in this recipe, replicating that chewy bite, soft airy texture and melt in your mouth flavor, has to be created in some other way. I've done this with xanthan gum and baking powder. This combination, plus a little bit of fiber from ground flaxseed is what makes this low carb bread resemble that texture you might remember from your prior carb eating.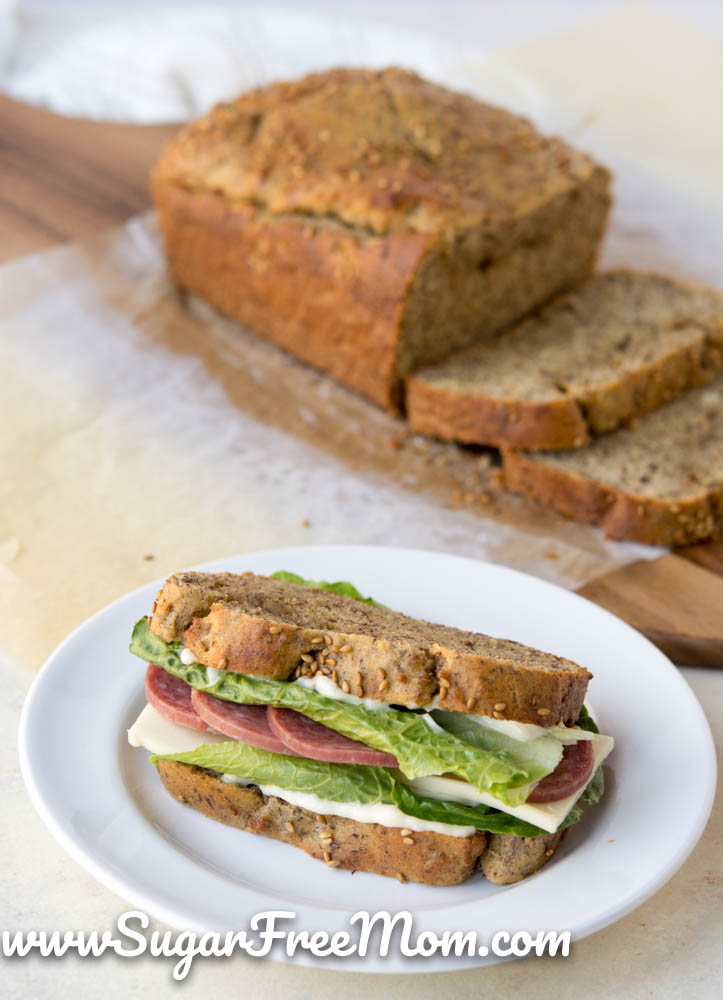 A little bit of toasted sesame seeds on top before baking and this was the most amazing sandwich I've enjoyed in years! I couldn't wait to finish the photos so I could devour it!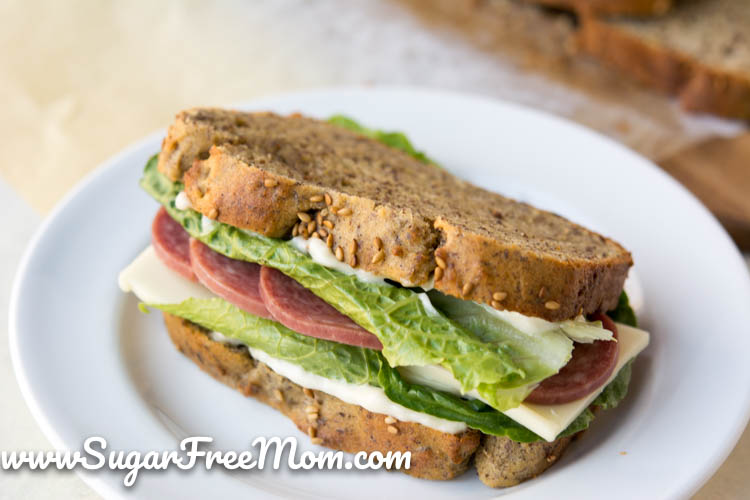 Paleo Coconut Flour Bread
This coconut flour bread recipe can be made paleo simply by the heavy cream swap I mention in the recipe. My daughter has been having some issues with her stomach and dairy seems to be the culprit. So for a time now I've got plans to deliver more paleo recipes since my dear daughter is so sad about the loss of her beloved cream cheese, sour cream, and basically any cheese for that matter. She's especially sad about the Keto Fathead Low Carb Cinnamon Rolls she loves that I make. I don't know if I can make those dairy free but I may certainly try for her sake!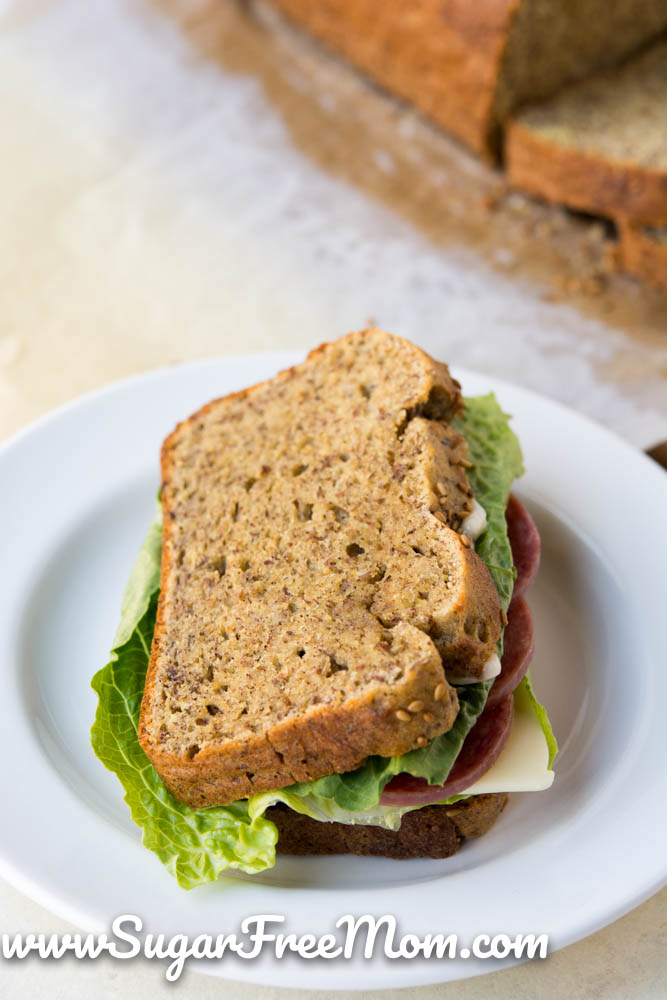 How to Store Keto Bread
Obviously homemade bread recipes don't have all the artificial ingredients that make store bought bread on shelves last as long as they do. After this bread is cooled completely, you can slice it and wrap it in aluminum foil. If you plan to eat it over the next 2-3 days it can stay on the counter. If you think you'll need a bit longer, you can store in the freezer wrapped well in an airtight container, with parchment between the slices. Then pull out the slices you want in the morning and toast. You can do the same in the refrigerate and the bread should last up to 7 days refrigerated.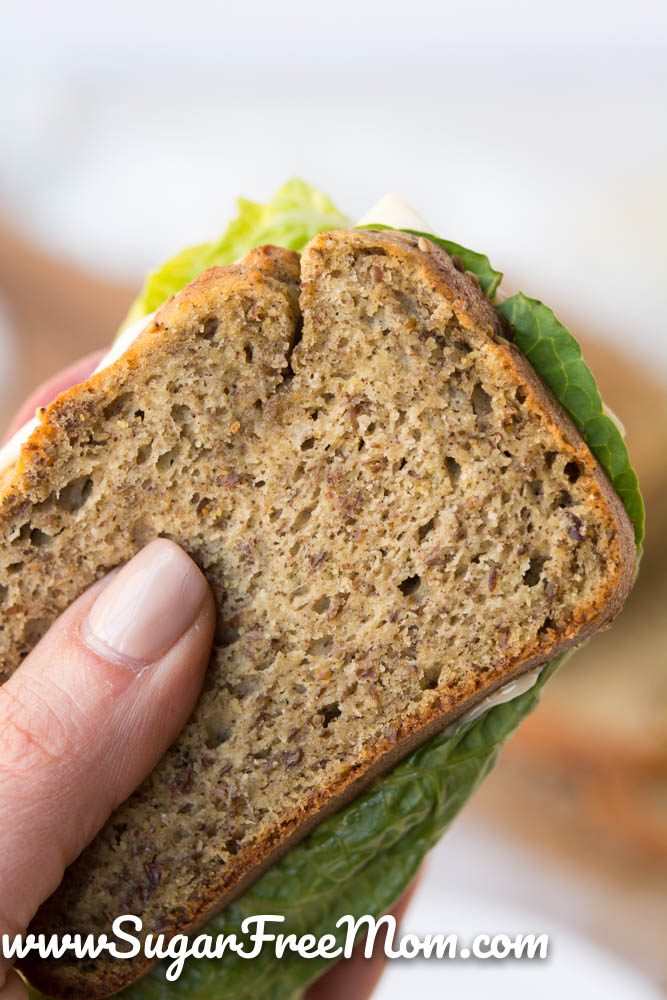 Most often when baking a bread with just coconut flour, it's quite dense, almost pound cake style. It's not the case in this recipe! It's the flaxseed that makes this perfect I think! I recently made this Low Carb Flax Meal Bread and that's what gave me the idea to add some flax to this bread. The Flax Meal bread uses almond flour and has dairy in it so both of my kids can't enjoy that bread. I knew I had to develop something for my kids to enjoy as well and this one is it!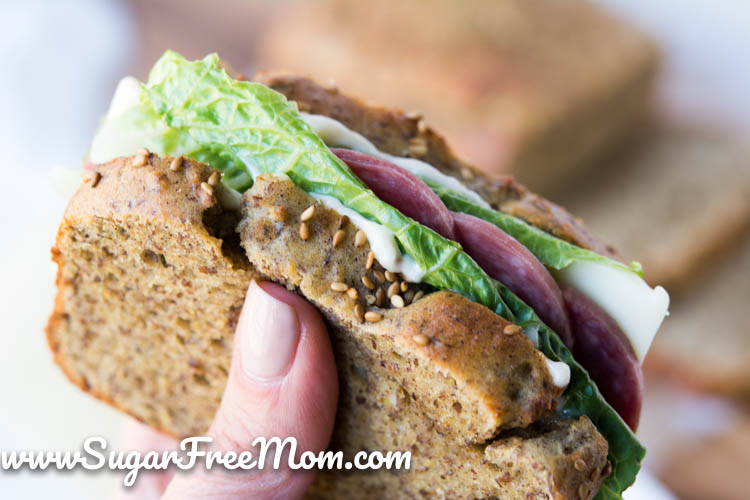 The Best Keto Bread made with Coconut Flour!
A few notes:
If you have chickens and very large eggs compared to store bought chicken eggs, you should use just 4-5 instead of 6.
This bread is not sweet although you see the sweetener in there. The slight hint of sweetness is needed in case you have a child like mine who can detect any coconut in a recipe.
Make sure your baking powder is aluminum free because it will cause most baked goods to turn green and have a tinny flavor.
I used an 8 by 4 (1.5 quart) loaf pan. If you use a 9 by 5, you won't get the height I have in my photos.
If you love savory breads, try adding some onion and garlic powder to the mix!
Hope you enjoy this fantastic "bread"!
UPDATE: I've heard many say in comments it's too much cinnamon so I reduced it by half when I made it again for our family and it was lighter in color than in my pics. I also reduced the sweetener by half and it tasted just fine, just a hint of sweetness. I also made my slices thinner and adjusted the amount of slices you can get in this loaf, I'm updating the nutrition info for 14 slices as opposed to what it was originally as just 12 slices. I'm sticking by my decision to use 1 teaspoon of cinnamon as I just love it with the look of wheat bread.
The eggs will always be a problem as far as size. If you use store bought eggs that say large, they are really small compared to eggs from chickens I have. To make this easier on everyone I measured the small chicken eggs I've used and placed the amount in ounces to give you a better idea. If you measure out the eggs you have and they are very large then you may only need 4-5. If after you've adjusted the egg amount and it still seems wet to you, reduce the oil to ⅓ cup.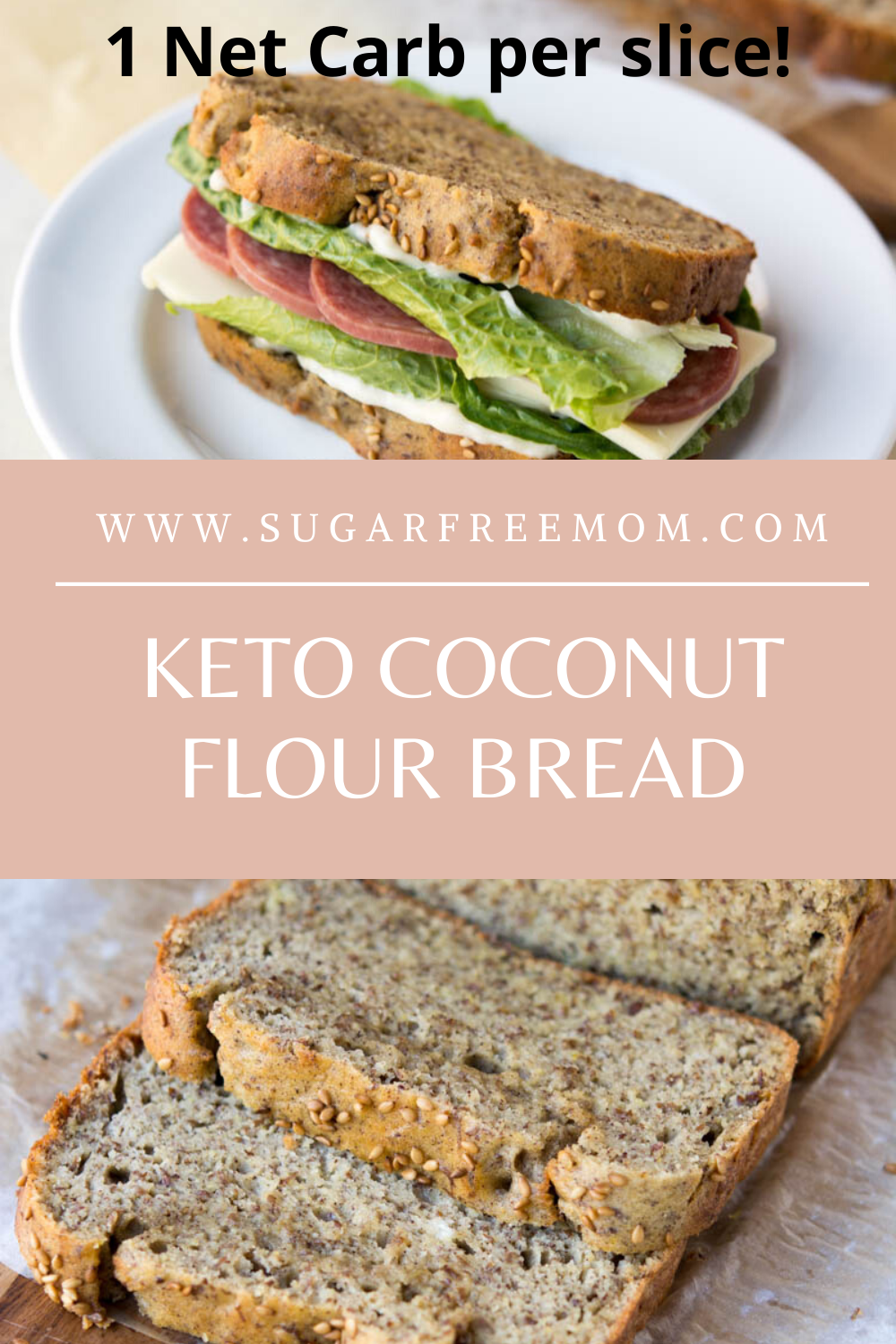 UPDATE MAY 28, 2018: I reduced the olive oil to ⅓ cup instead of the orginial recipe using ½ cup because a few comments mentioned it was still moist in the center. I also decided to just try water in place of the heavy cream or coconut milk. BOTH of these changes have equalled perfect success! So whether to have the original recipe printed and that's working fine for you or you decide to use the below recipes, now that I've changed a couple things, either will work just fine! And it reduced the net carb count per slice from 2 to 1 gram per slice!
Keto Coconut Flour Bread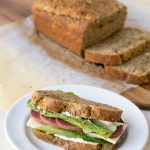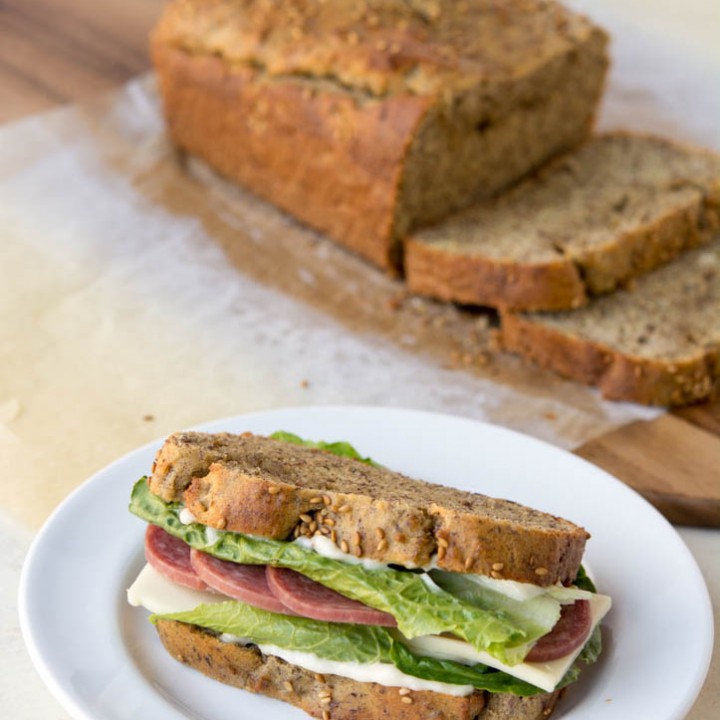 Print
Keto Low Carb Coconut Flour Bread
The BEST Low Carb Bread for sandwiches!
Instructions
Preheat oven to 375 degrees F.

In a stand mixer place the eggs, oil, cream or milk and blend until combined.

Add the remaining ingredients to the mixer and blend until incorporated.

Sprinkle optional toasted sesame seeds on top of loaf if desired.

Bake for 40-45 minutes until a toothpick in center comes out clean.

Allow to cool for 20 minutes before removing to a wire rack.

Cool completely before slicing.
Notes
Net Carbs per slice: 1 gram
Nutrition
Serving:
1
slice
|
Calories:
122
kcal
|
Carbohydrates:
4
g
|
Protein:
4
g
|
Fat:
9
g
|
Saturated Fat:
2
g
|
Cholesterol:
70
mg
|
Sodium:
127
mg
|
Potassium:
159
mg
|
Fiber:
3
g
|
Vitamin A:
100
IU
|
Calcium:
63
mg
|
Iron:
0.9
mg