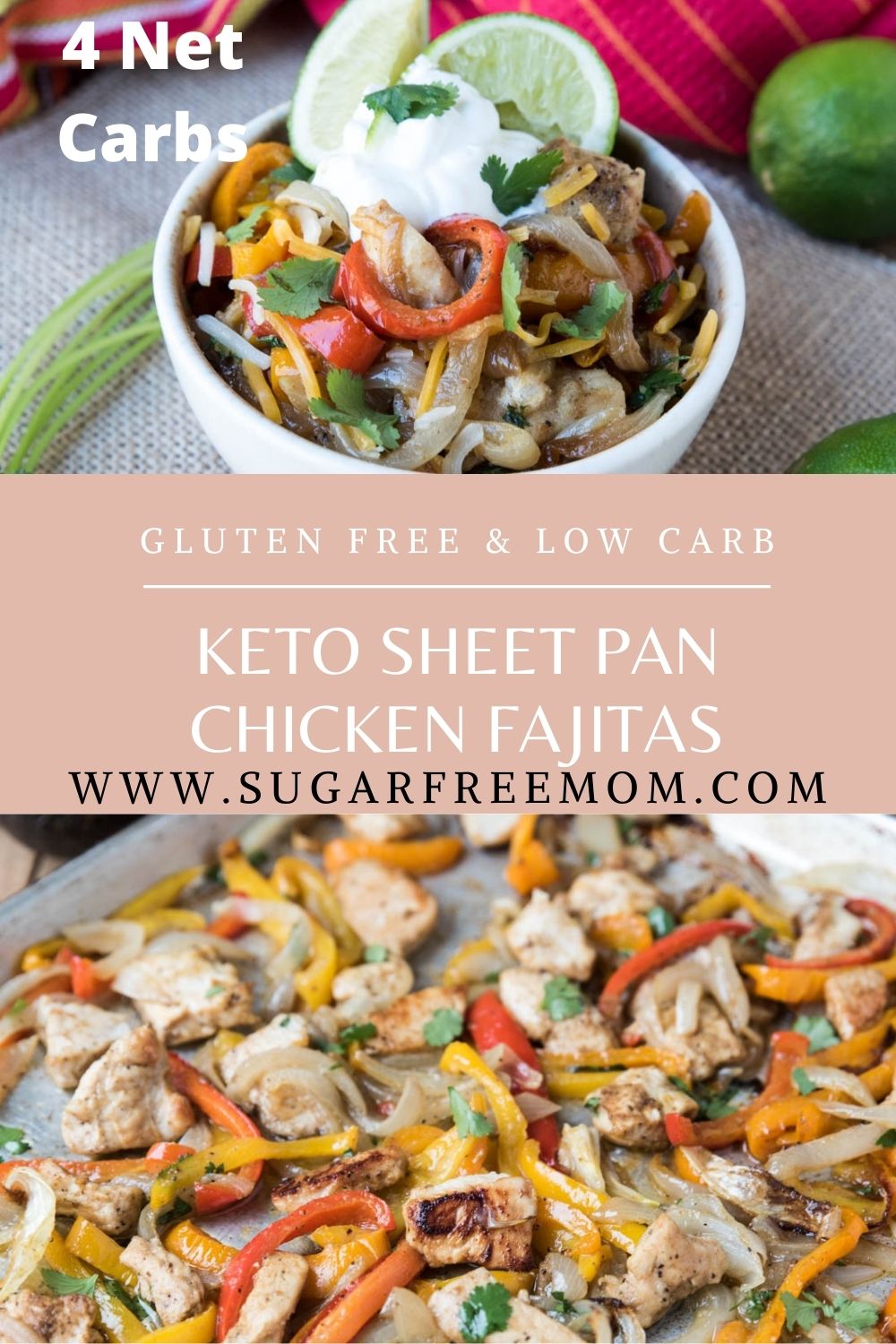 These easy chicken fajitas take very little time to prep and bake all together on a sheet pan, making clean up so easy!
WHAT ARE SHEET PAN MEALS
Sheet pan meals are one of the quickest, most efficient way to get a meal on the table in under an hour. It takes little effort and there is no fussing at the stove, the oven does all the work. Sheet pan meals are like the concept of a one pot meal, just on a sheet pan instead. You combine your protein of choice, with veggies you like, add seasonings and a healthy fat, then allow this to roast in your oven until the protein is cooked and veggies are nice and tender and golden brown. Cleaning up is even easier then the prep time since you have just one pan to clean!
THE BEST KETO SHEET PAN MEALS
The best kind of keto sheet pan meals take into account that low carb veggies work best on a ketogenic diet. Low carb veggies like zucchini, mushrooms, peppers, cauliflower, broccoli to name just a few. You can enjoy an abundance of proteins on a keto diet like chicken, beef, pork, shrimp, salmon and turkey are just a few options.
Here are some of my favorite keto sheet pan meals: Sausage & Peppers and Salmon & Cauliflower from my cookbook Naturally Keto.
WHAT TEMPERATURE IS BEST FOR SHEET PAN MEALS?
It's best to cook your sheet pan meal on high heat, about 400 degrees F. This will fully cook your protein and allow your veggies to get nice and golden brown. If you are cooking a fish with your sheet pan veggies, it's best to add it at the end of the cooking time since your veggies need much longer cooking time than something like shrimp would.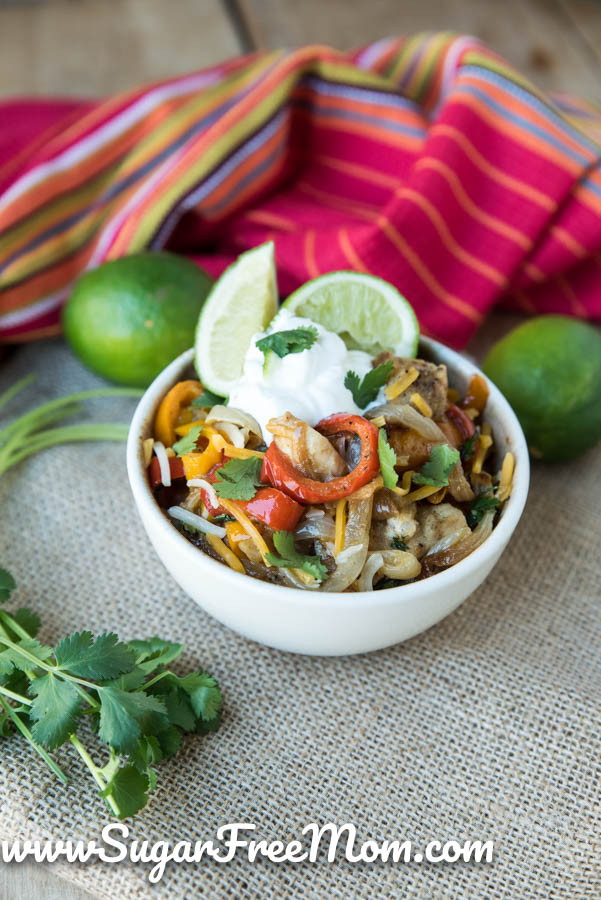 KETO SIDES WITH CHICKEN FAJITAS
The number one best keto side to go with keto chicken fajitas is of course, Guacamole! You could use pork rinds to dip or try these meat chips by Carnivore Crisps! They have Chicken Skin Chips, Beef Brisket, Beef Ribeye and so many more! They are my new favorite "chip" because sometimes we just get tired of using pork rinds to dip! Use my code "SUGARFREE" to get 10% off your first order!
If you want to make these into a burrito or even a taco, you might enjoy my For Real Tortillas or my Cheese Taco Shells.
Favorite Fajita Toppings
Sour cream, cheddar cheese or a Mexican cheese blend is always a good choice. A heavy squirt of fresh lime juice, fresh cilantro, and even some jalapeno, if you prefer, are also awesome toppings!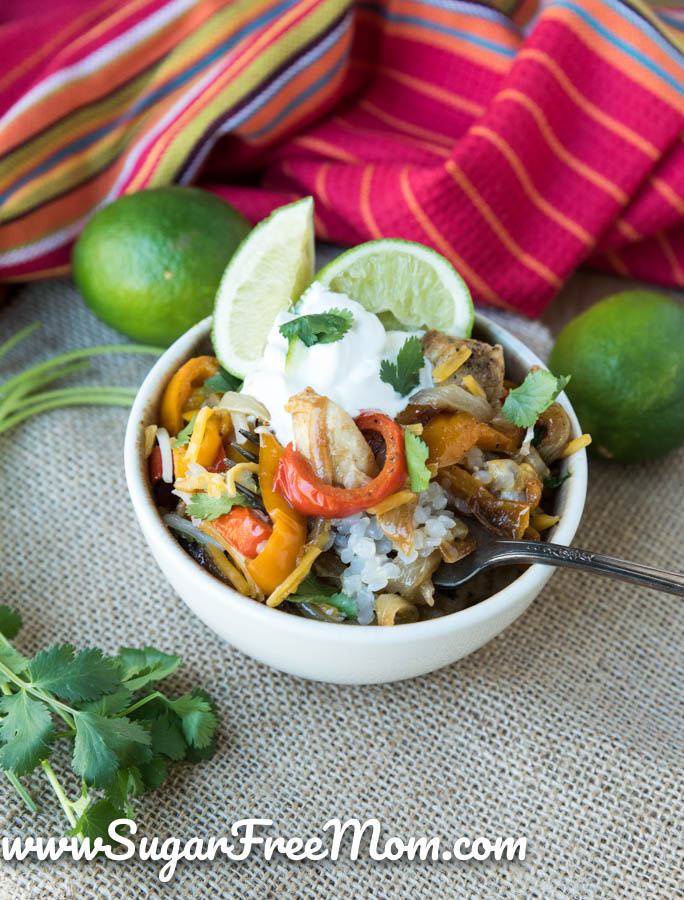 MAKE IT A CHICKEN FAJITA BOWL
This chicken fajita sheet pan meal is already keto friendly as it is, but if you want to turn it into a keto chicken fajita bowl like you could get at Chipotle, you easily can! Place my Mexican Cauliflower Rice recipe into a bowl, top with chicken fajitas and add your favorite fajita toppings! super simple. If you aren't feeling like making a recipe for the cauliflower rice, you could certainly use an already prepared cauliflower rice or even try shirataki rice which is what I used in the photos.
How to Cook Shirataki Rice:
Cut open thee bag of rice than rinse thoroughly using a fine strainer. Squeeze out as much liquid as you can, then place into a microwavable bowl, and cook about 5 minutes so all the liquid is absorbed. Add some seasonings you like, maybe even a little butter or avocado oil to the rice then top with your chicken fajitas and toppings.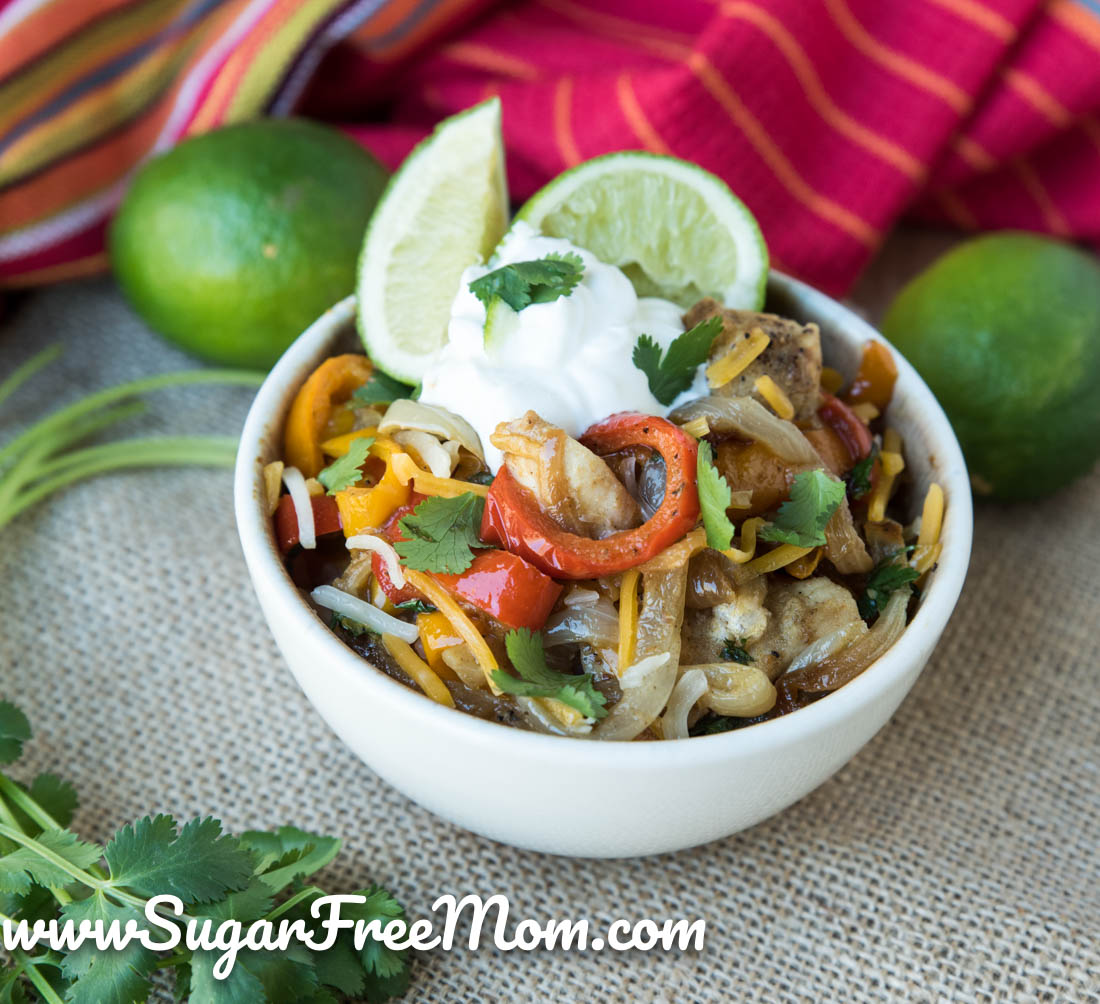 LOW CARB KETO FASTING MEAL PLAN MEMBERSHIP
You can choose from Three Meal Plan Options:
Low Carb Meal Plan includes breakfast, lunch, dinner, and snacks with 40 net grams of carbs or less per day.

Keto Meal Plan includes breakfast, lunch, dinner, and snacks with 20 net grams of carbs or less per day.

Intermittent Fasting Keto Meal Plan includes 2 meals per day plus one protein/fat rich snack daily with no more than 20 TOTAL carbs per day.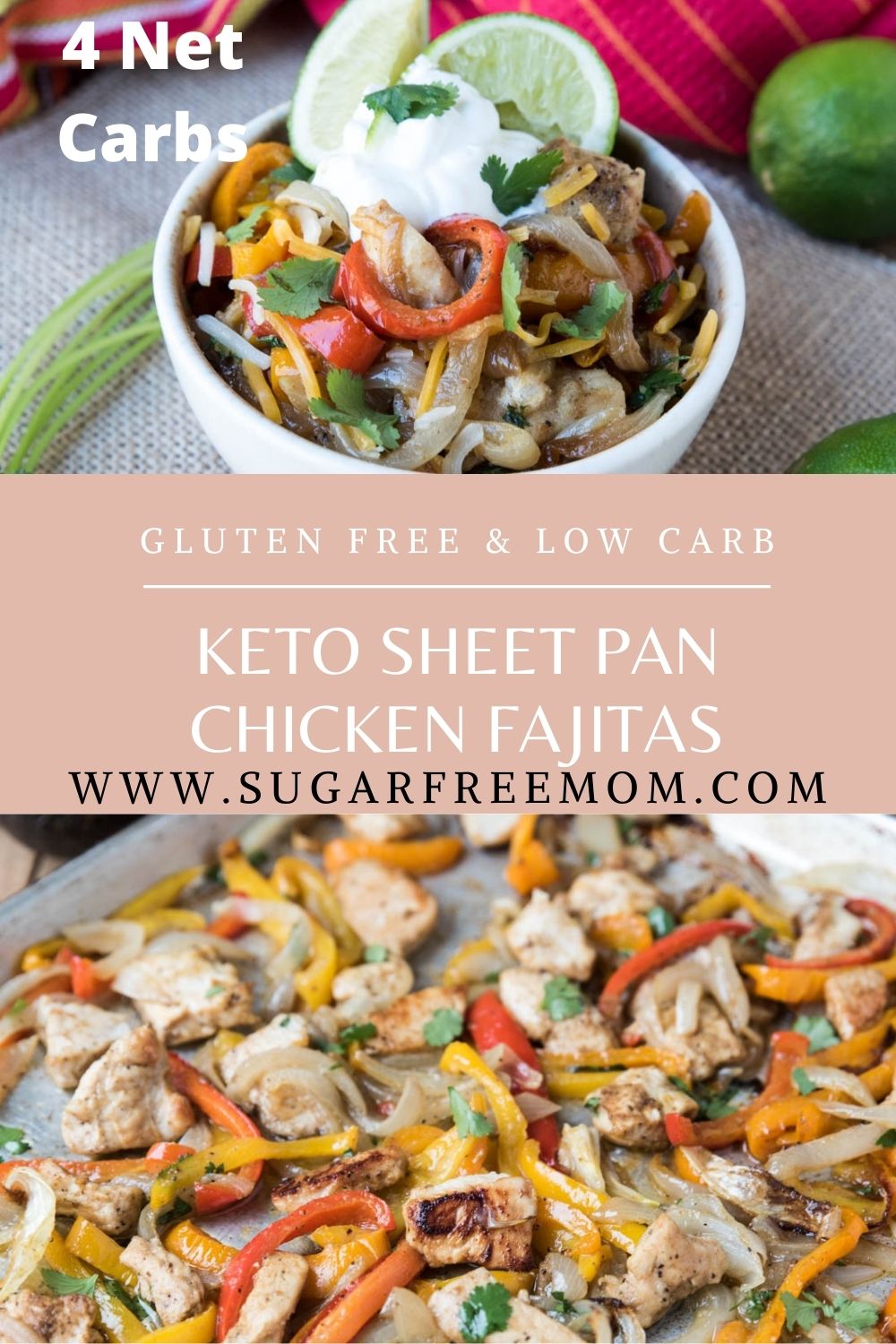 KETO SHEET PAN CHICKEN FAJITAS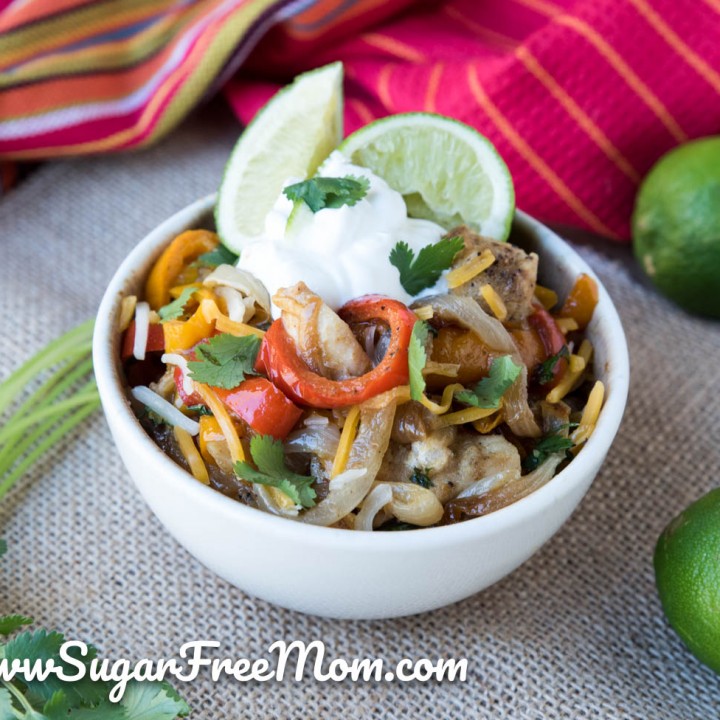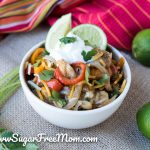 Print
Keto Sheet Pan Chicken Fajitas
Ingredients
3

small

sweet peppers

sliced

1

small

onion

chopped

1

pound

boneless

skinless chicken breasts, chopped

2

tablespoons

avocado oil

½

teaspoon

chili powder

1

teaspoon

salt

½

teaspoon

pepper

1

teaspoon

cumin

½

teaspoon

garlic powder

juice of lime

optional

optional toppings: sour cream

sour cream, shredded Mexican cheese, cilantro, salsa
Instructions
Preheat oven to 400 degrees.

Slice peppers and onion and place onto a large sheet pan.

Add in the chopped uncooked chicken.

Drizzle oil over the chicken and veggies and toss together.

In a small bowl whisk together the dry seasonings. Sprinkle over chicken and veggies.

Bake for 25-30 minutes or until peppers are tender.

Squirt some lime juice over the chicken and veggies and serve with optional toppings.
Notes
Net Carb: 4g
This recipe was originally made from my Chicken Fajitas Stuffed Zucchini recipe, minus the zucchini for this recipe.
Nutrition
Serving:
1
serving
|
Calories:
246
kcal
|
Carbohydrates:
6
g
|
Protein:
26
g
|
Fat:
12
g
|
Saturated Fat:
3
g
|
Cholesterol:
71
mg
|
Sodium:
645
mg
|
Potassium:
588
mg
|
Fiber:
2
g
|
Sugar:
3
g
|
Vitamin A:
1820
IU
|
Vitamin C:
72
mg
|
Calcium:
21
mg
|
Iron:
1
mg