Sugar Free Red Velvet Cake is low carb, made in under 3 minutes and perfect for two!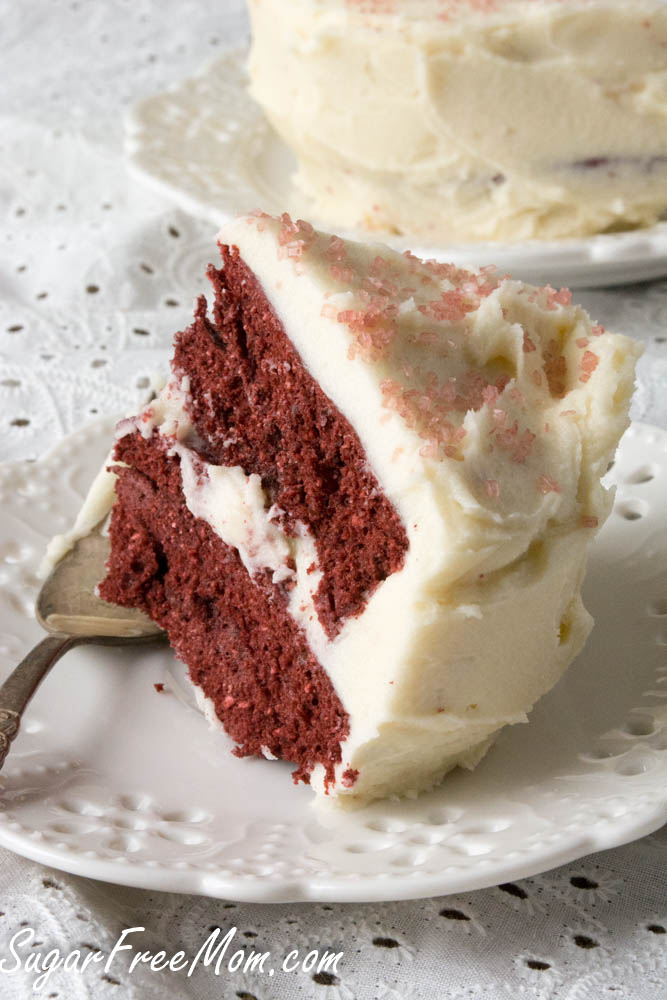 If you've been around my blog for a while, you know that I don't post many cake recipes.
It's not that I don't like cake or enjoy cake, it's just that…..it's so much work to decorate it!
I'm not the most talented when it comes to frosting and decorating cake or even cupcakes. In fact I would even say I really stink at it. And so that is probably why I dread making cake recipes.
But this cake, well this cake is a whole different story my friends.
This cake has proven to me that even I can make a cake look pretty darn good without too much work or effort on my part.
Shhhhhhh!!! It' a mug cake!!!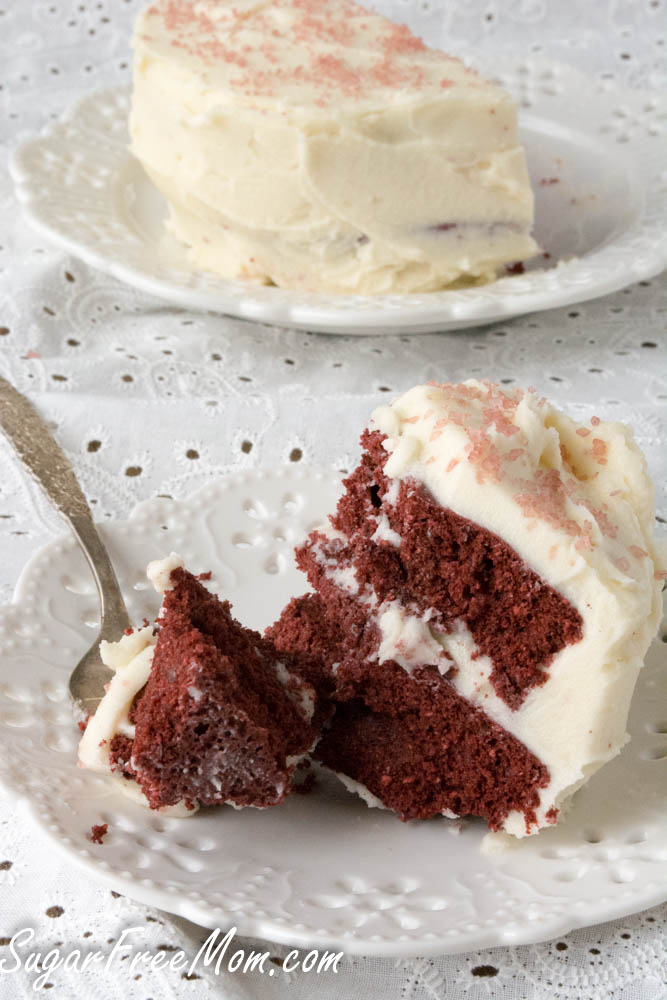 You know the ones, made in minutes in a mug right? Well this is just made slightly different in a quiche ramekin and made in 1 1/2 minutes for each in the microwave.
So why stack it and make it look like a layered cake?
For the hubby  of course, it is Valentine's time and to make him feel I went through all this trouble to make a mini cake for him for Valentine's day to share just the two of us.
And it worked and he was impressed and after 18 years of marriage, impressing my man is quite hard to do. So I made a cake.
And if you are anything like me, you can make this cake effortlessly as well. Oh and did I mention it's sugar free, gluten free, grain free and low carb too?
HA! How's that for a "healthy and you wouldn't know it" cake?!!
One requirement, I think it must be made with lots of Vanilla Cream Cheese frosting because that is how I roll with cakes, need the frosting or it's not a cake to me.
SO I made this maybe 3 times with the cream cheese frosting to make sure it was nice and moist before posting and come to find out, hubby is more of the Butter-Cream frosting  type like the one I made before Christmas with the sugarless sugar cookies.
So you certainly have the option to use either frosting, but my preference is the cream cheese one.
And if you don't have a Valentine to share this cake with, enjoy it all for yourself.
Or maybe have just half one day and enjoy the rest the next day, you know so you don't overindulge and all. 😉
What a difference just that 1 tablespoon of cocoa powder added to the color of the original right? My original recipe used 3 tbsp of coconut flour, but after hearing from comments regarding true red velvet should have cocoa powder, I adjusted the recipe.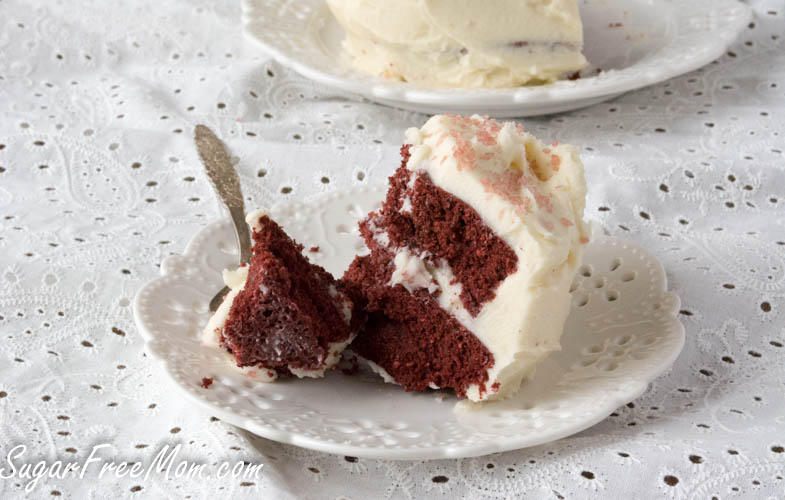 Also these pictures are using my Butter Cream Frosting. The original pictures are above use my Vanilla Cream Cheese frosting.
Two  of my three kiddies liked  the Buttercream frosting better as does the hubby. I prefer the cream cheese. Whichever you decide this won't disappoint!
Brenda's Notes:
Nutritional Information does NOT include frosting.
Choose either from my Sugar Free Vanilla Cream Cheese frosting or My Vanilla Sugar Free Butter cream frosting.
You can choose to keep it cake separate in it's own serving dish and frost just the top if you like.
My ramekins were 5 ounce quiche style. They were more shallow and wider than typical ramekins.
UPDATE: After a few comments I adjusted my recipe to include cocoa because many said it wasn't a true red velvet without it. Nutrition info is in fact lower in calories, fat and carbs because I reduced 1 tbsp of coconut flour to adjust using 1 tbsp of unsweetened cocoa. You may need to use more red food coloring as the cocoa powder does darken the cake. Natural red food coloring can be found at Whole Foods or online.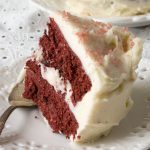 Sugar-Free Red Velvet Couple's Mug Cake
Ingredients
1

tablespoon

ground flaxseed

2

tablespoons

coconut flour

1

tablespoon

unsweetened cocoa powder

1/8

teaspoon

sea salt

1/2

teaspoon

baking pwoder

1/4

cup

heavy cream

2

eggs

1/4

teaspoon

vanilla extract

1

teaspoon

cherry vanilla liquid stevia or vanilla stevia

few drops red food coloring
Instructions
Whisk the first 4 ingredients together in a small bowl.

Whisk the rest of the ingredients together in another bowl.

Add the wet to the dry and stir until combined well.

Grease two 5 ounce ramekins and spread batter evenly into both.

Cook one at a time, in microwave for 1 1/2 minutes each.

Cool then frost as desired.
Recipe Notes
Weight Watchers Points Plus: 5*
Net Carbs: 3.3g

Nutrition Facts

Sugar-Free Red Velvet Couple's Mug Cake

Amount Per Serving (1 g)

Calories 187

Calories from Fat 114

% Daily Value*

Total Fat 12.7g 20%

Cholesterol 200mg 67%

Sodium 322mg 13%

Total Carbohydrates 8.9g 3%

Protein 9.3g 19%

* Percent Daily Values are based on a 2000 calorie diet.