These Easy Keto Low Carb Pigs in a Blanket are perfect for a quick meal and always a hit with the kids!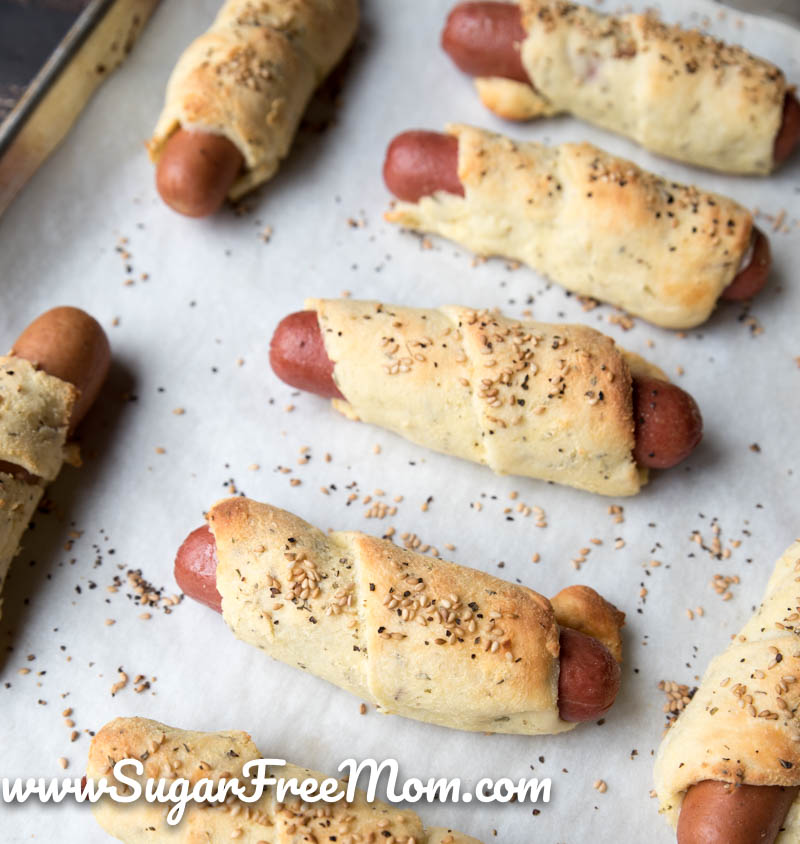 Keto Nut Free Fat Head Dough
Some might call these bagel dogs, but whatever you call these, they are a fun, easy meal for the family.
My Fathead Magic Dough is perfect for savory and sweet recipes. Many of the recipes for this dough use almond flour, but for a family who has tree nut allergies like us, that won't work. I adapted it using coconut flour and have made so many wonderful "magical" recipes that have impressed not only my family, but friends who aren't low carb as well.
My new method for making fat head dough easier to work with is more efficient and less of an arm workout! Check out the video below to see how easy this comes together!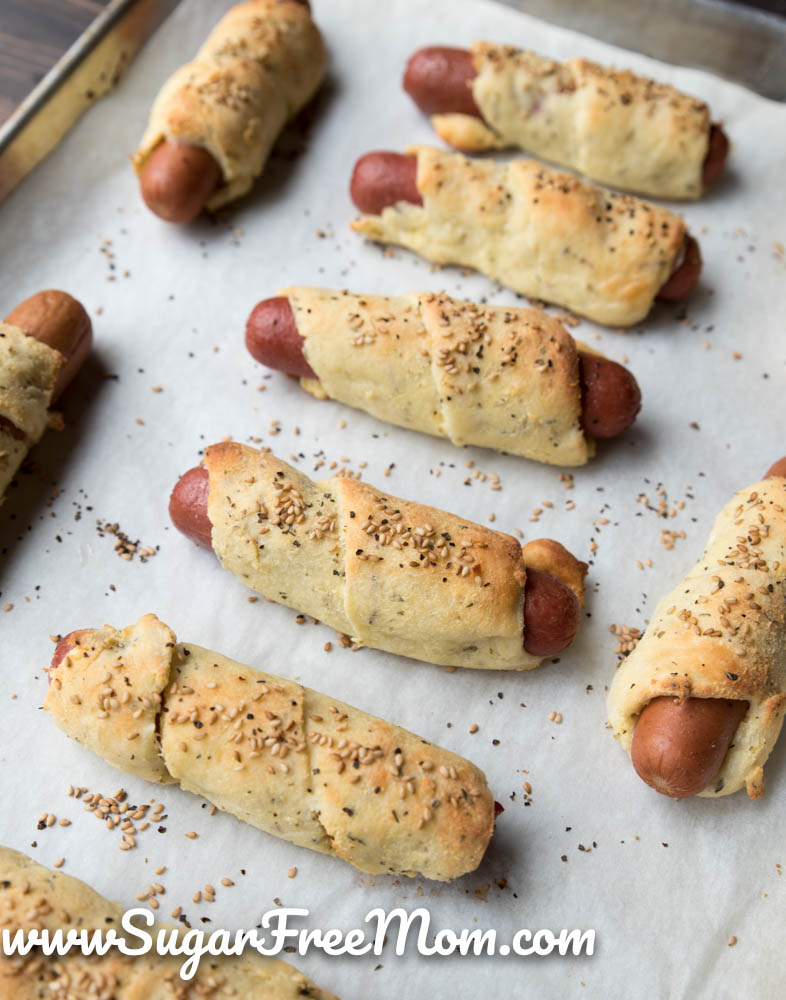 The Keto Pizza Rolls I recently shared are incredible, even my picky hubby loved them. From Rolls, to Danish, to Cinnamon Rolls, this dough really is fabulous!
This recipe I'm sharing today was a win for my kids and hubby. I'm sure you've seen or tried "pigs in a blanket" with the traditional crescent roll from a can right? This version is just as tasty, a bit more work than popping open a can of dough, but still, a perfect quick lunch or dinner or kids party.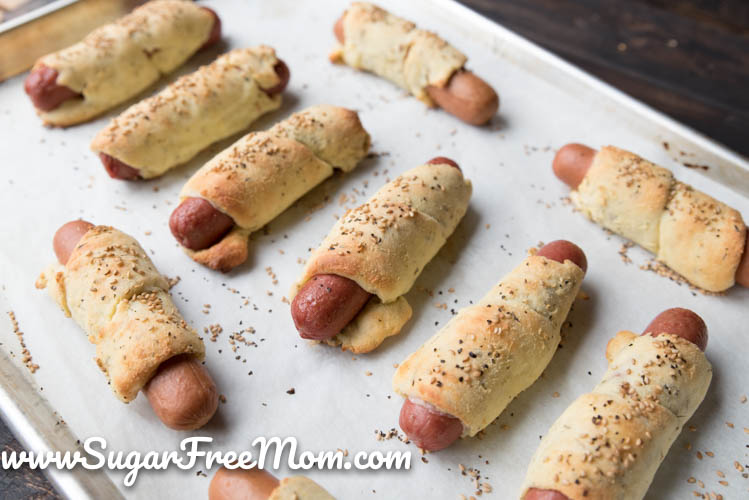 Is Coconut a Nut?
I'd like to clear up this constant question get asked almost daily about whether coconut is a nut. While the US Food & drug Administration (FDA) claims that coconut is a tree nut becomes it comes from a tree, it is in fact a FRUIT. People who have tree nut allergies may be allergic to coconut as well, but being allergic to coconut is not the same as having a tree nut allergy.
My own son was diagnosed with a Peanut and Tree Nut allergy at the age of 2. He has safely eaten coconut all these years without issue and he is now 14. Coconut is a fruit, called a drupe. It's like a peach with a pit.
The American College of Allergy, Asthma and Immunology says it well: "Coconut is not a botanical nut: it is classified as a fruit, even though the FDA recognizes coconut as a tree nut. While allergic reactions to coconut have been documented, most people who are allergic to tree nuts can safely eat coconut. If you are allergic to tree nuts, talk to your allergist before adding coconut to your diet."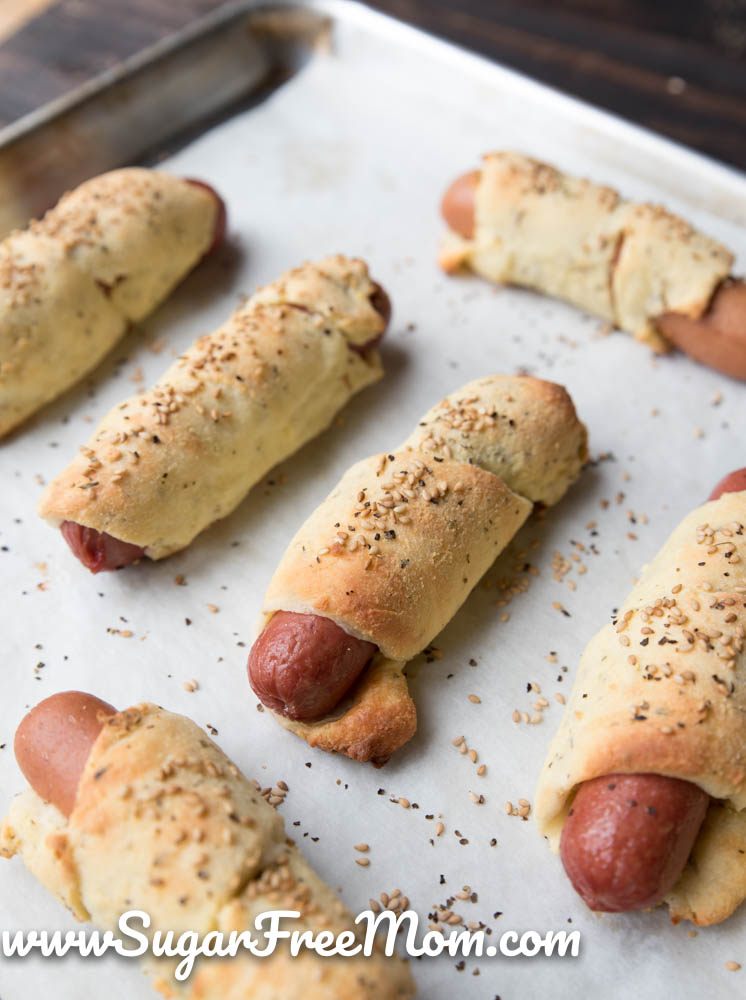 Tools to Make Keto Nut Free Pigs in a Blanket
Food Processor-You don't need a super large processor for this recipe using my new method for making keto fat head dough.
Glass Bowls- You only need one for this recipe but it's always a good idea to have a variety of sizes in the kitchen.
Parchment Paper- Save yourself from scrubbing your sheet pans because parchment is the best!
Large Baking Sheet Pan- You'll make a dozen keto pigs in the blanket for this recipe so a large baking sheet is a must.
Sometimes simple recipes are the best and this one is no exception. It makes a fun, party friendly appetizer as well!
Enjoy!
Keto Low Carb Pigs in a Blanket (Nut Free, Gluten Free)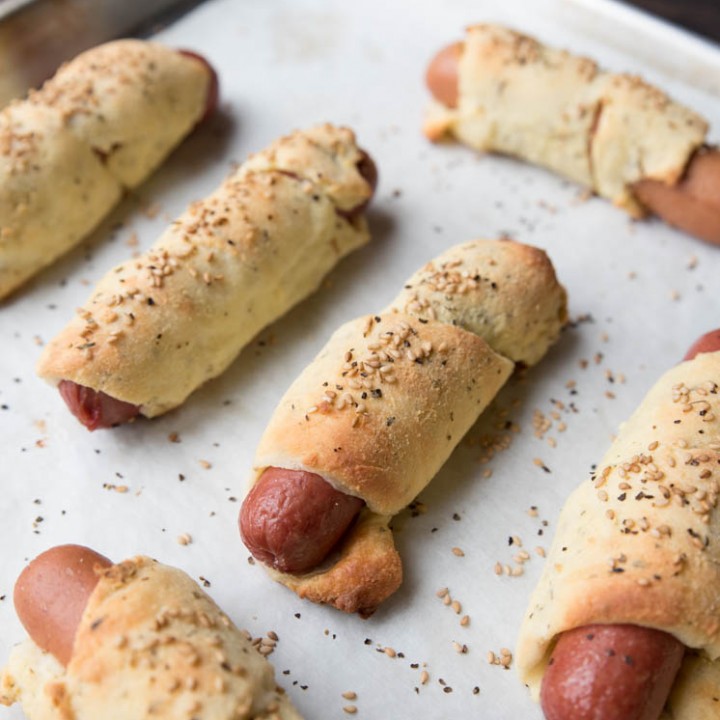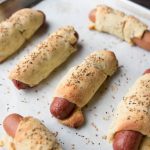 Print
Low Carb Pigs in a Blanket
Servings
12
pigs in a blanket
Instructions
Preheat oven to 400 degrees F. Add all ingredients for the dough into the food processor and process until combined. Place into a microwavable bowl and microwave for 2 minutes or melt over low heat on the stovetop. Stir together until well combined. 

Wet hands as dough will be sticky.

Separate the dough into 12 balls about 1-1.2 ounces each. Roll each ball between two pieces of parchment to about 8 inches in length. 

Wrap the hotdog with the dough starting at one end to the other. Place on a parchment lined baking sheet. Continue with the rest.

Top with toasted sesame seeds and black pepper if desired.

Bake for 15-20 minutes until golden brown.
Notes
This recipe was first published in February 2018 and updated with my new method for working with fat head dough and including a video. 
Nutrition
Serving:
1
piece
|
Calories:
215
kcal
|
Carbohydrates:
3
g
|
Protein:
13
g
|
Fat:
16
g
|
Saturated Fat:
8
g
|
Cholesterol:
72
mg
|
Sodium:
653
mg
|
Potassium:
51
mg
|
Fiber:
1
g
|
Vitamin A:
230
IU
|
Calcium:
114
mg
|
Iron:
0.4
mg