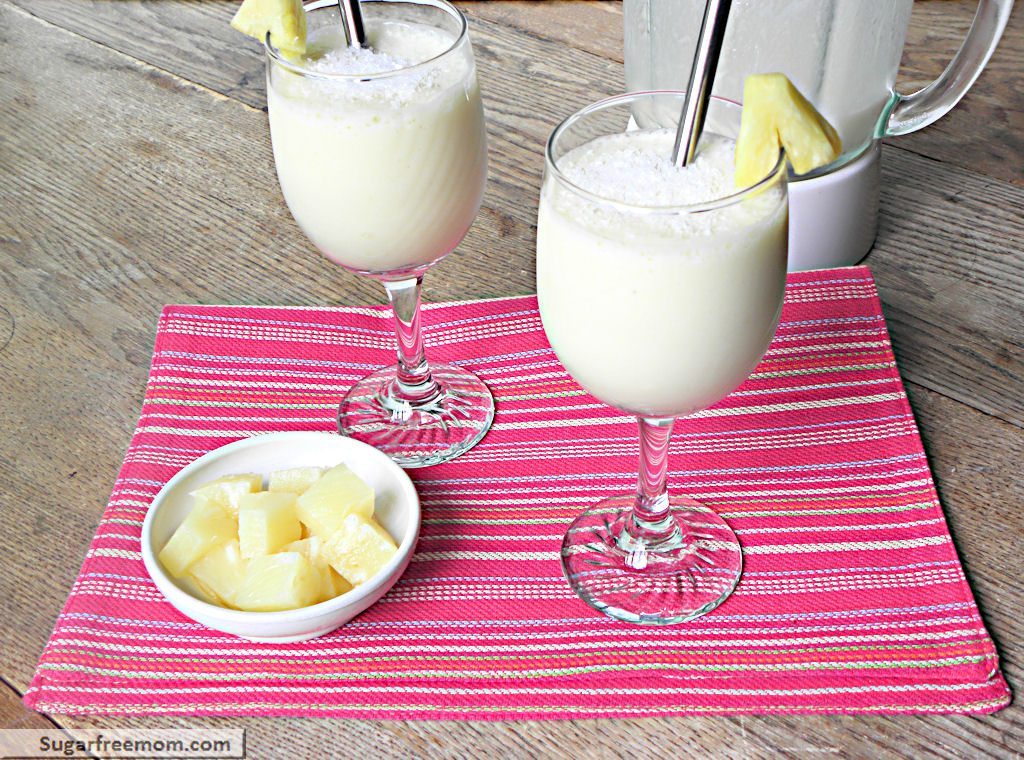 Can the simple taste of certain ingredients just remind of or take you away to a favorite place? For me, its the flavors in Pina Colada. I enjoyed many while honeymooning years ago in St.Lucia! Of course as a smoothie these have no alcohol in them so you can enjoy the flavors anytime you want.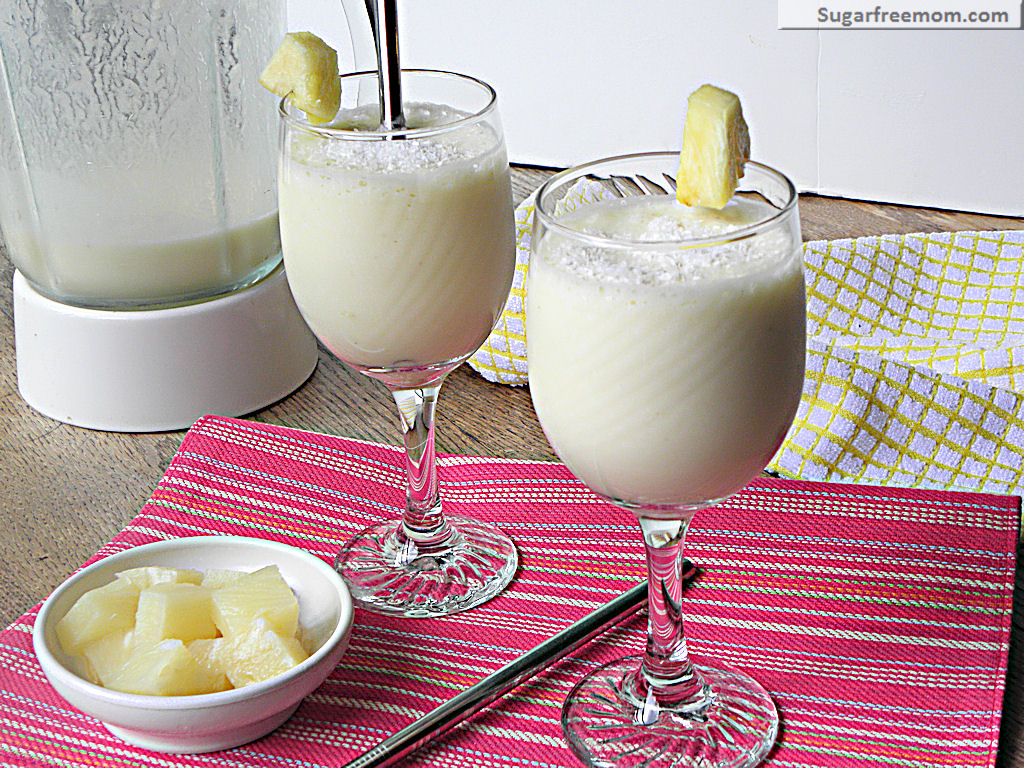 I love the creaminess that coconut milk provides especially since real cream bothers my stomach. I don't feel I'm missing out at all when enjoying this smoothie without any dairy in sight!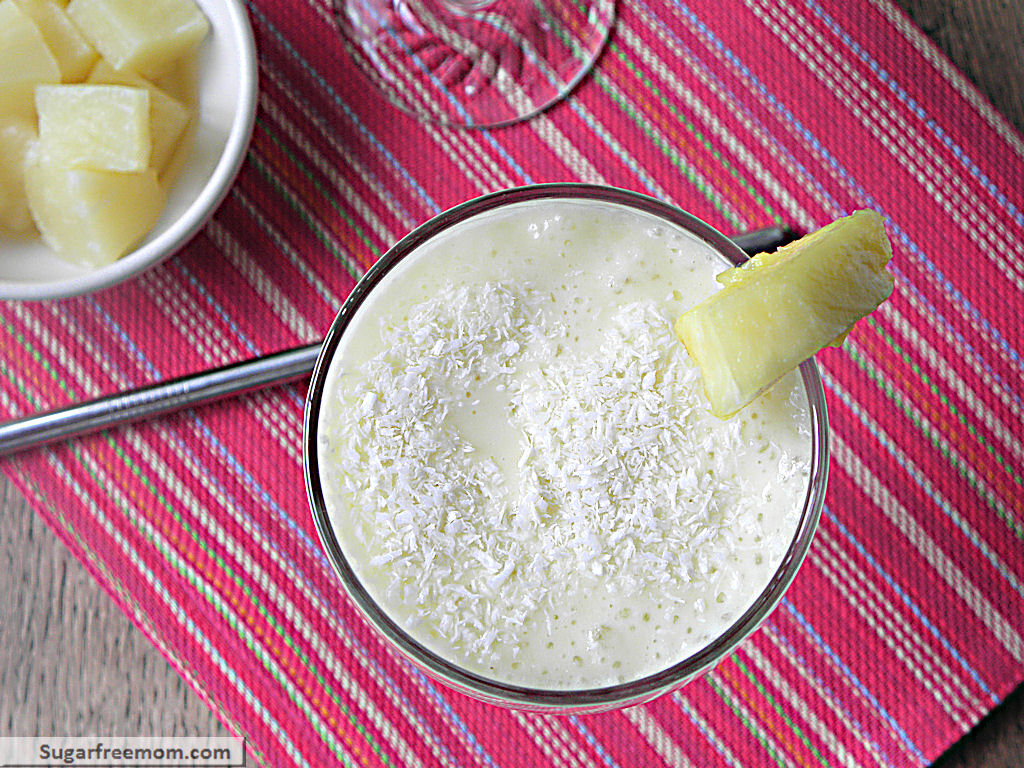 Creamy, dreamy, deliciousness! Topped here with some unsweetened shredded coconut flakes. You can close your eyes, take a sip and pretend you are on some exotic island!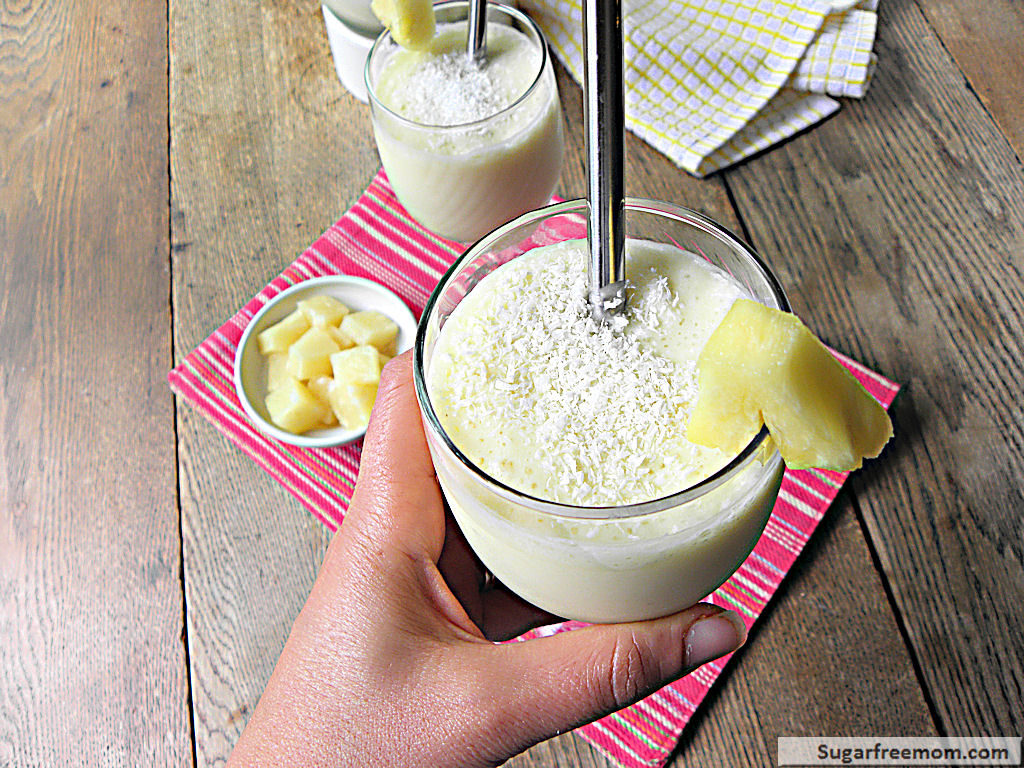 Typical Pina Colada smoothies using regular coconut milk will yield about 24 grams of fat and almost 300 calories.
For only 146 calories.........yes....... you can have this daily if you like! 🙂
Brenda's Notes:
This recipe has been updated as of June 2015.
Original recipe used light coconut milk and had just 100 calories but served 4.
Original recipe also used a banana. To lower the carbs I removed it and increased the coconut milk. Just as tasty!
Low Carb Pina Colada Smoothie [No Sugar Added]
Author:
Prep time:
Total time:
Ingredients
2 cups fresh or canned, drained pineapple chunks
2 cups unsweetened canned coconut milk
2 cups ice
2 teaspoons of rum extract
Optional topping: unsweetened, shredded coconut flakes
Instructions
In a blender, blend all ingredients until smooth.
Top with coconut flakes if desired.
Enjoy!
Serving size:
⅙th
Calories:
146
Fat:
11.2
Saturated fat:
10.1
Carbohydrates:
8.6g
Sugar:
6.8g
Sodium:
26mg
Fiber:
.7g
Protein:
1.3g
Cholesterol:
0mg
Notes
To make this low fat simply replace the regular canned coconut milk with light.[br][br]Net Carbs: 7.9g
Directions
In a blender, blend all ingredients until smooth. Top with coconut flakes. Enjoy!
Nutrition Info
Servings: 4* Calories per serving: 103* Fat: 3g* Fiber: 2g* Carbs: 19g* Protein: 1g* Points+: 3*
Other smoothies you might like: