This Beautiful Sugar Free Lemon Custard Pie is Keto, Gluten Free, Grain Free and Low Carb and makes a beautiful stunning presentation for a party! Read my helpful tips below to make the perfect custard pie!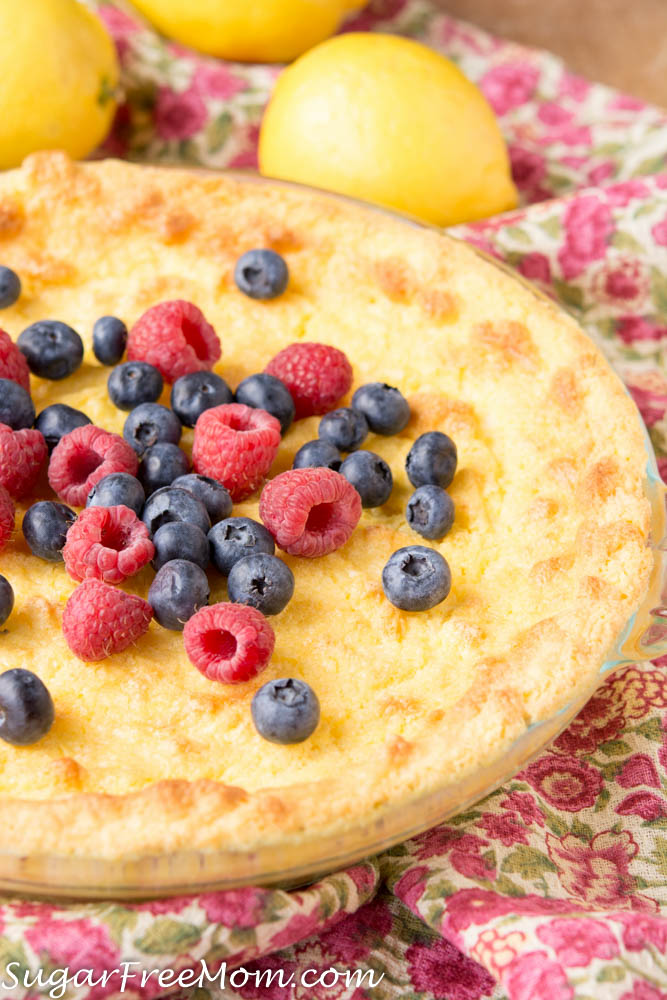 SUGAR FREE CUSTARD PIE
This amazing lemony custard pie actually forms its own crust. It's light and refreshing for a spring or summer dessert. With just a few simple ingredients you can whip this beauty up in no time for a special occasion or just a weeknight treat! Just 1 net carb per slice!
If you're a regular follower around here, you know I love custards. Anything creamy and I'm ready to dive in. I've adapted my Coconut Custard Pie and my Crock Pot Blueberry Lemon Custard Pie to make this easy pie that is super satisfying. If you prefer individual serving desserts for easy portion control, my easy egg custard or my slow cooker maple custard would be right for you. But for those who really want a comforting custard with a delicious crust, try these personal egg custard tarts!
KETO LEMON RECIPES
I'm a lemon lover all the way so I have a few recipes besides this one that might tickle your fancy to make. If you don't want a large pie like this in the house perhaps my Lemon Mug Cake would be best as it's just a single serving. I've also got a, easy creamy, lemon cheesecake mousse you might love! Lemon Cheesecake Truffles for a bite sized treat! My Blueberry Lemon Custard Cake is made in the slow cooker for easy convenience!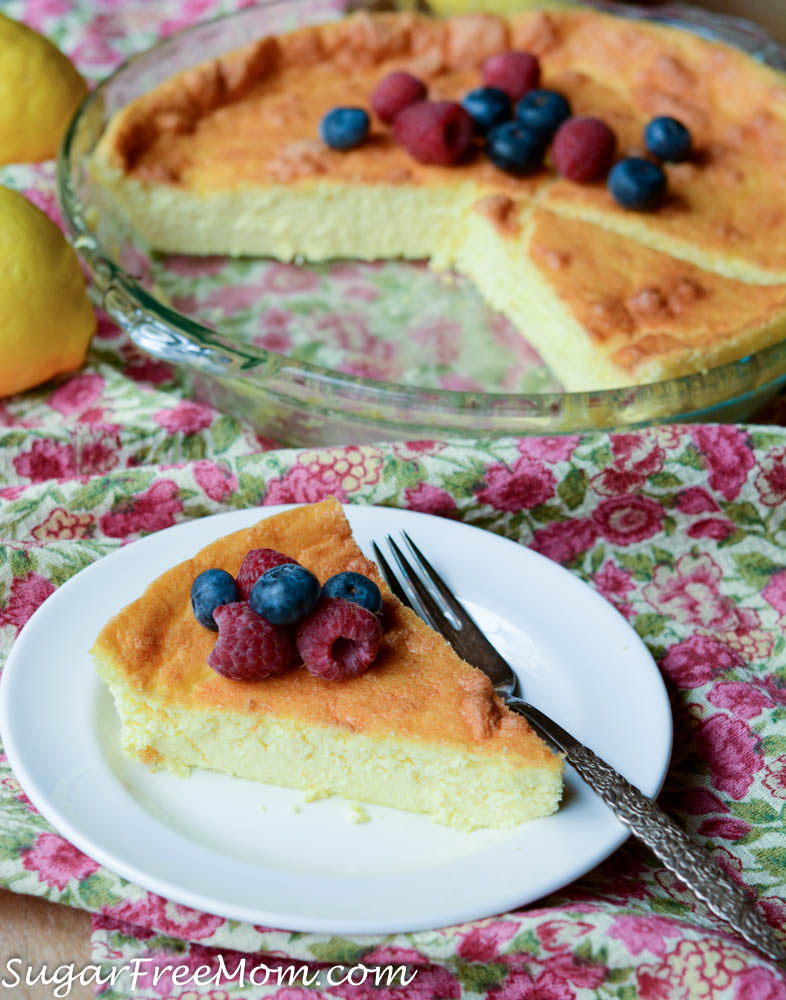 WHY USE A WATER BATH
The first time I made this I didn't use a water bath to bake and that was a mistake. The entire pie cooked beautifully around the edges, but the center was mush and uncooked. So the next time I made this, I made sure it went into a water bath so it would be perfectly cooked without the outer edges of the pie getting dried out.
Since the 8 inch pie dish didn't fit into a 9 by 13 baking dish, I opted for a turkey roasting pan and it fit perfectly. Lesson here is, don't forgo that step of a water bath, it's important!
KETO TOPPINGS FOR CUSTARD PIE
Some simple fresh raspberries, blueberries or blackberries would be just enough to top this custard pie. If you want to get a little more decadent add some sugar free whipped cream . You can also top this custard pie with a dairy free whipped cream if you prefer.
This keto custard pie presents so beautifully for a party, especially Mother's Day! But you certainly don't need a special holiday to enjoy this custard, it's fantastic all through the year, weekend or weeknight, this is a winner!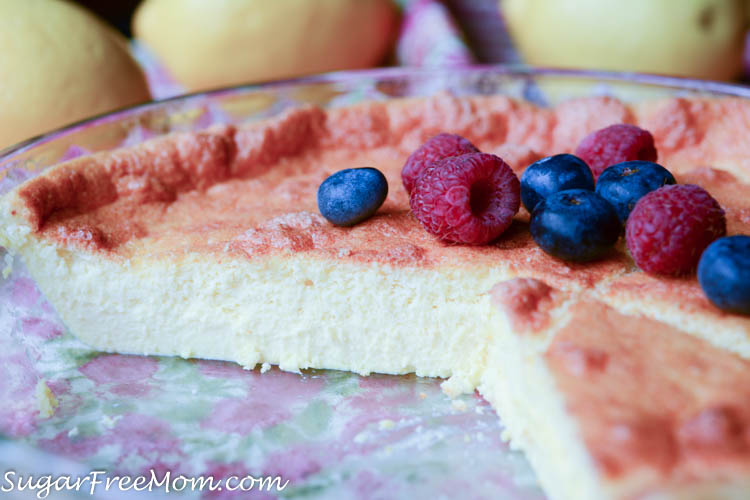 TIPS FOR SWAPPING INGREDIENTS
Brenda's Notes;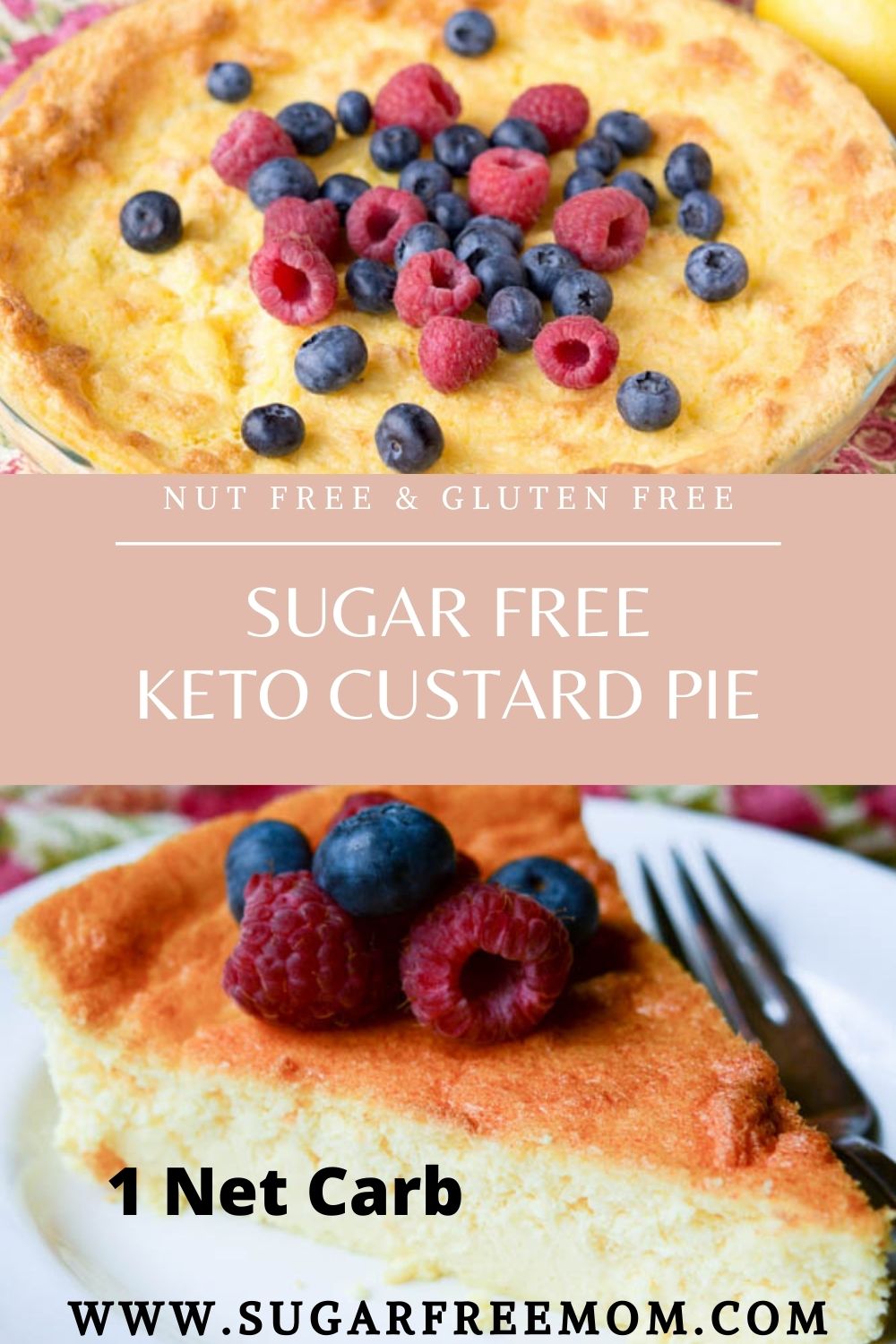 Enjoy!
SUGAR FREE KETO LEMON CUSTARD PIE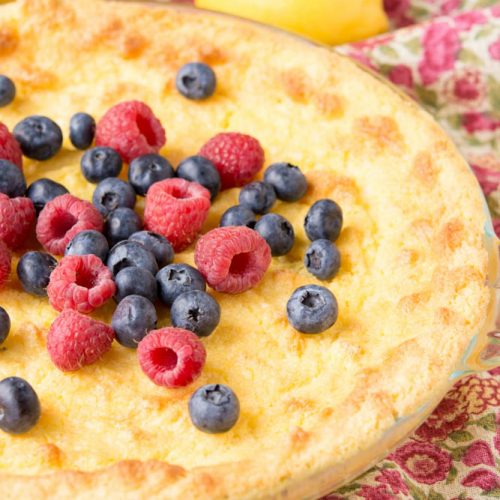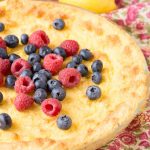 Print
Sugar Free Lemon Custard Pie (Keto, Low Carb)
Instructions
Preheat oven to 325 degrees F.

Beat egg whites and vinegar in a stand mixer until stiff peaks form. Set aside.

In a large bowl, whisk together remaining ingredients.

Fold egg whites into yolk mixture.

Grease pie dish and pour batter in.

Place a pie dish into a large roasting pan for a water bath.

Place roasting pan in oven and pour in hot water half way up sides of the pie dish.

Bake 50-60 minutes or until lightly browned and center is set and allow to cool then refrigerate until chilled.
Notes
Net Carbs: 1g
Use my Sweetener Conversion Chart to swap out the liquid stevia if you prefer. 
This recipe was first published in May 2017 and updated in May 2021.
Nutrition
Serving:
1
slice
|
Calories:
200
kcal
|
Carbohydrates:
2
g
|
Protein:
2
g
|
Fat:
19
g
|
Saturated Fat:
13
g
|
Trans Fat:
1
g
|
Cholesterol:
65
mg
|
Sodium:
108
mg
|
Potassium:
25
mg
|
Fiber:
1
g
|
Sugar:
1
g
|
Vitamin A:
198
IU
|
Vitamin C:
1
mg
|
Calcium:
10
mg
|
Iron:
1
mg