This post and photos may contain Amazon or other affiliate links. As an Amazon Associate I earn from qualifying purchases. If you purchase something through any link, I may receive a small commission at no extra charge to you. All opinions are my own.
This Sugar Free, Keto Chocolate Cream Pie is a beautiful traditional pie made without any sugar and perfect for the holidays!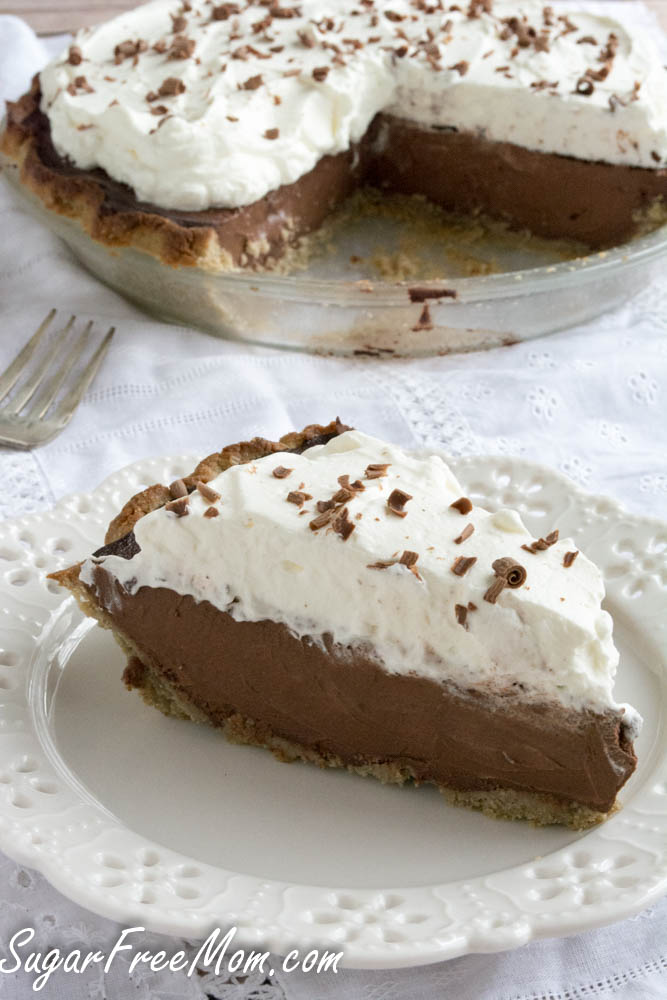 Sugar Free Chocolate
"How will I ever survive without chocolate? Will I never be able to have a piece of chocolate cake for my birthday again? How can this be manageable?" These were the thoughts in my head 10 years when I first decided to try living without sugar and refined flours for 6 weeks.
6 Weeks of agony as I had to deny my sweet tooth and abstain.
Utter Torture.
But then I discovered I could make the things I love without the sugar. Maybe they wouldn't compare but I had to try and try I did.
And I kept trying and I keep trying and creating 10 years later.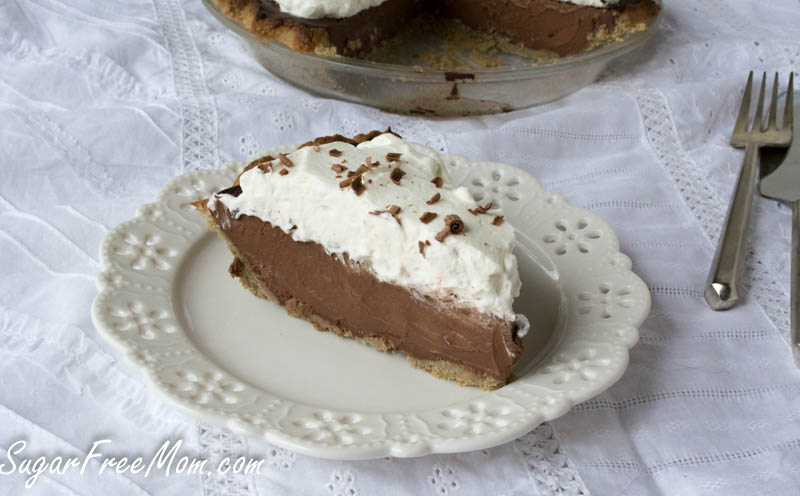 I can't help myself, I have a sweet tooth, there is no denying. I have a thing for chocolate and I won't be ashamed. I had a little relapse when I got pregnant with my 3rd child and decided I didn't have an issue with sugar and I would just enjoy myself and then remove it after I gave birth.
He will be 9 three days after Christmas which always brings me back to that desperation I felt when I realized I was a sugar addict and I was worse than I really thought. I had no idea until I tried to remove the sugar and detox myself.
You see the first time I did it was purely to lose the baby weight from my 2nd child, I didn't think I had a problem. I don't think any addict realizes they have a problem until they try to stop whatever it is they are consuming and can't get enough of.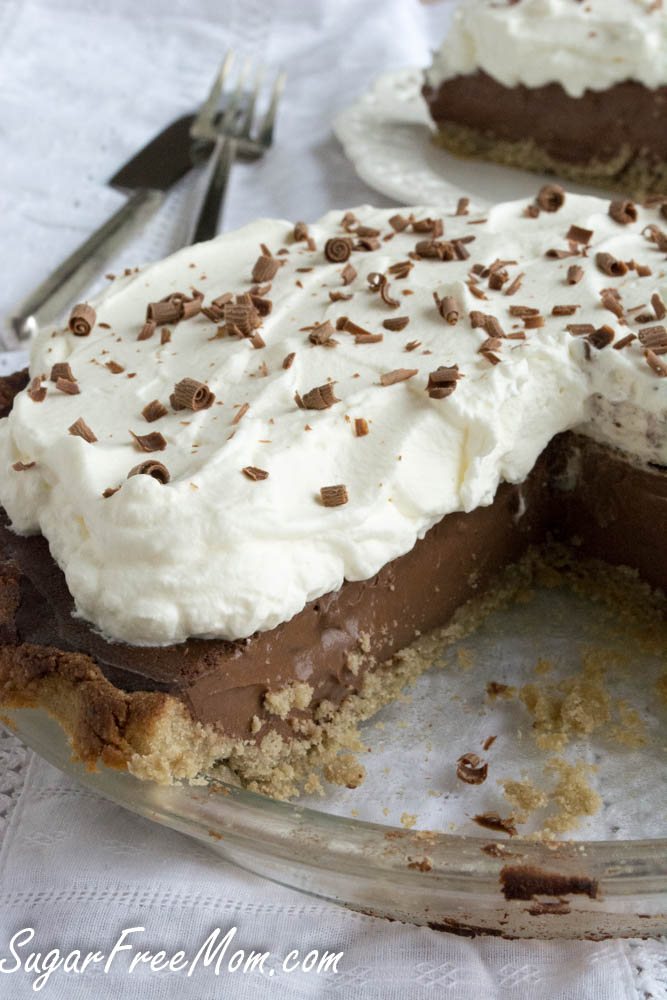 By the grace of God and support from a wonderful wise older mentor type mom, I was able to break free back in 2006 and have NEVER touched the white stuff since.
I remember that desperation and I never want to feel that way again. I have sugar freedom and I can still enjoy dessert and chocolate and pies as long as I make them sugar free.
I can't tell you why I ever got addicted to sugar, but it happened and it was real. But today I live a life free from sugar addiction and I am grateful.
I am grateful I can still have chocolate cream pie without the desire to eat the whole thing! Stevia doesn't make me crave and that's what I'm sticking with.
If I can do it, anyone can. Here's more information about my Sugar Detox Plan if you feel that desperation I'm talking about. There is hope!
Now go and enjoy some chocolate cream pie!
Brenda's Notes:
The optional whipped cream on top is not part of the nutritional information.
I would not recommend using an erythritol sugar substitute in the pudding filling as the first time I did and the texture was not smooth and very grainy.
While the carbs are a bit higher, this isn't an every day kind of dessert but perfect for a special day like Christmas!
Sugar Free Chocolate Cream Pie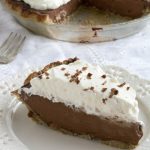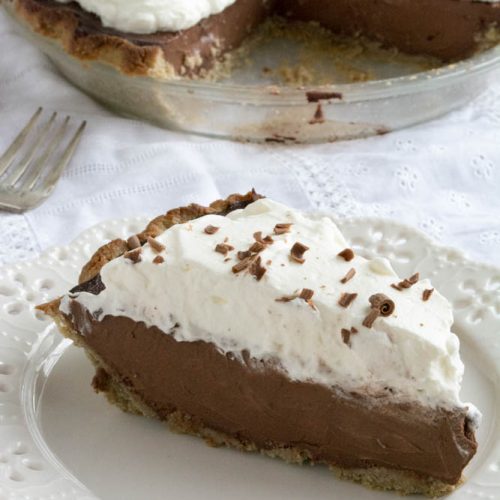 Sugar Free Chocolate Cream Pie
Instructions
Preheat oven to 350 degrees.

Whisk the heavy cream and cocoa powder in a sauce pan. Sprinkle and whisk in xanthan gum, salt and stevia .

Bring it to a boil.

Reduce to simmer for 3-4 minutes until it thickens like pudding.

Remove from heat and add chocolate chips.

Stir until smooth. Set aside.

Add the rest of the ingredients to a stand mixer and blend until smooth.

Pour a small amount of the chocolate mixture into the egg mixture and blend on low to temper the egg mixture. Add a little bit more at a time so you don't cook the eggs.

Add the rest of the chocolate mixture into the stand mixer and blend until combined well.

Pour into prepared pie shell and cover the crust edges with aluminum foil so it doesn't burn.

Bake for 25-30 minutes until center is set but still slightly jiggly.

Cool slightly then refrigerate to set for 6 hours or overnight..

Top with homemade whipped cream and chocolate shavings if desired.
Nutrition Facts
Sugar Free Chocolate Cream Pie
Amount Per Serving (1 serving)
Calories 409
Calories from Fat 324
% Daily Value*
Fat 36g55%
Cholesterol 106mg35%
Sodium 213mg9%
Potassium 23mg1%
Carbohydrates 9g3%
Protein 3g6%
Vitamin A 85IU2%
Calcium 8mg1%
Iron 0.2mg1%
* Percent Daily Values are based on a 2000 calorie diet.