This Sugar-Free Chocolate Peanut Butter Chia Pudding Parfait is low in carbs, gluten free and dairy free as well! A wonderful no bake dessert for Summer or any season!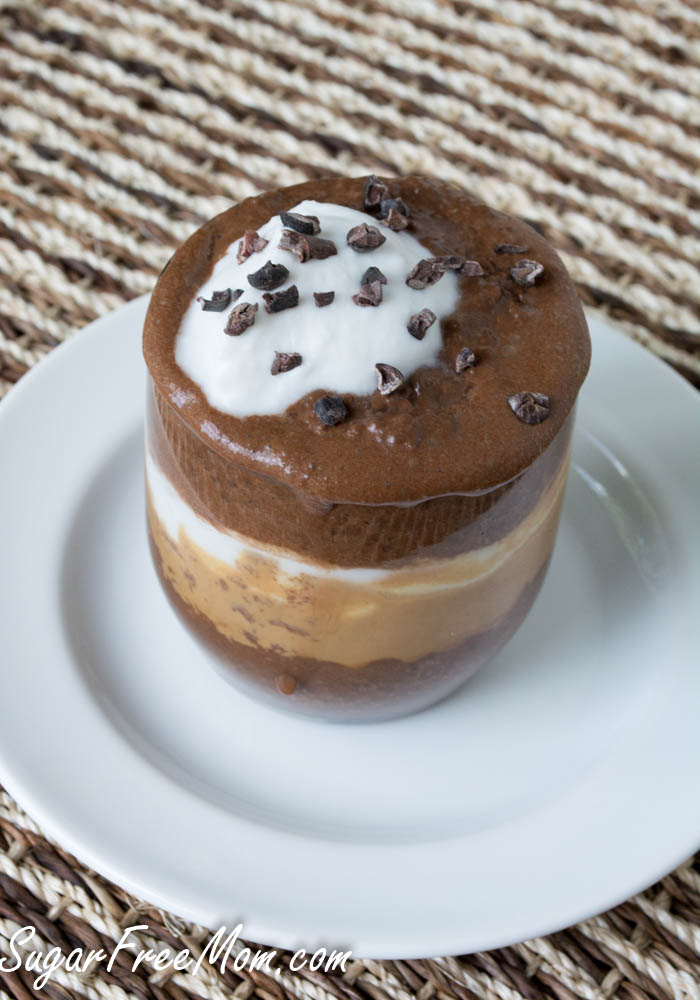 This is a simple creation even though it looks quite elaborate. Three layers of delicious, but each without any cooking required and taking only 15 minutes to prepare. Technically this could be eaten for breakfast as it contains 16 grams of fiber and almost 12 of protein! And chocolate pudding for breakfast mixed with peanut butter, what in the world is better than that!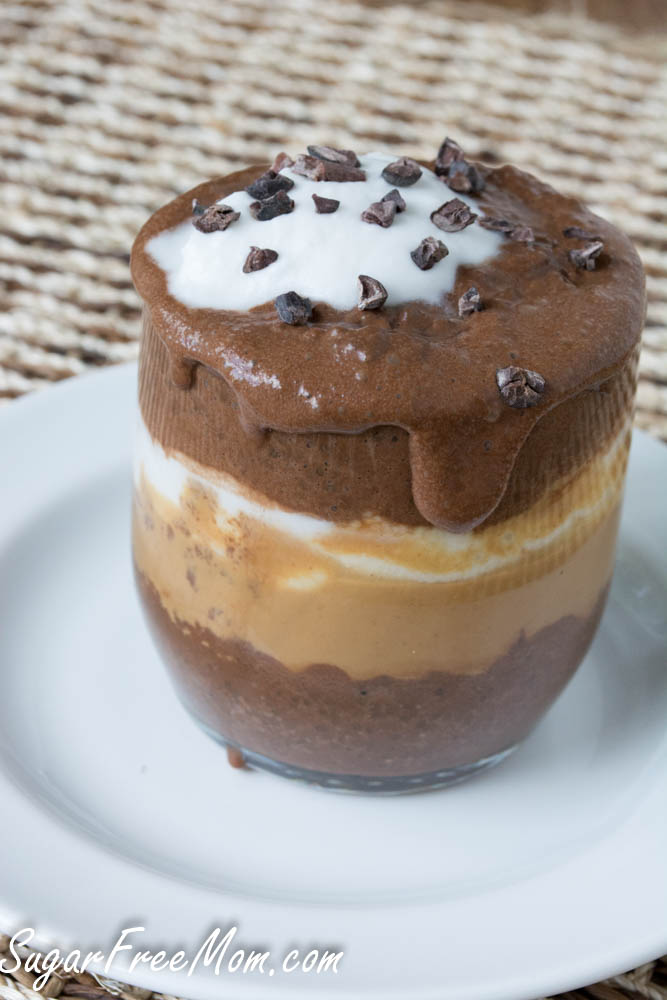 The messier looking the more appealing in my eyes! Spilling over with each dip of a spoon into this heavenly concoction is the fun of it all!
One day I thought, "I want a messy dessert that looks like a sundae, but is so healthy I could eat it for a meal!" Immediately I thought of my Chocolate chia pudding recipe for one layer and the rest is history.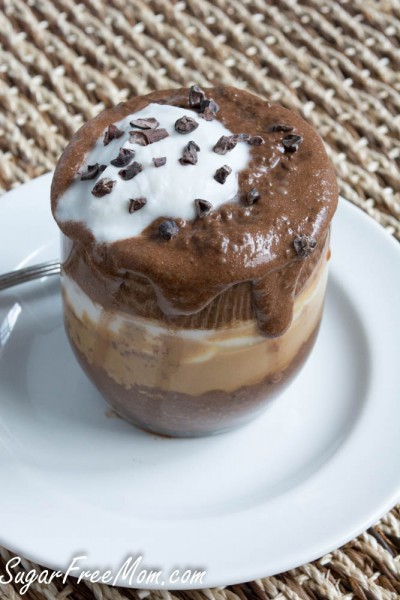 This past week we've been camping and while it's been fabulous, I was quite reluctant to leave home for an entire week. I've learned quite a few things about myself and my ability to improvise. Not being able to go to the gym pushed me to find other ways to get in a real good workout. Some days I made up my own routine using an elastic band and 5 pound dumbbells and other days I looked through Pinterest and fitness magazines for ideas. But each day I found a way to get a good sweat on for at least 30 minutes and that made me happy.
As a family we biked once or twice a day throughout the trails in the campground and I loved that, but I knew I needed to get creative in order to get the strength training in I desired.
I've been diligently working on losing 10 pounds or so I had gained over the last 6-7 months writing my cookbook and camping away from home was, I felt, going to put a wrench in my goals, or so I thought.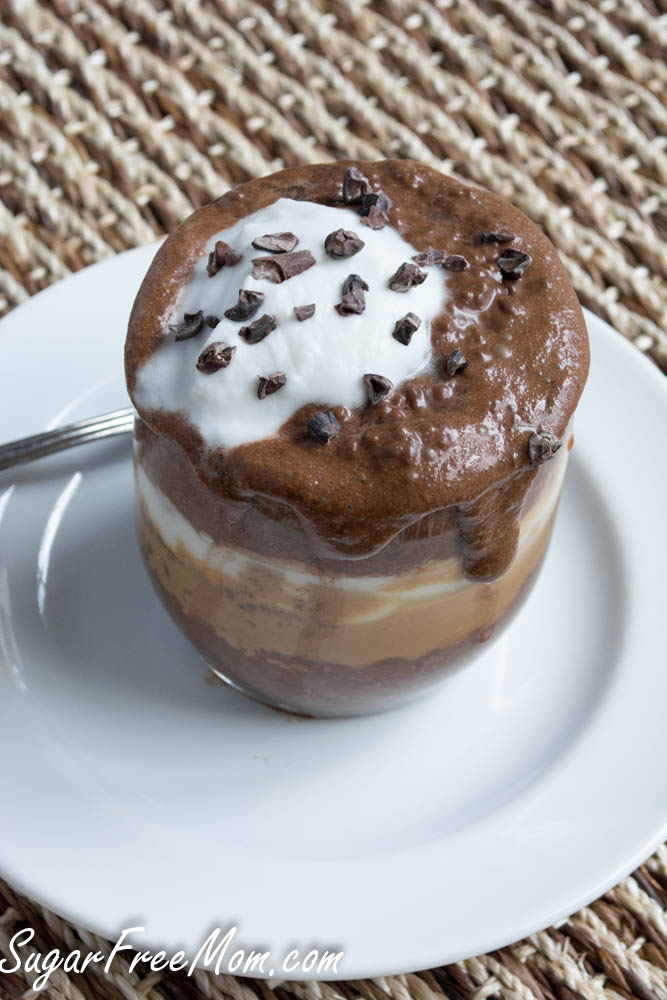 Whenever you take a vacation it's supposed to be a relaxing time and inevitably you indulge more so than you would at home. Not something I wanted to be doing while trying to track my food each day. While I still "enjoyed" myself, I didn't over indulge and that is a restraint I've always struggled with when on a vacation.
I purposed to use my food tracker to keep to a decent amount of calories towards my goal. Some days were much higher than I wanted but I tried to be flexible and not beat myself up.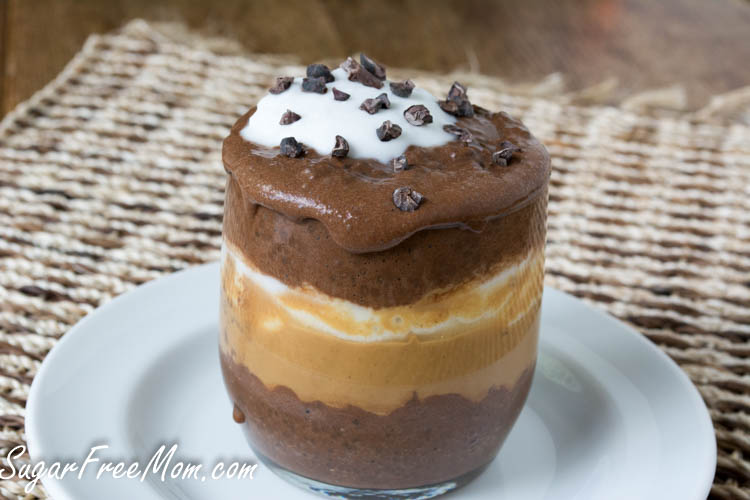 While I don't know if I've lost any weight or gained any yet during this past week of camping, I FEEL fabulous and that means more to me right now than the number on the scale. I think the key to a vacation wherever you are is to be active! It releases happy hormones and for me helped me make better choices while away from home!
Brenda's Notes:
The dairy free whipped cream is what is making this higher in fat, but you could sub it with it something else if you prefer.
By subtracting the total carbs from the fiber grams, the net carbs are a low 6.4 grams.
You can use regular peanut butter instead of the powdered but that will increase the calorie and fat content.
I use the powdered peanut butter by Just Great Stuff which I found at Whole Foods and contains only a small amount of coconut sugar.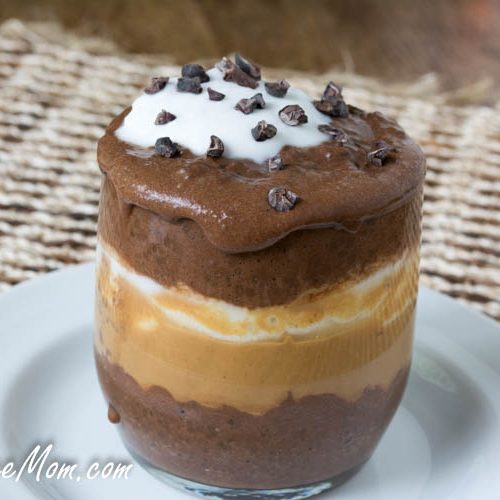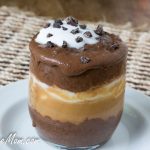 Print
Sugar- Free Chocolate Peanut Butter Chia Pudding Parfait
Ingredients
Layer 2
¼

cup

powdered peanut butter

2

tablespoons

water
Layer 3
2

servings of Dairy Free Whipped Cream
Instructions
Whisk layer 1 ingredients together then pour half the mixture into 2 serving glasses and refrigerate for 10 minutes before adding layer 2.

In a small bowl stir together layer 2. Add more water to make it looser in consistency if you like.

Spread layer 2 evenly onto layer 1 in glasses.

In a stand mixer make your dairy free whipped cream for layer 3.

Use 1 tablespoon on top of layer 2 in each glass.

Pour the rest of layer 1 onto whipped cream layer and top with another tablespoon each of whipped cream.

Add cacao nibs if desired.

Keep refrigerated until ready to serve.
Nutrition
Serving:
1
g
|
Calories:
266
kcal
|
Carbohydrates:
22.9
g
|
Protein:
11.8
g
|
Fat:
18.8
g
|
Saturated Fat:
4.6
g
|
Sodium:
126
mg
|
Fiber:
16.5
g
|
Sugar:
2.2
g