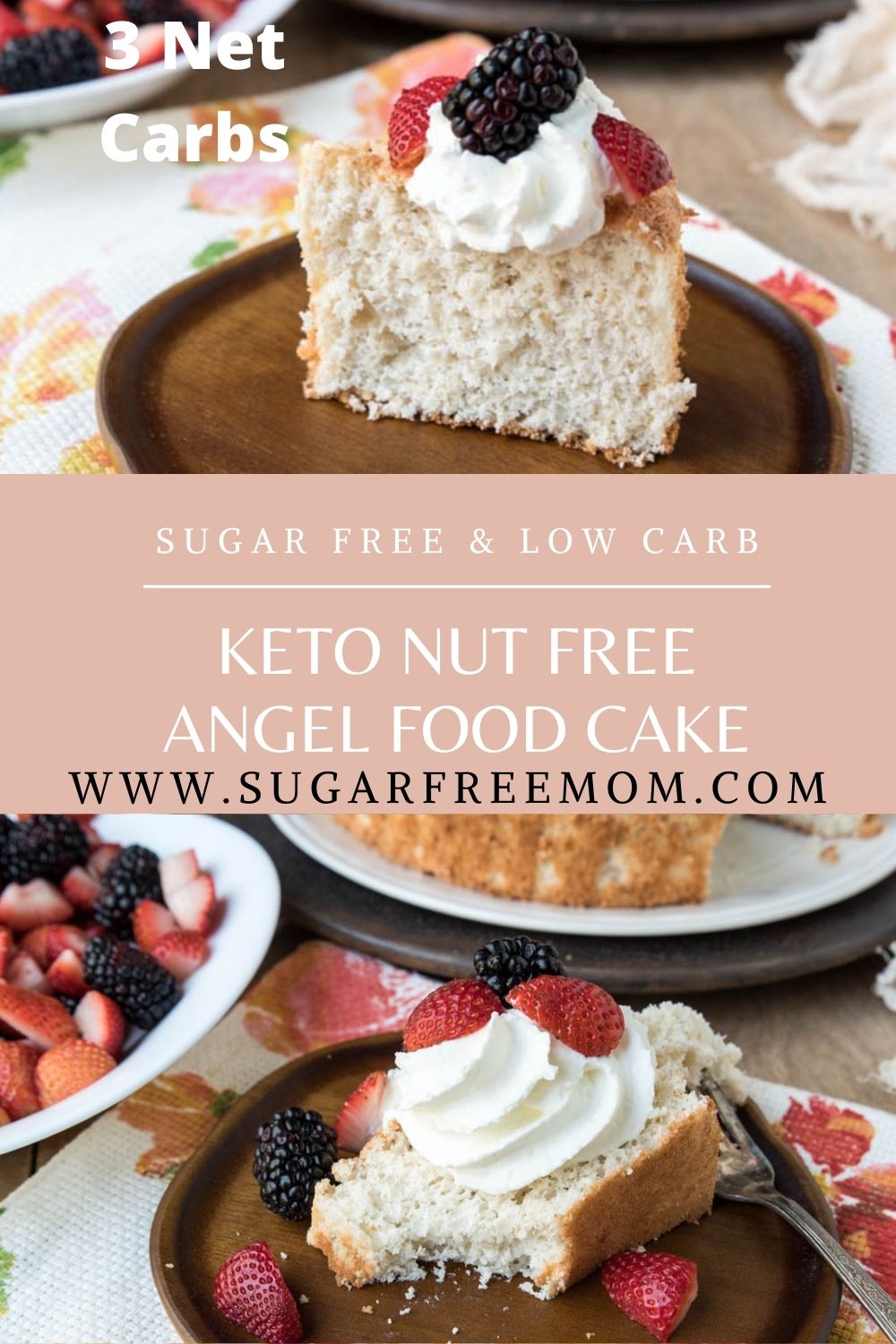 This deliciously fluffy, light and airy keto angel food cake is sugar free, keto, nut free, grain free, and gluten free! It's made with just 8 ingredients plus a pinch of salt and is just 61 calories and 3 net carbs per slice! I'm sharing my best tips and tricks so you too can make a perfect keto nut free angel food cake without fail!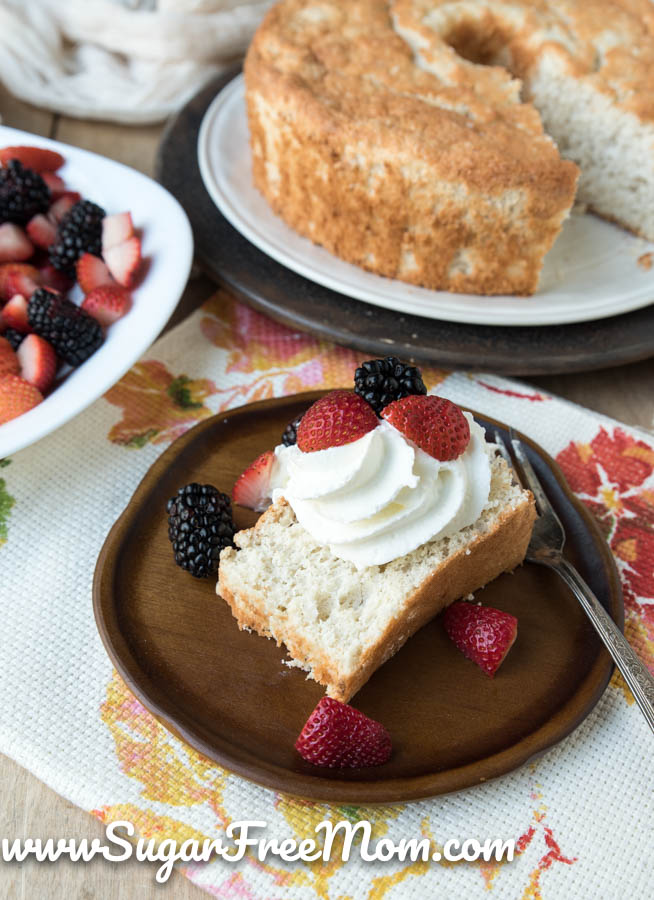 Making a keto nut free angel food cake has taken me 8 attempts to finally get the right light and airy texture but incredible rise and height I was so desperately working for. My first 4 attempts were in 2016 and then I gave up and turned those attempts into my Keto Sugar Free Sponge cake which is delicious, but not the same texture as traditional angel food cake.
Most keto angel food cakes on the internet use almond flour and since many of you know, my youngest has a tree nut and peanut allergy, that is not something I can use. I tried many different nut free flour combinations like coconut flour which created a dense cake, and then many different ratios using sesame flour.
The recipe I bring to you today is not only perfection in how it tastes but also in how beautiful it looks and is soft to the touch. If you follow my best tips below, you will have success and your keto nut free angel food cake will look just as good as mine, I promise you!
BEST TIPS FOR KETO ANGEL FOOD CAKE
TIP #1 Don't Grease the pan! Just line bottom!
To line the bottom of a round tube pan, remove the center and trace the bottom and center on a piece of parchment. Cut the circle shape out, fold in half and cut into the center circle than cut the small circle. This should fit nice and tight right over the center tube and cover the bottom. If you were to grease the sides of the pan, which I have mistakenly done in the past, your cake won't rise up the sides.
TIP #2 Fresh Room Temperature Eggs and Warm Water!
Using fresh room temperature eggs will get the most aeration combined with the warm water and be less likely to deflate the peaks once whipped,
TIP #3 Food Process Dry Ingredients!
You can sift the dry ingredients together but the best outcome is to add all dry ingredients to a food processor to combine them thoroughly and make them a bit finer in texture as well.
TIP #4 Use a Tube Pan with Feet!
If you don't purchase a tube pan with feet, you will need to elevate your pan upside in some way so that there is space to allow air to flow over the top and bottom of the pan when cooling.
TIP #5 Do Not Open Oven Door during Baking!
I know it can be tempting but opening the door to check the cake is going to deflate it and prevent it from fully rising to its potential. Just bake 35 minutes then check with a skewer. If it comes out dry, remove and follow next step.
TIP #6 Flip over Immediately!
Once hot out of the oven, remove your pan and flip over on its feet. It will still be hot and cooking even out of the oven and allowing it to finish cooking and cooling off upside with prevent the height of the cake from deflating.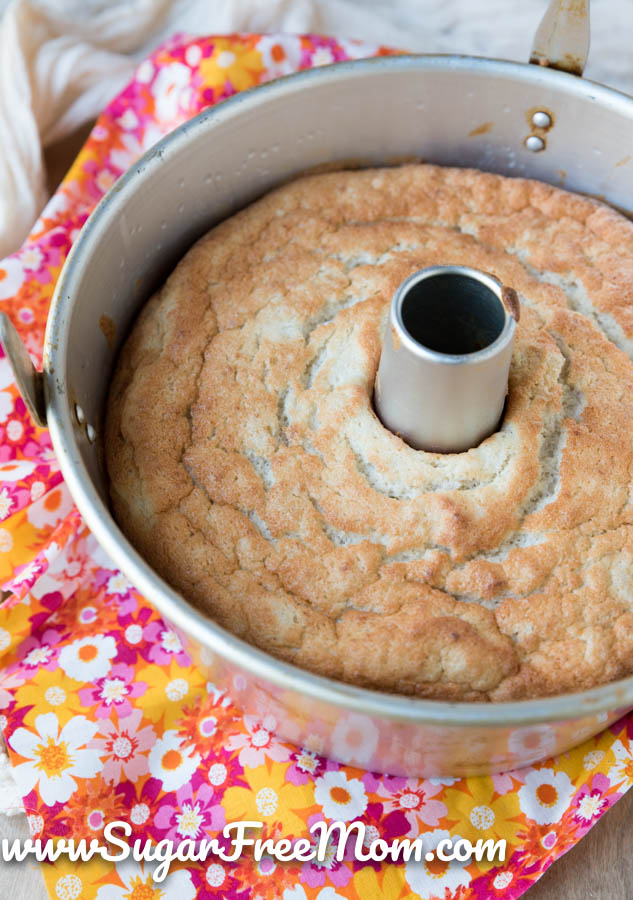 WHY ADD WATER TO EGG WHITES
To get a perfect, without fail, keto angel food cake, the whipping of the egg whites is the key. If there is just a tiny bit of egg yolk or any fat in your mixing bowl or you don't whip long enough to medium peaks, the angel food cake won't rise nicely or be light and airy.
After about 7 failed attempts to get the best rise and texture, I decided to research what Alton Brown from the Food Network does since I love his science explanations when it comes to baking.
Adding warm water did the trick for creating more air in the egg whites. Also making sure your eggs are not cold and are room temperature will be the best combination. Fresh eggs as opposed to using a carton of egg whites will ensure the best aeration and structure.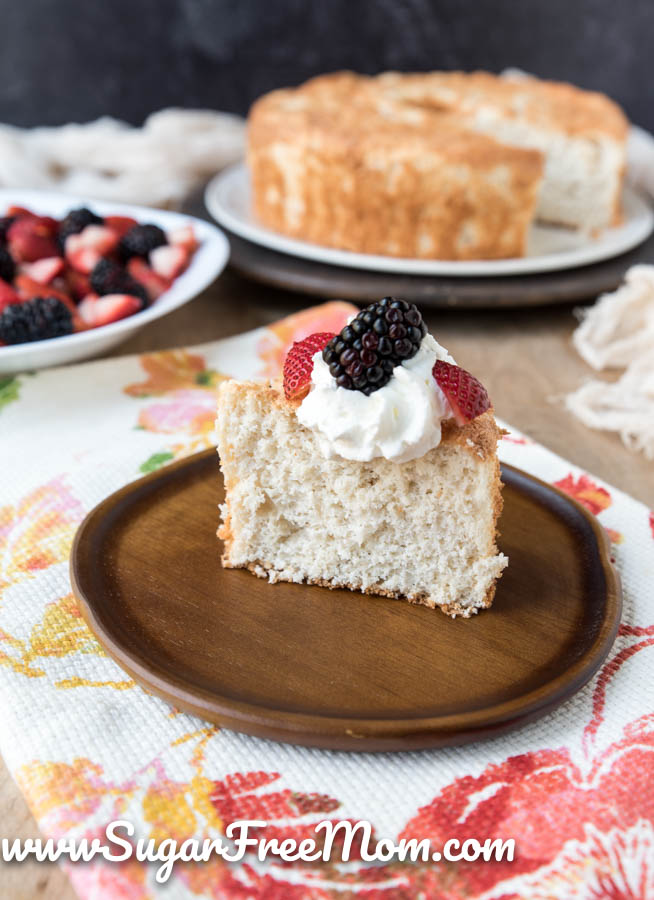 TOOLS TO MAKE KETO ANGEL FOOD CAKE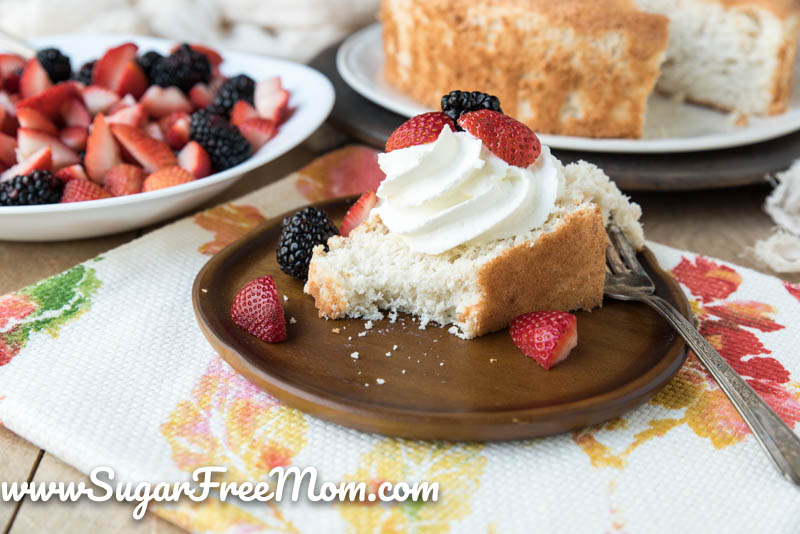 HOW TO SWAP KETO SWEETENERS USED
One of our newer favorite low carb sweeteners that doesn't leave an aftertaste, is Better than Sugar by Sweetleaf. They have a confectioners powdered sweetener which would be best for this recipe and they also have a granulated option. It's a combination of erythritol and stevia and has plenty of sweetness as sugar would provide.
Swerve confectioners sweetener is also low carb, but doesn't have as much sweetness and you may need to use a bit more to get this as sweet as you like. Allulose would be another option, but again it isn't as sweet as using the Better than Sugar sweetener. Allulose comes in a liquid, and granulated form.
Use my updated Sweetener Conversion chart to look up the different sweetener options and find the right amount to use.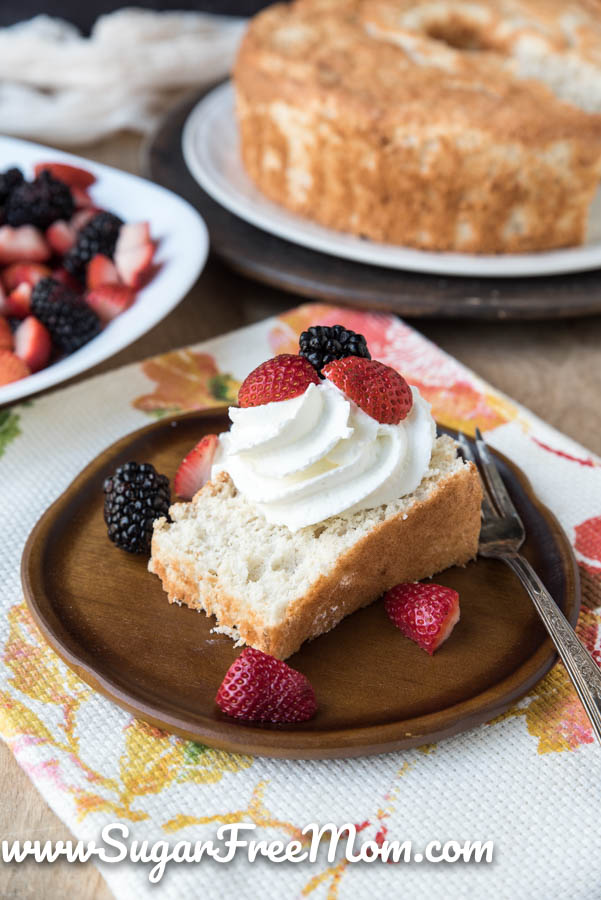 HOW TO COOL ANGEL FOOD CAKE
Once you have checked the cake with a skewer and it comes out clean and dry, remove immediately from the oven. Place a cutting board or a serving plate larger than the cake onto your counter. Using oven mitts, turn your cake pan upside down so that it is standing over the plate. This will allow the cake to cool properly and stay nicely risen. Do not worry the cake will slip out of the pan, it won't. Do not remove cake until completely cool.
HOW TO REMOVE ANGEL FOOD CAKE FROM PAN
After the cake has cooled completely, you can flip it back over. Use a sharp knife all around the center of the tube pan as well as the sides of the pan. Do this 2 to 3 times to make sure there is nothing sticking or it will rip your cake when you try to remove it. From the bottom of your pan, push up like the times on a clock, 12, 3, 6 and 9. Once you can feel like it is ready, grip the center tube from the top, while pushing up on the bottom and gently wiggle until you can easily release the cake.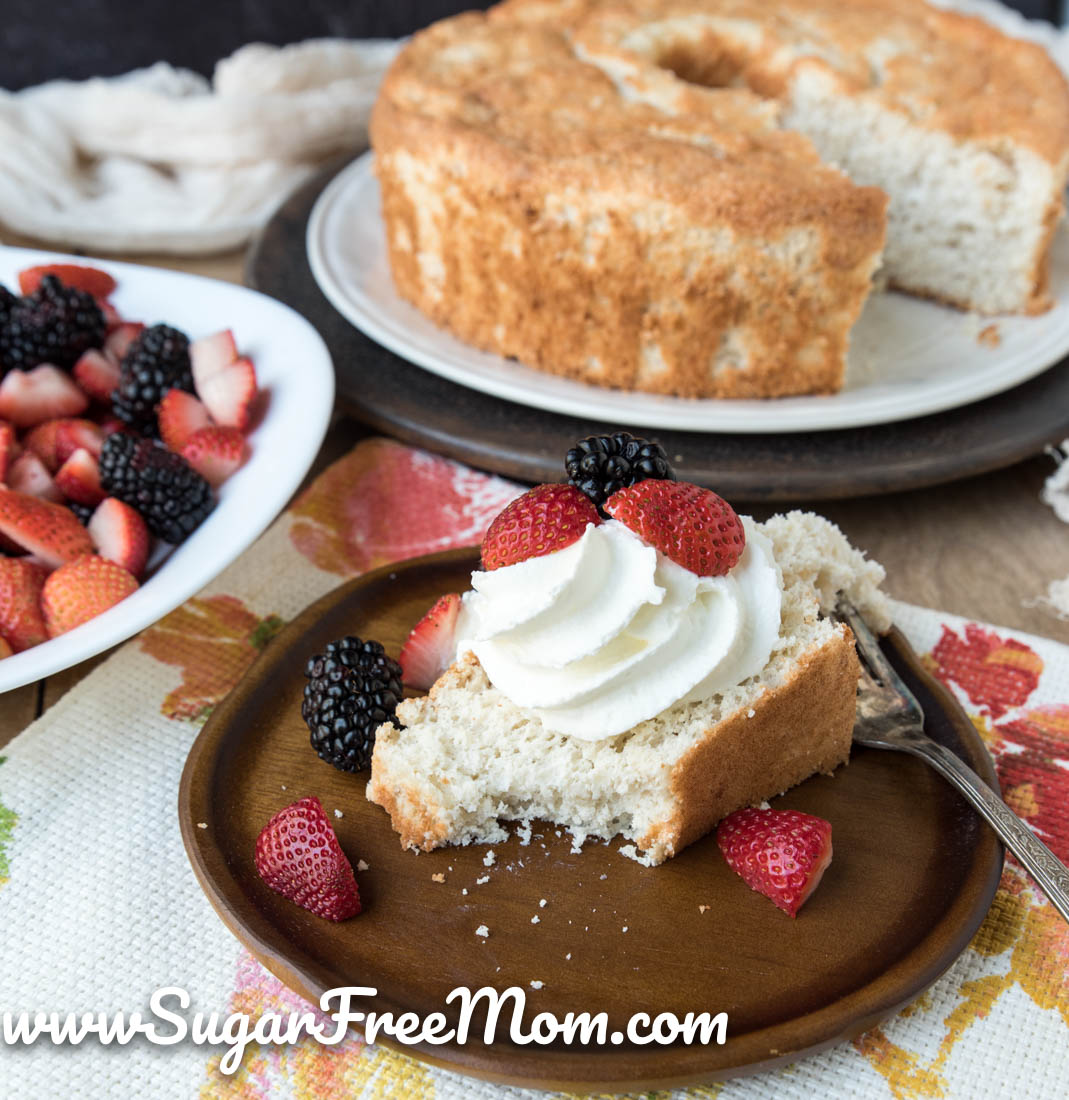 RECIPE FOR LEFT OVER EGG YOLKS
If you decide to use whole eggs for this recipe rather than a carton of egg whites, you could make any of the following delicious keto recipes.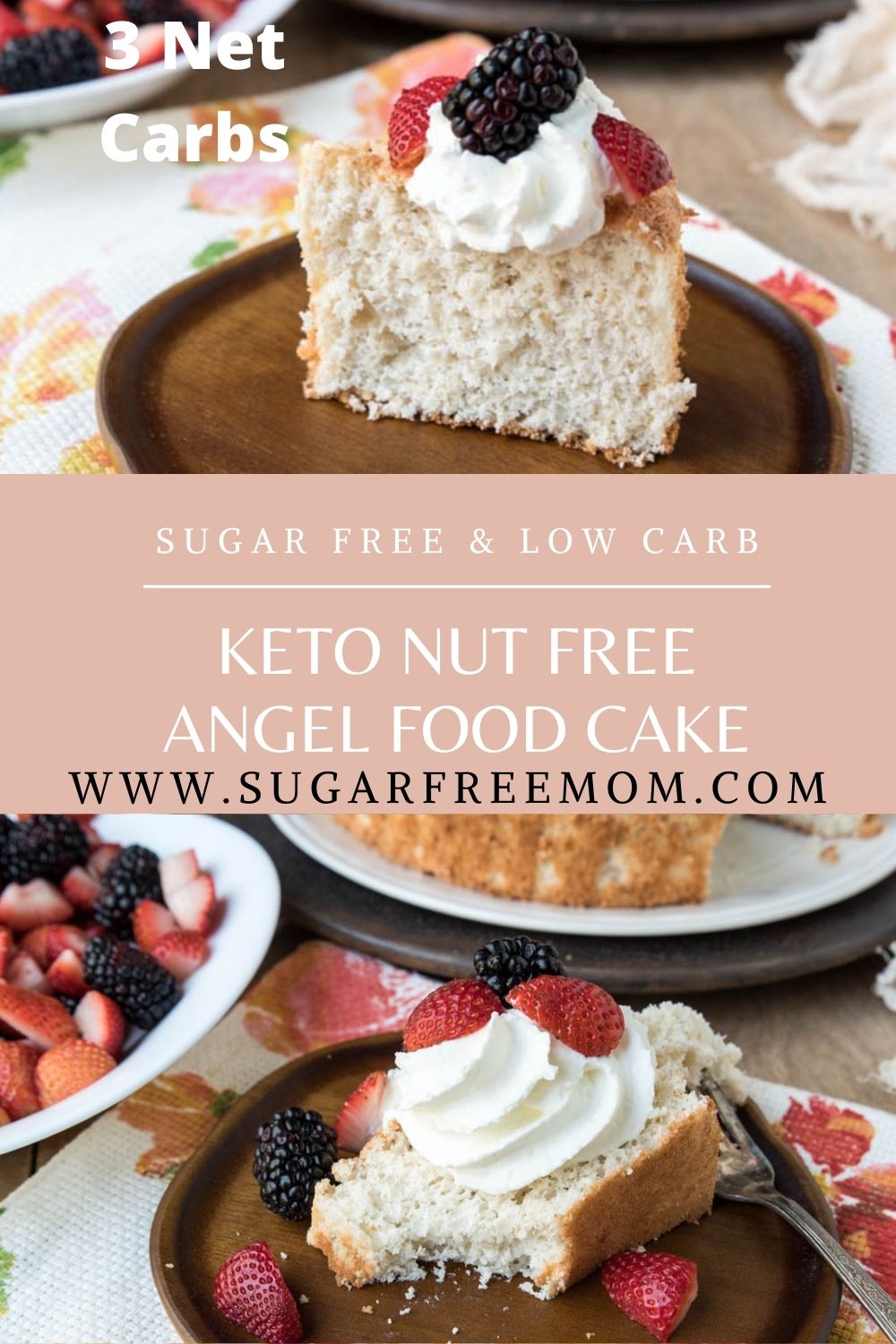 HOW TO STORE ANGEL FOOD CAKE
This beautiful keto nut free angel food cake will store covered on the counter for up to 5 days. You can also store in the freezer by slicing each piece, layer parchment between slices then place into an airtight container or plastic bag. Take individual pieces out as you like. Thawing naturally in the fridge is best.
HOW TO MAKE ANGEL FOOD CAKE DAIRY FREE
It's a very simple single ingredient swap to make this angel food cake dairy free. All you need to do is swap the whey protein powder with egg white protein powder. That's it!
SUGAR FREE KETO NUT FREE ANGEL FOOD CAKE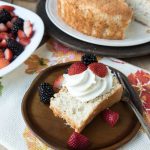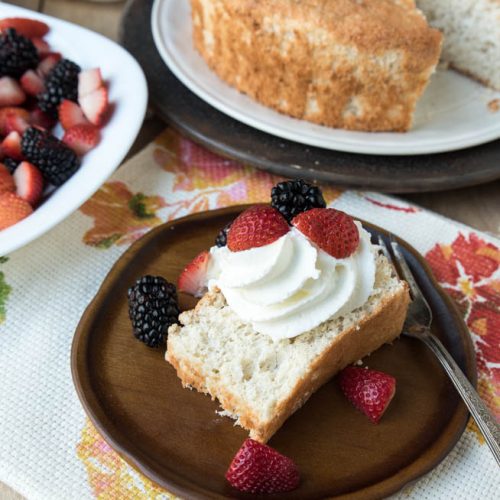 Print
Sugar Free Keto Nut Free Angel Food Cake
Instructions
Preheat your oven to 350 degrees F. Line just the bottom of a 10 inch tube pan. (See Best Tips #1 Above).

Place your sesame flour, baking powder, whey protein powder, sweetener and salt into a food processor. Pulse several times to combine (and aerate). Set aside.

Whisk the egg whites and water in a large metal mixing bowl until the mixture just starts to foam. Add the cream of tartar and begin whipping with the mixer on medium speed for 1 minute. Add the lemon extract and vanilla stevia and keep whipping on medium speed. Whip until medium peaks which should take between 3-5 minutes. Add enough of the dry mixture to just dust the top of the foam. Fold it in using a rubber or silicone spatula and repeat until almost all of the dry mixture is incorporated.

Gently spoon the batter into the ungreased tube pan and bake for 35 minutes. Use a long skewer or chop stick inserted half way between the outer wall and the center. If if comes out clean and dry, it's done, if not bake another 5 minutes.

Flip the pan over on its "feet" and allow to cool for 2-3 hours.

See storage instructions above the recipe.
Nutrition
Serving:
1
slice
|
Calories:
61
kcal
|
Carbohydrates:
4
g
|
Protein:
9
g
|
Fat:
1
g
|
Saturated Fat:
1
g
|
Polyunsaturated Fat:
1
g
|
Monounsaturated Fat:
1
g
|
Trans Fat:
1
g
|
Cholesterol:
1
mg
|
Sodium:
160
mg
|
Potassium:
191
mg
|
Fiber:
1
g
|
Sugar:
1
g
|
Calcium:
46
mg
|
Iron:
1
mg