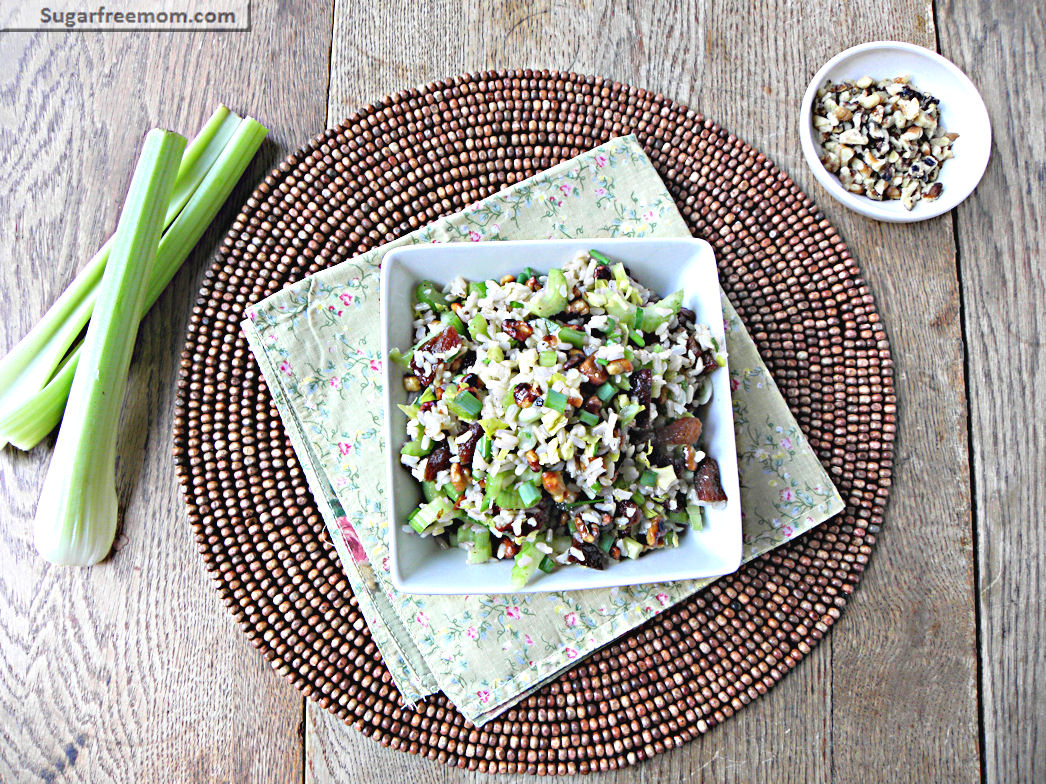 If you are looking for a beautiful, simple salad for an easy meatless weeknight meal or to take to any party or cook out, this would be your best bet. It tastes delicious warm or chilled and can be made ahead the night before you need it. In fact I think it even tastes better after it has been chilled in the fridge overnight so all the flavors have a chance to marry. 🙂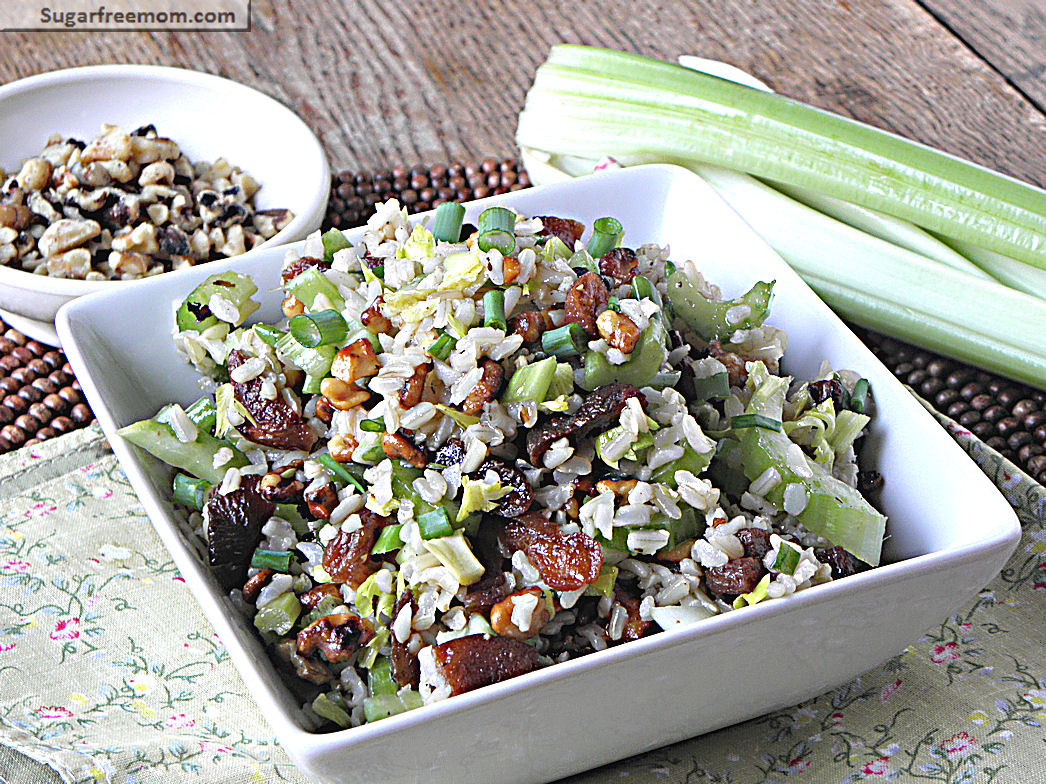 The apricots give this salad some nice natural sweetness while the toasted walnuts and celery provide that perfect crunchiness in every bite!
Not fond of apricots? You can substitute some dried cherries or raisins instead.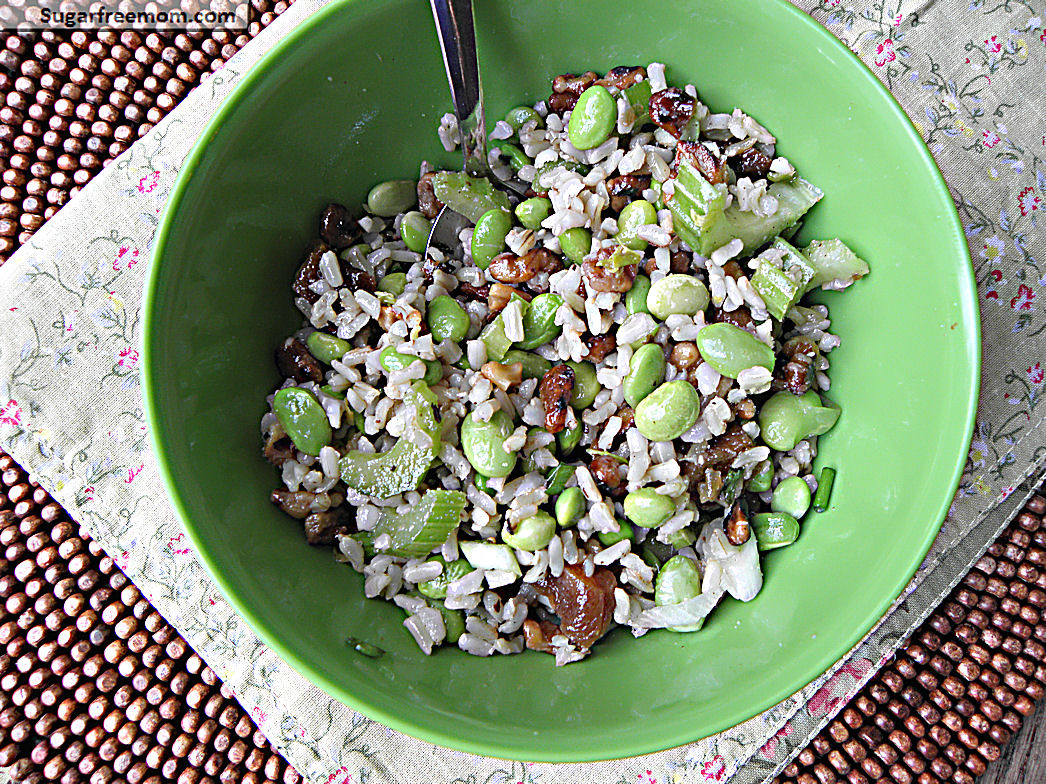 Having some left over for the next day for lunch is the BEST! Adding some protein like the soy beans here make for a perfectly satisfying vegetarian meal!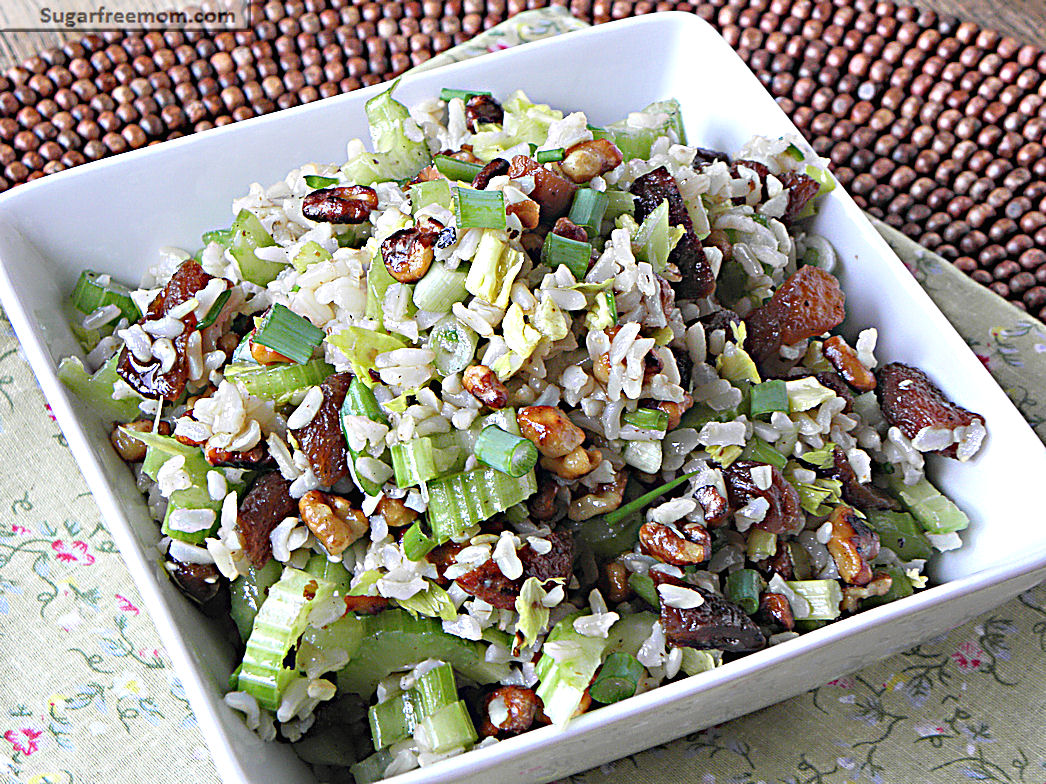 *recipe adapted from the Cranston Herald
Toasted Walnut Apricot Brown Rice Salad
[sc:Ziplist]
Ingredients
2 cups cooked brown rice
½ cup chopped walnuts
½ cup snipped dried apricots
½ cup chopped scallions
1 cup sliced celery
2 tablespoons finely chopped pale green celery leaves
optional: 1 cup cooked edamame beans
Dressing
2 tablespoons extra virgin olive oil
2 tablespoons apple cider vinegar
1 tablespoon honey
½ teaspoon salt
pepper to taste
Directions
Place your walnuts in a small skillet and heat to medium high. Stirring constantly toast them until they are fragrant, about 4 minutes. Turn off the heat and set aside. In a large bowl whisk oil, vinegar, honey, salt and pepper. Add your cooled cooked brown rice, apricots, scallions, celery and edamame if using. Toss with a fork. Refrigerate until ready to serve.
Nutrition Info [without edamame]
Servings: 4* Calories per serving: 315* Fat: 17g* Cholesterol: 0* Sodium: 25mg* Carbs: 38g* Fiber: 4g* Sugars: 12g* Protein: 5g* Points+: 8*
Including edamame
Calories per serving: 362* Fat: 19g* Cholesterol: 0* Sodium: 27mg* Carbs: 42g* Fiber: 6g* Sugars: 12g* Protein: 9g* Points+: 10*
Other recipes you might like: