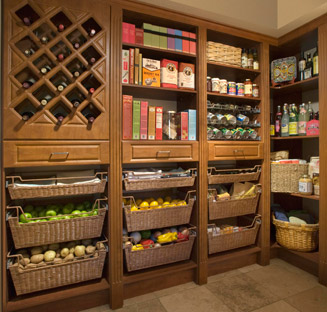 Photo credit orgooptions.com
Are you having pantry envy right now? Yep, me too! It's of course not mine! I'm not that organized but wish I was for sure! The good thing is you don't have to have a HUGE pantry in order to have a HEALTHY pantry. You just need some staples to be able to throw a meal together in a hurry when menu planning doesn't go as planned.
If you're new around here and wondering what in the world Clean Eating is, here it is in a nutshell! Clean eating may be different for everyone unless you are following the Eat Clean Diet by Tosca Reno, but for me this is how I define it. Nothing white! No white flour, white rice, white sugar. Eating foods as close to their natural state as possible. Natural whole foods and products minimally processed. You can read more here about my Sugar-Free Journey if you are interested.
Here's MY Healthy Pantry Items I keep on hand at all times. This list is by no means complete and I'm sure you could all add a bunch more items, but these are what I use regularly. Of course it has taken me a long time to have what I have in my pantry so take your time and do what your budget allows. But if you don't see something here, it's either because I don't like it or won't use it.
Baking Items
Carob chips
Chocolate, unsweetened
Lemon Extract
Peppermint Extract
Beans (canned or dry)

Black Beans
Cannelini or Northern Beans
Garbanzo Beans (chickpeas)
Kidney beans
Lentils
Breads
Corn Tortillas
Whole Wheat tortillas
See this post for Healthy Breads
Udi's Gluten Free Bread
Canned Goods/Jars
Artichoke Hearts
Coconut Milk
Crushed Tomatoes
Diced Tomatoes
Enchilada Sauce
Low Sodium Chicken Broth
Olives (black, green kalamata)
Salsa
Sun Dried tomatoes
Tomato Paste
Tomato Sauce
Tuna fish
Canned/Jarred Fruit
Crushed Pineapple in own juice
Peaches in own juice
Applesauce, unsweetened
Jam, no sugar added
Condiments
Dried Fruit
Dates
Dried apricots
Dried Mango
Prunes
Raisins
Grains
Nuts/Nut Butters/seed butter

Almonds
Cashews
Hazelnuts
Peanuts
Pecans
Sunbutter or other nut free butter
Walnuts
Oils
Nonstick Olive Oil cooking spray
Sesame Oil
Pasta
Rice
Seeds
Pumpkin seeds
Sesame Seeds
Sunflower seeds
Tahini (Sesame Seed spread)
Spices/Seasonings
Allspice
Cayenne Pepper
Celery Seed
Chili Powder
Curry Powder
Cream of Tartar
Dried Basil
Dried Oregano
Dried Thyme
Fennel Seed
Italian Seasonings
Garlic Powder
Ground Cinnamon
Ground Cumin
Ground Nutmeg
Ground Mustard
Minced Onion
Onion Powder
Paprika
Pepper
Red Pepper Flakes
Sweeteners
Vinegars
Balsamic Vinegar
Red Wine Vinegar
White Vinegar
Here are some quick dinner recipes using these items on hand with a few refrigerated items needed as well.
Don't fret if this pantry list looks exhausting to you. Just try every week to add something you need or want for a particular recipe. Menu planning makes life easier and you can see many of mine when I post them on Sunday's, but also check THIS PAGE for an endless supply!
Looking for Healthy products for your Home or Beauty supply needs? Check here!