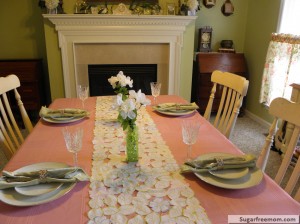 Happy Sunday Morning to you! It's a busy day here for us with a dance recital for my daughter as well as a baby shower to attend for my cousin. My hubby and oldest have been away camping with the scouts since Friday and won't return until Tuesday so meals will be easy and simple and small for just the 3 of us.
Here's what's we're having this week:
Breakfasts
Kids have left overs from breakfast out to eat, I will make a Smoothie!
New recipe: Coffee Cake Muffins
cereal & berries, yogurt -2x
Dinners
Quesadillas are my go to meal when I have a busy, "gone all day too tired to cook much" kind of day. Today is one of those days. So when I get home tonight, I still need to feed my little ones but don't want to cook much. A spinach or any veggie/cheese quesadillas fit the bill.
I've never written it up as a recipe on my blog, not sure it can even count as one, but should I? Would you be interested in how I customize these for my picky family when all of us want them a bit different?