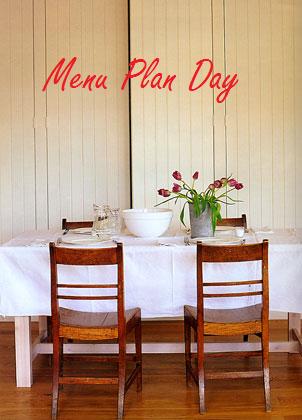 It's Palm Sunday! One week from today we'll be celebrating Easter, the Resurrection of Jesus! I've got some great new dessert recipes coming this week as well as a round up of recipes I will post. Are you subscribed to receive SFM for free via email or RSS feed? I post many weekly recipes so this way you won't miss any if you don't happen to see them on Twitter , Pinterest or Facebook. You can now also find me on Google+ and Instagram as well!
The week ahead looks easy going for us and we all have Friday off even the hubby. Since I'm having my family over for Easter I will be prepping food ahead and I'm super happy to have the day off to do so. On Friday night hubby is on his own with the kids while I meet up with my mom friends for a quick little get together and after Easter cooking prep all day I will need it. 🙂 On Saturday I will be doing more Easter cooking ahead so an easy dinner it is!
Here's what I've got planned for eats at our house this week!
Breakfasts
Dinners
Turkey Kielbasa Vegetable Bake (new recipe)
Baked Stuffed Flounder with spinach, rice (new recipe)
left overs
Roasted Chicken with Sweet Potato Fries, green beans
Mom's Night Out (Daddy on own with kiddies)
Meatball Subs using this meatball recipe
Have a wonderful week!