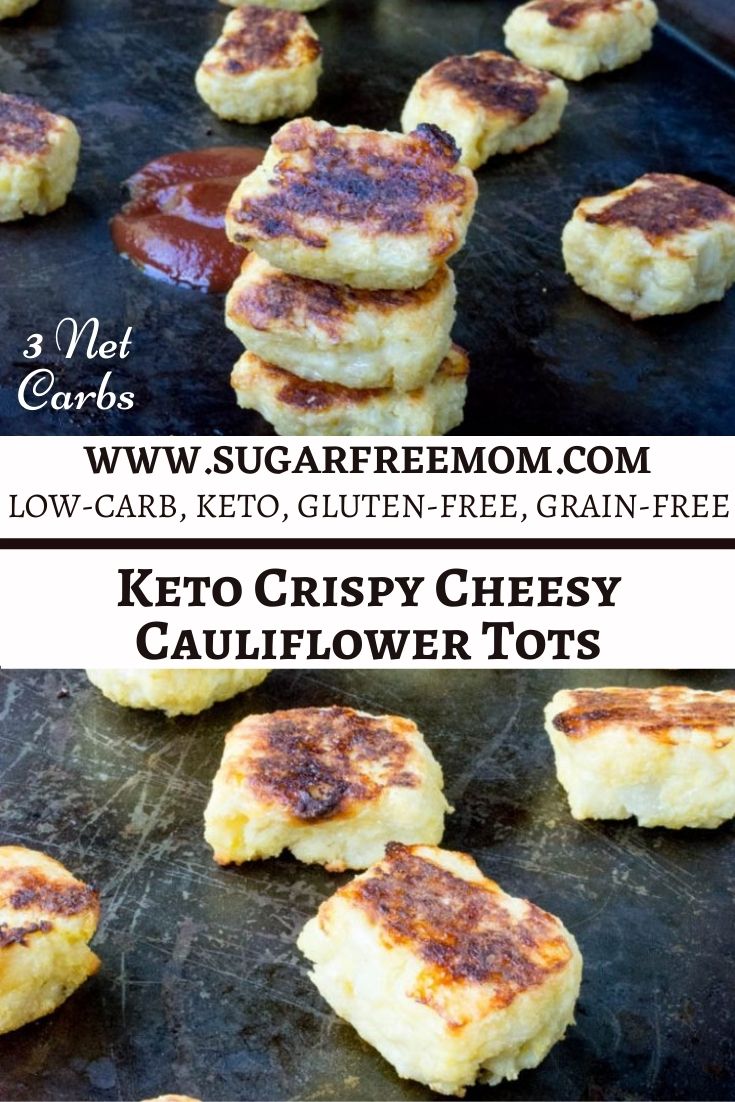 These Crispy Cheesy Keto Cauliflower Tots are the perfect finger food for game day, low carb, keto and gluten free! Just 3 g net carbs per serving.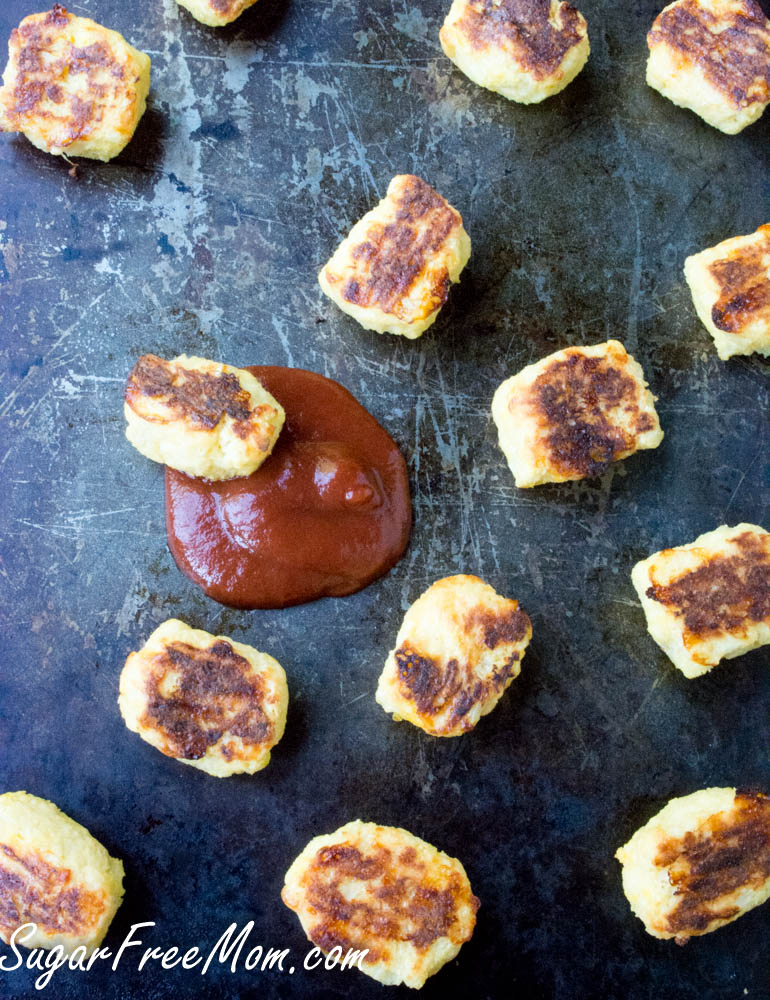 Cheesy Keto Cauliflower Tater Tots Recipe
Oven fried low carb cauliflower tots can actually get that crispy outer coating just as if you had fried them!
These delicious keto Cauliflower tots are made without grains and looks like a potato puff or some know them as Tater Tots. These look good enough to get even the pickiest of kids to eat them!
I can't help it, but I have an insane desire to fool my kids into eating cauliflower. It's an addiction really. I do it all the time, like in my Bacon Cheeseburger Hidden Cauli Casserole, and the many others that came from that recipe. It's seems they may be catching on to my tricks, but they also don't seem to care and still eat it regardless. So mom is winning here!
This keto cauliflower tots recipe is an adaption from my Mock Tater Tots original recipe in my first cookbook. I've recently just released my 3rd book, The 30-Day Sugar Elimination Diet that sold out first printing and is a best seller on Amazon!
I added some mozzarella to really give it some substance and that cheese really overpowers the traditional taste of mashed cauliflower, which is good for my kids since they typically hate cauliflower and can detect it easily.
But it wasn't just for my kids, this recipe was for me. I was craving some carbs like crazy and needed something to curb that craving. I was browsing my cookbook and there it was, adapt and conquer! My whole family loved these crispy tots!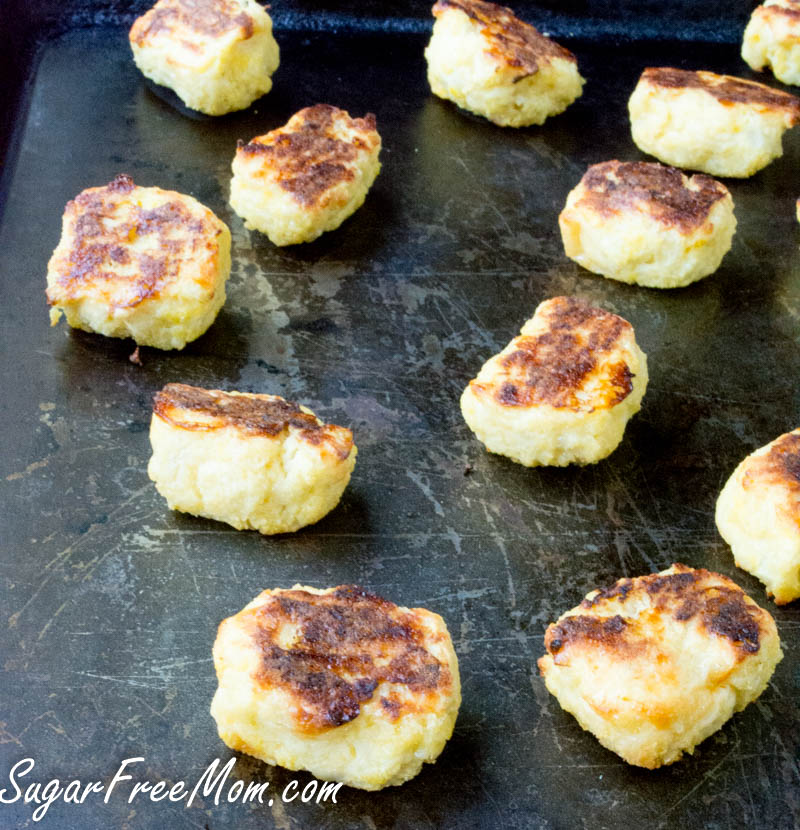 Carbs in Classic Tater Tots
Regular tater tots made with potato and refined flours are not keto friendly or low carb. Keto tater tots use cauliflower to replace potato.
32 grams of store bought potato "tater" tots have about 9 grams of carbs and less than 1 gram of protein and no dietary fiber.
Our keto tater tots serving size is 4 large tots around 60 grams in weight, having 6 total carbs and 11 grams of protein and 3 grams dietary fiber. Per serving just 3 grams of net carbs.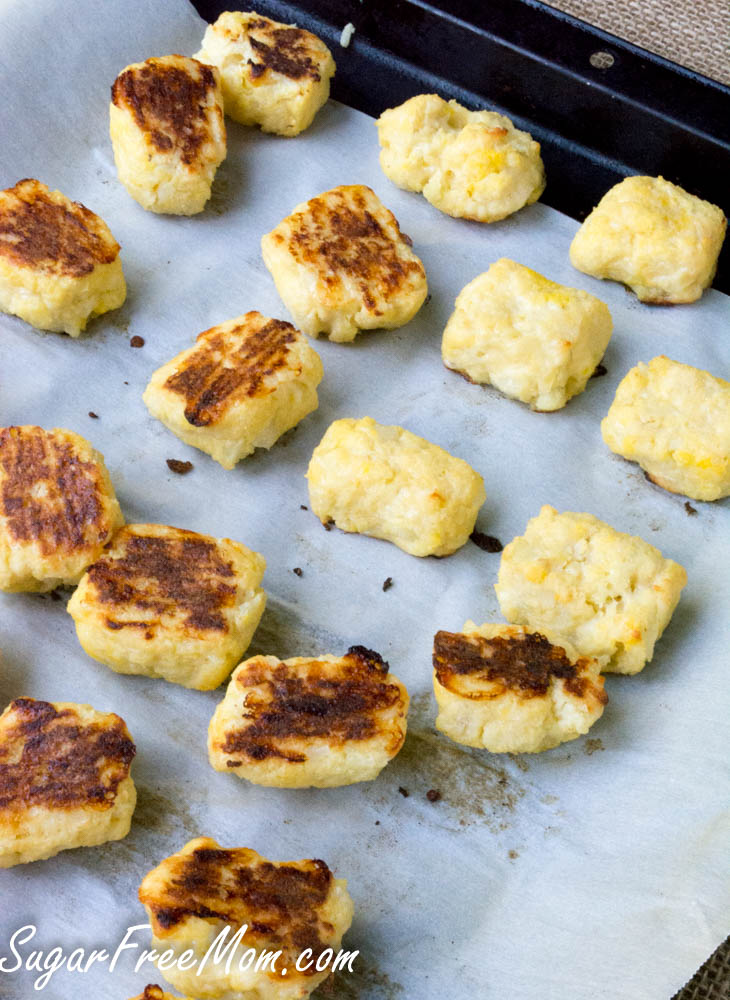 How to Make Low Carb Cauliflower Tots
To view the nutritional information please scroll down to the recipe card at the bottom of this blog post.
Ingredients
cauliflower florets (or frozen riced cauliflower thawed)
parmesan cheese
mozzarella (cheddar cheese can also be used instead)
eggs
garlic powder (feel free to add onion powder if you like)
garlic salt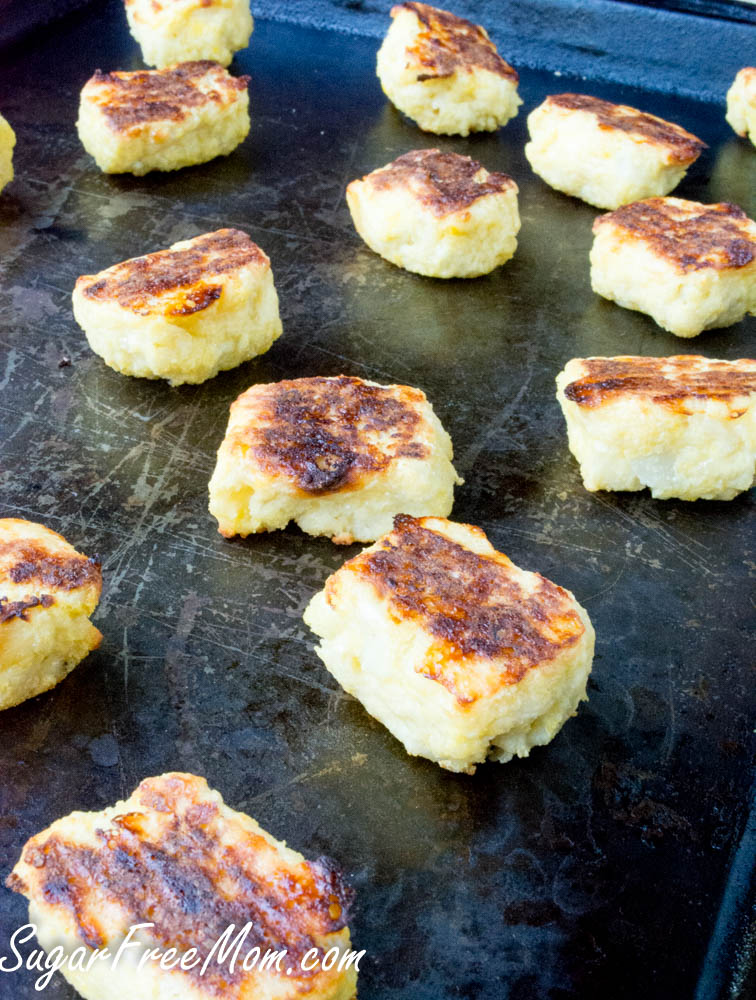 Instructions
Preheat oven to 425 degrees F.
Place steamed cauliflower in a food processor and pulse until it resembles cauliflower rice.
If using store bought cauliflower rice, thaw it and squeeze as much moisture from the rice as possible.
Fresh cauliflower doesn't have the excess moisture that frozen cauliflower rice has. It can be used but be sure as much excess water is removed. The best way I have don this is placing frozen thawed cauli rice in a clean hand towel and squeezing multiple times.
Pour cauliflower mixture it into a large bowl and stir in the rest of the ingredients until combined.
Line a baking sheet with parchment paper.
Using a small cookie scoop or about a tablespoon of the mixture, form into small tater tot shapes and place onto baking tray.
I was able to make 32 tots.
Bake for 15 minutes then flip them over for cook another 5 minutes until golden brown.
Cool slightly, then enjoy with some sugar-free ketchup!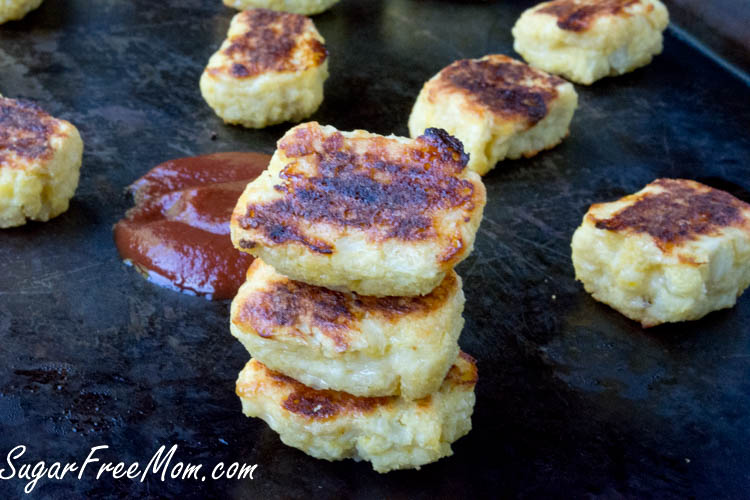 FAQs for Cheesy Cauliflower Tots Recipe
Can I make these in the air fryer?
Yes you can air fry these if you prefer. Preheat your air fryer to 400 degrees F. Spray air fryer tray with cooking spray and place tots in a single layer in air fryer. Air fry for 5 minutes then flip over and air fry until golden brown, about 3-5 minutes more.
Can I swap the coconut flour with almond flour?
I have not tested this recipe swapping coconut flour with almond flour though i am sure you could do that.
Please not that ¼ cup coconut flour is equal to about 1 cup almond flour. Coconut flour is much more dense and absorbent and that's why it works so well in this recipe. If you do swap almond flour and use 1 cup amount, you will have at least double the batter to form tots.
Can I fry these cauliflower tots in oil instead of bake?
You could certainly fry these in oil a few at a time in a hot pan with some avocado oil or coconut oil, be sure to use enough oil in the pan, but it just seems like more work than needed in my opinion.
Baking at a high temperature really can produce that same kind of outer texture you're looking for.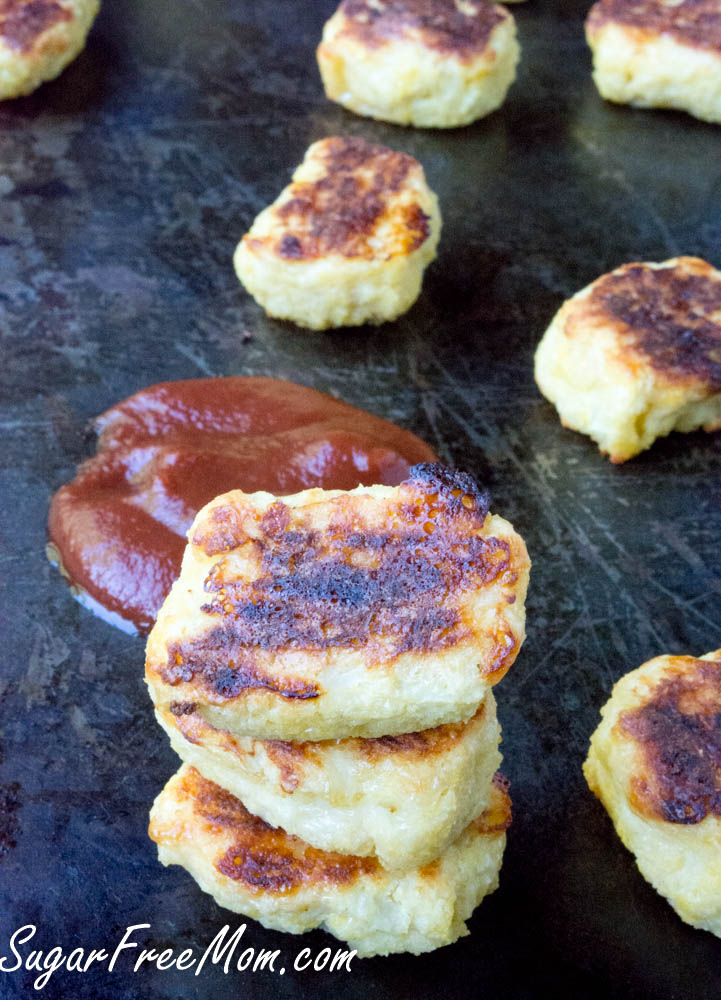 How to Store Keto Tots
After tots have cooked and cooled, remove any excess oil placing on paper towels. Place in a single layer between pieces of parchment paper in an airtight container in the fridge for up to 5 days. You can also freeze for up to 3 months.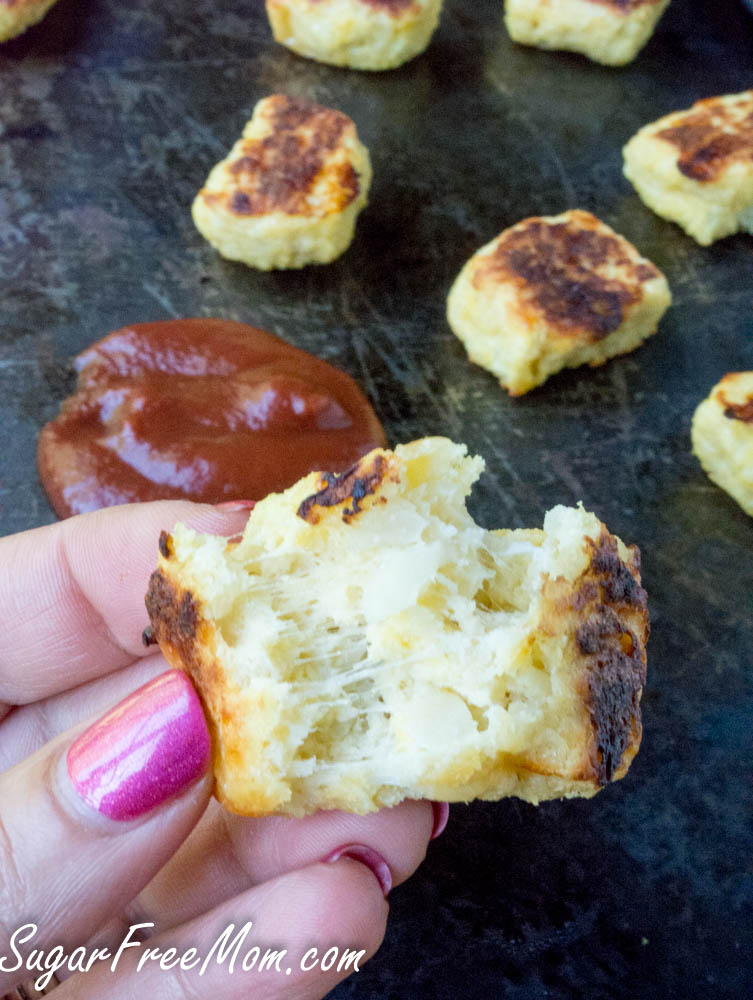 If you have some no sugar added ketchup, dip these in that or make your own Homemade Ketchup!
Cheesy goodness baked to perfection and a delicious side dish!
You may have trouble eating just 4 per serving on your low-carb diet or keto diet! Be sure to share and don't tell the kids until AFTER they try them, works in my house!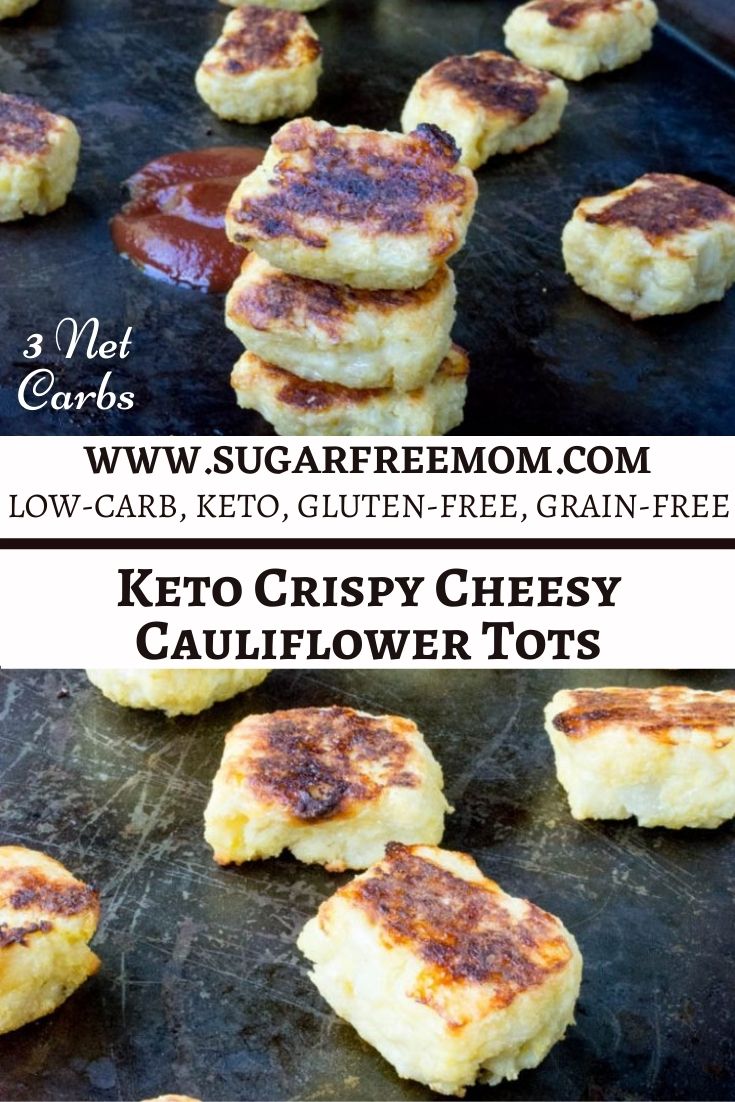 More Keto Recipes using Cauliflower
Thin Crust Pizza with Cauliflower Crust
Keto Cauliflower Tots (Low Carb and Gluten Free)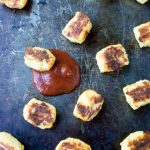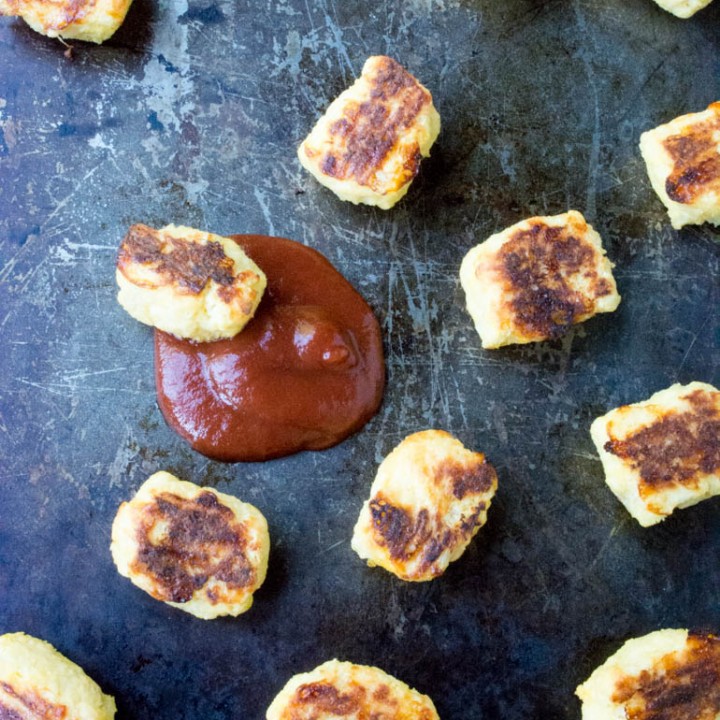 Print
Crispy Cheesy Cauliflower Tots (Low Carb & Gluten Free)
Servings
8
servings @4 tots
Instructions
Preheat oven to 425 degrees F.

Place steamed cauliflower in a

food processor

and pulse until it resembles crumbs.

Pour it into a bowl and stir in the remaining ingredients until combined.

Line a baking sheet with parchment paper.

Using a

cookie scoop

or about a tablespoon of the mixture, form cylinder shapes.

I was able to make 32 tots.

Bake for 15 minutes then flip them over for cook another 5 minutes.

Cool slightly then enjoy!
Notes
This recipe was first published in August 2016 and updated with video in August 2019.
Net Carbs: 3g
Nutrition
Serving:
1
@ 4 tots
|
Calories:
140
kcal
|
Carbohydrates:
6
g
|
Protein:
11
g
|
Fat:
8
g
|
Saturated Fat:
4
g
|
Polyunsaturated Fat:
0.4
g
|
Monounsaturated Fat:
2
g
|
Trans Fat:
0.004
g
|
Cholesterol:
60
mg
|
Sodium:
464
mg
|
Potassium:
191
mg
|
Fiber:
3
g
|
Sugar:
1
g
|
Vitamin A:
252
IU
|
Vitamin C:
24
mg
|
Calcium:
236
mg
|
Iron:
1
mg