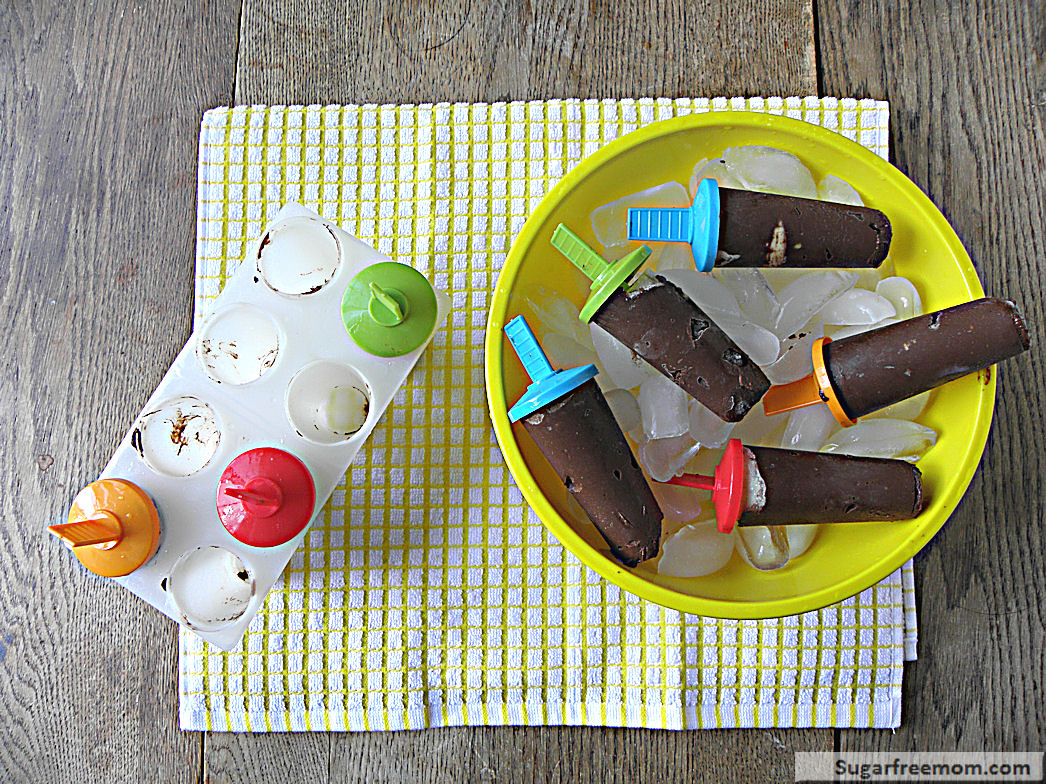 Pudding on a stick or actually...... a mold, but whatever it's on........ it is a frozen yummy pudding treat!! And.it.is.incredible.
No one will believe this is dairy free!
No one will believe the ingredient that makes it so creamy either! If you know my recipe for Dairy Free Chocolate Pudding then you know the secret ingredient....shhhhhh! Don't spoil it for everyone! You NEED to make this for those who are skeptical (and yourself if you are skeptical!) and let them be in awe after they try it....seriously fun!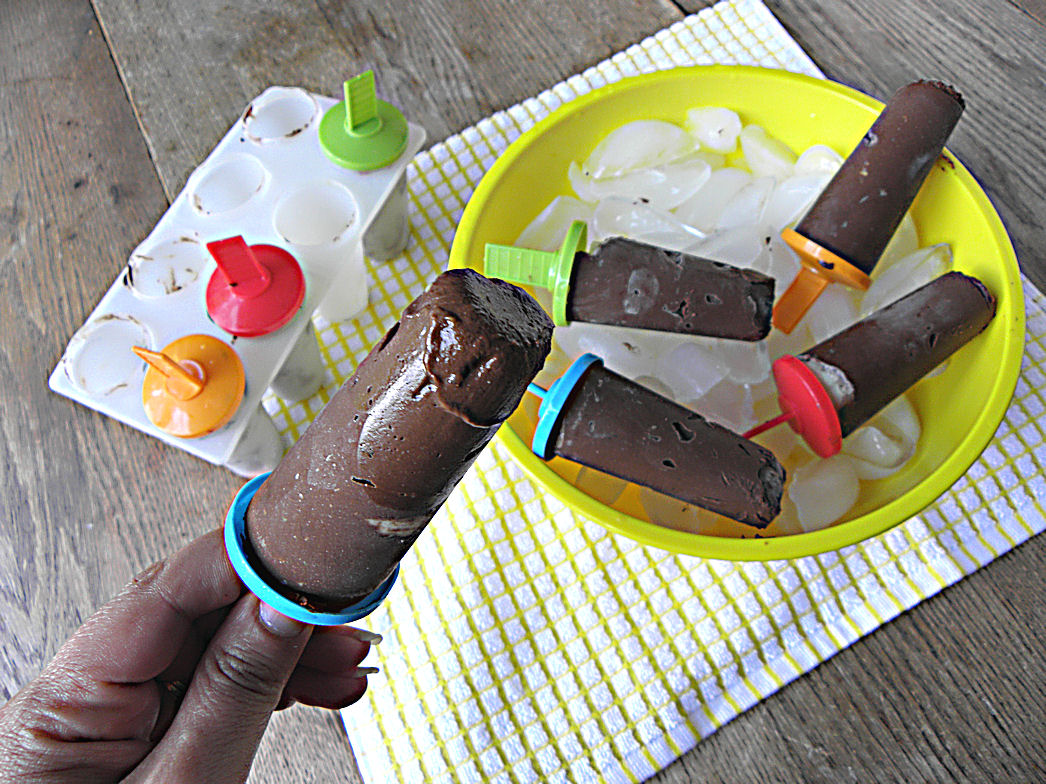 Super creamy, thick and exactly as a frozen pudding should taste without artificial ingredients you can't pronounce!
Kids and mom approved with a little frozen banana bite surprise at the bottom!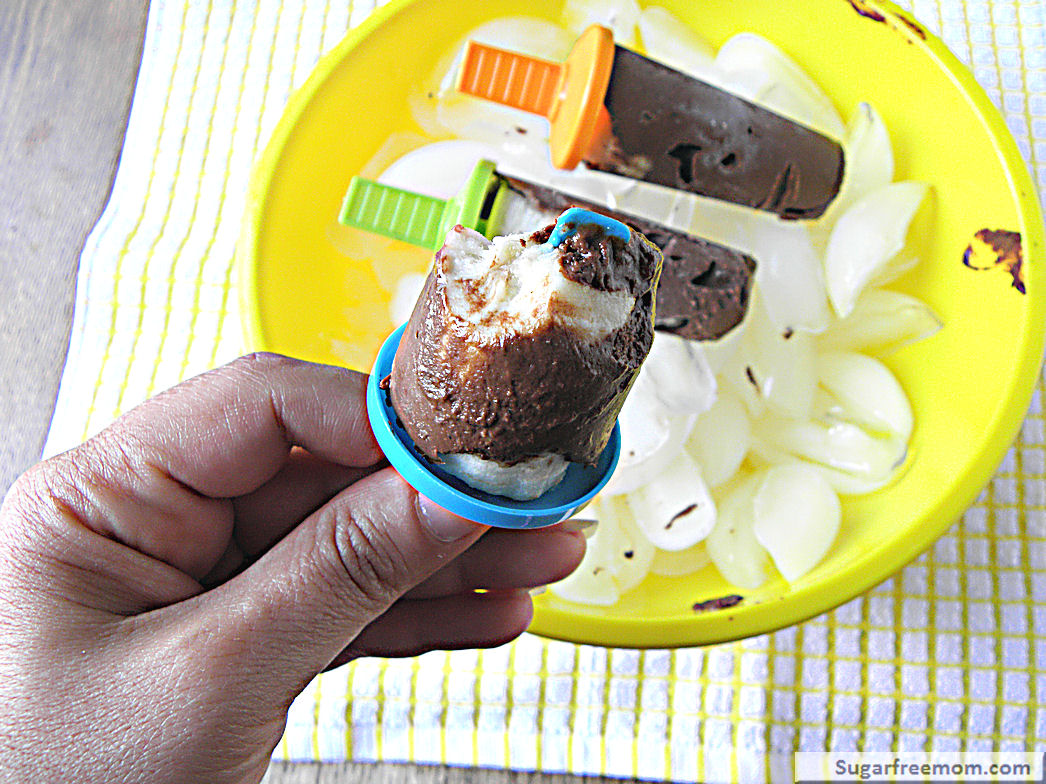 I doubled my Dairy Free Chocolate Pudding recipe to make these. It made 6 small popsicles but wasn't quite enough to fill them to the top so I added a large chunk of fresh banana to each before placing the mold stick in and freezing. I suggest making only 4 if not using a banana chunk on the bottom or simply increase the recipe amounts. We liked the frozen banana bite, you may too!
Frozen Dairy Free Chocolate Pudding Popsicles: No Sugar Added
[sc:Ziplist]
Ingredients
2 bananas
1 avocado, pitted
4 tablespoons cocoa powder, unsweetened
2 teaspoons vanilla extract
Optional: 1 teaspoon chocolate liquid stevia or sweetener of choice
Optional: 1 banana sliced in 4 pieces
Total recipe yields 1-½ cups
Directions
In a food processor or high powdered blender mix all ingredients except optional stevia and sliced banana. Taste and add sweetener if needed. Evenly divide pudding into 4-6 small popsicle molds, ¾ of the way only if adding a chunk of banana. Fill all the way if not. Using a popsicle stick or small knife, stir the pudding in the mold to remove air pockets. Freeze for about 3 hours or overnight.
Servings: 4* [without banana on bottom] Calories: 121* Fat: 6g* Cholesterol: 0mg* Sodium: 0mg* Carbs: 19g* Fiber: 6g* Sugars: 7g* Protein: 2g* Points+: 1*
Servings: 6* [with chunk of banana] Calories: 98* Fat: 4g* Cholesterol: 0mg* Sodium: 3mg* Carbs: 17g* Fiber: 4g* Sugars: 7g* Protein: 2g* Points+: 1*
Other Chocolate recipes you might like: