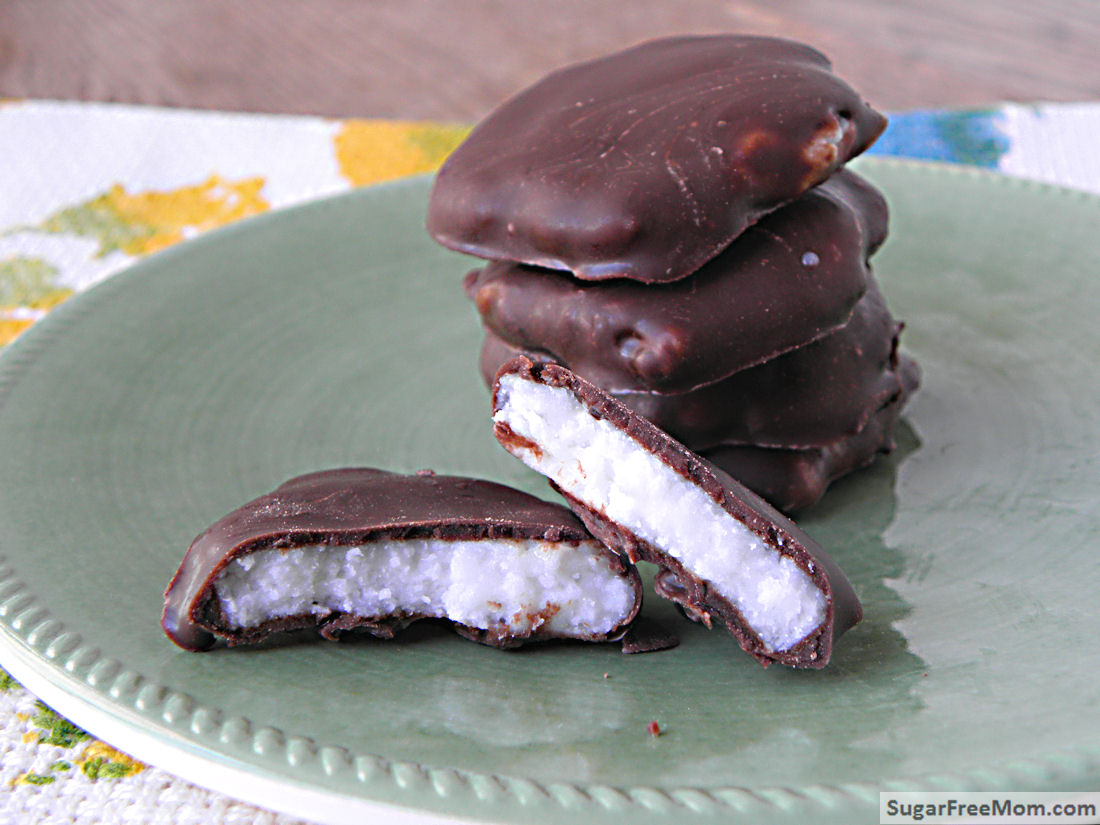 Take a bite into a peppermint patty and enjoy the soft minty flavor in every bite! Now if you're not a fan of peppermint this is not the recipe for you. BUT if you love the mint flavor, these are easy to make at home. No baking required!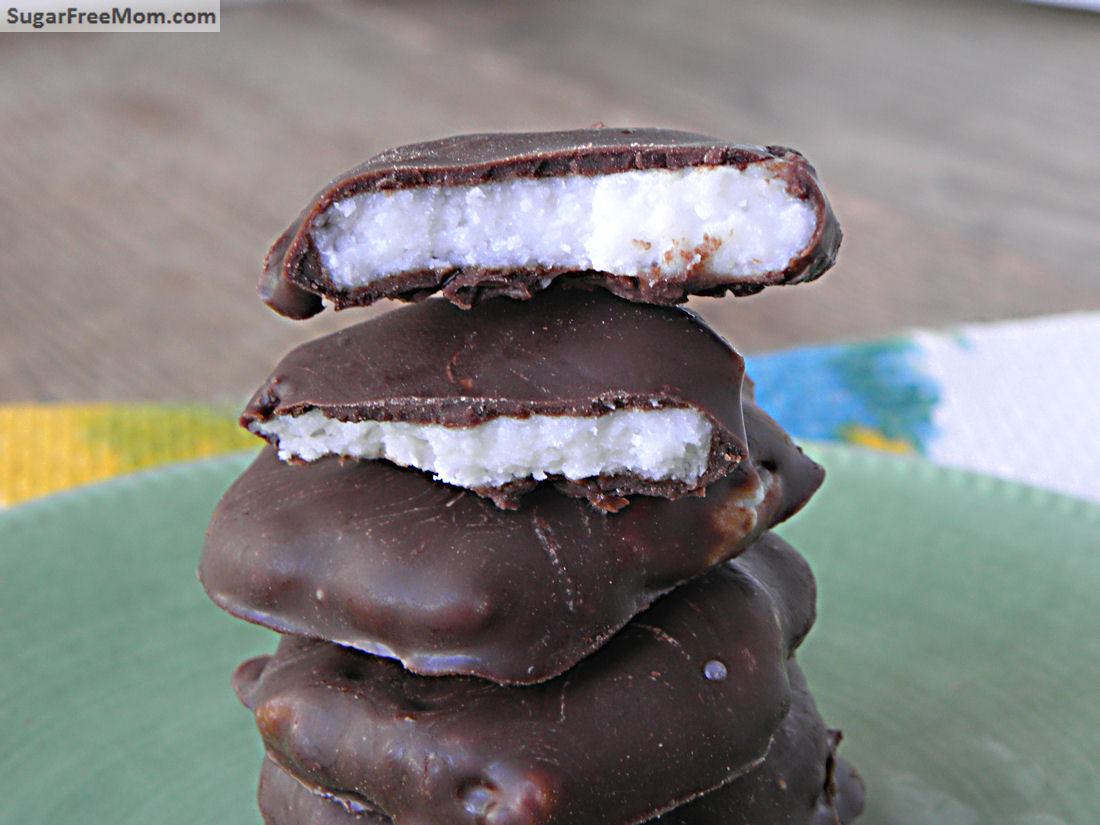 You can make the typical round shape if you like. Freeze them a bit then dip them into melted carob chips or chocolate chips of your choice.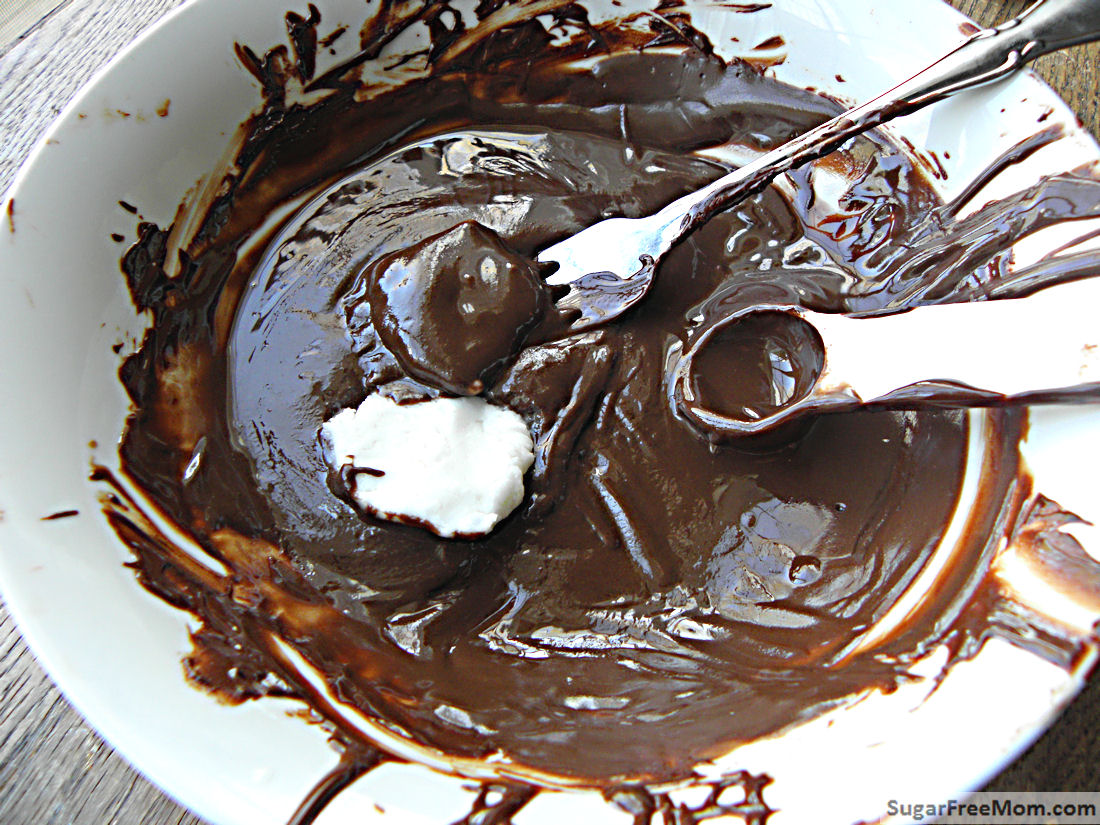 The round shape doesn't have to be perfect so don't even bother with that. Just shape and once frozen drop, flip to coat and remove with a fork. Lay onto a waxed lined baking sheet to refrigerate or freeze until set.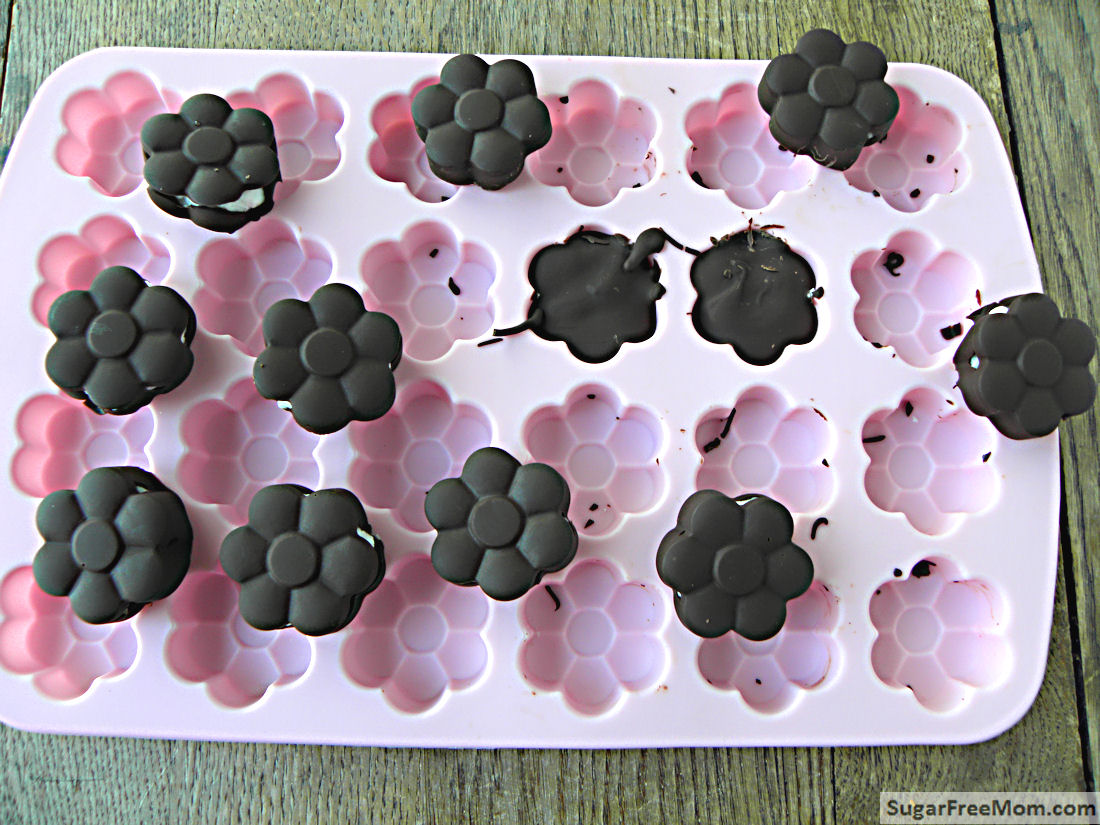 I found this cute little daisy mold at Christmas Tree shops and decided to make these into daisy shaped peppermint patties! Silicone molds are perfect for candy making. You don't need to grease them and everything just easily pops right out. With the mold I was only able to make about 12. When making them round patties I was able to make about 18-20.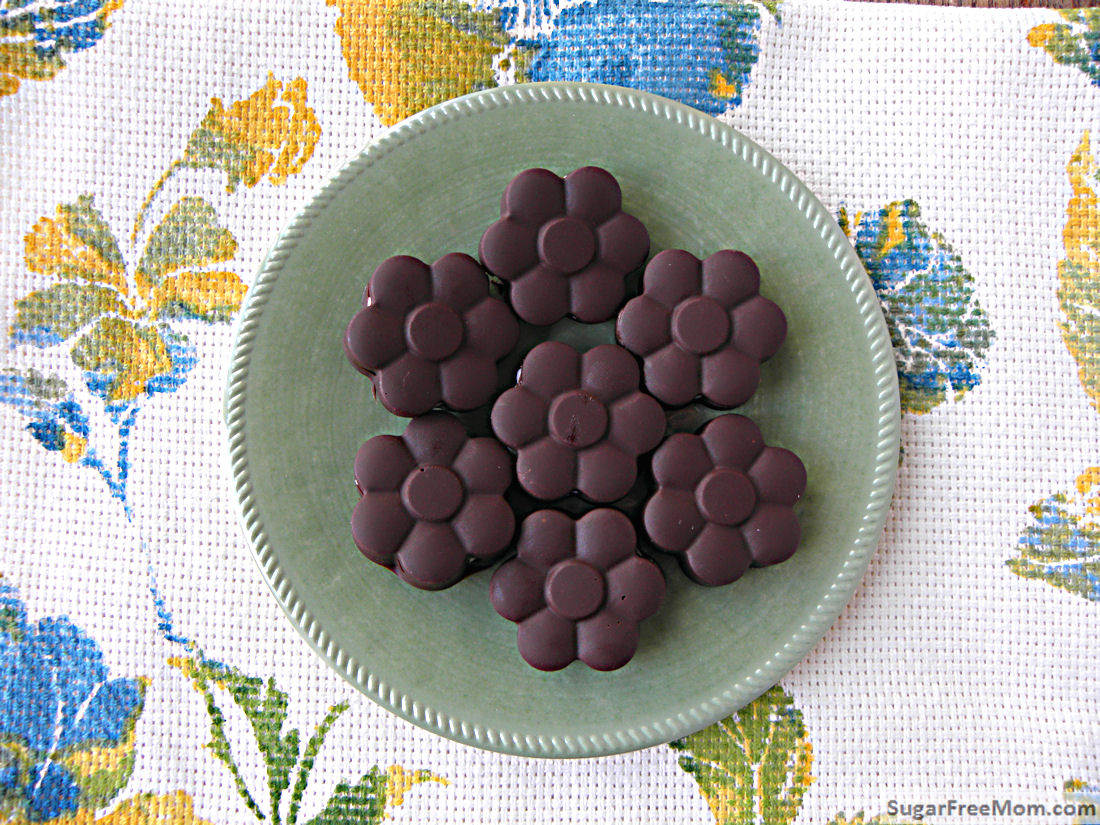 Aren't these the cutest!
Takes no time at all to make them daisy shaped as it does to make them round. It's all about the layering. First the melted carob, then harden, then add the peppermint mixture, then top with the melted carob again and freeze or refrigerate.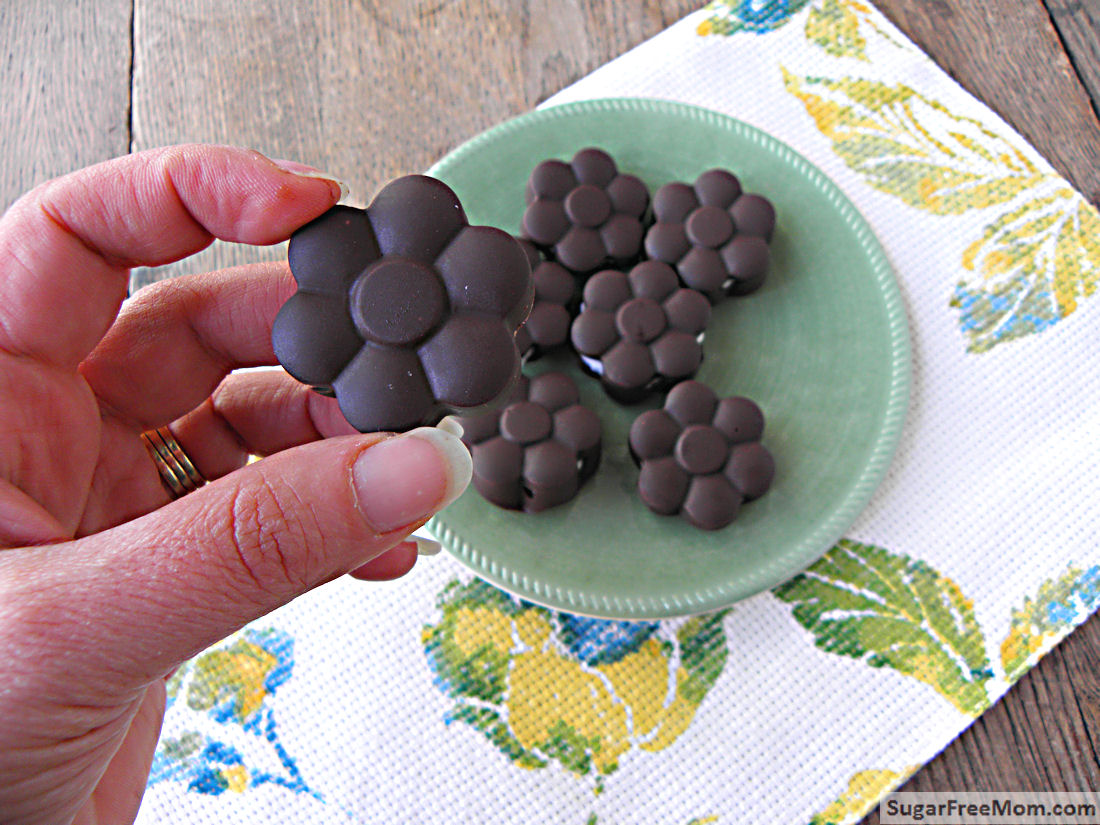 These received winning approval from my ENTIRE picky family! Hubby, soon to be teen and two younger kiddies! AND a friend and her daughter that stopped by as well!
However you decide to make them, they will be a hit. Homemade candy doesn't have to be so intimidating.
Other candy recipe you might like: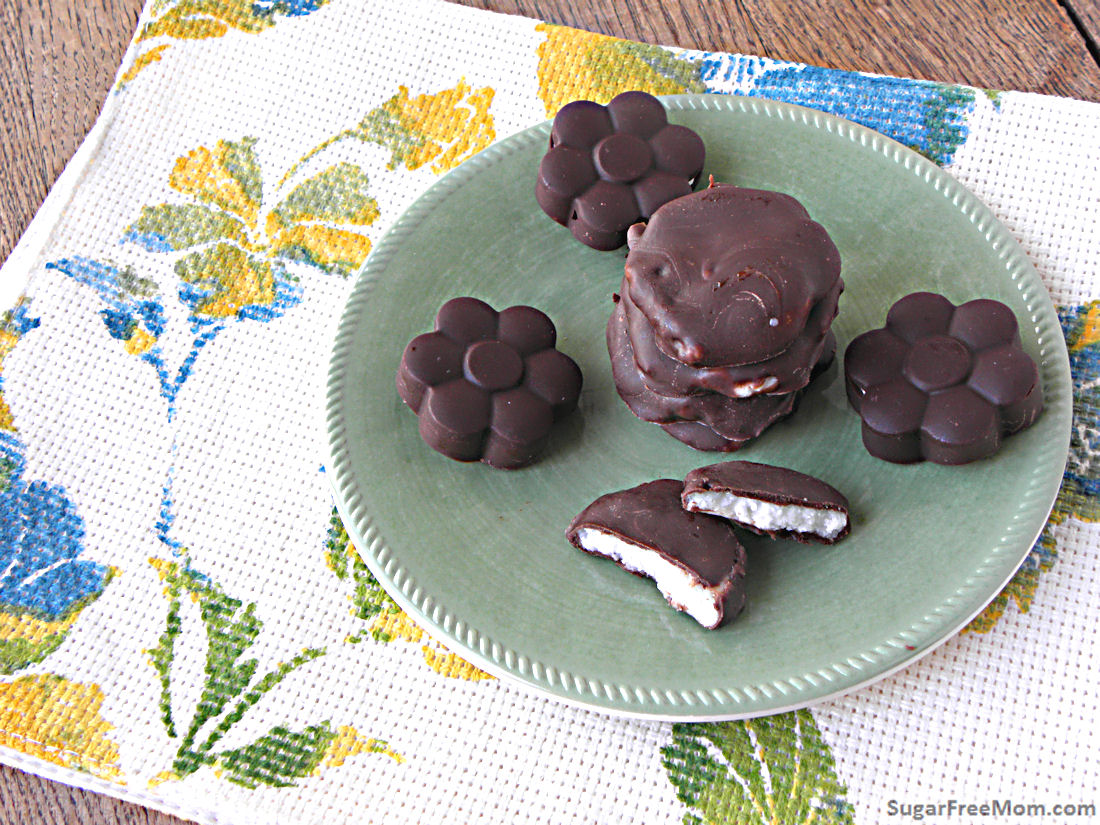 Notes on Recipe:
You can use whatever chocolate chips you like. For allergy friendly, Enjoy Life is Nut, Soy & Dairy Free. I found sugar free chocolate chips by the brand Lily's sweetened with stevia at Whole Foods. A reader mentioned that Grain Sweetened chocolate chips have been found at the Atkin's store online.
Nutrition Info has been updated 11/2013 using sugar free chocolate chips.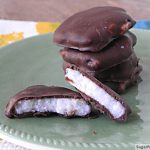 Homemade Peppermint Patties [No Added Sugar]
Ingredients
1/2

cup

coconut oil

slightly melted

1

teaspoon

peppermint extract

1 1/2

teaspoons

peppermint liquid stevia

3/4

tablespoon

heavy cream

10

ounces

sugar free chocolate chips

carob chips or grain sweetened chocolate chips

2

tablespoons

coconut oil
Instructions
In a small bowl add the softened coconut oil, extract and stevia.

Mix well until combined.

Mix in cream, stir until coconut oil resembles paste. Set aside.

Line a baking sheet with waxed paper.

Scoop 1-2 teaspoons of mixture onto baking sheet.

Flatten each into circular shape of size you'd like. (2 inches by 1-1/2in for typical peppermint patty).

Freeze until hardened, about 20-30 minutes.

Melt carob chips with coconut oil in microwave, in 30 second intervals, continue to stir until smooth.

Once peppermint patties are frozen, dip in melted chocolate, flipping over to cover well and remove with a fork.

Lay on waxed paper and freeze until hardened.

**[To make daisy shaped patties, use 1 teaspoon of melted carob or chips in mold, let harden in freezer, then add peppermint mixture right onto hardened chocolate. Top with another 1-2 teaspoons of melted chocolate to cover peppermint mixture in mold. Freeze.]

Store in refrigerator.
Recipe Notes
Weight Watchers PointsPlus: 6*

Nutrition Facts

Homemade Peppermint Patties [No Added Sugar]

Amount Per Serving (1 g)

Calories 184

Calories from Fat 162

% Daily Value*

Total Fat 18g 28%

Cholesterol 1mg 0%

Sodium 0mg 0%

Total Carbohydrates 9g 3%

Protein 1.1g 2%

* Percent Daily Values are based on a 2000 calorie diet.
link