If you're on a keto or low carb diet, you can still enjoy stuffing for Thanksgiving using my keto coconut flour bread! This tastes just like my Italian Grandma's Authentic stuffing and I know you are going to love it!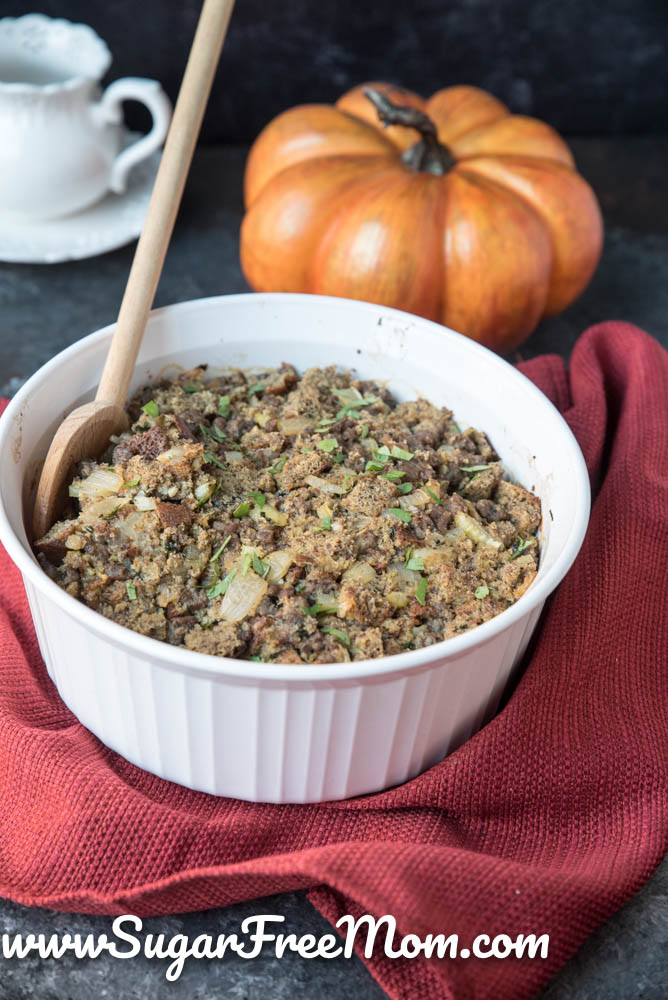 Keto Italian Sausage Stuffing
Classic Italian sausage stuffing is one of the best sides for Thanksgiving to enjoy! Replacing the traditional Italian bread in the stuffing with my keto coconut flour bread, turns this high carb side into a wonderful keto friendly sausage stuffing you can enjoy on your keto diet or low carb diet. All the spices, and amazing flavors of a traditional Italian sausage stuffing without all the carbs! If you're not a fan of my coconut flour bread, you can also swap the bread with my Everything Bagel Almond Flour bread instead, either will work fabulously!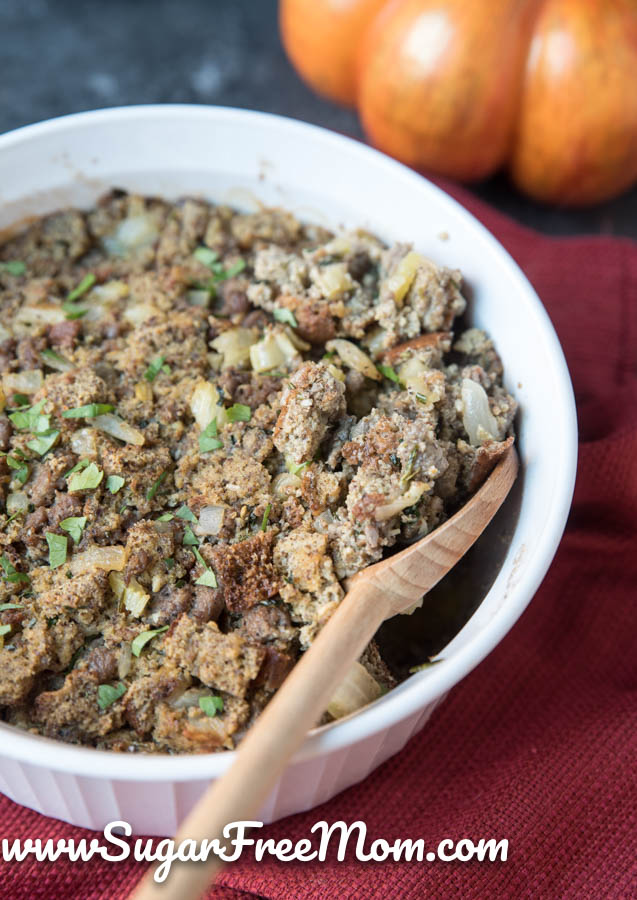 Italian Sausage Stuffing
My Italian Grandmother's sausage stuffing was something I looked forward to every Thanksgiving as that was the one and only time she would make it. Filled with spicy pork sausage and even knowing the giblets and other organ parts were it, didn't stop us kids from enjoying it. While this recipe excludes the organ parts, you can certainly add them into the recipe with the cooking of the sausage. My grandmother also stuffed this into the turkey, but you can still achieve the same perfect flavors without doing that. If you're not a fan of spicy hot sausage, you can certainly use sweet, though in my opinion, the spice is the best part of this stuffing! A small portion is totally filling and satisfying!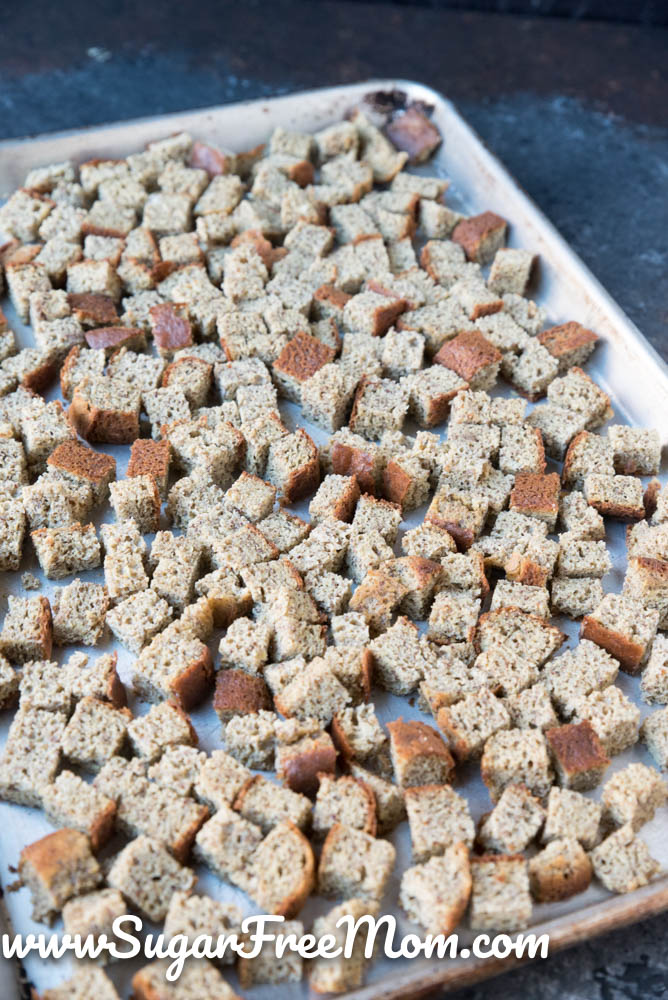 Keto Coconut Flour Bread
My keto coconut flour bread taste like honey wheat bread and the texture replicates it as well. Perfect for actual sandwiches and that's why I used it in this keto sausage stuffing as I knew it would hold up well to all the other ingredients and not become a mushy consistency. If you make the bread the day before, it will save you some time when you make the stuffing. If you decide to wait, and make the bread the same day as the stuffing, from start to finish you are looking at about 2 hours total. Save some time and make it the day before, chop into cubes and lay on a baking sheet pan overnight to dry out.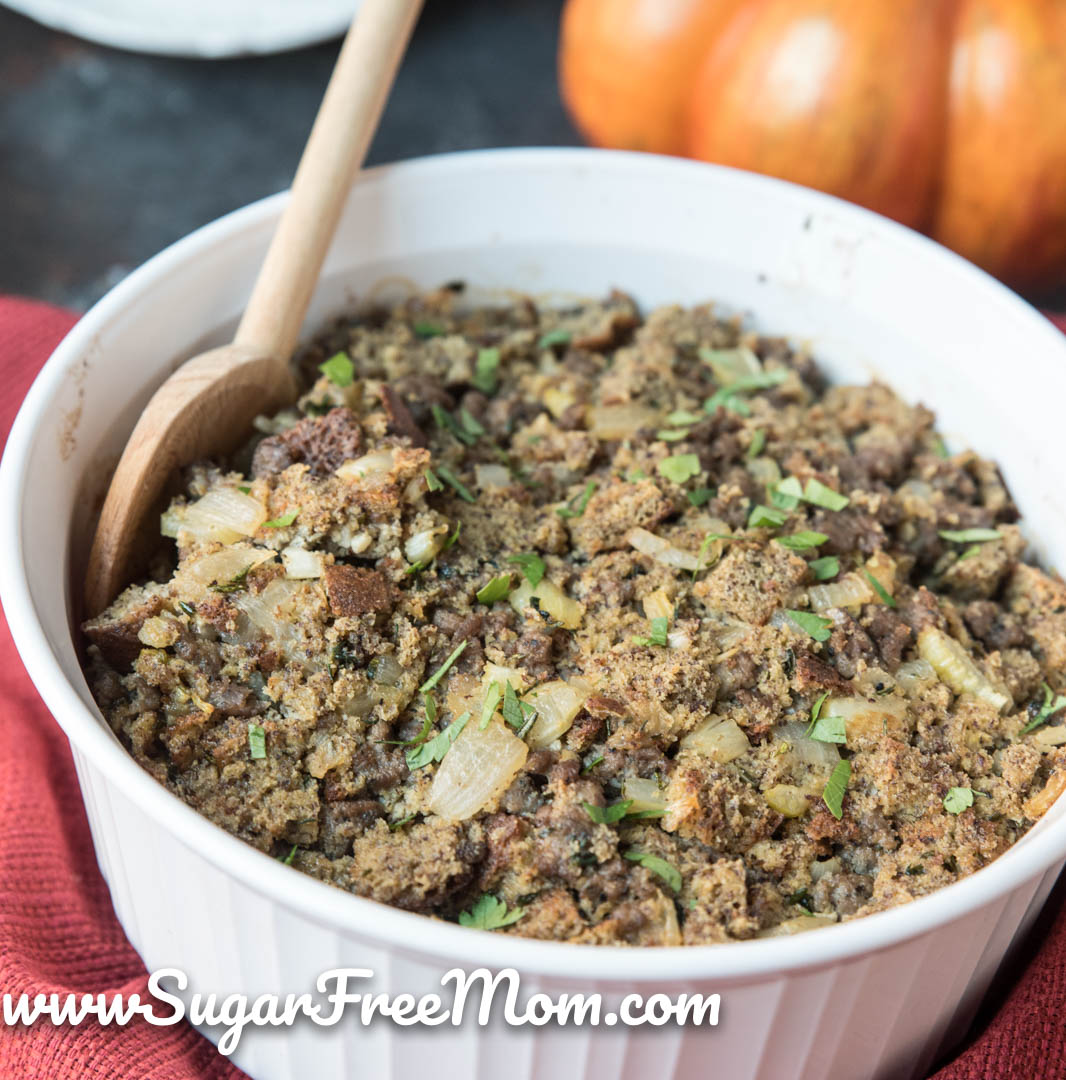 Keto Thanksgiving Recipes

Bell's Seasoning
Bell's seasoning is a poultry seasoning my grandmother used in her stuffing. It was created by William G. Bell in Boston in 1867. It combined ground dried rosemary, oregano, sage, ginger, marjoram, thyme and pepper. Bell's seasoning was salt free, so make sure to use salt and pepper to taste. I am using a combination of this with some fresh herbs as well. Feel free to make your own dried seasoning blend to replicate this Bell's Seasoning.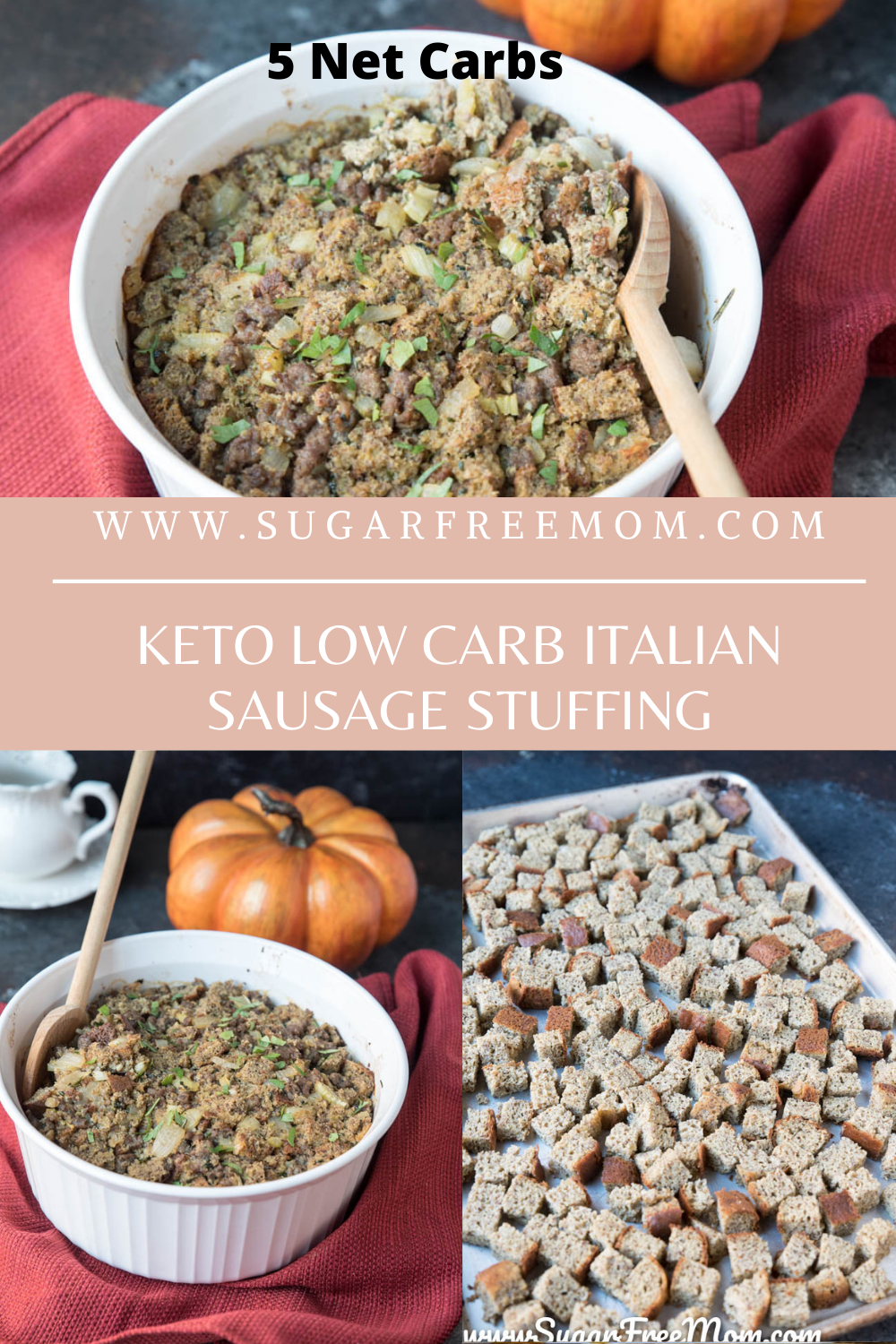 Keto Italian Sausage Stuffing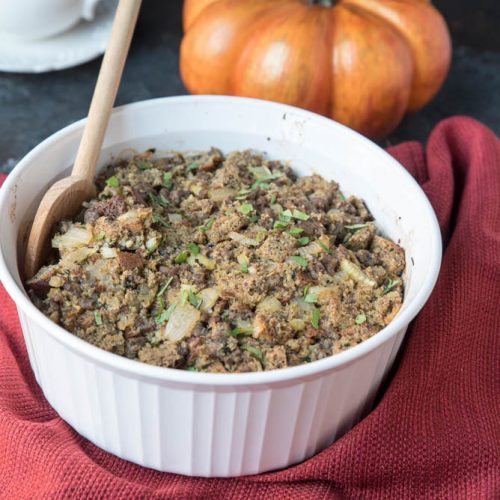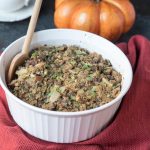 Print
Keto Italian Sausage Stuffing
Servings
16
servings @¾ cup
Ingredients
1

loaf

Keto Coconut Flour Bread

or 6 cups cubed keto bread or 269 grams

1

tablespoon

olive oil

1

pound

Spicy Italian Sausage

or sweet, casings removed or 453 grams

1

teaspoon

Bell's seasoning

See description above of dried herbs used

¼

cup

butter

1

cup

diced onion

or 142 grams

1

cup

diced celery

or 142 grams

½

cup

fresh parsley

chopped

1

tablespoon

fresh rosemary

chopped

2

teaspoon

fresh thyme

chopped

1

tablespoon

fresh sage

chopped

½

teaspoon

salt

¼

teaspoon

pepper

2

cups

bone broth

1

large

egg

whisked
Instructions
Preheat oven to 350 degrees F. Arrange a single layer of cubed bread onto a baking sheet pan and bake for 10-15 minutes or until dried and golden brown. Transfer to a large bowl.

In a large skillet, add oil and sausage, crumble the sausage into small bits and cook until browned. Stir in Bell's seasoning then transfer to the bowl with the bread.

Using the same skillet you cooked the sausage in, add the butter, onion, celery, fresh parsley, rosemary, thyme, sage and salt and pepper. Cook until vegetables are soft and add to bowl. Mix everything together in the bowl.

Whisk the bone broth and egg together, pour half into the large bowl. Mix well then pour in a little more broth to fully coat everything. You want stuffing nice and wet, but not soggy. I used the full 2 cups of broth.

Place stuffing into a 2 quart dish and press it down with a spoon to pack it in. Bake for 30-40 minutes or until golden brown.
Storage
Once cooked and cooled this stuffing can be made up to 2 days ahead stored in the refrigerator. You can also freeze this stuffing for up to 3 months and thaw in the fridge the night before you want to enjoy it.
Nutrition
Serving:
1
serving @ ¾ cup
|
Calories:
253
kcal
|
Carbohydrates:
5
g
|
Protein:
9
g
|
Fat:
21
g
|
Saturated Fat:
5
g
|
Cholesterol:
102
mg
|
Sodium:
327
mg
|
Potassium:
117
mg
|
Fiber:
3
g
|
Sugar:
1
g
|
Vitamin A:
304
IU
|
Vitamin C:
4
mg
|
Calcium:
16
mg
|
Iron:
1
mg