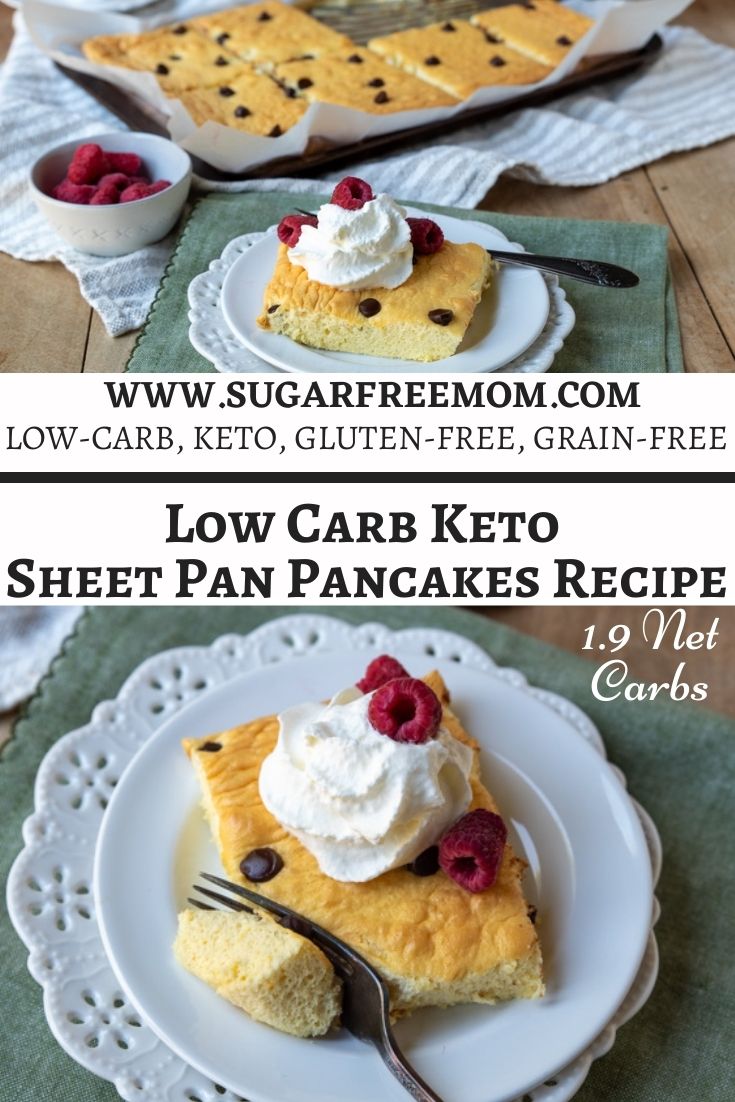 This delicious recipe for low carb keto fluffy pancakes are made in a sheet pan for easy meal prep and a grab-n-go option for the whole family! No flour needed and high in protein! Just 1.9 grams of net carbs!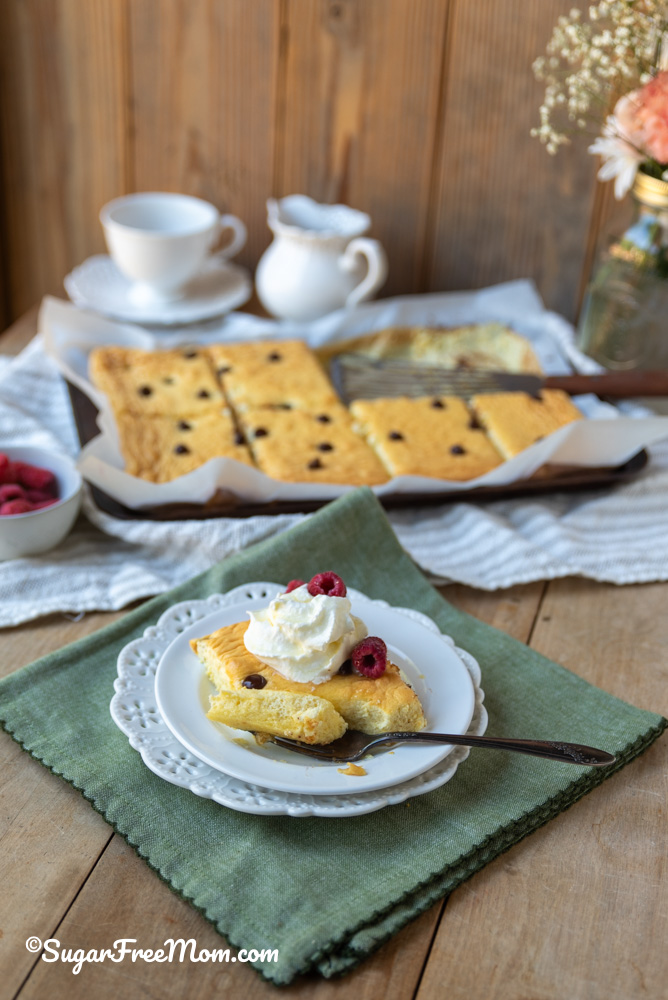 Why a Sheet Pan Keto Pancake Recipe
I don't know about you, but the best way to enjoy pancakes is when I'm not the one making them! No seriously though, I hate flipping pancakes and when you are the flipper you are also the last one to sit down to eat any.
The next time you're thinking about making a lovely breakfast for your family, try these sheet pan pancakes for the win!
​These fluffy keto pancakes could be made as individual pancakes, but then you'd be slaving over the stove, flipping each one in a frying pan. Try it instead with our sheet pan method for less effort and work in the kitchen, especially for a big family.
Regular pancakes are high in carbs and definitely not a great option when you're following a keto diet, low carb diet or just trying to reduce your sugar intake.
Our low carb pancake recipe doesn't even need any low carb flours, like almond flour or coconut flour, so they are a fantastic allergy friendly option. You just need some eggs, egg white protein powder and a few other simple ingredients.
This easy keto recipe is ready in under 30 minutes from start to finish. Be sure to read this blog post for all possible substitutions.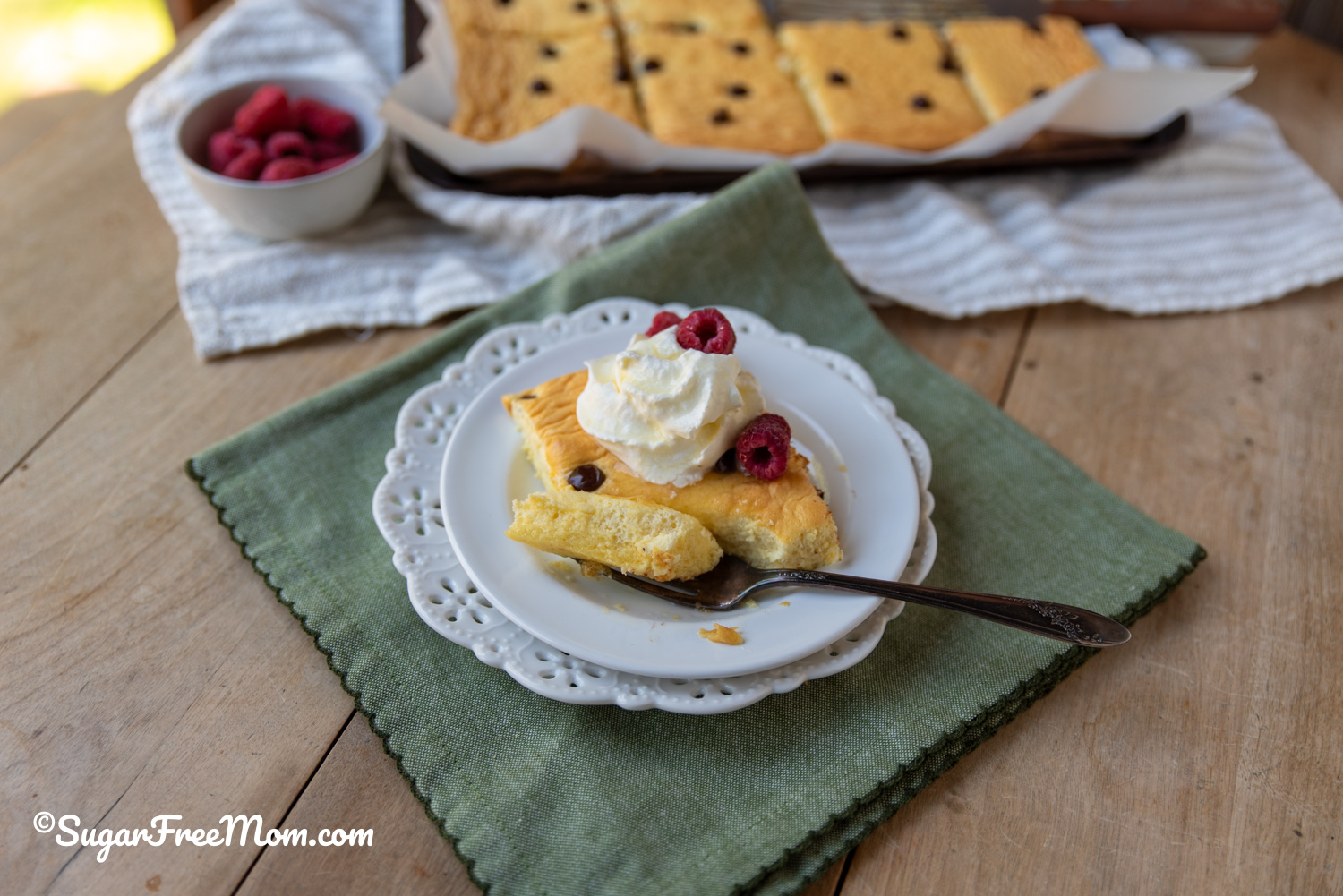 Sheet Pan Method
Jus 8 simple ingredients and a very easy breakfast for any busy morning!
Here's our very simple method to making a batch of pancakes in a sheet pan.
We first whip the egg whites in a stand mixer then add all the remaining ingredients together in a blender, but you could also add all ingredients to a food processor.
Alternately, you could whip egg whites in a large bowl, add remaining ingredients in a blender and then fold them together.
The whipping of the egg whites really makes a nice, light and airy texture. If you decide to skip this step, they will still be delicious, but more dense in texture.
​What is the Texture of Sheet Pan Pancakes?
This yummy keto breakfast is a little bit different in texture to traditional pancakes. They remind me of sponge cake and melt in your mouth, we love them!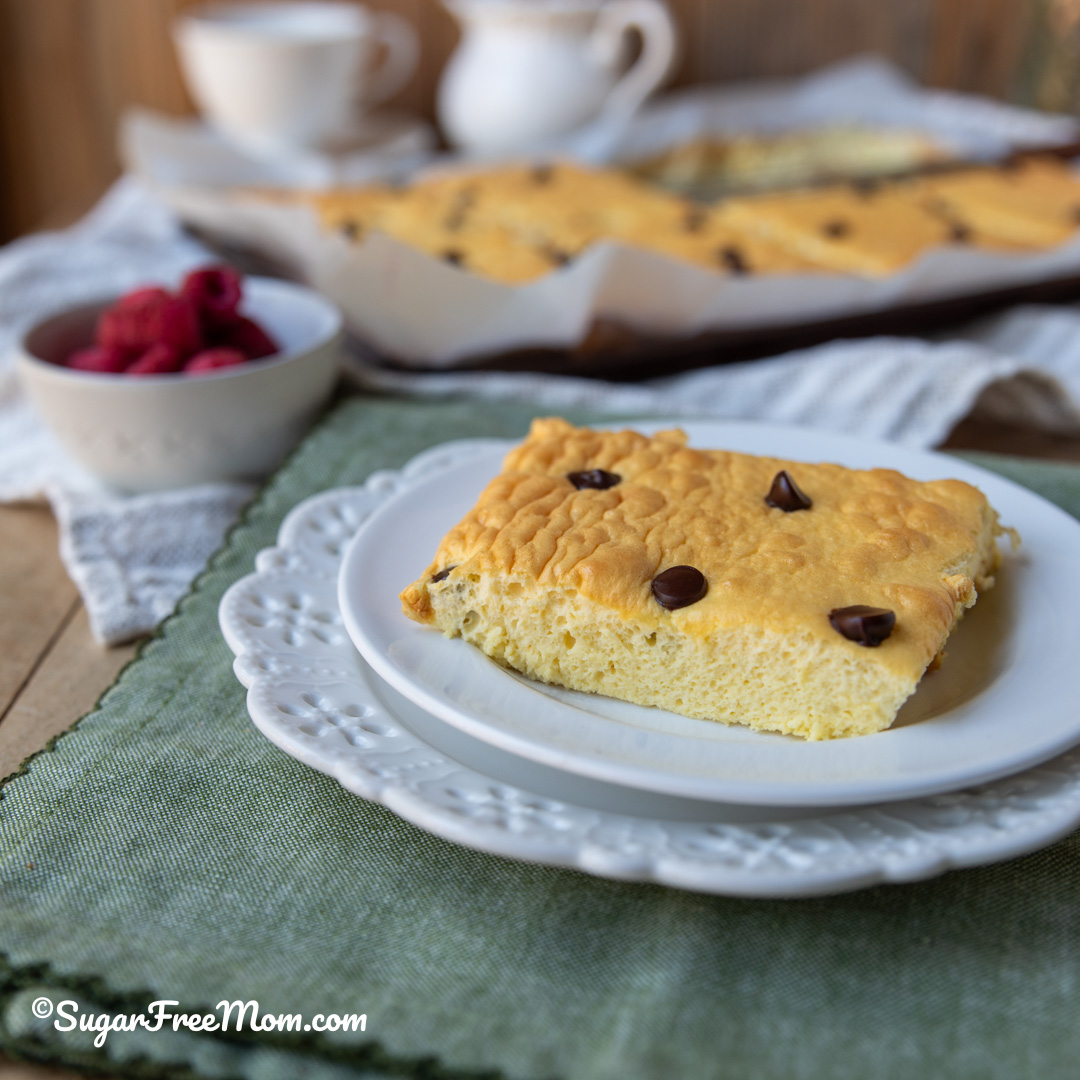 Can I Swap the Sour Cream?
Yes, you can swap out the sour cream and use cream cheese instead though in my opinion it will make these low carb pancakes a bit denser in texture as opposed to light and airy.
Can I make this dairy free or paleo?
If you want a dairy-free option for these healthy sheet pan pancakes, you can swap the sour cream with dairy free cream cheese or canned coconut milk.
To make this a paleo sheet pan pancake, replace sour cream with canned coconut milk and replace stevia with honey or maple syrup.
Can I Replace the Sweeteners?
​Yes, if you don't like stevia or have another low carb sweetener you prefer, feel free to swap it with what you like. I find that just using the liquid Allulose is really wasn't sweet at all and my family prefers a bit more sweetness in these sheet pan pancakes.
We love the vanilla stevia for this reason, because a small amount goes a long way in upping the sweetness without added bulk or carbs.
The liquid Allulose helps with texture as well. If you can't get your hands on liquid Allulose, you can make my Keto Simple Syrup or swap the Allulose with Lakanto Maple Syrup.
Here's my Sweetener Guide & Conversion chart to help you decide how much to replace stevia with.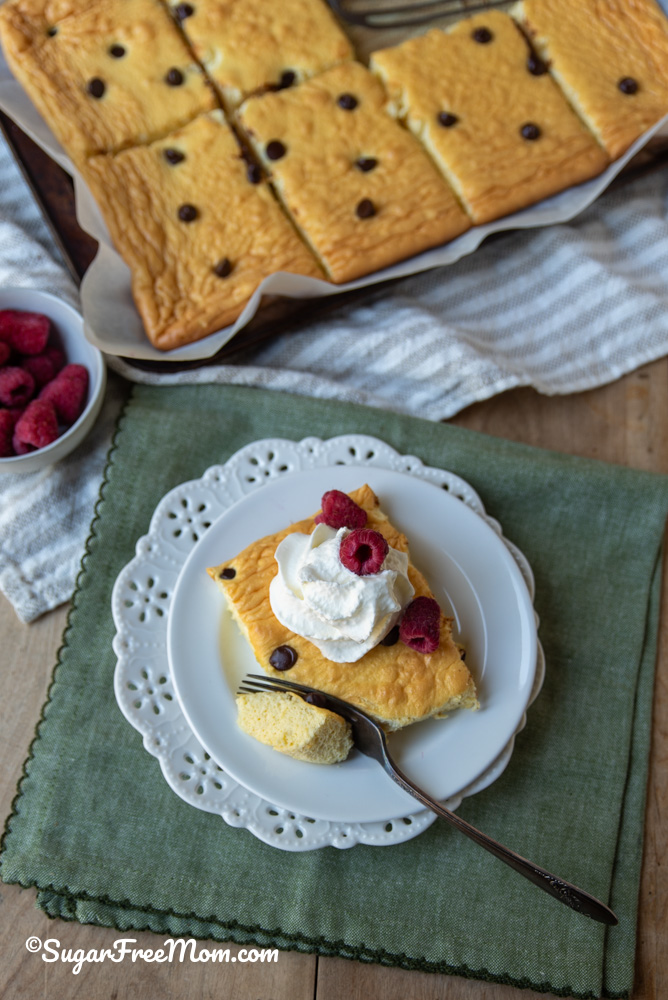 Can I replace the Egg White Protein Powder?
If you can't get your hands on vanilla egg white protein powder, you can use unflavored egg white protein powder or even vanilla whey protein powder.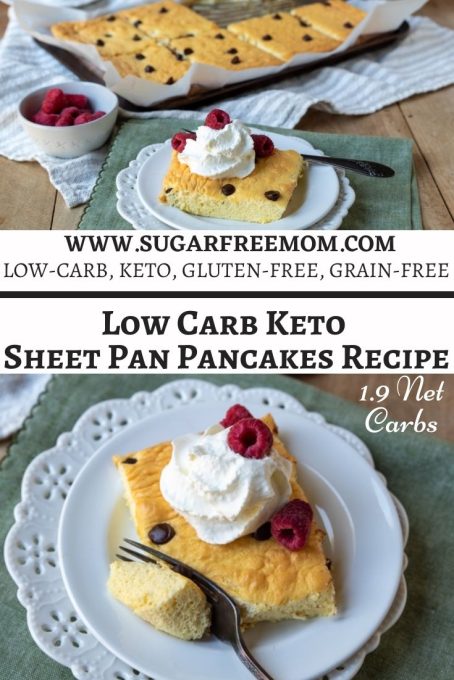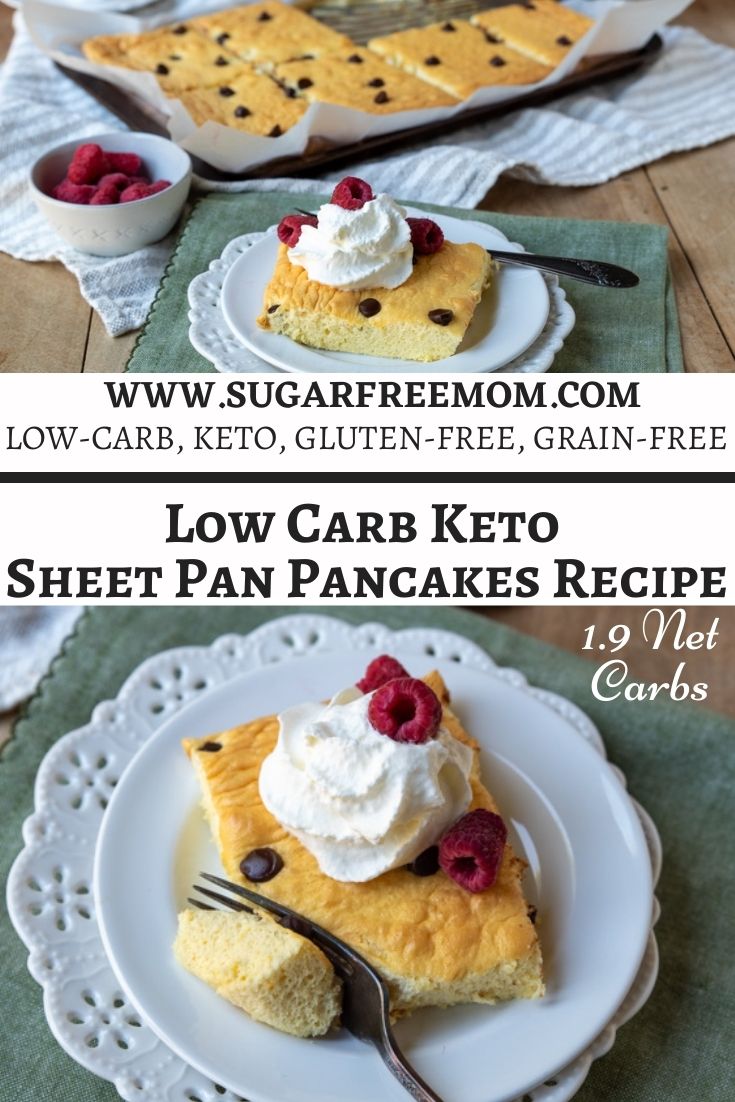 ​Best Keto Toppings for Pancakes
Since the pancake mix is just 1.9 g net carbs, your keto toppings will effect your total carb count. We have a couple of ways to enjoy these sheet pancakes.
Our Recommended keto toppings include;
Grass Fed Butter
Fresh Fruit, low carb berries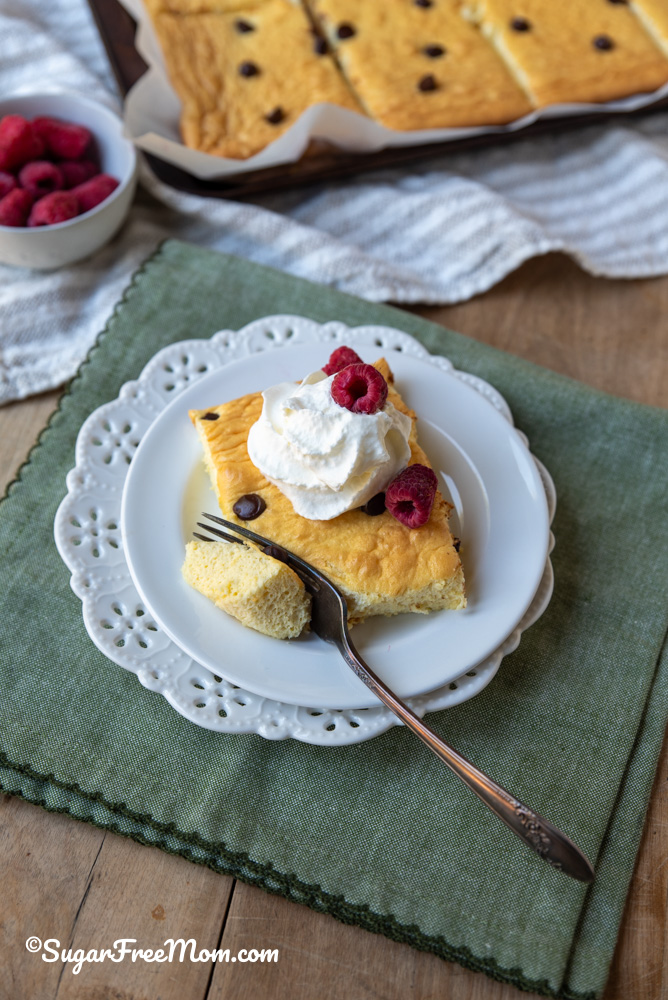 Easy Keto Breakfast Recipes
Keto Blueberry Cream Cheese Coffee Cake
1 Minute Cinnamon Roll Mug Cake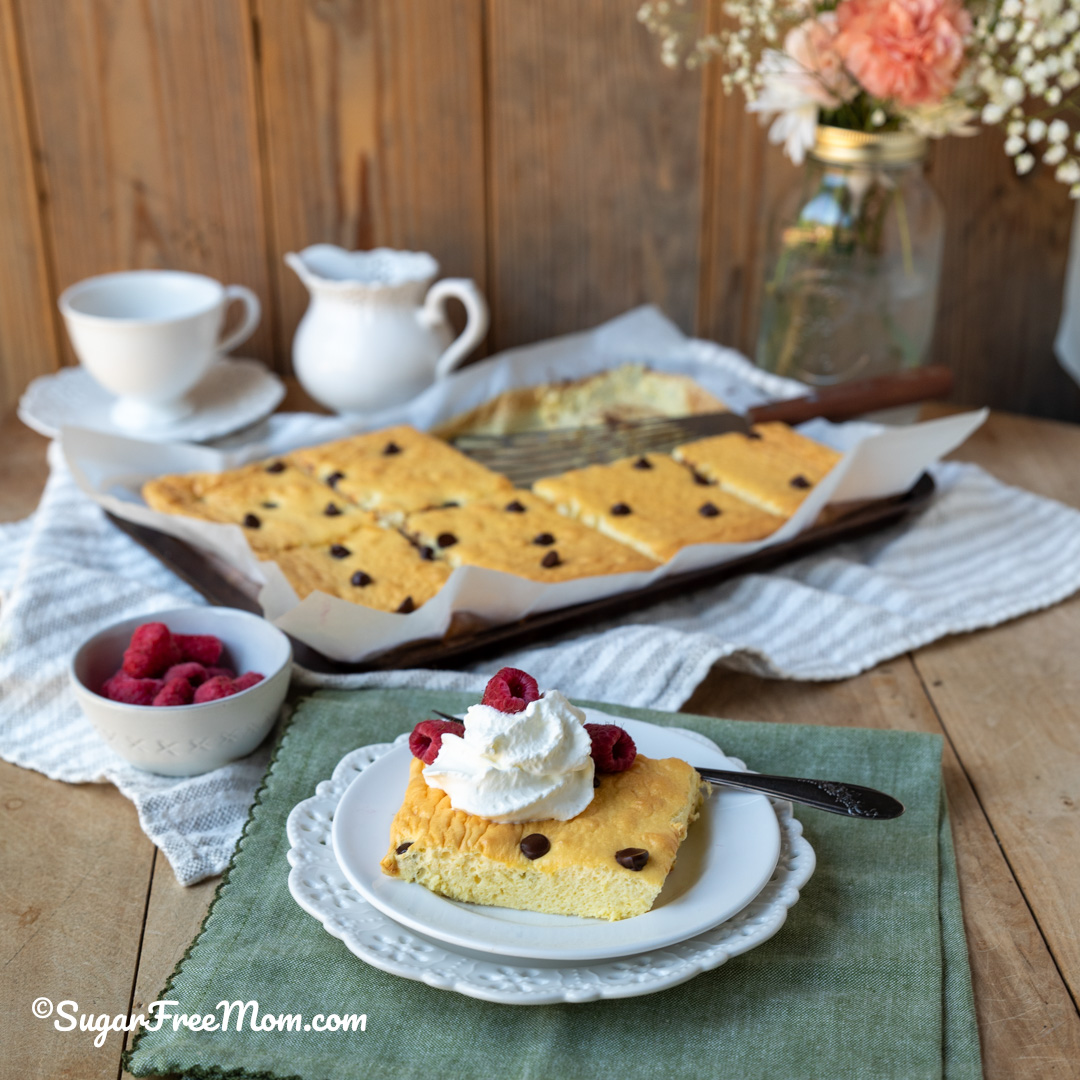 Easy Keto Sheet Pan Pancake Recipe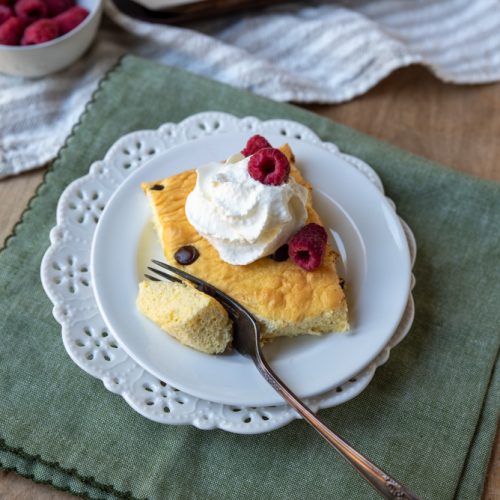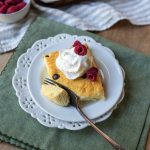 Print
Keto Sheet Pan Pancake (Oven Baked, Flour Free)
Instructions
Preheat oven at 325 degrees F and line a 9 by 13 baking sheet pan with parchment paper or silpat or grease.

Place your egg whites in a stand mixer with vinegar and whip until stiff peaks. This should take about 10-15 minutes. Set aside.

Place the egg yolks in a blender with wet ingredients (sour cream) and then remaining dry ingredients and blend until incorporated and a smooth batter forms.

With the stand mixer on low speed, slowly pour in the egg yolk mixture until it's all incorporated.

Pour this pancake batter into your 9 by 13 prepared pan.

Bake on the middle shelf of preheated oven for 25-30 minutes or until a toothpick or skewer stick in the center comes out clean.

Store in an airtight container in the fridge for up to 5 days or freeze for up to 3 months. Reheat by removing one or two from the freezer and microwaving for 30 seconds to 1 minute.
Nutrition
Serving:
1
slice
|
Calories:
100
kcal
|
Carbohydrates:
2
g
|
Protein:
9
g
|
Fat:
6
g
|
Saturated Fat:
2
g
|
Polyunsaturated Fat:
1
g
|
Monounsaturated Fat:
2
g
|
Trans Fat:
0.01
g
|
Cholesterol:
131
mg
|
Sodium:
124
mg
|
Potassium:
89
mg
|
Fiber:
0.01
g
|
Sugar:
1
g
|
Vitamin A:
267
IU
|
Vitamin C:
0.1
mg
|
Calcium:
44
mg
|
Iron:
1
mg