This pureed pumpkin and cauliflower mash is a delightful twist on the typical Thanksgiving and fall favorites.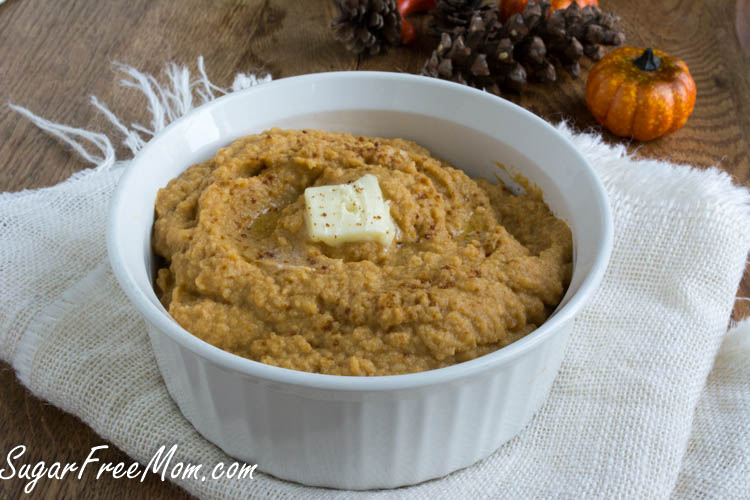 Even though Halloween is in a few days I'm all ready thinking ahead to my favorite holiday, Thanksgiving. The family gathering together with many who haven't been able to see each other since last Thanksgiving due to distance, makes for a comforting time to catch up and enjoy a delicious meal.
Being from an Italian family, it's never just a meal, it's an all day event of eating.  We have the traditional fare of turkey, mashed potatoes, butternut squash, sweet potatoes, applesauce, broccoli rabe, and salad because we always end every meal with salad.  But I'm always the one to try to change things up a bit and make something a little more, shall we say, unique? Sometimes it works and sometimes it flops, but I always try to make a healthier option to bring even if it is just me, myself, and I eating it.
Oh they all usually try my different, nontraditional recipes, because of course they are polite and all. But rarely does my family ask for me to make them again. SO you can see the kind of Italian family I am dealing with here right? STUBBORN is the only word for the typical Italian personality. And because I too am Italian and Stubborn myself, I do not give up in hopes they will all come around to healthier eating habits one day.
This recipe is my idea of boycotting the mashed potatoes and sweet potatoes for a lower carb dish that I can enjoy. I plan to bring it on Thanksgiving but I have no idea if anyone will try it. I guess if I don't tell them it contains cauliflower, there might be a better change they will eat it. 🙂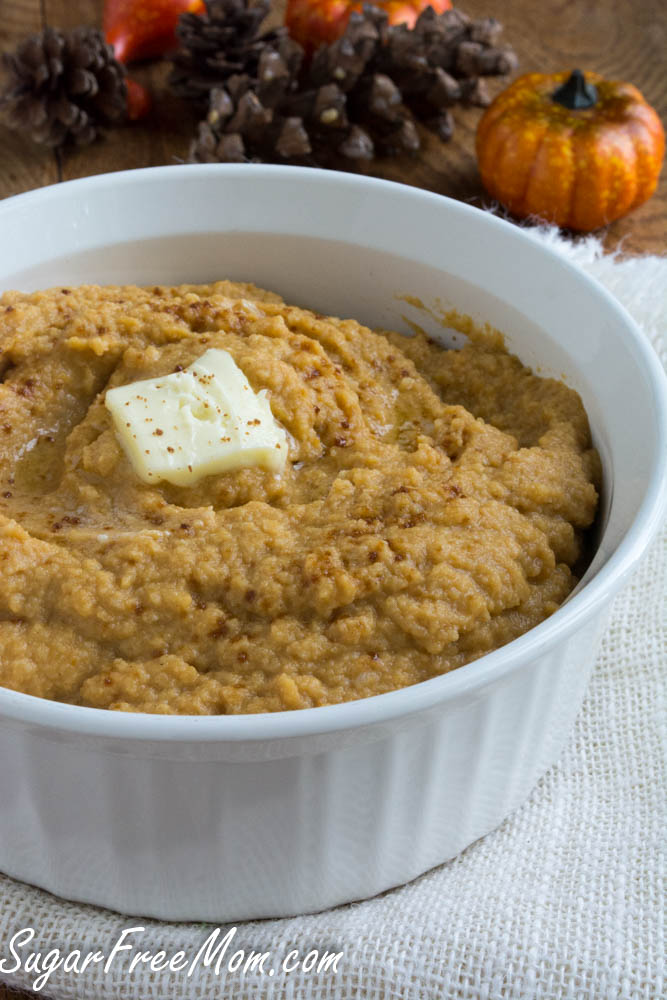 Regardless if they do or not the hubby and I enjoyed this recipe immensely! Thankfully my hubby who is quite picky said it was delicious so maybe one day he will even come around to a lower carb way of life. As far as the kiddies go, they unfortunately SAW the cauliflower on the counter. If they hadn't I'm sure they would have had some. My best work is when I don't share with the kids what's in a recipe, they will at least try it. But in this case, they spied the secret ingredient and I was caught red handed. Honestly though with the pumpkin flavor you really don't taste much of the cauliflower at all. My kids are tough and stubborn just like their full blooded Italian momma. They may have won this round, but in the end I will always win the battle!
Brenda's Notes:
You could certainly replace the heavy cream for unsweetened almond milk for dairy free.
You could also eliminate the butter if needed or replace with a vegan butter for dairy free.
If you want even more pumpkin flavor I would suggest adding an additional cup of pureed pumpkin to the mix.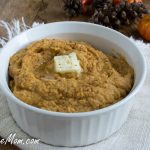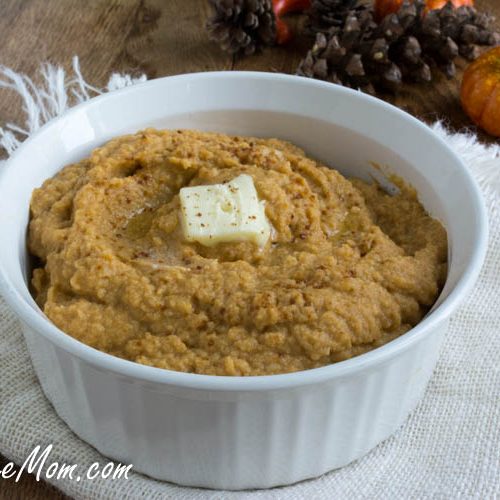 Low Carb Pumpkin Cauliflower Mash
Ingredients
1

head

cauliflower

about 6 cups

2

cups

pumpkin puree

1/4

cup

heavy cream

1/2

teaspoon

garlic powder

1

teaspoon

garlic salt

1/2

teaspoon

pumpkin pie spice

4

tablespoons

butter
Instructions
Steam cauliflower until tender, about 25-30 minutes.

Place cauliflower into a food processor and pulse until small crumbles.

Add the rest of the ingredients and process and pulse until desired texture and consistency.

Taste and adjust salt and seasonings as needed.
Recipe Notes
Net Carbs: 4g
Nutrition Facts
Low Carb Pumpkin Cauliflower Mash
Amount Per Serving (1 serving @1/2 cup)
Calories 77
Calories from Fat 54
% Daily Value*
Fat 6g9%
Cholesterol 10mg3%
Sodium 244mg11%
Potassium 227mg6%
Carbohydrates 6g2%
Protein 1g2%
Vitamin A 6472IU129%
Vitamin C 25mg30%
Calcium 22mg2%
Iron 1mg6%
* Percent Daily Values are based on a 2000 calorie diet.