No Bake Raspberry Cheesecake Mousse is made with only 5 ingredients, is low carb and has no sugar added!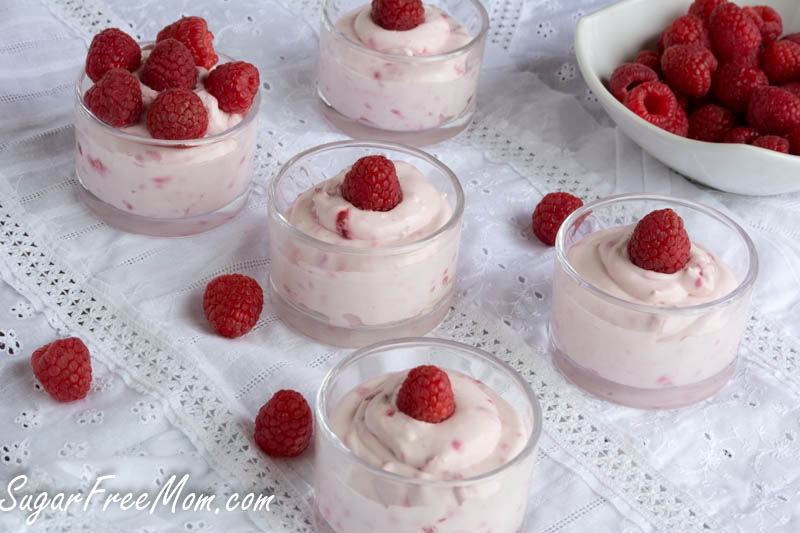 What's not to love when a beautiful dessert can be made in minutes that's also healthy too! When I think of desserts for Mother's day I'm really not into slaving away in the kitchen. To me Mother's Day is about less work and more relaxing. I'd prefer a light beautiful treat that requires little work, but still feels luxurious and satisfying. This recipe is a simple adaption of some of my other favorite no bake treats, Mint Chocolate Cheesecake Mousse and Pumpkin Cheesecake Mousse. Simple, easy, little effort involved and healthy to boot!
You could really change out the raspberries to any fruit of choice, but one thing remains is adding my favorite liquid stevia to the blend. This time being this recipe involves berries, I chose Sweetleaf Berry flavored stevia. Of course if you only have vanilla or plain clear you can certainly use that as well. Powdered stevia would work too, but it wouldn't be my first choice. The liquid mixes in better and no aftertaste is evident. I've been noticing when I have a no bake recipe the liquid stevia is always my first choice. When baking the powdered stevia is fine, but with no bake recipes such as this, flavored stevia's only enhance the recipe all the more.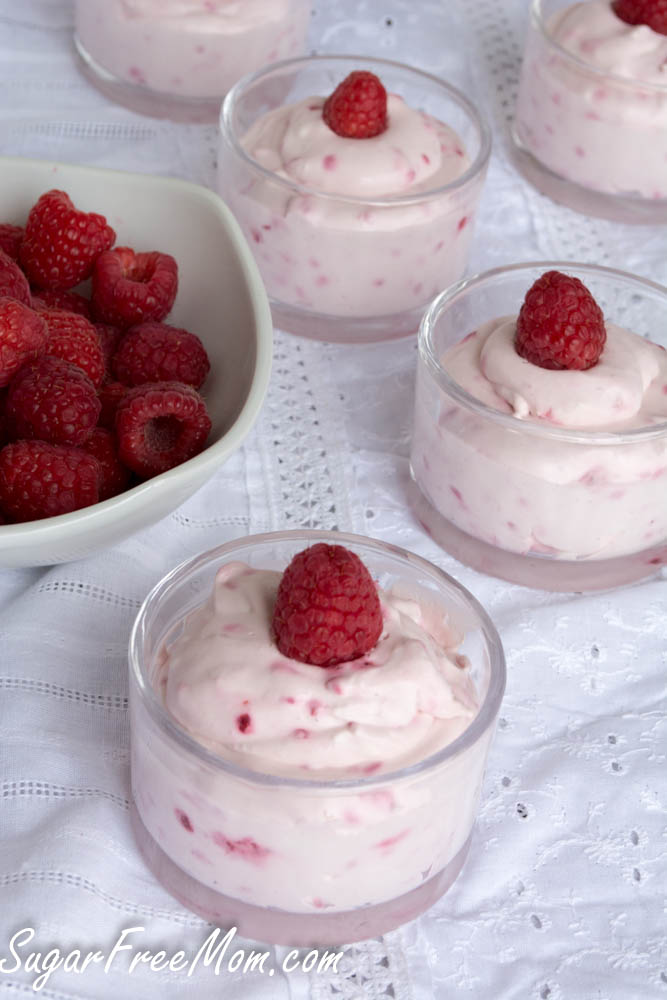 I'm a cheesecake  lover for sure but I've never been fond of the crust, hence this mousse version was created. You could easily make a cookie crumble to add to the bottom of the glasses if you desire.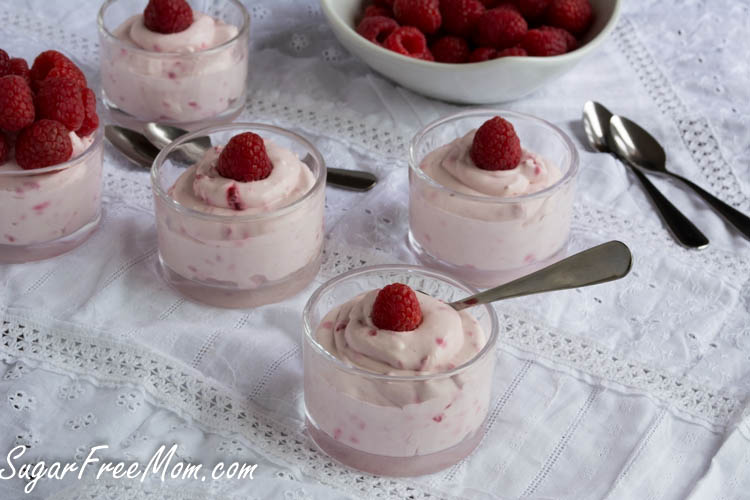 Top with fresh berries and it's just perfcet for a Mother's Day treat!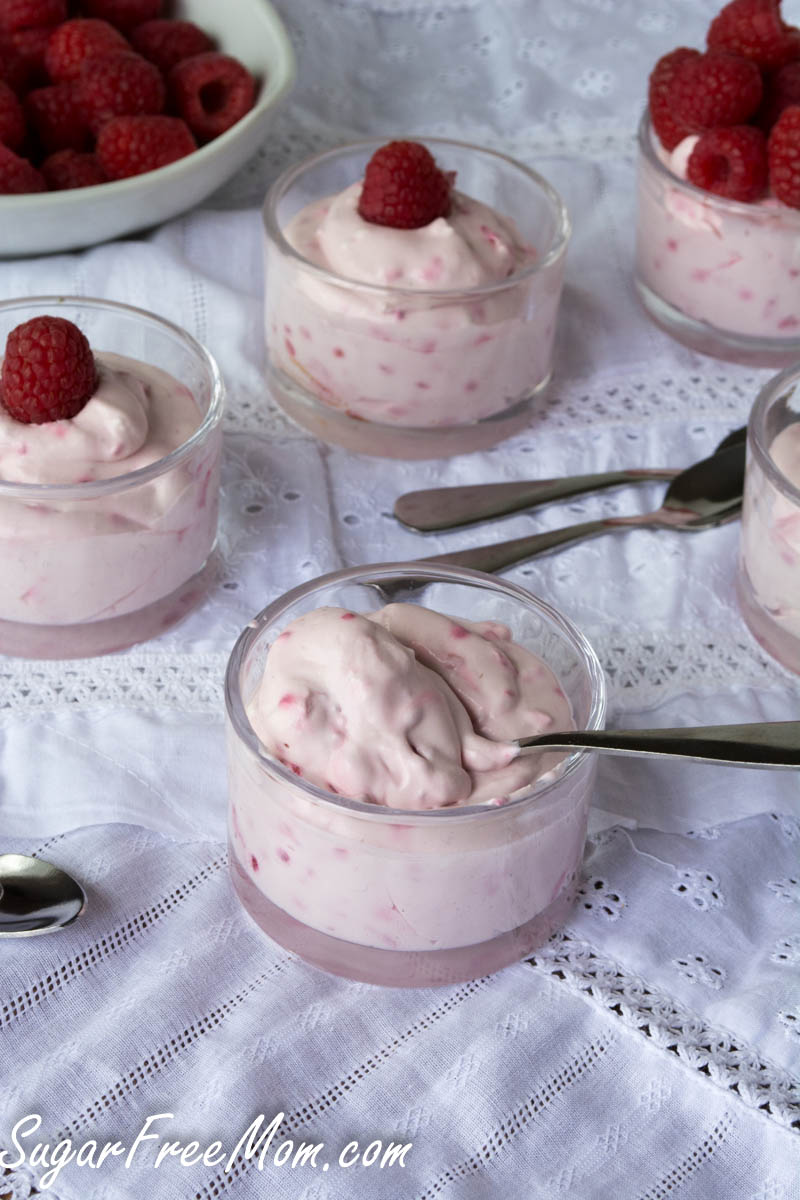 Creamy and thick just the way I like it!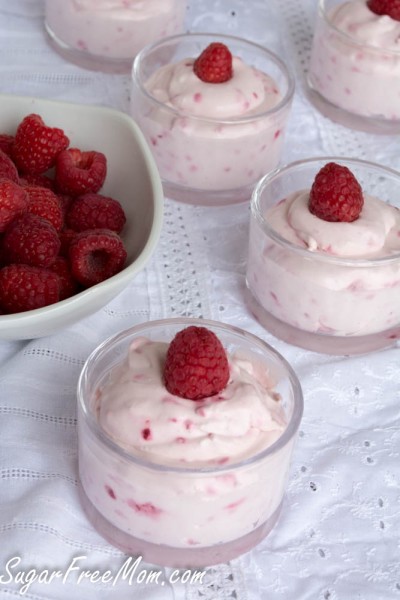 I can't think of a better way to enjoy Mother's day or any day for that matter when you have a delicious dessert that won't cause you a sugar crash and won't break your caloric budget for the day either! You'll find the nutrition information here. This recipes make a total of 3 cups. I figured since it is so rich and creamy, 1/2 cup is plenty for a serving, therefore there are 6 servings in this recipe.
Calories per serving: 158* Fat: 13.4g Sat Fat: 8.6g Cholesterol: 47mg Sodium: 208mg Carbs: 6.6g Fiber: 1.3g Sugars: 4.7g Protein: 4.6g*
You'll find this decadent dessert recipe over on the Sweetleaf Website where I contribute monthly! —–>No Bake Raspberry Cheesecake Mousse