These Creamy Lemony Cheesecake truffles are a No Bake dessert that is not only sugar free, but keto, gluten free, grain free and nut free too!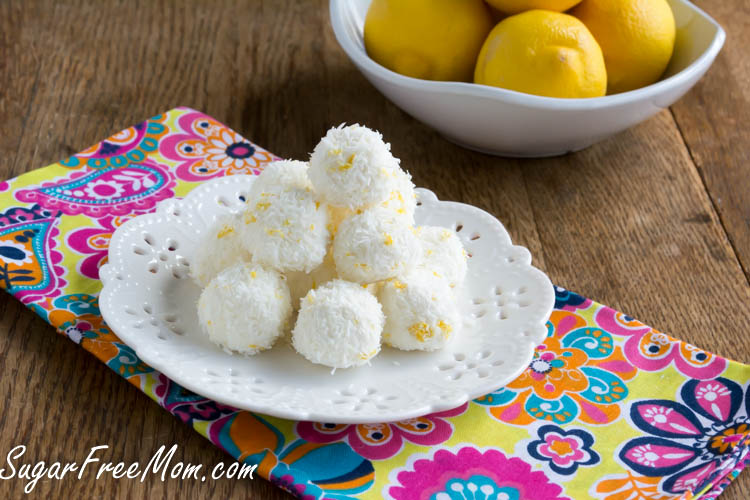 Easy Lemon Truffles
The idea for these little easy no bake lemon truffles came from some of my no bake truffles with nut butters. Like my Peanut Butter Cookie Dough Truffles and my Samoa Truffles.
But I wanted this one to be light and creamy and cool for the warmer summer weather. I didn't want a fussy recipe with a whole lot of ingredients and cooking time. These were made and shared with my family on Mother's day. Everyone loved them but my dad actually thought they were too lemony. I prefer quite the lemony treat so I did use a whole lemon I juiced, but below you will see I say start with ½ and then taste. If it's lemony enough don't add any more. I also used the lemon stevia which brings out the natural lemon flavor all the more. You could use clear liquid stevia instead if you prefer. The best part is you can just taste and adjust as you see fit before refrigerating and rolling into balls.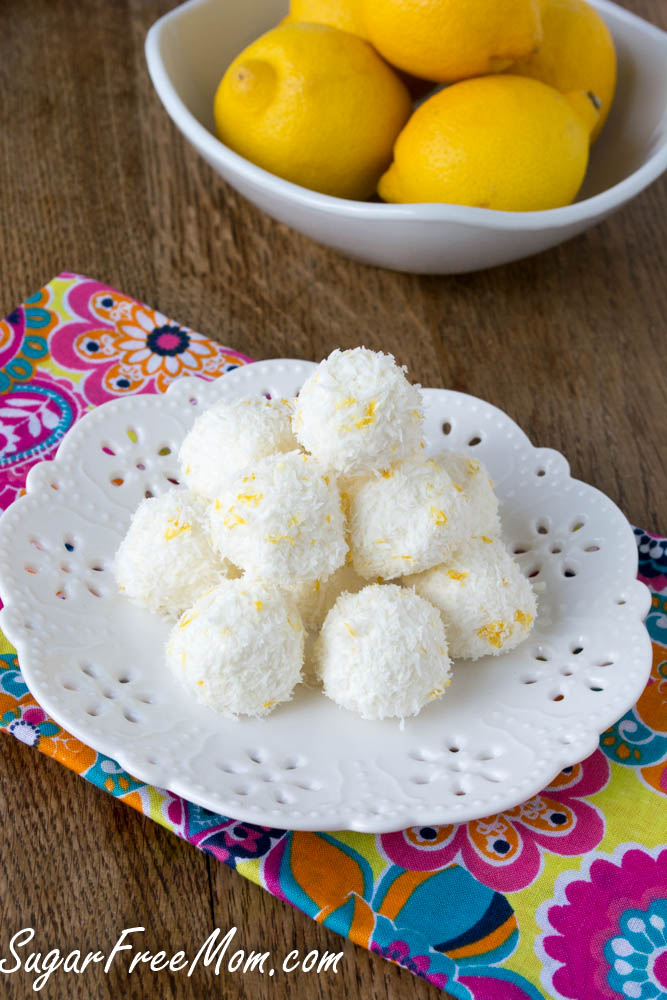 Lemon Cheesecake Truffles
Are you a lover of lemon or cheesecake? Either one will do as this combines the best of both. The added coconut cream gives it just a hint of coconut so now worries if you're not a fan. It's simple and tasty and very refreshing! I made them nice and small so you can enjoy 3 per serving!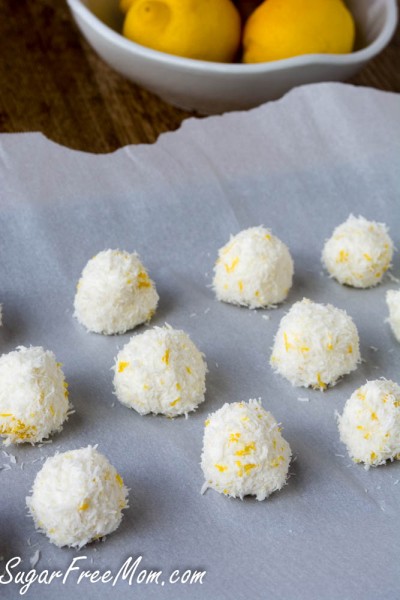 When this recipe was written in 2014 I had just gotten back from my first foodie conference and I felt quite judged, maybe it was all in my mind. Why would a healthy living blogger like myself who feels pretty confident in her recipe development ability, pretty happy with her growth in photography and all being self taught, feeling pleased with her growth and influence on social media, why would I feel judged you ask? That issue of "not looking" my best was a place of judgment in my own mind. Thinking I would be looked at as less of a "healthy" blogger because of my weight gain. 10 pounds up makes a huge difference on a short girl like me, can you relate? Mind you this was all in my own head. But what I found amongst all these "real" bloggers in the end, no judgment at all. In fact all I felt was complete acceptance, joy and new real friendships that I believe will be lasting ones. And for that and the entire experience I am truly grateful.
Lots of pictures were shared this weekend on Instagram and although I haven't shared it yet, I did meet and get a pic with Ree Drummond which I will share soon. It's the goofiest picture I have EVER taken. I was awestruck! Now you may be thinking why was I so smitten with meeting her when her food isn't anything that I would typically make. Because folks, it's not about the food here. I admire her and respect her. She's a fellow homeschool mother as I am, who started blogging and sharing her love of food and family and now she has made it on the food network! How could you not respect that woman?! So yes, I have a goofy pic but that's because I can't be anything but real and I was as giddy as a kid for meeting her.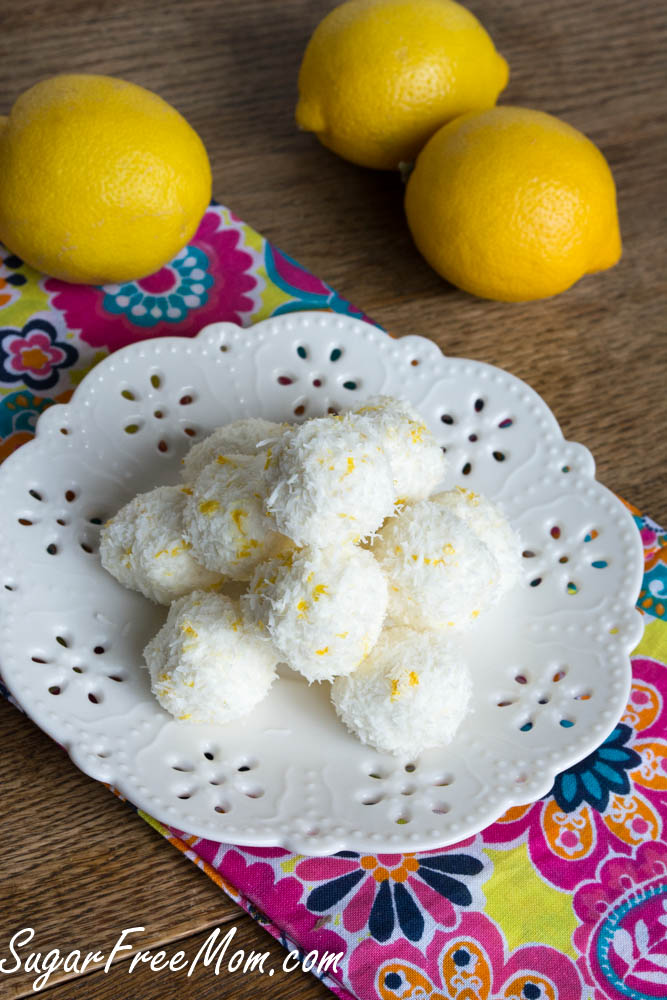 If you're a blogger and have never been to a conference yet, I would say don't wait! Spending real face time with those you've met online is the most amazing experience that texting, messaging and writing online can not provide. It's worth the time, money and exhaustion of scheduling crazy kids schedules to get there!
Other Lemon Recipes you might enjoy:
No Bake Sugar Free Lemon Truffles
This recipe was first published in May 2014 and updated in July 2018 with video.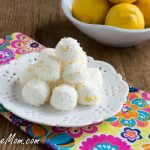 Print
No Bake Sugar-Free Lemon Coconut Truffles
Ingredients
Outer coating
½

tablespoon

lemon zest

¼

cup

coconut

shredded, unsweetened
Instructions
In a stand mixer blend the cream cheese and coconut oil until smooth.

Blend in the coconut cream, salt, lemon juice and lemon stevia.

Taste and adjust lemon juice and stevia to your liking.

Stir in shredded coconut and refrigerate mixture for 30 minutes.

In a small bowl mix the outer coating ingredients together.

Using a ½ tablespoon, spoon out refrigerated mixture and form into 18 balls rolling each in the coating mixture then placing on a parchment lined baking sheet.

Best if kept refrigerated until ready to serve.
Notes
3 Truffles= 2 grams carbs
Brenda's Notes:
Coconut "cream" can be found after opening a can of coconut milk and leaving it uncovered in the refrigerator overnight. The watery liquid will sink to the bottom and then you can spoon out the thickened "cream" of the milk. Some cans will not even need this step done. I like the brand Native Forest, I found at Whole Foods and the "cream" was ¾ of the entire can. Other brands I've purchased have only produced about ½ or less and the rest of the liquid I save for a smoothie.
If you don't have canned coconut milk to make the cream, you could try coconut butter but the consistency and taste will differ. The coconut butter will make these a bit drier in texture and more dense. The coconut cream keeps these nice and light.
If you prefer another sweetener that's fine too, just add as you like and taste and adjust to your preference.
Liquid stevia is optional but for me it provides a nice smoothness and blends better in no bake recipes as opposed to powdered extract. If that's all you have it will still taste fine.
Nutrition
Serving:
3
truffles
|
Calories:
139
kcal
|
Carbohydrates:
2
g
|
Protein:
1
g
|
Fat:
14
g
|
Saturated Fat:
10
g
|
Cholesterol:
20
mg
|
Sodium:
61
mg
|
Potassium:
60
mg
|
Sugar:
1
g
|
Vitamin A:
255
IU
|
Vitamin C:
1.7
mg
|
Calcium:
19
mg
|
Iron:
0.3
mg