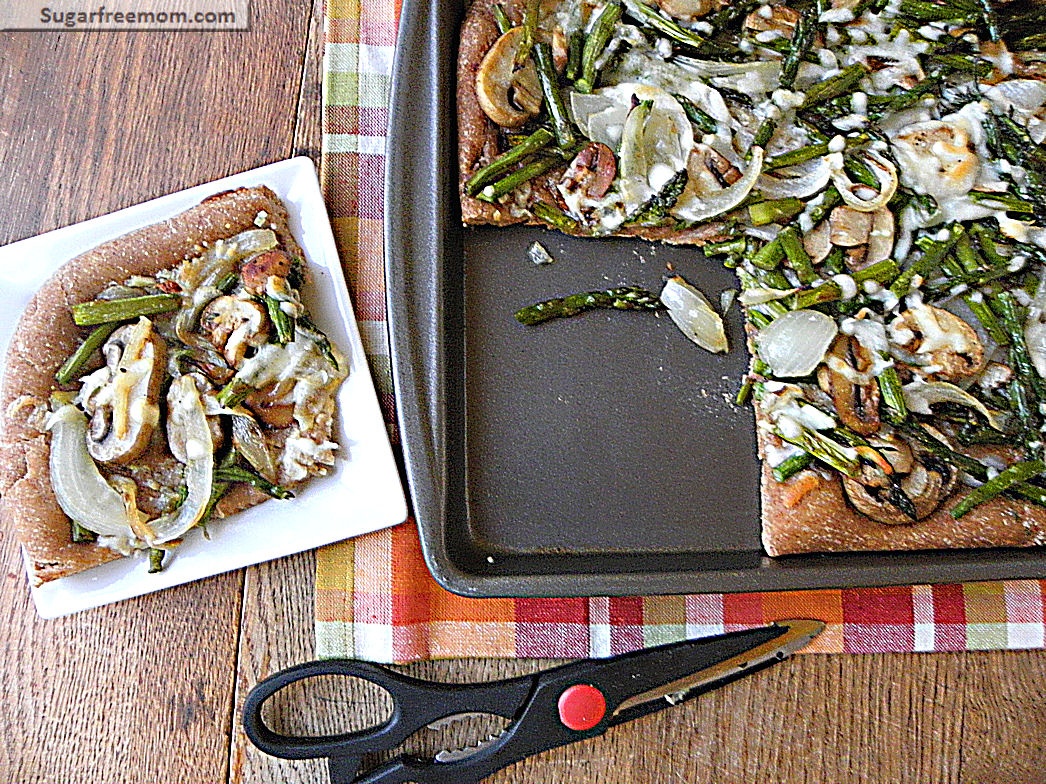 Looking for a quick weeknight meal you can make that is also healthy for you??This is your meal!
Perfect for a Meatless Monday dinner, filled with tender roasted veggies and a small amount of cheese!
Easily roasting the veggies taking only 15 minutes then placing onto dough and baking for another 15 minutes and dinner is ready. Add a healthy salad and whaa laaa!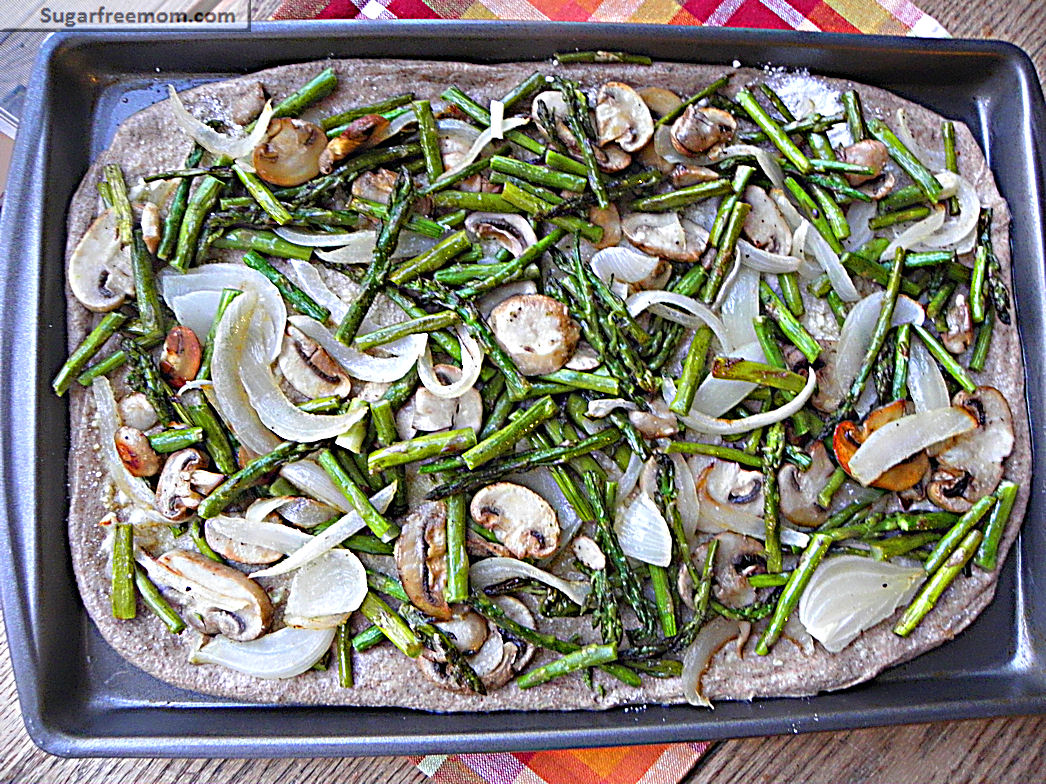 Feel free to change out any veggies you may not like, follow the same procedure to roast them and throw it on top of some homemade pizza dough or cheat and buy a healthy whole wheat dough like this one you see above. I bought it from Trader Joe's and it was truly ALL whole wheat flour nothing else. Sometimes you just don't have time to make a dough, but if you are looking for great recipe, here's my link for a thin crust pizza dough.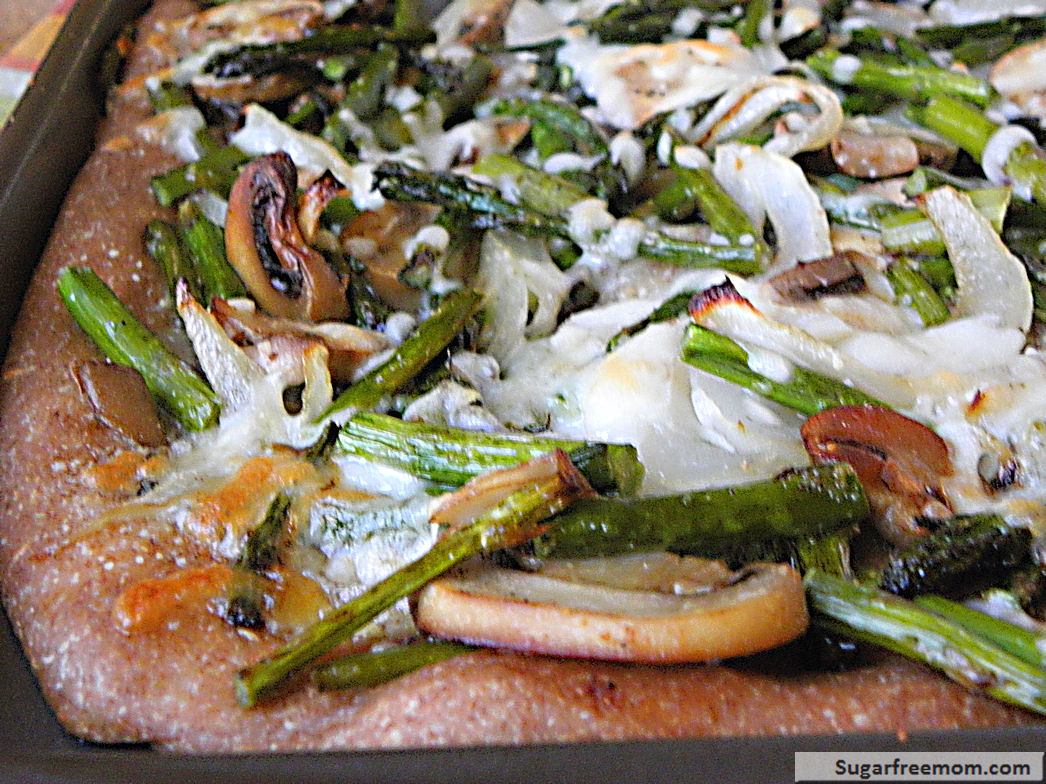 YUMM----OOOOO, right? So good! SO easy, so comforting and not at all crazy fattening either! Less than 300 calories for a large serving! Nutrition info is based on using my whole wheat dough recipe.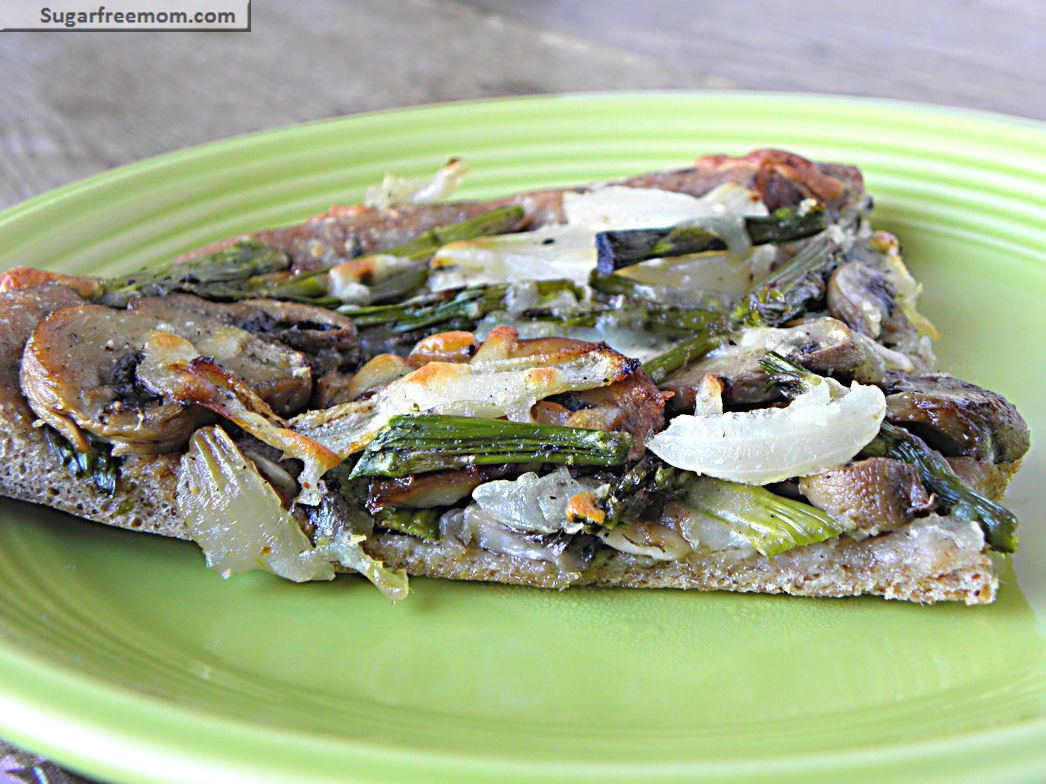 Nutrition Info
Servings:6* Calories per serving: 296* Fat: 16g* Cholesterol: 10mg* Sodium: 513mg* Fiber: 6g* Carbs: 32g* Sugars: 3g* Protein: 11g* Points+:7*
Roasted Asparagus Mushroom Onion Pizza
[sc:Ziplist]
Ingredients
1 pound asparagus, ends trimmed, cut into 1 inch pieces
2 cups sliced mushrooms
1 cup sliced onion
3 tablespoons olive oil
1 teaspoon garlic powder
1 teaspoon salt, divided
pepper
2 teaspoons minced garlic
Whole Wheat Pizza dough, 1 pound
¼ cup grated Parmesan cheese
½ cup shredded mozzarella, light
Directions
Preheat oven to 400 degrees. In a large bowl add asparagus, mushrooms, and onion. Toss with 2 tablespoons oil. Lay vegetables onto a sprayed baking sheet. Sprinkle with garlic powder and ½ teaspoon salt and pepper. Bake vegetables 15 minutes until tender. Meanwhile spread dough onto a baking sheet. In a small bowl add 1 tablespoon oil, minced garlic and ½ teaspoon salt. Mix together and using a pastry brush spread onto dough. Sprinkle Parmesan cheese over dough. Evenly spread vegetables onto dough. Sprinkle mozzarella on top of vegetables. Bake for another 15-20 minutes until cheese is melted and crust is crisp.