These are Keto, Sugar Free Double Chocolate Peanut Butter Ice Cream Popsicles and they are going to make your Low Carb dreams come true!!!!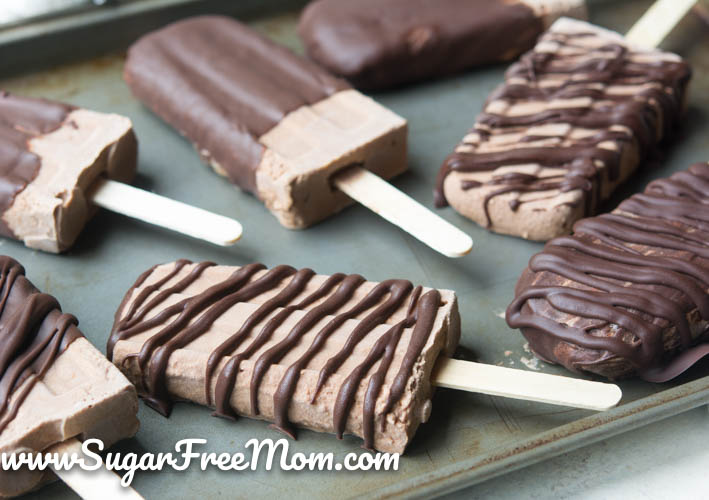 Chocolate Peanut Butter Ice Cream
Chocolate and peanut butter is surely the most classic combo. I can't think of a better combination for a ice cream popsicle on a hot day then pairing these two flavors together coated or drizzled in a sugar free magic shell!! You really don't even need to make these in molds or eat them on a stick. This is perfect as regular ice cream served in a bowl, but obviously for portion control the popsicle idea is best.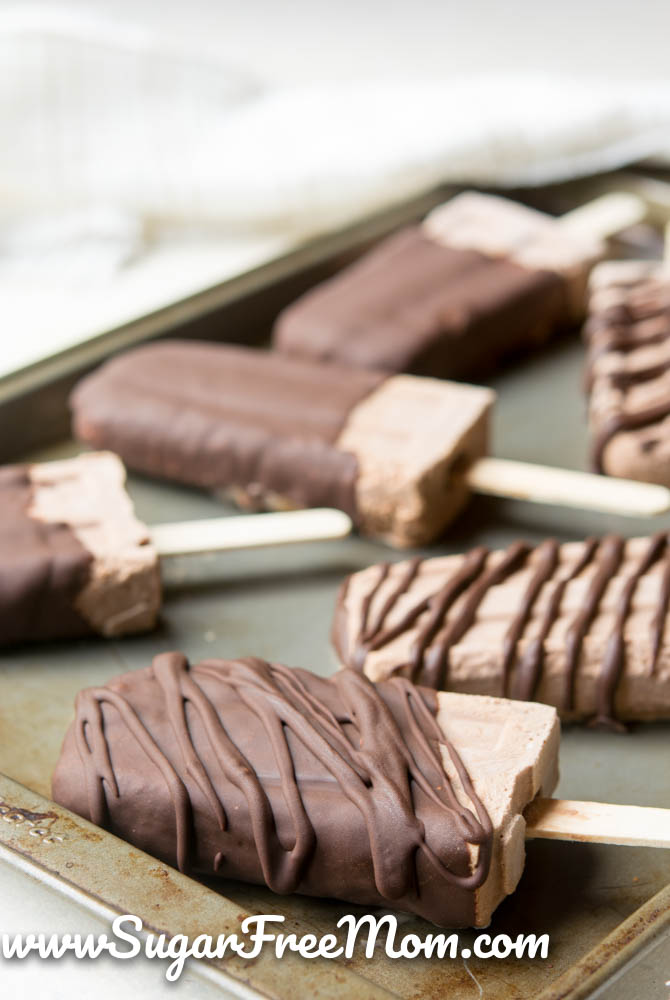 It's like frozen fudge on a stick!
Naturally my sweetener of choice is the Chocolate liquid stevia from Sweetleaf! It's the perfect amount of chocolate flavor! It tastes fantastic and it blends well in non baking desserts! But feel free to use any low carb sweetener you enjoy.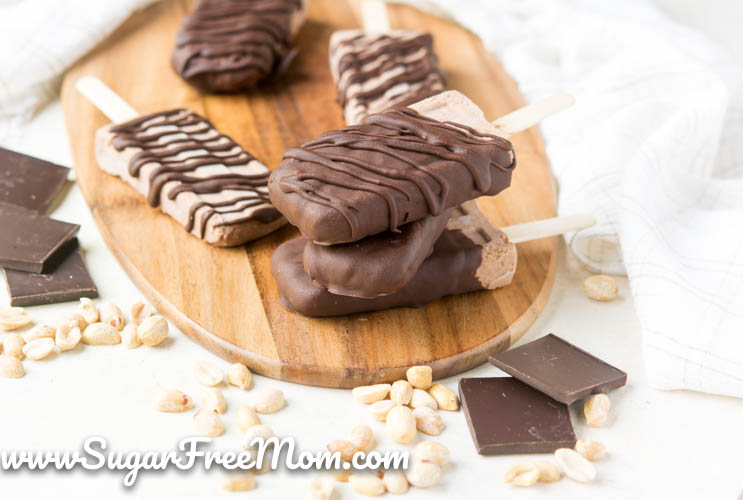 Easy Keto Ice Cream
This recipe takes just minutes to blend together. The hardest part of course is waiting for the popsicles to freeze. Once frozen they are just delicious as is or remove them from the mold and coat with my Sugar Free Magic Shell!
You could even make this into regular ice cream. Just blend in blender and instead of pouring into molds, add to your ice cream machine and let it do it's thing. You'll have soft serve in about 15 minutes, or a bit longer. I have an ice cream attachment for my KitchenAid.
Peanut Free Ice Cream Popsicles
If you have a peanut allergy in the family, you can easily swap out the peanut butter used for almond or another nut butter. If you have a Tree Nut allergy, simply swap out the almond milk with coconut milk and use sunflower seed butter.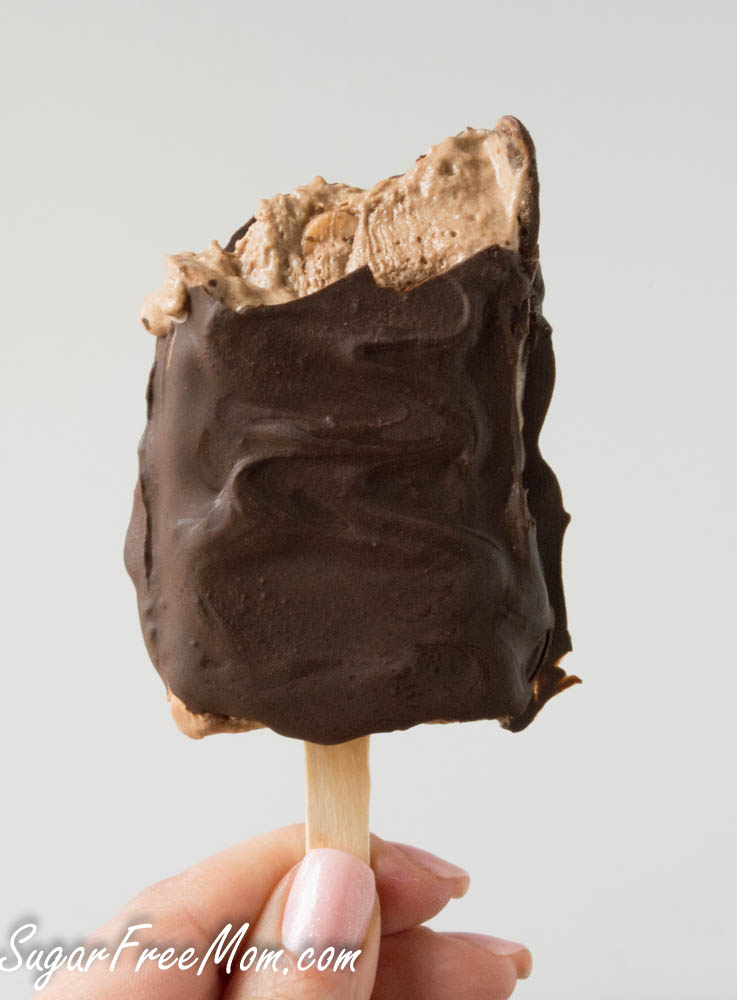 FUDGEY! CREAMY!! CHOCOLATEY!!
You can either just dip the tops of the popsicles or drizzle all over or spread the magic shell on one side, let it harden for a minute than flip over onto the other side and coat the entire popsicle.
And super hard to take pictures of before they melt and I want to devour one!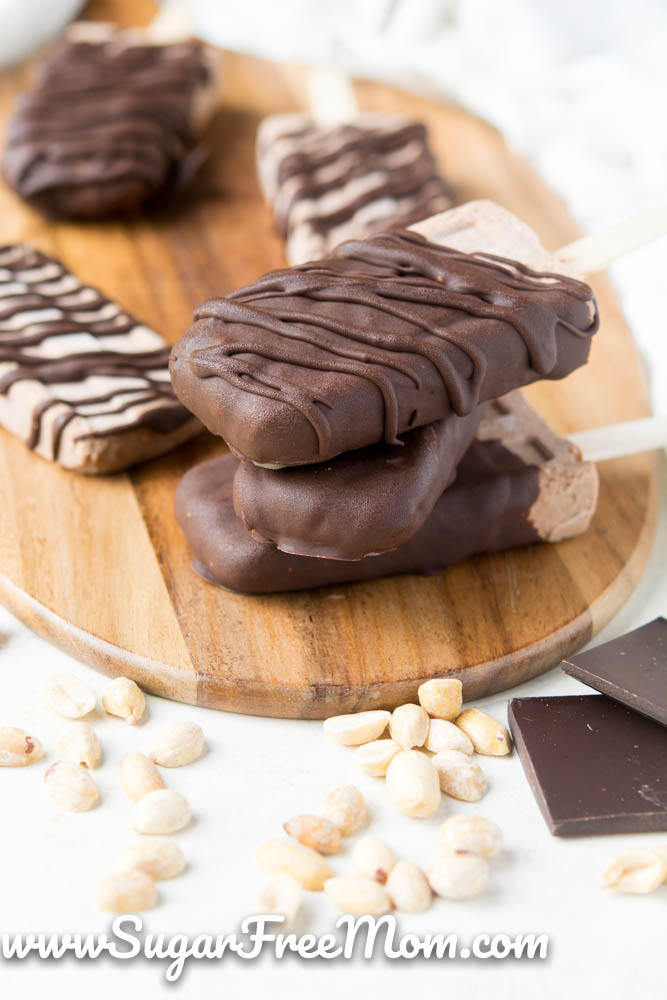 Other Popsicles you might love: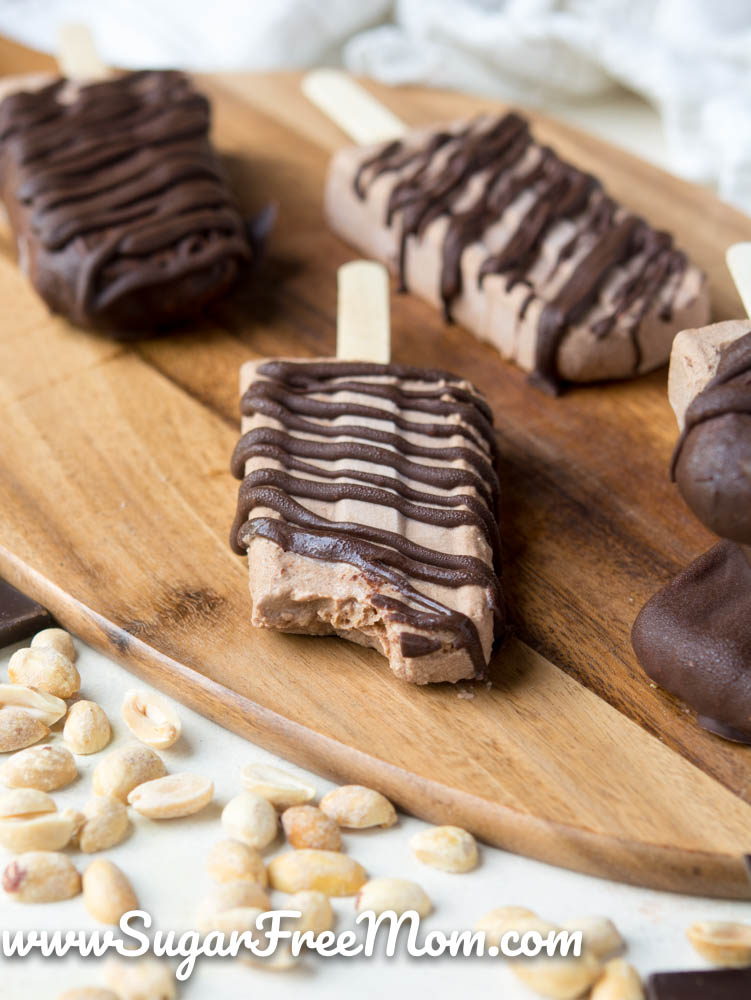 Hope you enjoy these luscious popsicles as much as we do!
Brenda's Notes:
If you don't have chocolate stevia you can use vanilla or clear or any there sweetener you like. Try a small amount if granulated sweetener perhaps just ¼ cup, taste and increase as needed before pouring into molds.
This recipe was first published in May of 2015 and got an update of new photos and video in June 2018.
If you don't want to make the Sugar Free Magic Shell to cover the popsicles they will be delicious even without it or you can use 1.5 cups Sugar Free Chocolate Chips and 2 tablespoon coconut oil, melt together and dip frozen popsicles in that.
Keto Chocolate Peanut Butter Ice Cream Popsicles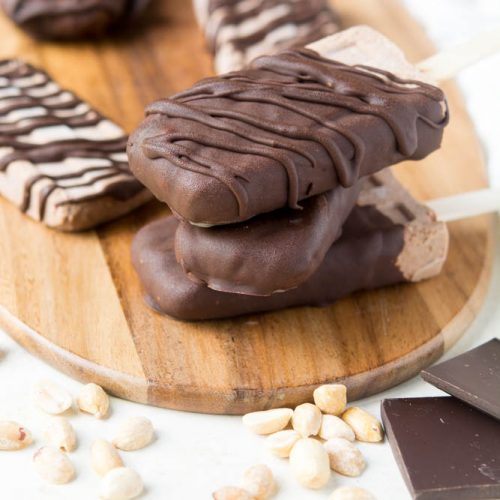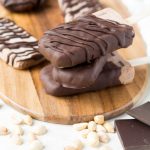 Print
Sugar Free Chocolate Peanut Butter Ice Cream Popsicles
Instructions
Mix by hand or use a blender to blend all the ingredients together, except the optional chocolate coating. Blend just for a few seconds to combine the ingredients. If you blend too long the mixture will become like whipped cream due to the heavy cream in the recipe. Taste and adjust stevia as needed.

Pour into popsicle molds and freeze for 2-3 hours or until hardened. Once hardened, remove by holding mold under warm running water to better facilitate release from molds.

Place popsicles onto a parchment-lined baking sheet. Drizzle the chocolate coating or pour and spread coating with a spoon over both sides of popsicle if desired. Place back on baking sheet to freeze again for about 10 minutes or overnight.

Nutrition
Serving:
1
popsicle
|
Calories:
170
kcal
|
Carbohydrates:
4
g
|
Protein:
4
g
|
Fat:
15
g
|
Saturated Fat:
6
g
|
Cholesterol:
32
mg
|
Sodium:
51
mg
|
Potassium:
50
mg
|
Fiber:
1
g
|
Vitamin A:
350
IU
|
Vitamin C:
0.2
mg
|
Calcium:
18
mg
|
Iron:
0.3
mg