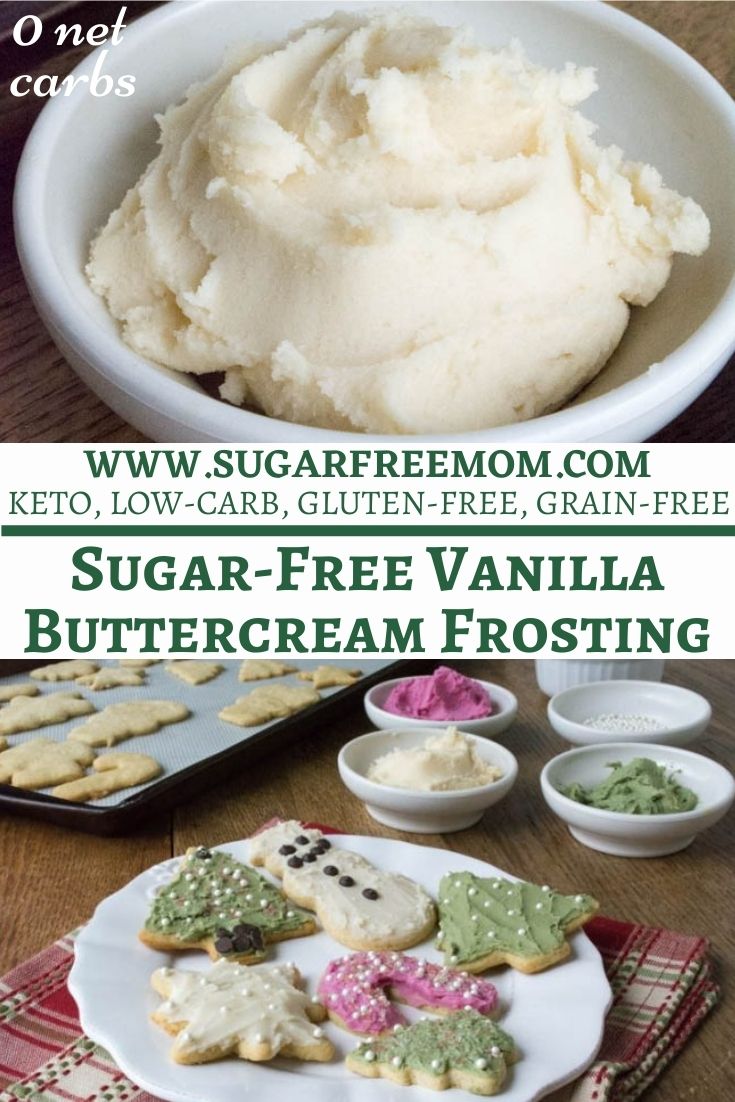 This is the Best Sugar-Free Vanilla Buttercream Frosting that is so simple to make with only 4 ingredients! It's keto, low carb and absolutely delicious with no aftertaste from low carb sweeteners!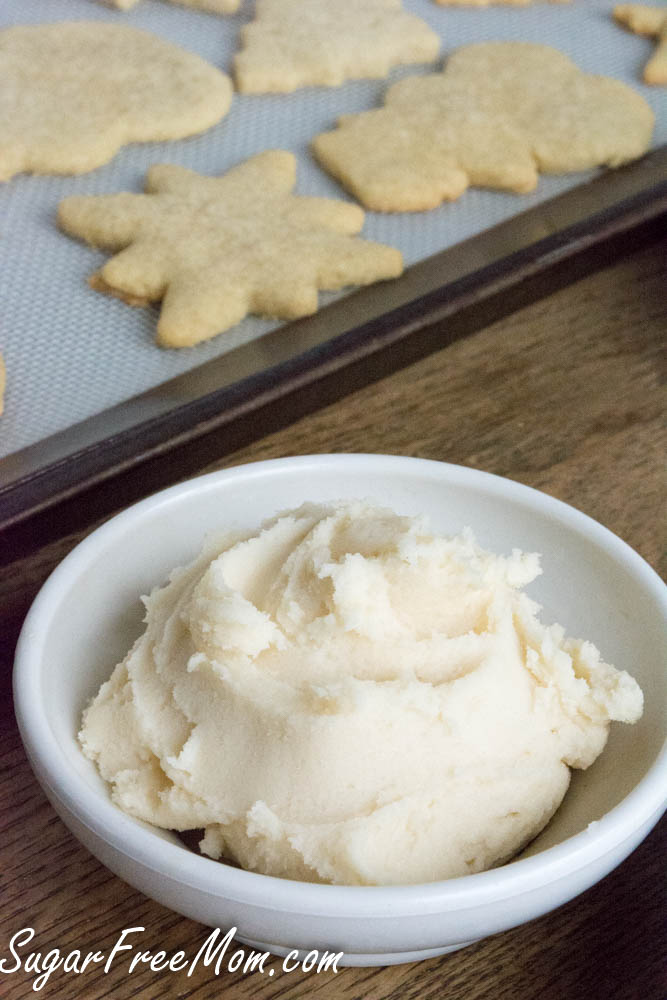 SUGAR FREE KETO BUTTERCREAM FROSTING
With just 4 simple ingredients you can have a sugar free, low carb, gluten free vanilla frosting for any dessert. Whether you need to frost a cake or cookie, this recipe is so simple a child could make it successfully!
You can easily make this sugar free frosting ahead and have it ready to frost your keto cupcakes or cakes or cookies!
This recipe was first published in December of 2014. I'm re-sharing it today because I felt it needed a video to show how easy it is to make.
This weekend was a perfect Saturday with nothing to do but stay home and bake and that's exactly what we did! I was so grateful to have a Saturday at home for the first time in a really long time after what seemed to be an endless streak of busy weekends.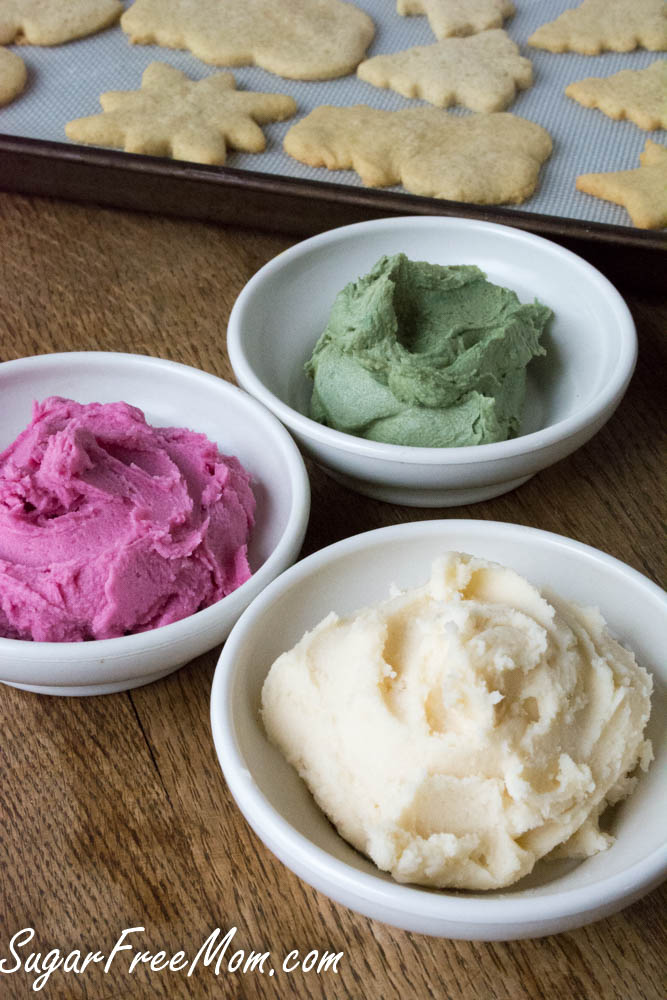 BEST SWEETENER FOR LOW CARB BUTTERCREAM FROSTING
My youngest two kiddies and I made two kinds of cookies! The first that you see in these pics today with the frosting is a recipe I originally made with whole wheat flour, my Sugar Free Sugar Cookies and the second recipe is for Gingerbread Men!
I've been finding that Swerve Confectioners sweetener is a perfect cooking baking ingredient as it perfectly adds the bulk the sugar would have provided. Although it isn't as sweet as sugar would be, so adding additional sweetener from liquid stevia or Monk fruit liquid helps to create the perfect balance of sweetness and doesn't leave an aftertaste!
I've made a few delicious frostings that will provide you some variety for all your baking endeavors: Chocolate Buttercream, Cannoli Frosting, Peanut Butter Buttercream, and here's a collection of 16 fantastic frostings!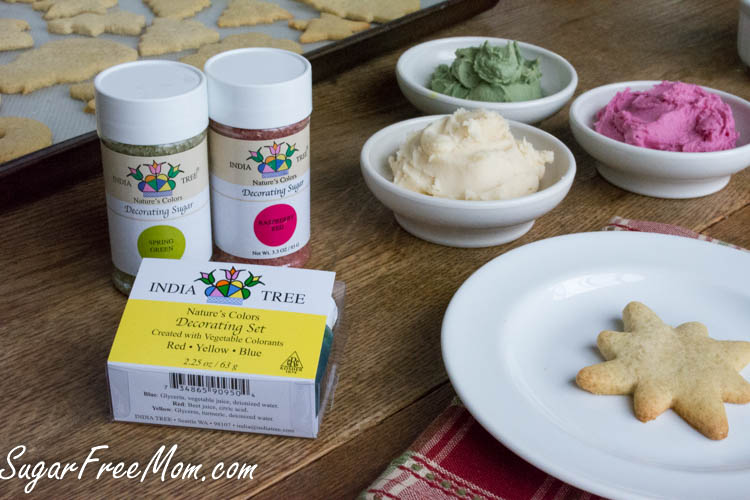 BEST NATURAL FOOD COLORING
I'm sure you're wondering about the food coloring in the cookies right? In October when I made my green Halloween Witches finger cookies I tried using a less expensive brand of natural food coloring I found at Whole Foods instead of purchasing the brand you see above in the picture because it was about $16.00!
We experimented with cookies using the cheaper brand and the taste was not kid approved. This brand, while expensive, is worth every cent because there was absolutely not aftertaste or funny taste at all and the kids loved it.
The red color did not come out as red as I would have liked, it's more pink but my daughter was thrilled with the pink so we kept it. I think If I continued to add red coloring it would have been closer to a red color.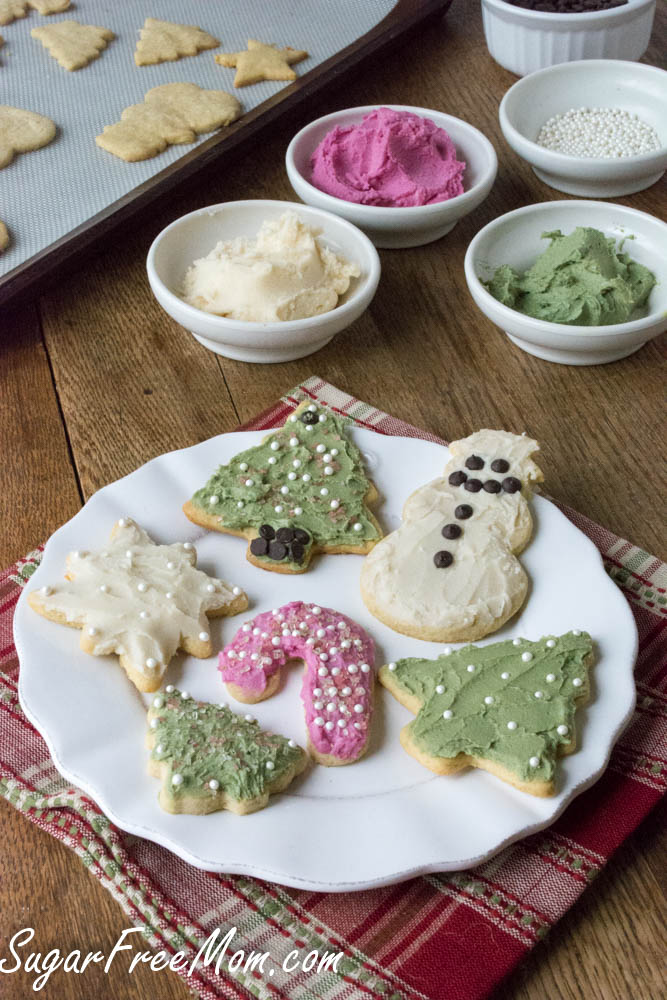 I used to get deeply frustrated with myself when a recipe didn't come out perfect on the first try. How silly now that I look back over the last 3 years of this blog.
Trial and error is how I have perfected my skills and testing recipes and having fails, while I hate wasting ingredients, it is all part of the deal when it comes to making sugar free desserts.
So when you see a dessert recipe on this blog you can know for certain that it's been made more than once and it's as good as it gets for sugar free baking.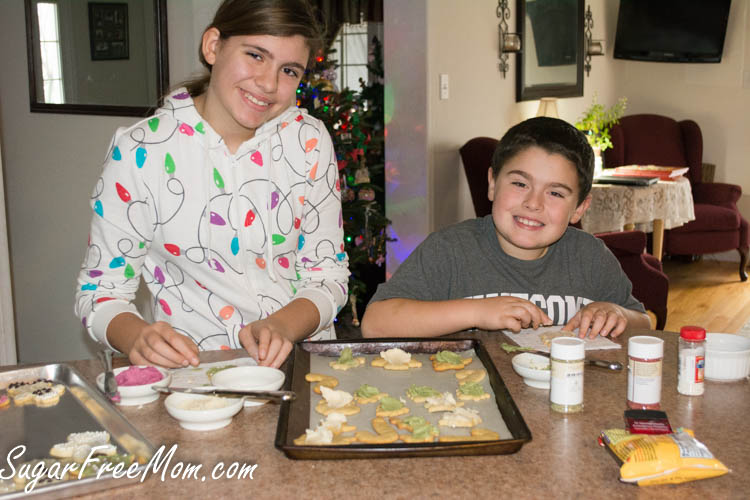 My daughter is just 11 but she is taller than me and looks like a 13 years old and my little man is 8. They love to help in the kitchen and the pretty decorated cookies you see on the plate is ALL them!
They found that using a knife to spread the frosting was difficult so they washed their hands and used their fingers, almost like finger painting on a cookie. Made for a much more smoother look.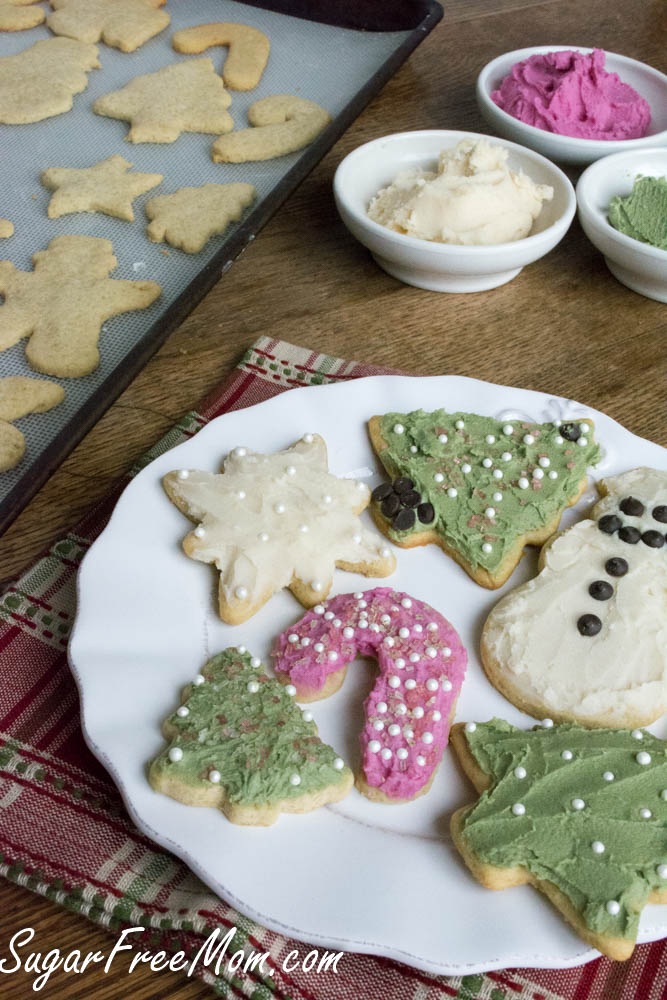 HOW LONG CAN KETO BUTTERCREAM FROSTING SIT OUT?
Once you frost your sugar free cupcakes or cake or cookies, they can sit out on the counter in an airtight container for up to 3 days.
HOW MANY DAYS AHEAD CAN YOU MAKE IT?
You can make this frosting up to 3 days ahead. STORE in an airtight container in the refrigerator.
REWHIP THE FROSTING when you are ready to use it again for frosting. Simply allow it to come to room temperature for about 2-3 hours on the counter then add back to your stand mixer and mix until nice and smooth.
HOW LONG CAN YOU STORE SUGAR FREE BUTTERCREAM?
This sugar free frosting will last for up to two weeks in the fridge.
CAN YOU FREEZE BUTTERCREAM FROSTING?
YES YOU CAN FREEZE THIS SUGAR FREE FROSTING!
I'm super happy how pretty these turned out and once the frosting set a bit on top of the cookies were were able to freeze them between parchment paper in an airtight container to be ready for our cookie tray assembling on Christmas Eve.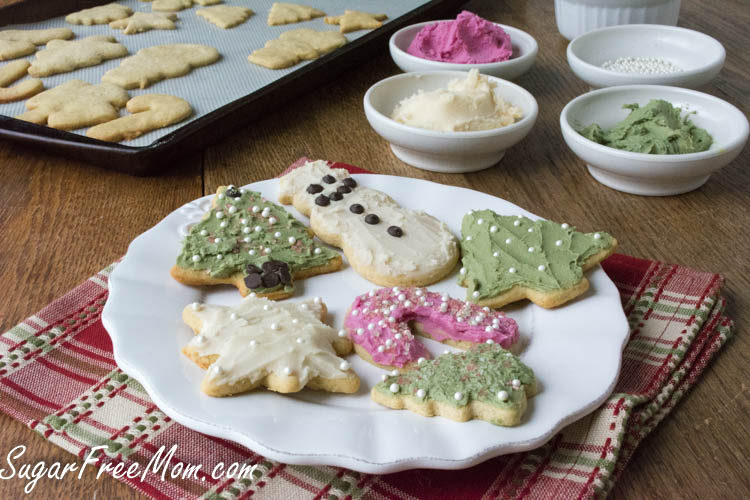 SUGAR FREE BUTTERCREAM INGREDIENTS
You need just 4 ingredients to make sugar free buttercream frosting.
Butter- you can use salted or unsalted. If you use unsalted I would add a pinch of sea salt to the mixture when mixing.
Swerve Confectioners Sweetener- You need 1 cup but you can mix this frosting up and use more if you feel it's needed.
Vanilla extract is a must for this delicious vanilla buttercream frosting.
Heavy cream or unsweetened coconut or almond milk.
Optional to balance out the low carb sweeteners so no aftertaste occurs, I highly recommend adding the optional vanilla liquid stevia.
HOW TO MAKE SUGAR FREE BUTTERCREAM
Add all ingredients into a stand mixer and blend on high until smooth.
Continue to add additional cream for desired consistency. Taste and decide if you need more sweetener.
Makes 1 ¼ cup or 10 ounces.
Sugar Free Buttercream frosting does not need refrigeration once on cookies.
CAN YOU MAKE THIS FROSTING DAIRY FREE?
YES YOU CAN MAKE SUGAR FREE BUTTERCREAM DAIRY FREE!
To make this dairy free, the butter could be switched to softened coconut oil and the milk, a non dairy alternative like almond milk.
CAN I SWAP THE LOW CARB SWEETENER USED?
If you prefer to use another low carb sweetener, instead of Swerve for this recipe, you could do that.
You still need a powdered sweetener that would add bulk to create the texture.
Here is my Sweetener Guide & Conversion Chart to help you figure out how much to use for this frosting recipe.

Sugar Free Vanilla Buttercream Frosting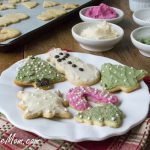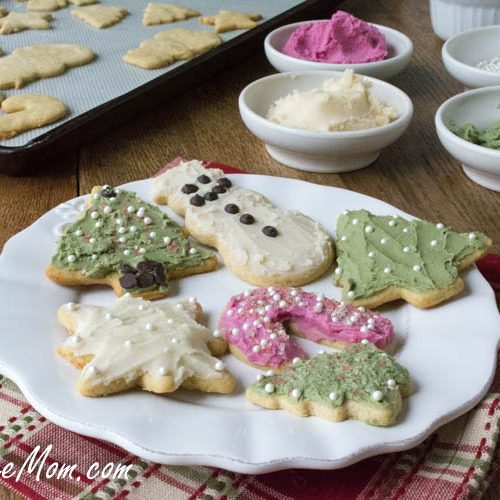 Print
Sugar-Free Vanilla Buttercream Frosting
Instructions
Add all ingredients into a stand mixer and blend on high until smooth.

Continue to add additional cream for desired consistency. Makes 1 ¼ cup or 10 ounces.

Does not need refrigeration once on cookies.

Unused frosting can be stored in an airtight container for up to 2 weeks or frozen for up to 3 months.
Notes
This recipe was published first in December 2014!
Nutrition
Serving:
1
ounce
|
Calories:
87
kcal
|
Fat:
9
g
|
Saturated Fat:
6
g
|
Cholesterol:
24
mg
|
Sodium:
81
mg
|
Vitamin A:
285
IU
|
Calcium:
3
mg