This Sugar-Free, Low Carb Vanilla Buttercream Frosting is simple, low carb and needs only 4 ingredients!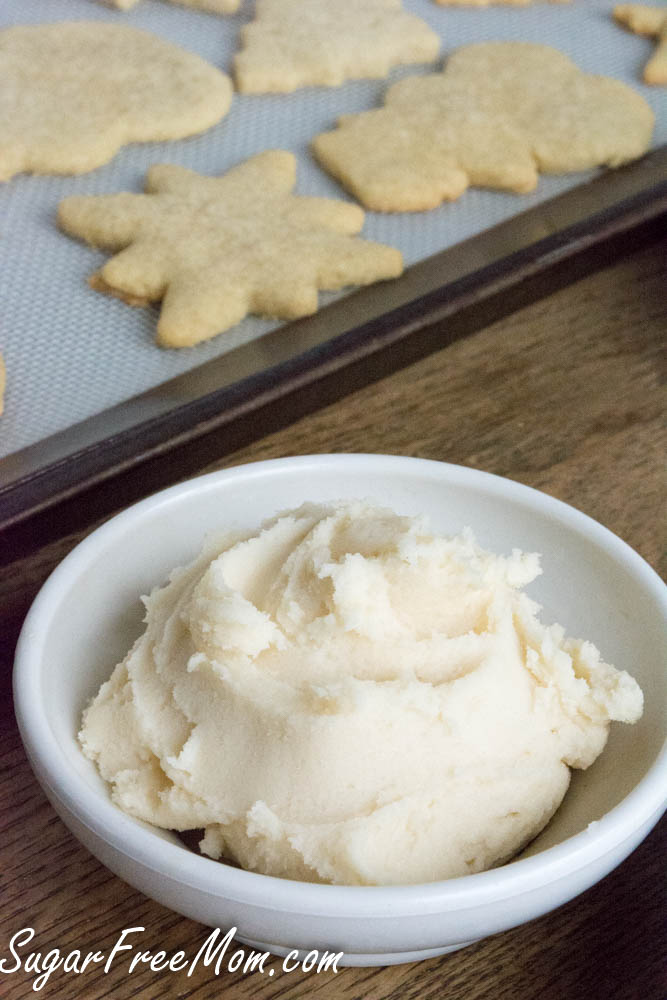 With just 4 simple ingredients you can have a sugar free, low carb, gluten free vanilla frosting for any dessert. Whether you need to frost a cake or cookie, this recipe is so simple a child could make it successfully!
This recipe was first published in December of 2014. I'm re-sharing it today because I felt it needed a video to show how easy it is to make.
This weekend was a perfect Saturday with nothing to do but stay home and bake and that's exactly what we did! I was so grateful to have a Saturday at home for the first time in a really long time after what seemed to be an endless streak of busy weekends.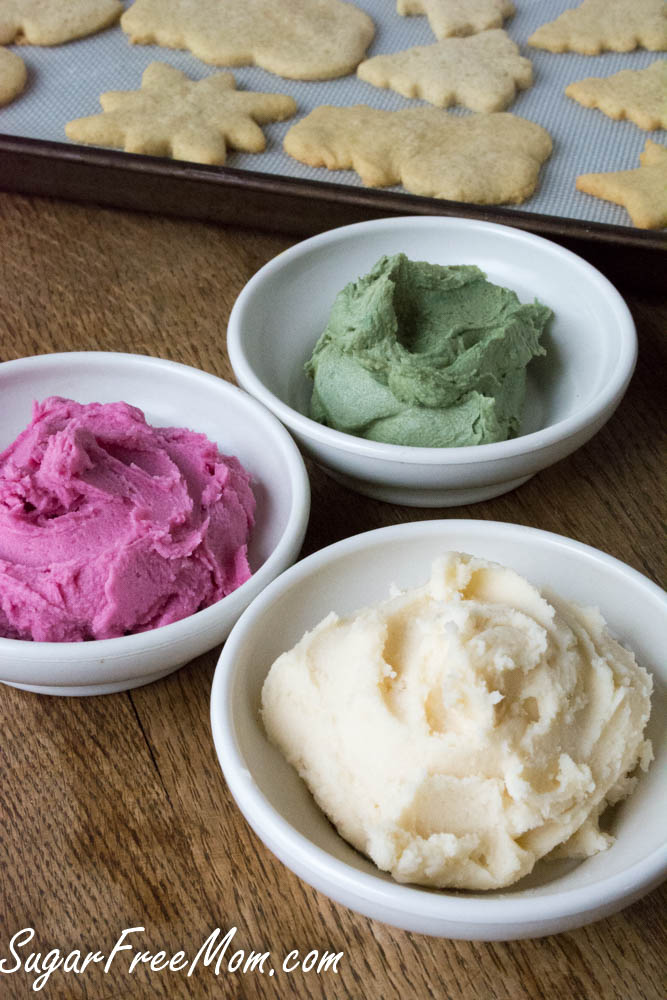 My youngest two kiddies and I made two kinds of cookies! The first that you see in these pics today with the frosting is a recipe I originally made with whole wheat flour, my Sugarless Sugar Cookies and the second recipe will be coming this week for Gingerbread Men! I made the sugarless sugar cookies twice using Bobs' Red Mill gluten free flour and had to adjust the sweetener a bit from the original recipe.
I've been finding that Swerve is a perfect cooking baking ingredient as it perfectly adds the bulk the sugar would have provided. Although it isn't as sweet, so I the first time around I always seem to not use enough stevia and the product is not as sweet as one would want in a cookie or any baked good. But with this line of business, it's the name of the game and thankfully each time, especially with this frosting, the kids ate the not so sweet sugarless sugar cookies anyway.
I've made a few delicious frostings that will provide you some variety for all your baking endeavors: Chocolate Buttercream, Cannoli Frosting, Peanut Butter Buttercream, and here's a collection of 16 fantastic frostings!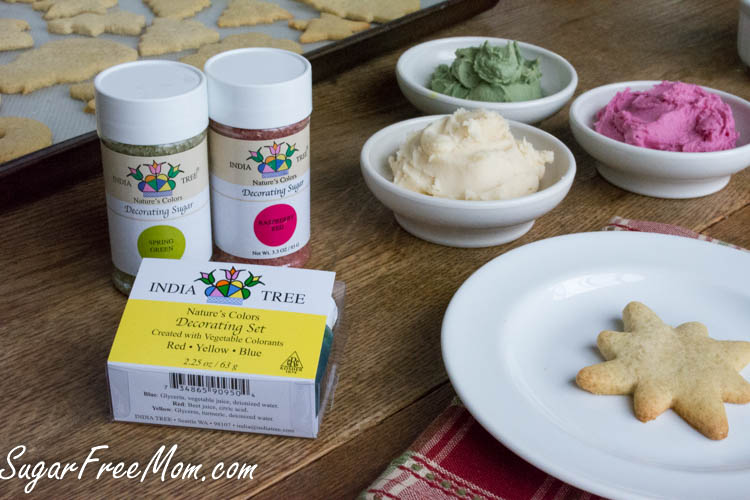 I'm sure your wondering about the food coloring in the cookies right? In October when I made my green Halloween Witches finger cookies I tried using a less expensive brand of natural food coloring I found at Whole Foods instead of purchasing the brand you see above in the picture because it was about $16.00! We experimented with cookies using the cheaper brand and the taste was not kid approved. This brand, while expensive, is worth every cent because there was absolutely not aftertaste or funny taste at all and the kids loved it.
The red color did not come out as red as I would have liked, it's more pink but my daughter was thrilled with the pink so we kept it. I think If I continued to add red coloring it would have been closer to a red color.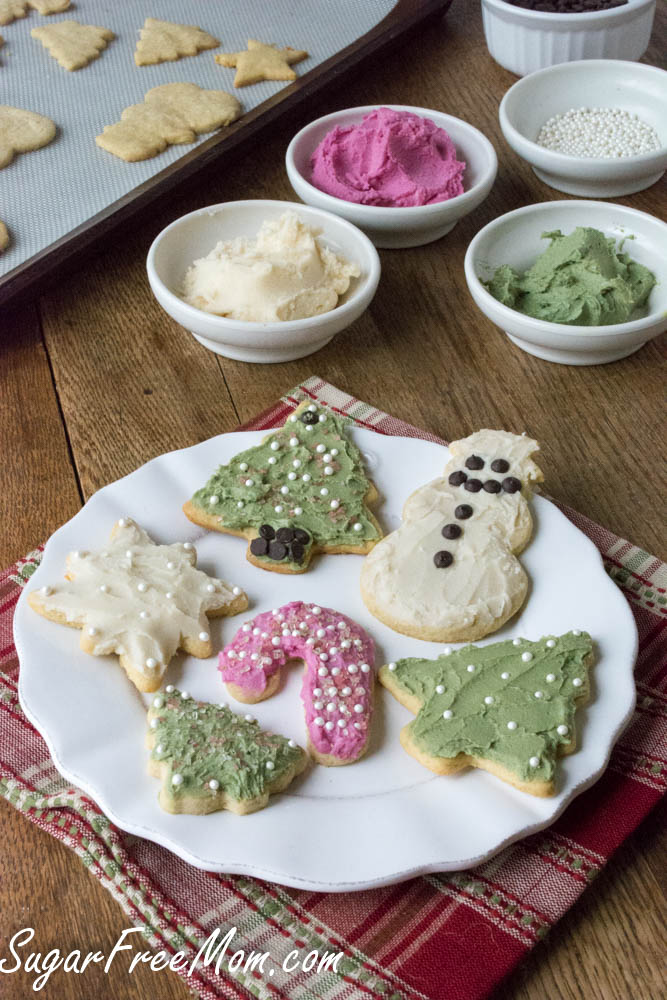 I used to get deeply frustrated with myself when a recipe didn't come out perfect on the first try. How silly now that I look back over the last 3 years of this blog. Trial and error is how I have perfected my skills and testing recipes and having fails, while I hate wasting ingredients, it is all part of the deal when it comes to making sugar free desserts.
So when you see a dessert recipe on this blog you can know for certain that it's been made more than once and it's as good as it gets for sugar free baking.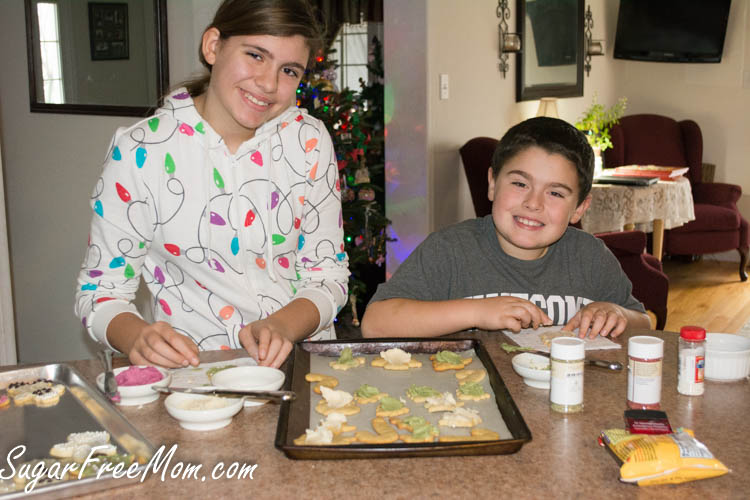 My daughter is just 11 but she is taller than me and looks like a 13 years old and my little man is 8. They love to help in the kitchen and the pretty decorated cookies you see on the plate is ALL them! They found that using a knife to spread the frosting was difficult so they washed their hands and used their fingers, almost like finger painting on a cookie. Made for a much more smoother look.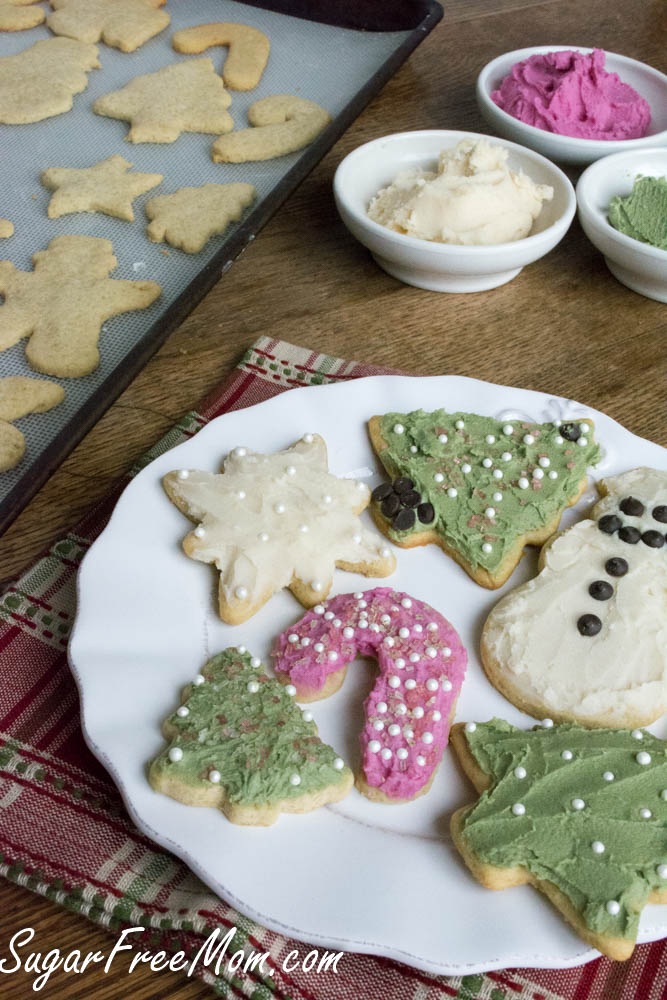 The only decorations not sugar free were the mini chocolate chips from Enjoy Life and the white pearl candies. The sprinkles were naturally dyed made by the same company for the food coloring I purchased.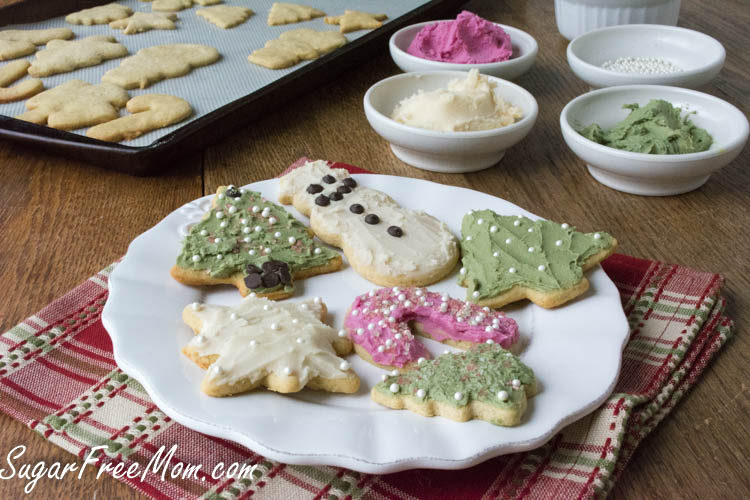 Overall I'm super happy how pretty these turned out and once the frosting dried a bit on top were were able to freeze them between parchment paper in an airtight container to be ready for our cookie tray assembling on Christmas Eve.
And here's my quick Youtube video to show you how easy this is!

Brenda's Notes
When I figured the nutritional information, I thought about a tablespoon was sufficient for each cookie. Obviously if your cookies are smaller cut outs you may need less.
To make this dairy free, the butter could be switched to softened coconut oil and the milk, a non dairy alternative like almond milk.
If you prefer stevia, instead of Swerve, for this recipe you would need a powdered stevia that would add bulk to create the texture. Or use whatever sugar free powdered sweetener you prefer and taste and adjust to your preference.

Sugar Free Vanilla Buttercream Frosting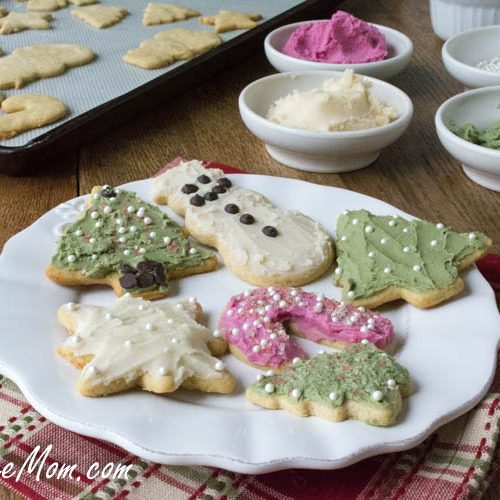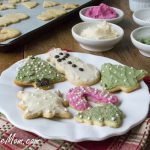 Print
Sugar-Free Vanilla Buttercream Frosting
Servings
10
@ 2 tablespoon
Instructions
Add all ingredients into a stand mixer and blend on high until smooth.

Continue to add additional milk for desired consistency. Makes 1 ¼ cup or 10 ounces.

Does not need refrigeration once on cookies.

Unused frosting can be stored in an airtight container for up to 2 weeks or frozen for up to 3 months.
Nutrition
Serving:
1
ounce
|
Calories:
87
kcal
|
Fat:
9
g
|
Saturated Fat:
6
g
|
Cholesterol:
24
mg
|
Sodium:
81
mg
|
Vitamin A:
285
IU
|
Calcium:
3
mg