This Low Carb Sugar Free Cheesecake Recipe is made in 2 minutes in your microwave, but oven method is also provided. It's keto, crustless, gluten free and tastes amazing!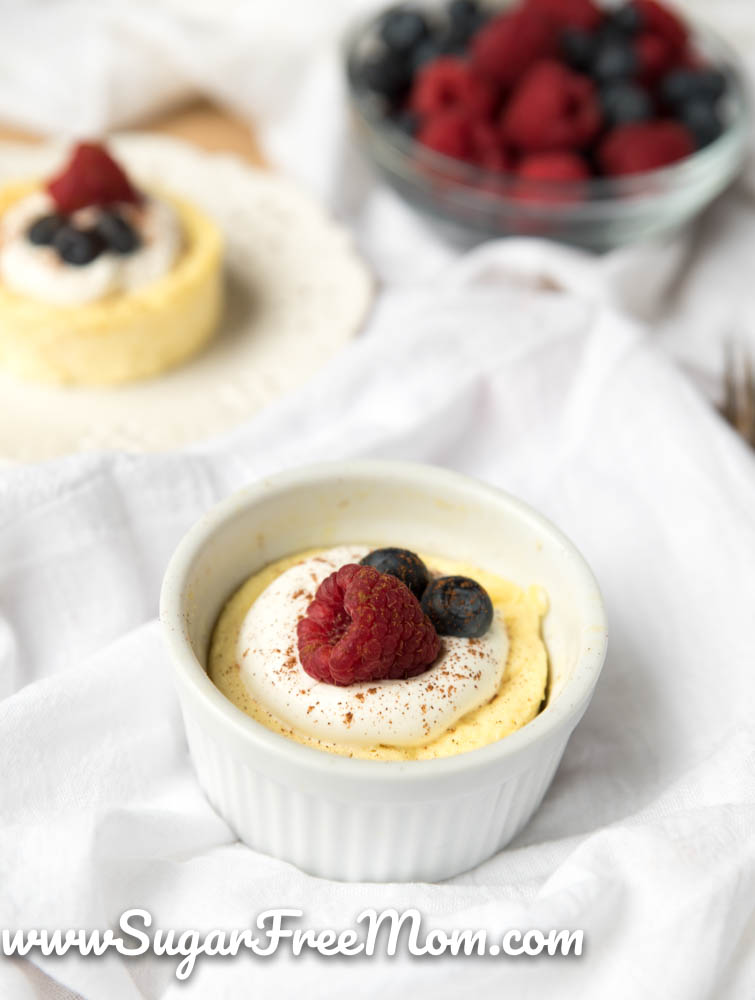 Sugar Free Keto Cheesecake
If you're a cheesecake lover like me, sometimes you want just a serving right? You don't necessarily feel like making a large standard cheesecake with 8 or 12 servings. Some days or nights you just want a piece, am I right? In fact I could eat a piece every night if I can fit it into my macros for the day! But maybe you're like me and having a large cheesecake in the house might be too tempting to not indulge in every day or maybe you just won't be able to stick to one serving?
Here's the solution! A 2 minute cheesecake that makes just 2 servings! Enjoy your piece and save the other or serve the other to your spouse. Whatever you decide it's worth a try to curb that craving for creamy delicious sugar free cheesecake!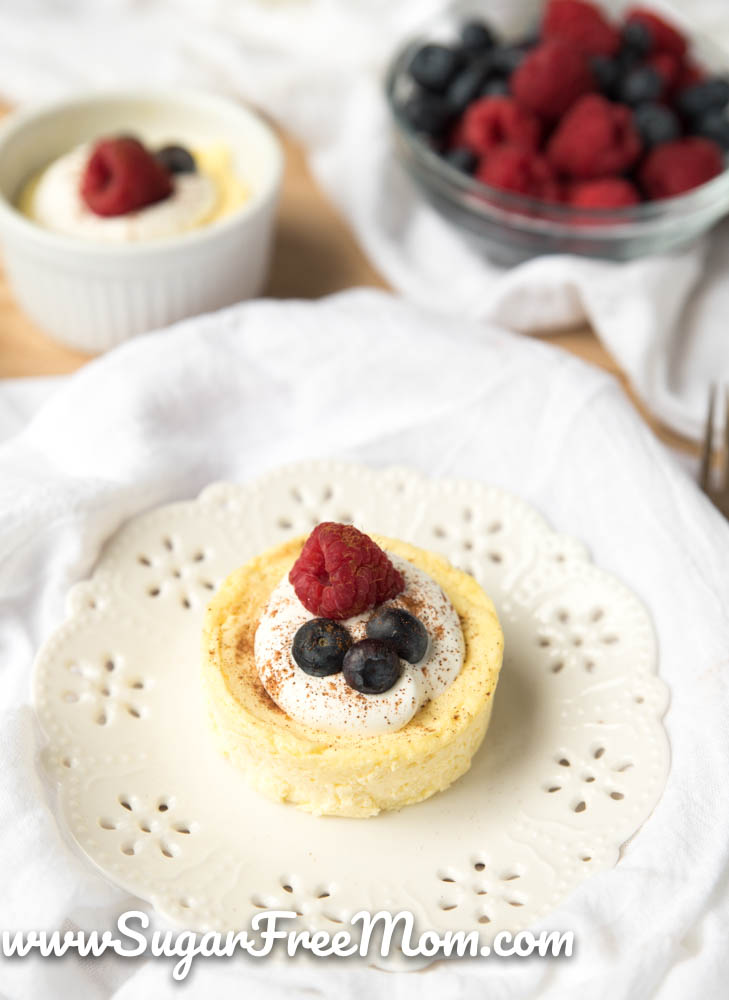 I've made a few attempts to get just the right texture for these little cheesecakes and I have to say it's just as good as a slice of my basic Sugar Free Cheesecake that serves 12! Top with some delicious Sugar Free Whipped Cream and a few berries and indulge without the guilt!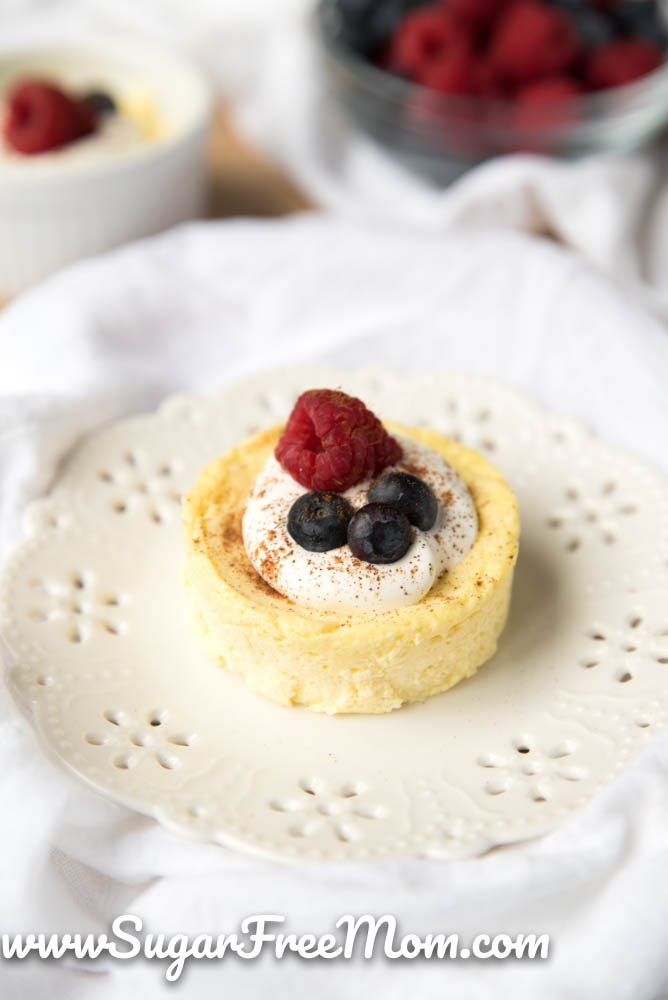 Low Carb Cheesecake
Whether you're just trying to eat less sugary desserts or you're on a low carb diet, this recipe will work for you. Just 1 gram of natural sugar coming from the lactose in the cheese and cream and 3 total carbs. This fits well in any keto diet. If you're worried about high fat, I would recommend learning more about healthy fats that satisfy and this dessert will be completely fulfilling so you won't feel the need to indulge in a second piece.
Are you still investigating the keto diet? Check out this post I wrote all about the difference between a Low Carb Diet Versus Keto and My 6 Week Results.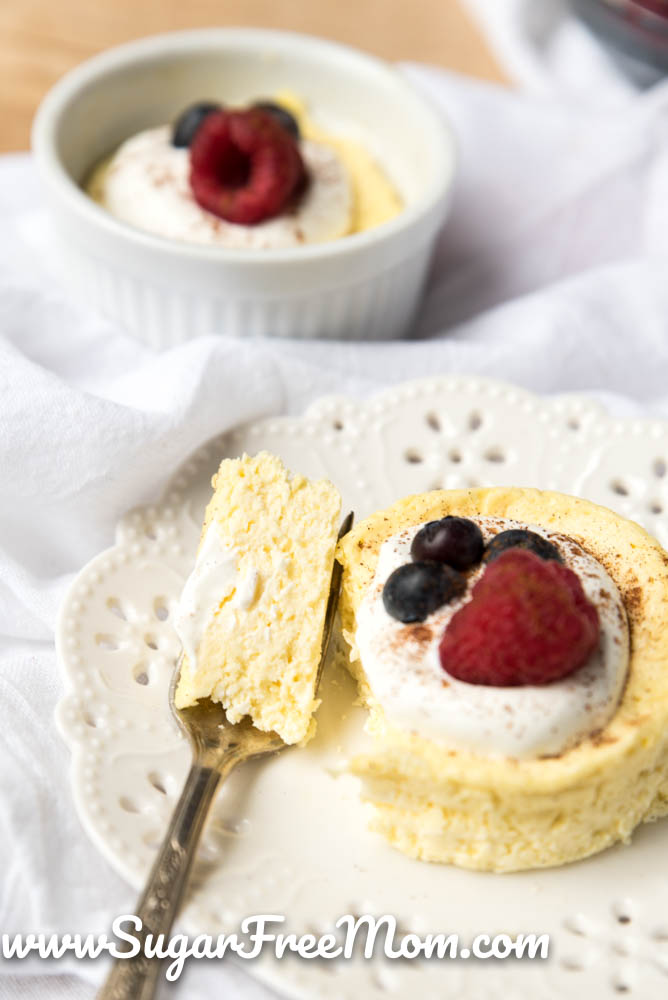 2 Minute Keto Cheesecake
If you're not opposed to cooking in a microwave then this recipe is for you. But even if you don't like using microwaves, or simply don't have one, I've provided oven directions as well. Please note all microwaves vary and your cheesecake may just need 1 minute or an 90 seconds. Always try less and check before cooking it this scrumptious keto cheesecake more. No one wants a dried out cheesecake that's for sure!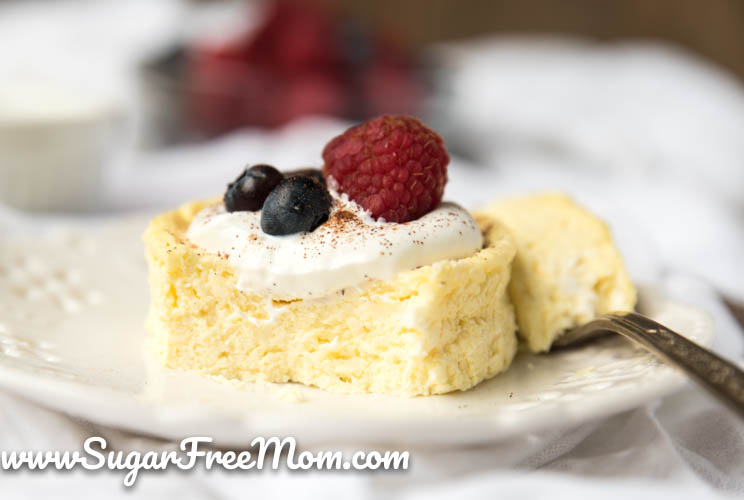 2 Minute Sugar Free Cheesecake
(Keto, Low Carb)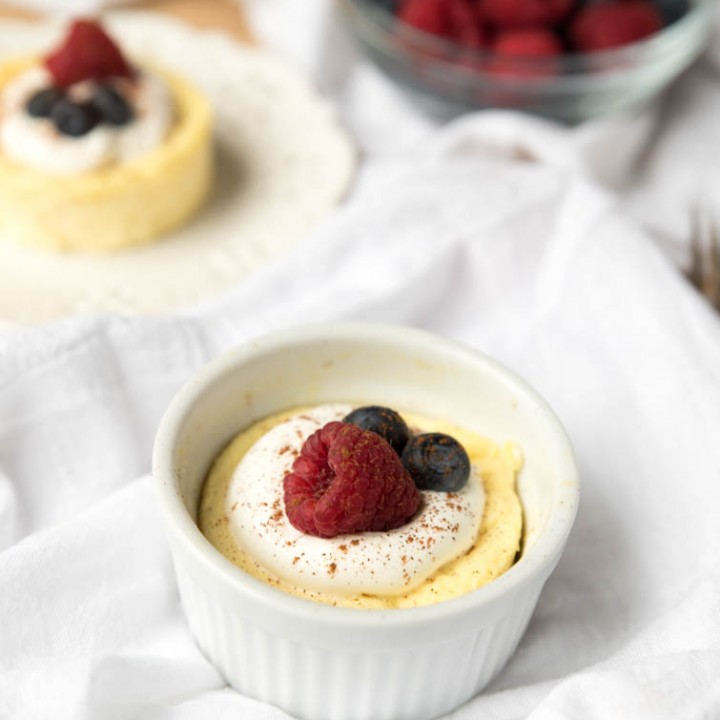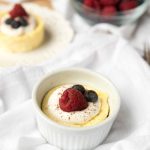 Print
2 Minute Sugar Free Cheesecake (Keto, Low Carb)
Instructions
Microwave Method
Add all ingredients to a a stand mixer or blender and process until smooth. 

Spray two, 5 ounce ramekins with olive oil cooking spray. Place ramekin on a plate. Add half the batter to each ramekin.

Microwave 1 cheesecake at a time. Microwave 1 minute. Let it rest for a few seconds then check the center of the cheesecake. If it looks glossy and wet, microwave 30 more seconds. Check it again then microwave another 30 seconds if needed. Mine took exactly 2 minutes total. If it looks like it's set in the center, let it cool about 5 minutes on counter then refrigerate for 1-2 hours. Add toppings and enjoy!
Oven Method
Preheat oven to 325 degrees F. 

Bake for 10 minutes or until center is set, firm but still jiggly. Refrigerate 1-2 hours. Add toppings and enjoy!
Notes
This recipe is very mild in sweetness. If you prefer a sweeter cheesecake please add ½ teaspoon vanilla stevia. 
Net Carbs: 2g
Nutrition
Serving:
1
mini cheesecakes
|
Calories:
239
kcal
|
Carbohydrates:
3
g
|
Protein:
5
g
|
Fat:
23
g
|
Saturated Fat:
13
g
|
Cholesterol:
148
mg
|
Sodium:
162
mg
|
Potassium:
109
mg
|
Fiber:
1
g
|
Sugar:
2
g
|
Vitamin A:
897
IU
|
Vitamin C:
1
mg
|
Calcium:
81
mg
|
Iron:
1
mg