Bacon Cheeseburger Stuffed Zucchini Boats are the perfect low carb option when craving a cheeseburger!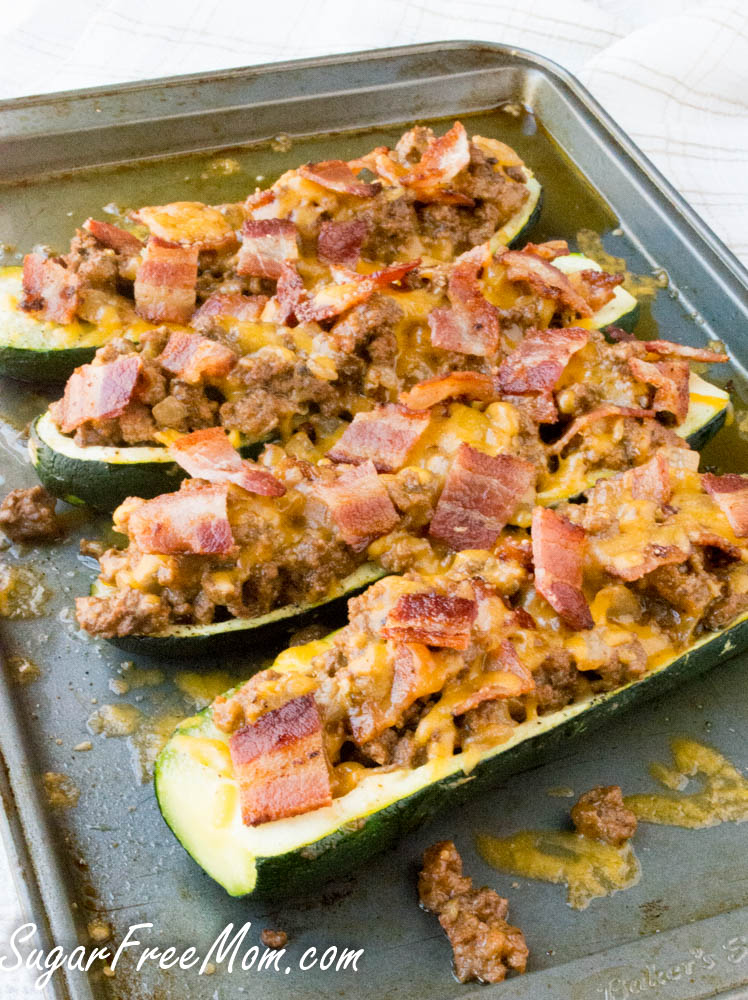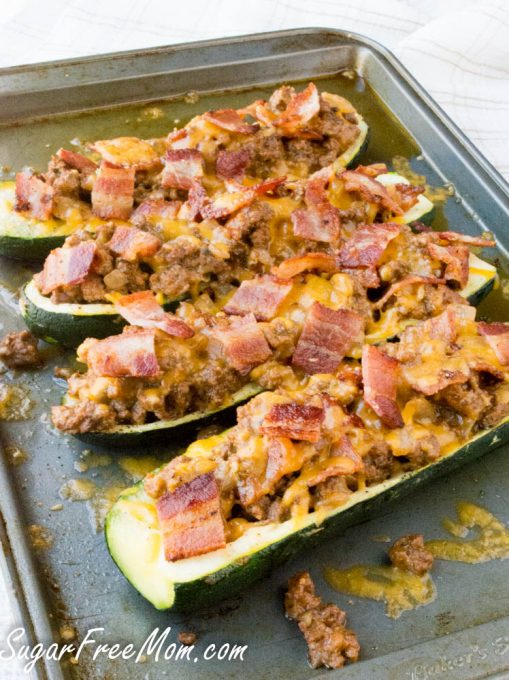 This low carb dinner can be on the table in 30 minutes! Whether you're a fan of zucchini or not, the cheeseburger and bacon stuffed inside may change your mind. Or just use a fork and enjoy this amazingly delicious filling all on its own!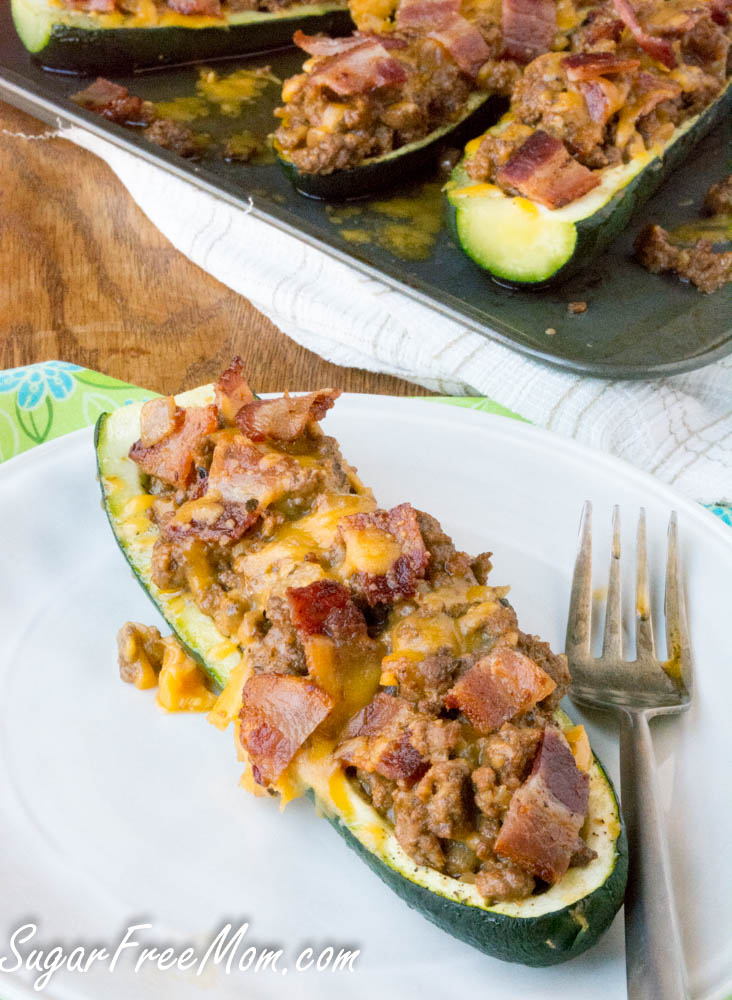 When you're craving a cheeseburger and have no time to make any Low Carb Rolls, this is the best way to curb that craving and get some dinner on the table fast!
I'm sure you must be wondering whether my kids will eat zucchini like this.
Nope. Not a chance.
So I knew that they wouldn't, made this especially for hubby and I, made extra filling so the kids to enjoy it like tacos. All was good! If you have time you can use my Cauliflower Tortillas for tacos!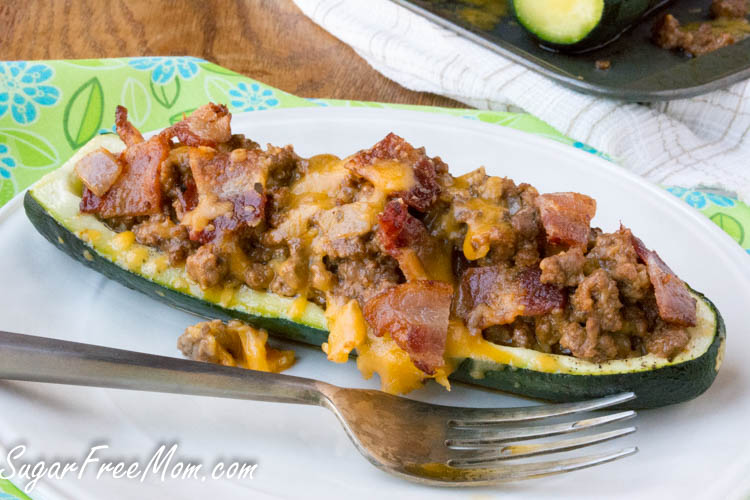 Zucchini's will soon be in season and with it comes the constant influx of recipes using this awesome vegetable.
This is just one of those recipes for zucchini you should keep on hand for when time is tight or you just need a new idea with the abundance of zucchini you might be getting in your garden.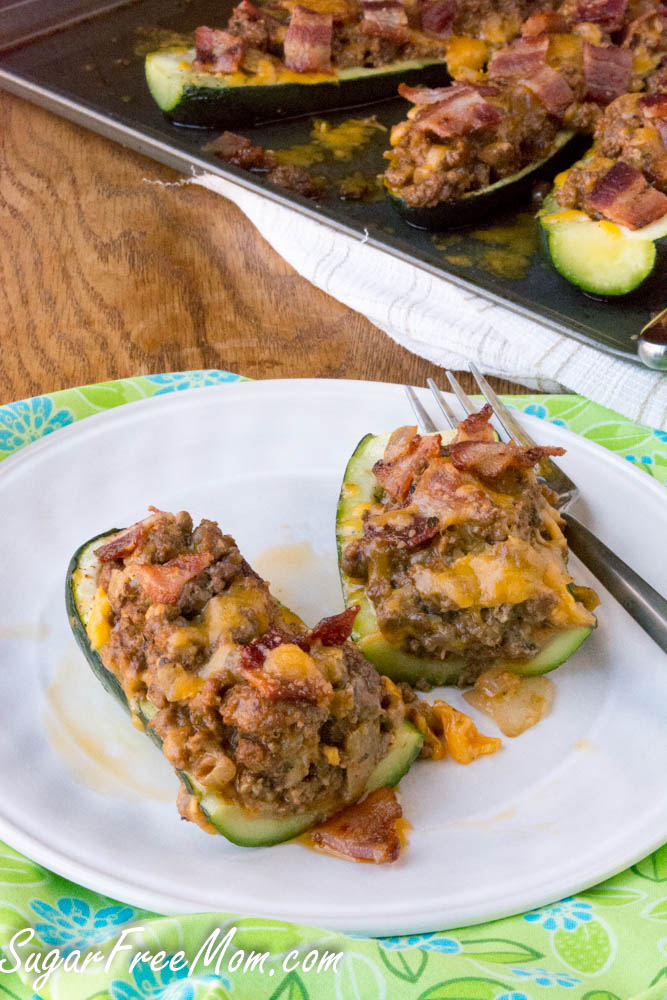 This recipe is meant to taste everything like a cheeseburger so it's definitely not meant to be low fat. In fact I hope all of you know by now that fat doesn't make you fat, it's not the enemy, carbs and sugar are. When fat is combined with carbs that's a deadly combo. But fat with low carb is perfectly good for you and in fact the fat truly helps you feel satiated.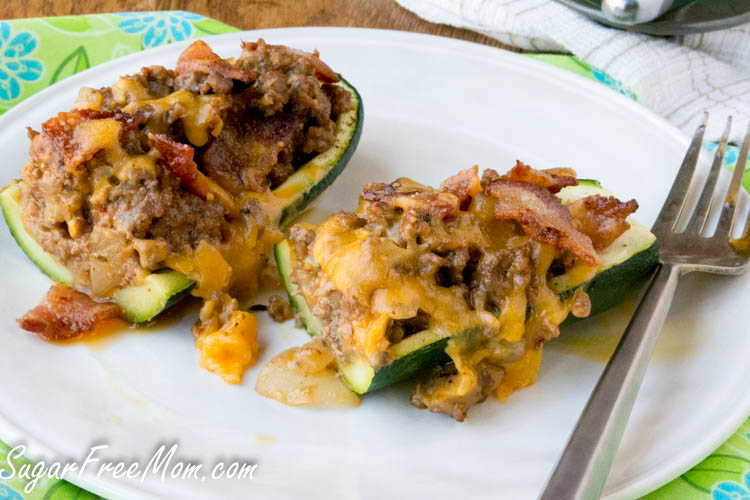 I've been low carb for about 4 years and recently decided to go on the Keto diet. You can read about my 6 Week Keto Results here. It's the lowest carbs in a day I ever thought I could handle, but with the higher daily fat intake it was easy and I never felt hungry even with reduced calories.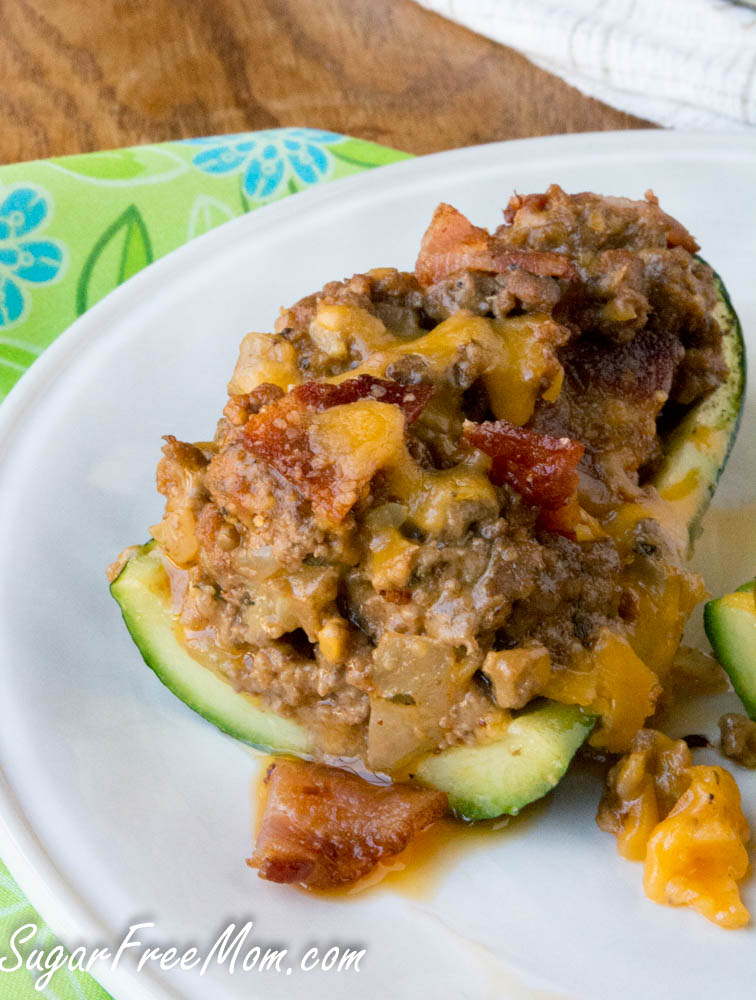 So the motto is, don't fear the fat, embrace it on a low carb diet!
It's quick. It's delicious. It's everything you love about a bacon cheeseburger without a bun.
Enough said. 🙂
*****If you want to make this for your family, but you know the kids won't like the zucchini or you feel like having a bun with this, double the filling ingredients here and use my Low Carb Cheddar Bun recipe!
This recipe was first published in April 2016.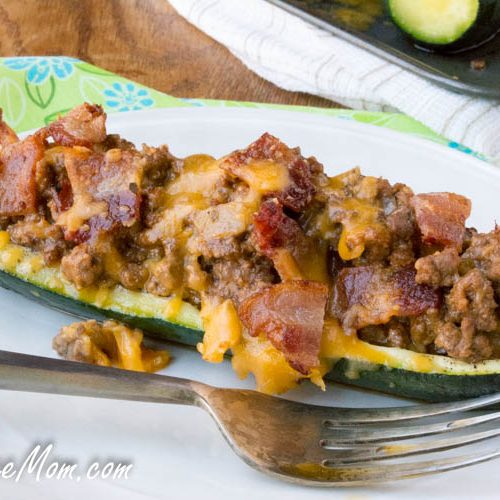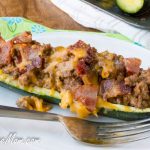 Print
Bacon Cheeseburger Stuffed Zucchini Boats
Ingredients
5

ounces

uncured

nitrate free bacon

2

zucchini

about 1.5 pounds

1

tablespoon

olive oil

½

cup

chopped onion

1

pound

ground beef

½

teaspoon

garlic powder

½

teaspoon

oregano

½

teaspoon

salt

¼

teaspoon

pepper

1

tablespoon

tomato paste

2

tablespoon

mustard

2

tablespoon

no sugar added ketchup

8

ounces

shredded cheddar cheese

divided
Instructions
Preheat the oven to 400 degrees F.

In a skillet, cook the bacon until crisp and set aside on a plate lined with paper towels. Chop into piece once cooled.

Slice each zucchini lengthwise and scoop out the inside seeds, leaving about ¼ inch from the sides. Place this removed insides of zucchini in a bowl and set aside.

Rub the oil around the inside of each halved zucchini and place on a baking sheet pan.

Bake for 20 minutes.

While the zucchini is baking you can make the filling.

Remove some of the bacon grease from the skillet, leaving about a tablespoon or so in the pan.

Cook the onion until softened then add the ground beef and insides of zucchini you had scooped out.

Cook beef until browned then add seasonings, tomato paste, mustard and ketchup.

Stir to combine the stir in ½ cup of the shredded cheese.

Allow it to melt, turn off the heat and return half the bacon into the mixture.

Once zucchini is cooked, remove from the oven and fill each half with the filling.

Top with remaining shredded cheese and bacon.

Broil for 2 minutes to melt the cheese on top.

Enjoy!
Nutrition
Serving:
1
g
|
Calories:
467
kcal
|
Carbohydrates:
8.3
g
|
Protein:
41.4
g
|
Fat:
29.1
g
|
Saturated Fat:
11.8
g
|
Cholesterol:
131
mg
|
Sodium:
841
mg
|
Fiber:
1.9
g
|
Sugar:
4.1
g