Individual Protein oat Puff pancakes are dairy free, gluten free, low carb, low calorie and delicious!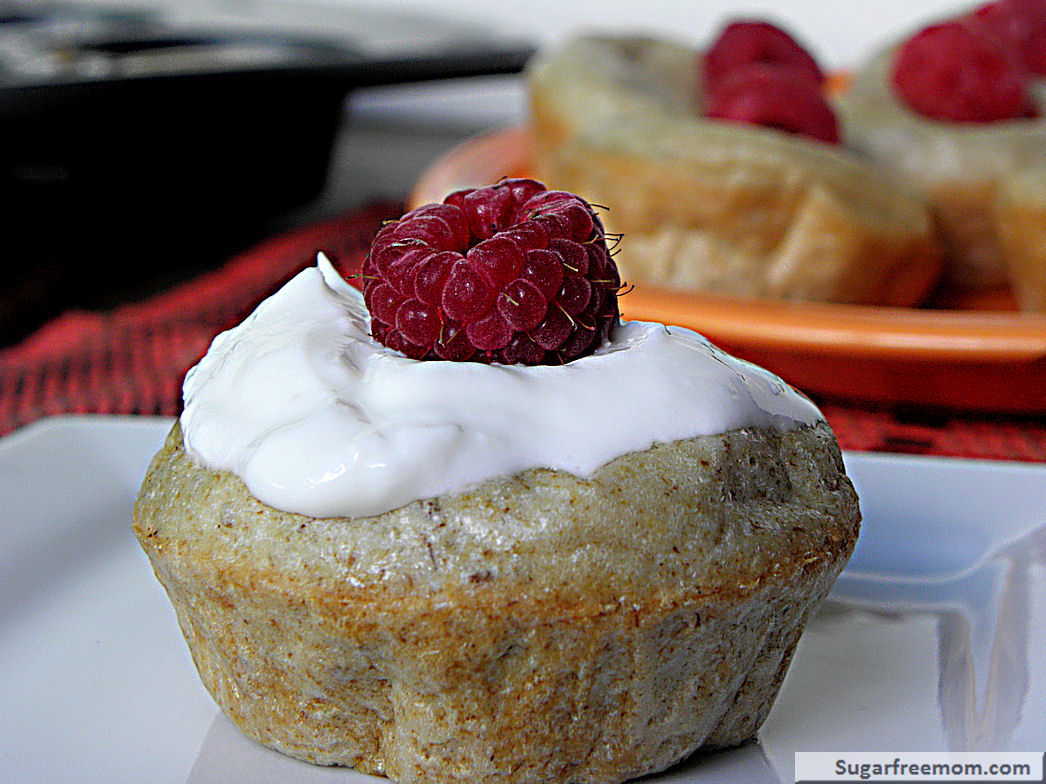 A little cupcake with frosting!
NO, no quite. 🙂
It's a little protein puff pancake with a nice equal amount of protein and carbs that can be made ahead and taken on the go for a healthy in-between meal snack. These little snacks won't blow your calorie budget for the day. Needing something to curb hunger still your next meal is often the reason many choose prepared protein bars which are often like candy bars and really high in calories.
When I shared my Fat Free Iced Coffee Protein Frappe yesterday, I shared the protein powder I recently bought at Whole Foods. I am almost done with it and will be trying a different brand out soon but I definitely feel better increasing my protein in more of my snacks. Keeps me fuller for longer than just grabbing a fruit.
When I created this recipe unlike my other Puff Pancake recipes I wanted to eliminate the flour and use rolled oats instead. Grinding the rolled oats in your blender is much cheaper than buying oat flour already packaged.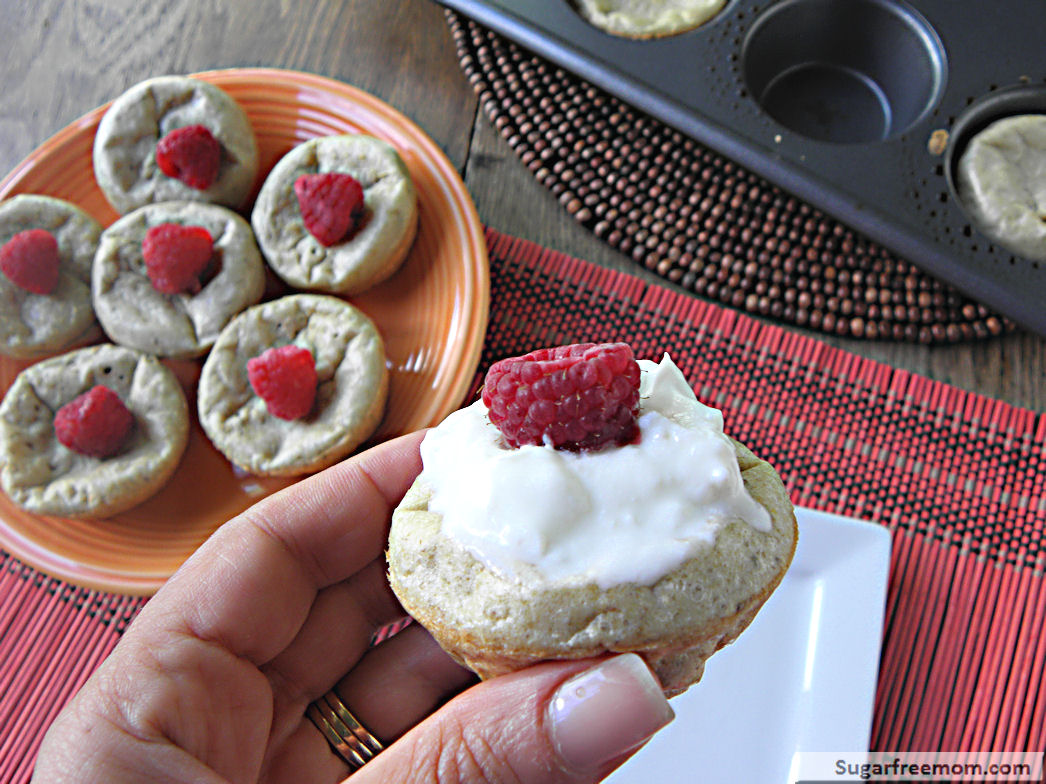 These are really the perfect size and for only 71 calories you can have two and you are eating a nice 14 grams of protein and carbs each. I added some plain Greek yogurt on top with a raspberry but if you are on- the -go, they taste great plain and right out of the refrigerator!
I've had to make these about 3 times changing ingredients to make them moist and not empty inside like popovers so that is why I added the chia seeds to my most recent batch. You could eliminate the chia and I have made them without and they were still good, but your nutrition info will change.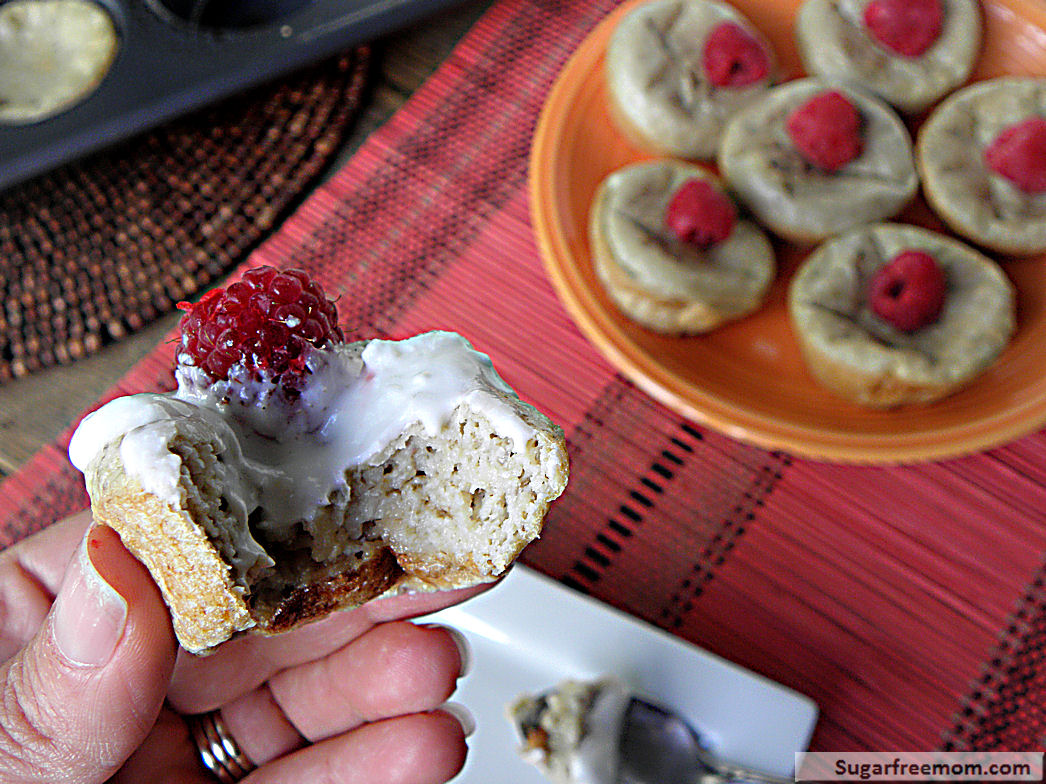 Individual Protein Oat Puff Pancake: No Sugar Added
Author:
Prep time:
Cook time:
Total time:
Ingredients
1 cup oat flour ( I used rolled oats and ground it in my blender)
1 cup egg whites ( I used the carton type)
1 cup almond milk, unsweetened
1 scoop whey protein powder, unsweetened (See[url href="https://www.sugarfreemom.com/recipes/fat-free-iced-coffee-protein-frappe-no-sugar-added/" target="_blank"] this post[/url] for protein I use)
1 tablespoon chia seeds
1 teaspoon vanilla extract
½ teaspoon [url href="http://www.iherb.com/p/15940?rcode=yaj035" target="_blank"]liquid vanilla stevia[/url] (plain powder will also work fine)
Instructions
Preheat oven to 425 degrees.
Spray muffin pan with nonstick cooking spray.
Pour all ingredients in your blender and blend until mixed well.
Carefully pour mixture into muffin cups.[ I filled mine ¾ of the way in each cup and got 9].
Bake for 20 minutes until lightly browned and a toothpick in center comes out clean.
Let cool slightly then remove from pan. Keep refrigerated.
Serving size:
1
Calories:
71
Fat:
1g
Carbohydrates:
7g
Sugar:
0
Sodium:
49mg
Fiber:
2g
Protein:
7g
Cholesterol:
0
Notes
Weight Watchers Points+: 1*
Other recipes you might like: