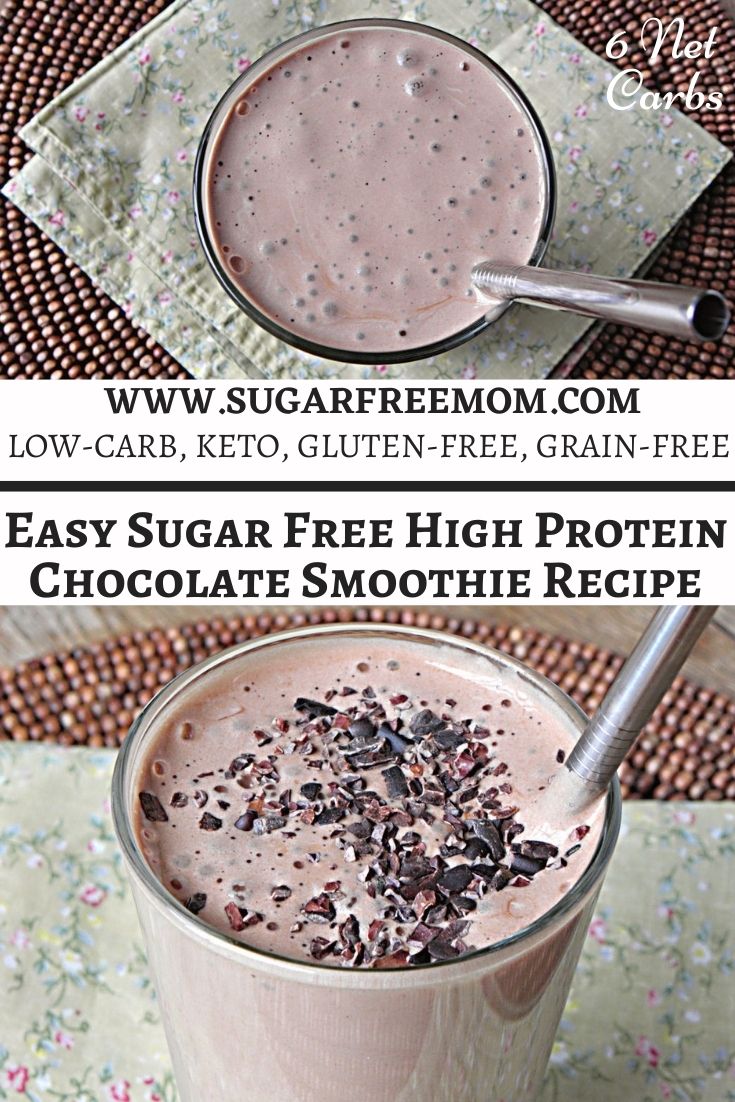 This easy sugar free chocolate smoothie recipe uses cottage cheese for a great way to get a high protein meal! This low carb keto smoothie recipe with healthy fats, has 37 grams of protein and just 6 g net carbs!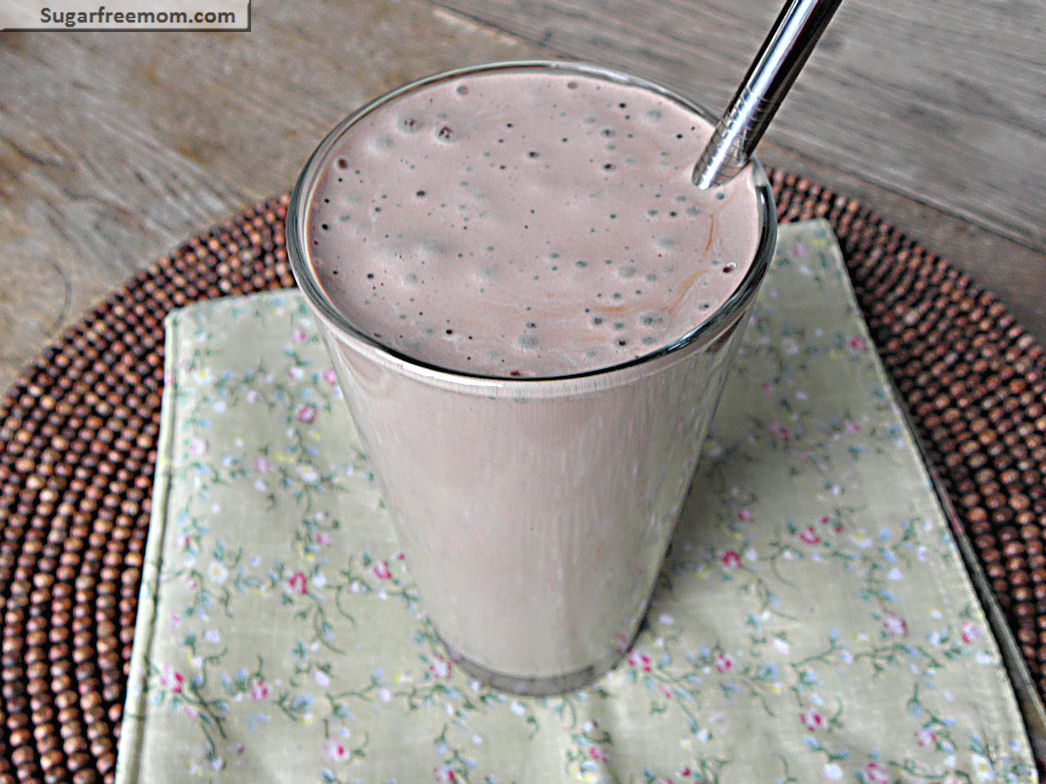 Sugar Free High Protein Chocolate Smoothie
This recipe and photos are from July 2012, before the trend of cottage cheese in everything!
Who doesn't love chocolate for breakfast as a sweet treat for busy mornings??? Sneaking it in for breakfast feels almost sinful BUT this is NOT your average chocolate milkshake here, no added sugars here!!!
No guilt at all in having this for as a meal replacement or delicious keto snack!!
Just 5 simple ingredients needed for a creamy keto breakfast smoothie!
This is really the most delicious high protein smoothie that will keep you full till your next meal. In fact it is my new favorite breakfast and I just finished off one before I posted this.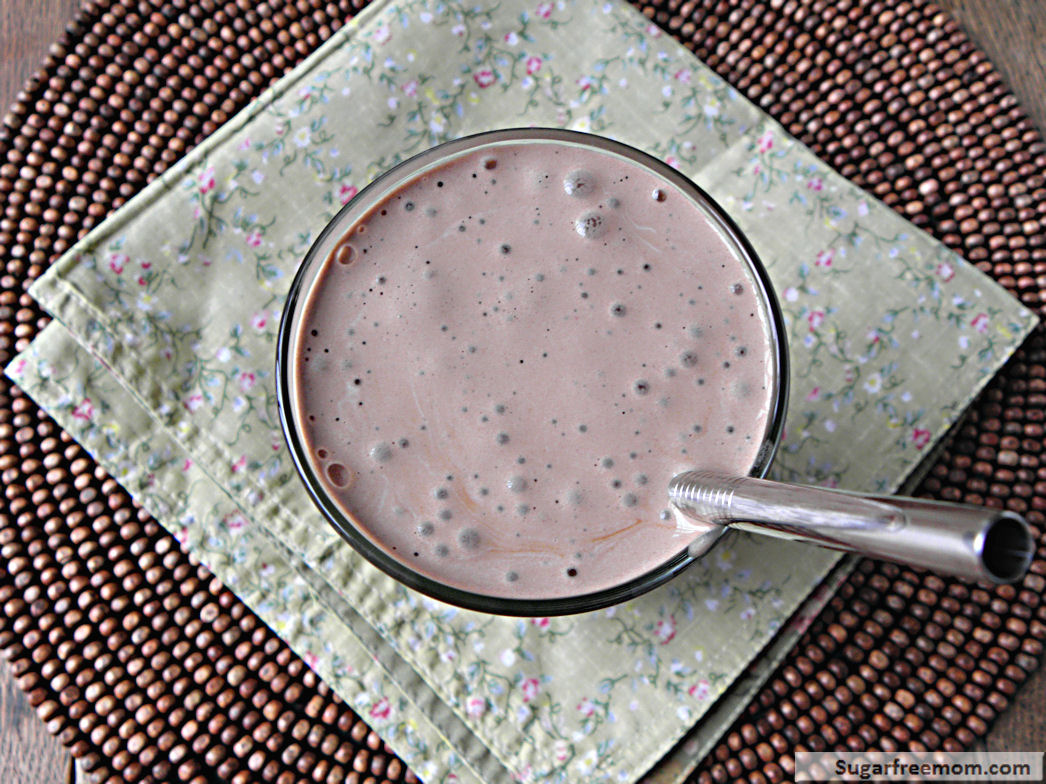 Low Carb Chocolate Smoothie
I just finished up my low-carb protein powder that I bought from Whole Foods and this was my last recipe including it before I buy more or try a different brand.
My favorite brand of whey protein powder is the Jay Robb brand because of the minimal ingredients and no sugar added.
Before you check out the ingredients in this smoothie below I need to tell you a big secret I've been keeping. I absolutely hate, detest, can not stomach eating cottage cheese, I will surely gag.
In fact it is almost difficult to spoon it out to use in a recipe. BUT it is perfect for a keto diet or low-carb diet when you want to also prioritize protein.
I knew, as a recipe developer who is on a ketogenic diet, I must start incorporating this great addition in my recipes.
The cottage cheese is what gives this smoothie a SMOOTH, thick and creamy texture!!
Why Cottage Cheese in a Smoothie?
Do you want to know the best part about this ???
NO COTTAGE CHEESE TASTE IS NOTICEABLE AT ALL! Trust me, I would NOT lie to you!!
I first experimented with cottage cheese in my Pumpkin Vanilla Smoothie, but used only a ¼ cup.
It was terrific so I increased the amount and added the protein powder for this healthy low carb smoothie recipe.
I just added a few cacao nibs on top for a little crunch. They are unsweetened and do not have a bitter aftertaste.
If you are looking for a way to increase your protein and enjoy a keto chocolate milkshake that doesn't even taste like a protein powder shake, this is the way to go.
My friend Katie over at Dashing Dish has some fabulous creative smoothie combo's with cottage cheese. You can check her Giant List of Protein Shakes here.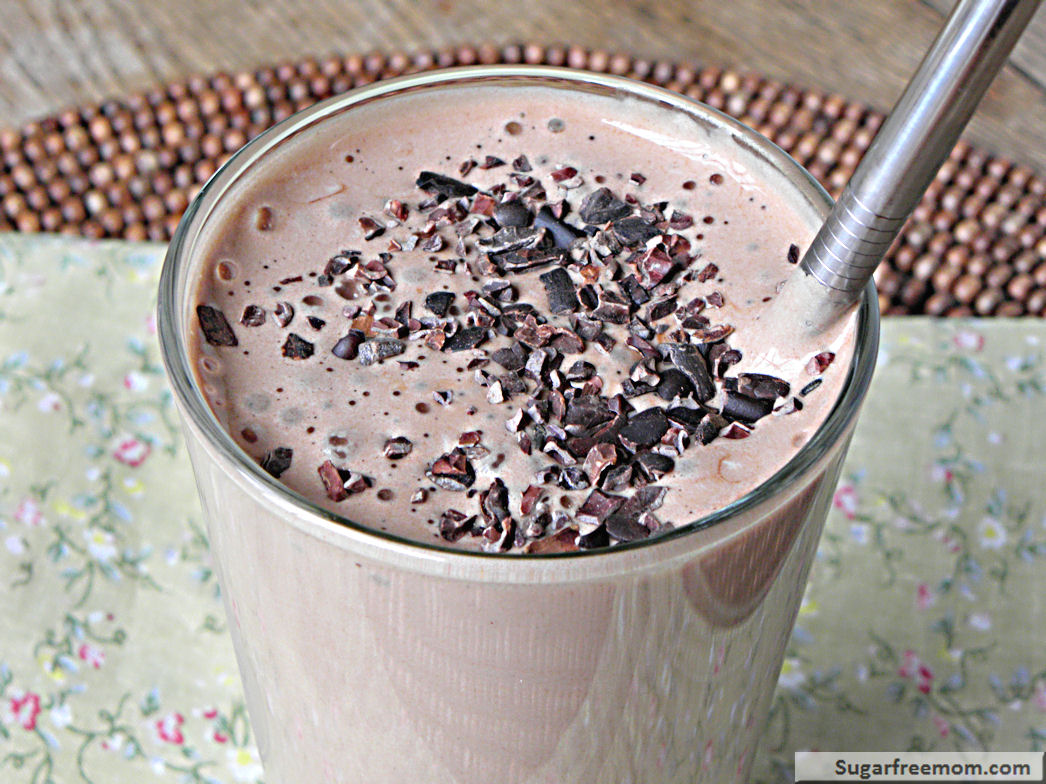 Best Brands of Cottage Cheese
​The good news about cottage cheese is that you can find it in every grocery store.
The specific brands I like are the Green Valley Lactose Free Cottage cheese since my daughter and I have a lactose intolerance, this works better for us without stomach issues.
The Good Culture brand is also great and organic, perfect if you don't have a lactose intolerance.
You could use low fat cottage cheese if you prefer but I wouldn't recommend it as full fat has a lot more flavor and makes this rich and creamy.
Can I make this dairy free?
If you can find a vegan cottage cheese then yes you could make it dairy free. If not, a good substitute for cottage cheese would probably be tofu or dairy free yogurt.
Can I replace the Stevia?
Yes, you can use any low carb sweetener you prefer.
Here's my Sweetener Guide of natural sugar free sweeteners and also included is my conversion chart to help you decide how much of another sweetener to use to replace the stevia in the recipe.
I'd recommend liquid Monk fruit in chocolate flavor to replace the stevia I used.
More Healthy Smoothie Recipes
This Keto Peanut Butter Cottage Cheese Ice Cream- you can turn this high protein ice cream into a keto protein shake simply by not freezing the peanut butter mixture which consist of 3 main ingredients.
This Keto Chocolate Peanut Butter Smoothie also has a high protein content using keto protein powder and mmmm.
This Triple Berry Smoothie is made with full fat coconut milk and delicious topped with Keto Granola and low-sugar fruits like blueberries.
This Low Carb Green Smoothie uses wholesome ingredients like cucumber.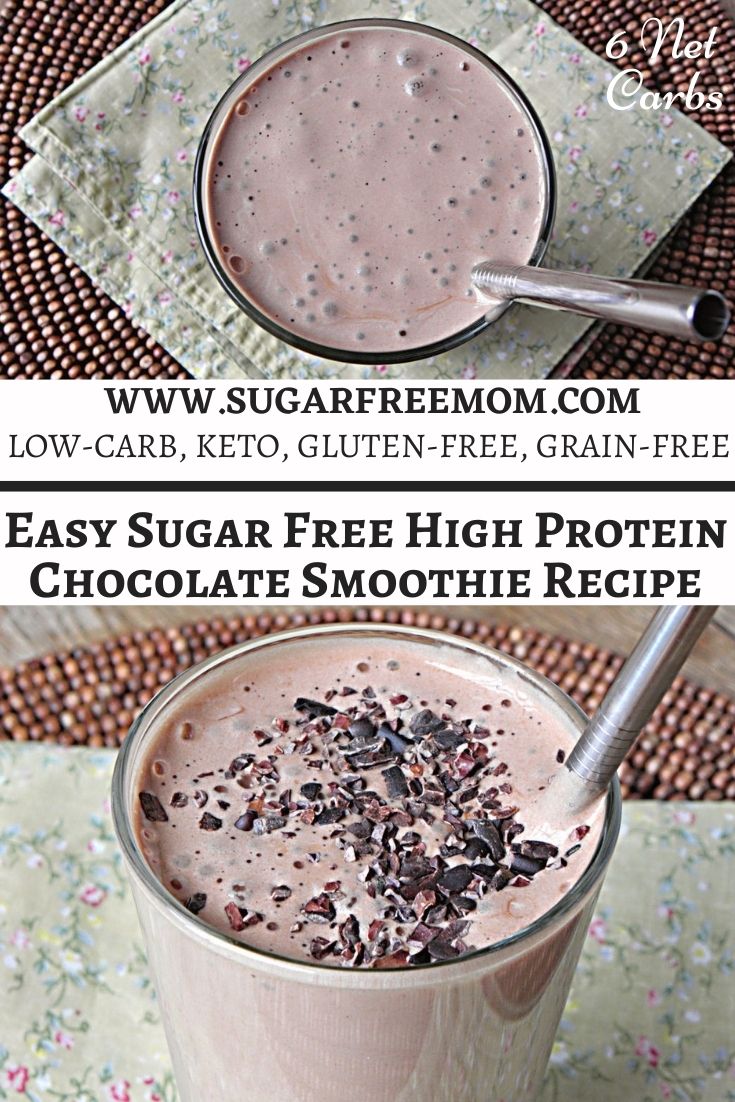 Low Carb High Protein Chocolate Smoothie Recipe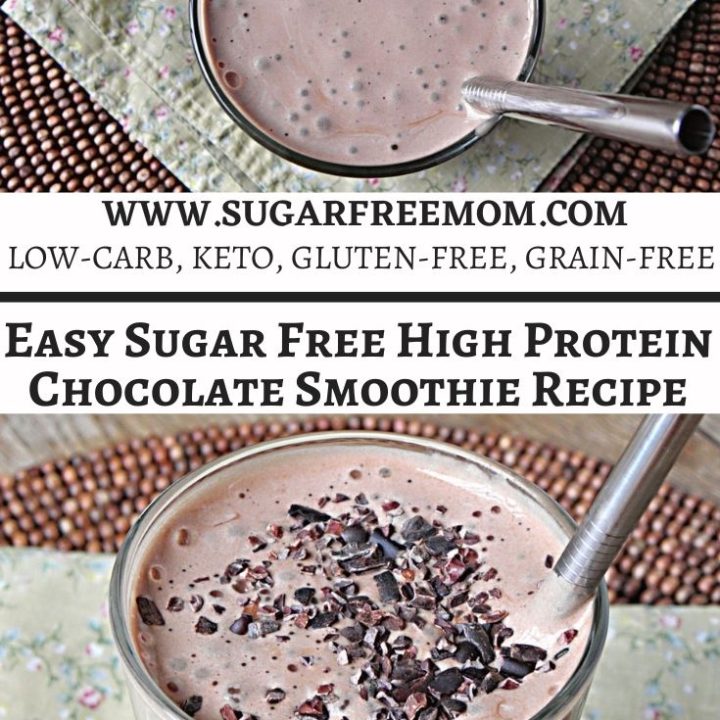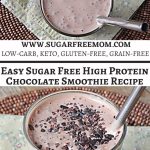 Print
High Protein Chocolate Smoothie (No Sugar Added)
Ingredients
Optional
1

tablespoon

unsweetened almond butter or peanut butter,

1

tablespoon

MCT oil

or coconut oil
Instructions
Add your almond milk, cottage cheese and cocoa powder to your high-speed blender and blend until smooth.

Once well blended, add the rest of the ingredients to your high speed blender until smooth.

Taste and adjust sweetener. Enjoy!
Notes
Net carbs: 6g
This recipe was first published in 2012.
Nutrition
Serving:
1
serving
|
Calories:
221
kcal
|
Carbohydrates:
7
g
|
Protein:
37
g
|
Fat:
6
g
|
Saturated Fat:
2
g
|
Polyunsaturated Fat:
0.1
g
|
Monounsaturated Fat:
1
g
|
Cholesterol:
18
mg
|
Sodium:
381
mg
|
Potassium:
249
mg
|
Fiber:
1
g
|
Sugar:
3
g
|
Vitamin A:
147
IU
|
Calcium:
237
mg
|
Iron:
0.1
mg