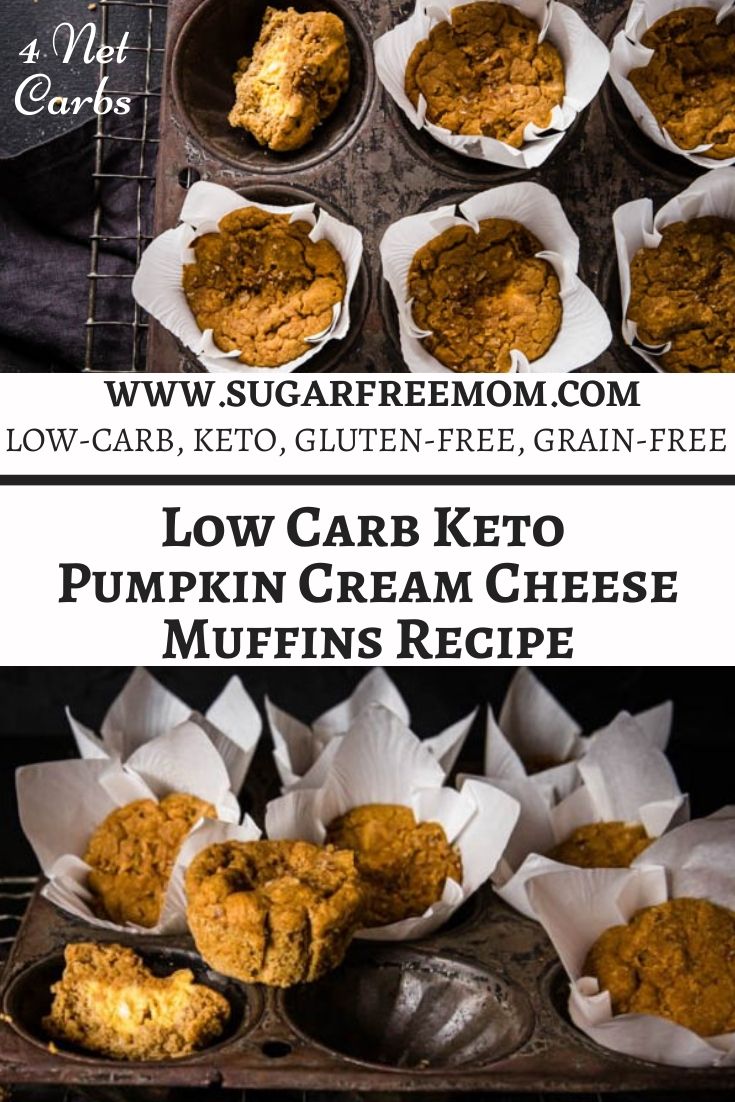 These Low Carb Keto Pumpkin Cheesecake Muffins are a delicious fall breakfast! Made nut free and gluten free with the best texture and pumpkin spice goodness! Just 4 g net carbs!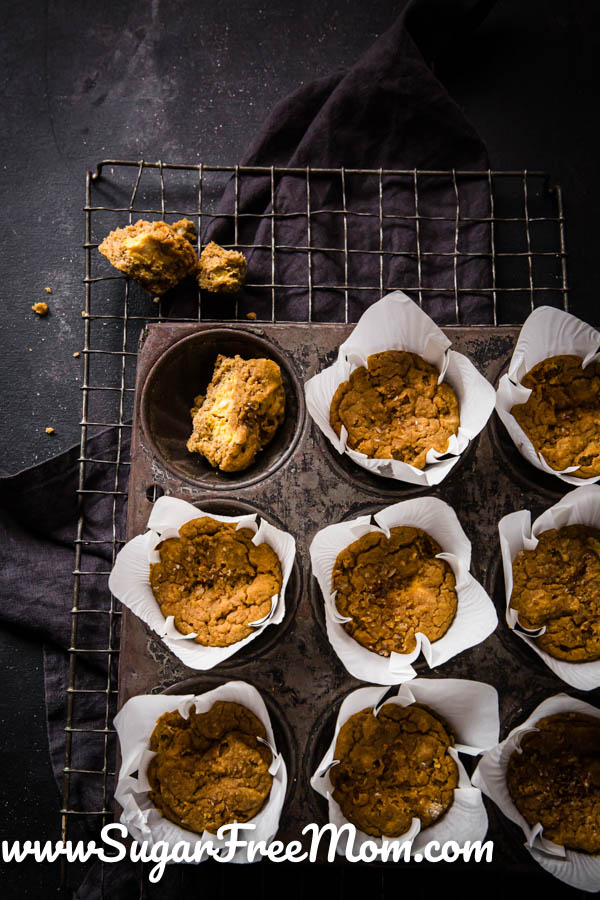 Pumpkin Pie Spice Muffins with Cream Cheese Filling
Pumpkin muffins filled with cream cheese are the most scrumptious perfect breakfast for the fall and winter season.
These keto muffins are made low carb, keto and the best part, nut-free, which is often rare in low carb keto baking recipes.
They are a wonderful allergy friendly muffin to share with family and friends. All the flavors of fall spices and a creamy center will compliment your morning coffee or tea very nicely!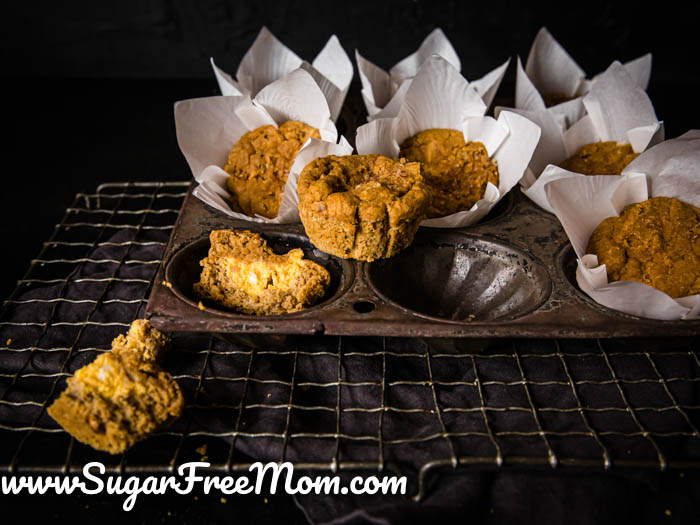 Nut-Free Low Carb Pumpkin Muffins
Making keto recipes nut free is always a challenge, but no worries, I've got you covered. Using alternatives to the typical almond flour, just takes a little tweaking and experimenting.
Luckily I've perfected working with coconut flour and have now found sesame flour as a wonderful option to almond flour as well.
I've got many nut-free recipes for your keto lifestyle in my new cookbook, Naturally Keto, over 115 nut free, as well as over 50 dairy free and another 20 that could easily be made dairy free with a simple swap.
Can I make these almond flour pumpkin muffins?
Yes, if you don't have a tree nut allergy, you can swap the sesame flour for the same amount of fine almond flour.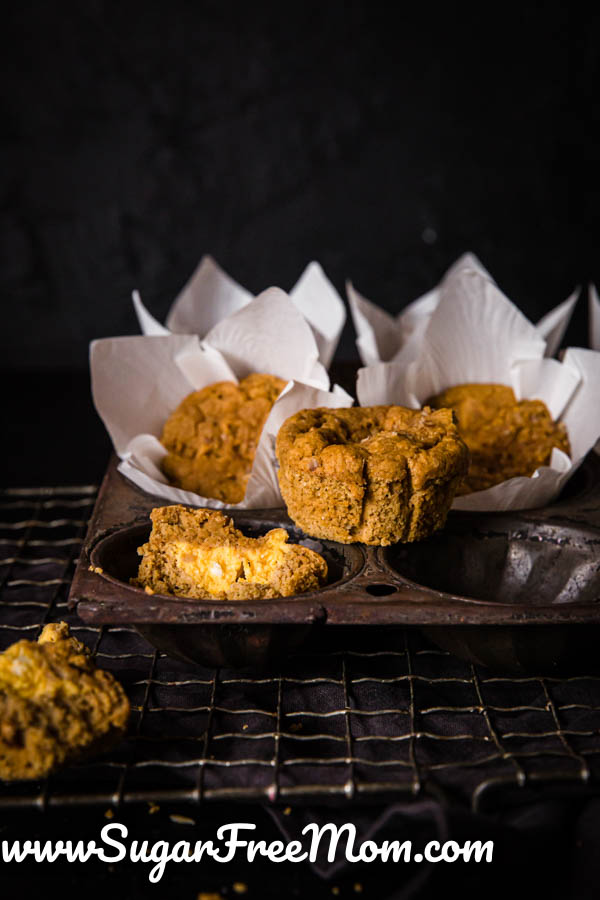 Pumpkin Puree vs Pumpkin Pie Filling
Canned pumpkin pie filling is not the same is canned pumpkin puree. Pumpkin pie filling has added sugar and is not keto friendly.
Canned pumpkin puree has no added sugar, nothing but pumpkin is in the ingredients listed and can be enjoyed in small portions on a keto diet or low carb diet.
How Many Carbs in Pumpkin?
Pumpkin isn't one of the lowest vegetables for a keto diet, but in small amounts you can enjoy some without kicking yourself out of ketosis.
How many carbs you eat on your keto diet should and can vary because we are all individuals and one person may not have any issues with a higher amount of carbs than someone else.
1 cup of canned pumpkin puree has 19.8 grams of carbs. ½ cup canned pumpkin has 9.9 grams.
Most of my pumpkin recipes use an entire can of pumpkin which has 15 ounces, BUT we are making 12 servings which means it's less than 3 grams per serving.
With the cream cheese, pumpkin and a some of carbs coming from the coconut milk and sesame flour you are looking at 8 total carbs per serving and 4 net carbs.
Homemade Pumpkin Pie Spice
Pumpkin spice season is upon us and you should be able to find it at your local grocery store, but making homemade pumpkin pie spice is very easy and only needs 5 ingredients.
You can store this in your pantry for a year and use it the same as you would for any sugar free, low carb or keto recipes needing pumpkin pie spice.
Here's my easy homemade pumpkin pie spice recipe that takes just a few minutes to make and can be used in this delicious keto pumpkin muffins recipe.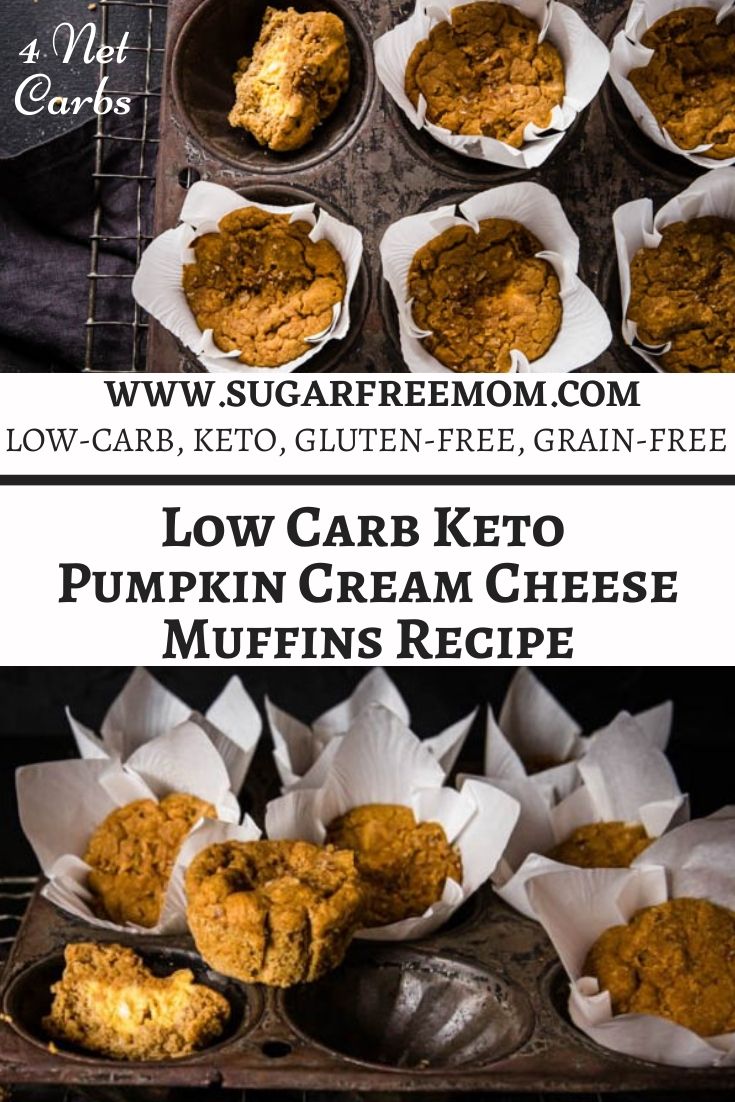 Low Carb Brown Sugar Substitutes
Swerve has a wonderful brown sugar sub that packs like regular brown sugar and tastes wonderful. Lakanto Golden which is another fine option.
Most keto pumpkin recipes will benefit from a low carb sweetener that has a brown sugar flavor, but of course you can certainly swap out the sweetener I used on these delicious muffins with another low carb sweetener of choice.
Everyone's palate is different and trying out different sweeteners to satisfy your sweet tooth is why I created my conversion chart for you!
Here are some other keto pumpkin recipes that are also nut free and keto friendly for all pumpkin lovers out there:
Keto Pumpkin Cream Cheese Muffins (Nut Free)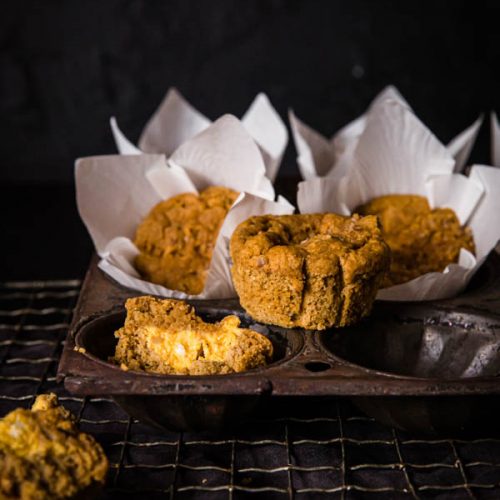 Print
Keto Nut-Free Pumpkin Cream Cheese Muffins
Lightly spiced grain-free and nut-free muffins are filled with a creamy sweet surprise. Perfect for those chilly Fall days with a pumpkin spice latte. Enjoy!
Instructions
Beat the cheesecake filling ingredients together in a small bowl until smooth and then refrigerate until ready to use.

Pre-heat your oven to 400⁰F and line a 12-capacity muffin tin with paper muffin liners.

Place all of your dry ingredients (sesame flour, baking powder, pumpkin spice, salt and brown sugar substitute) into a large mixing bowl and whisk to remove any lumps.

In the bowl of your stand mixer or use a hand electric mixer, add the eggs, sugar-free maple syrup, pumpkin puree, vanilla extract and coconut milk, beat until well combined.

Add the dry ingredients to the wet ingredients in three batches.

Mix gently until just combined. Do not overmix.

Fill your muffin cupcake liners ½ way and then add a teaspoon of the cheesecake filling to the center.

Spoon the remaining muffin batter over the top of each muffin cups and bake for 20 minutes.

Store in the refrigerator in an airtight container for up to 5 days. These can also be frozen in a freezer-safe container for up to 3 months.
Notes
Net carbs: 4g
This recipe was published first in Nov. 2019.
Nutrition
Serving:
1
muffin
|
Calories:
124
kcal
|
Carbohydrates:
8
g
|
Protein:
10
g
|
Fat:
8
g
|
Saturated Fat:
4
g
|
Cholesterol:
35
mg
|
Sodium:
146
mg
|
Potassium:
134
mg
|
Fiber:
4
g
|
Sugar:
1
g
|
Vitamin A:
3680
IU
|
Vitamin C:
1
mg
|
Calcium:
48
mg
|
Iron:
1
mg