Keto White Chocolate Fudge made low carb, sugar free and dairy free!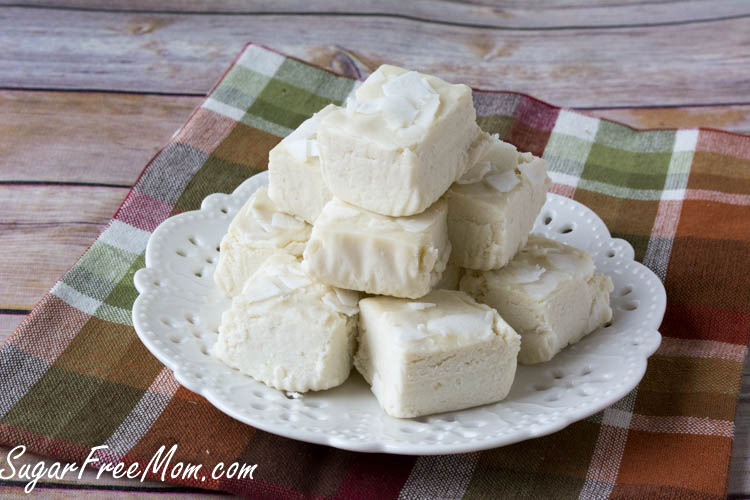 White Chocolate Fudge
White snow. Pretty, soft, clean.
I've been longing to see it yet it hasn't appeared this winter here in New England. We will get it soon enough I'm sure. When I haven't seen snow since last winter I miss it and can not wait to have it return just in time for a white Christmas.
Though as soon as the holidays are over and the New Year has begun I'm all set with it and wish it would go away. Unfortunately that doesn't happen until around March sometimes.
So I guess you could say this recipe came from the desire to see something beautifully white and clean. How did I end up with fudge? I've always wanted to work on a sugar free white chocolate fudge recipe. And recently I made a white chocolate candy bar that also had been on my foodie to do list for some time.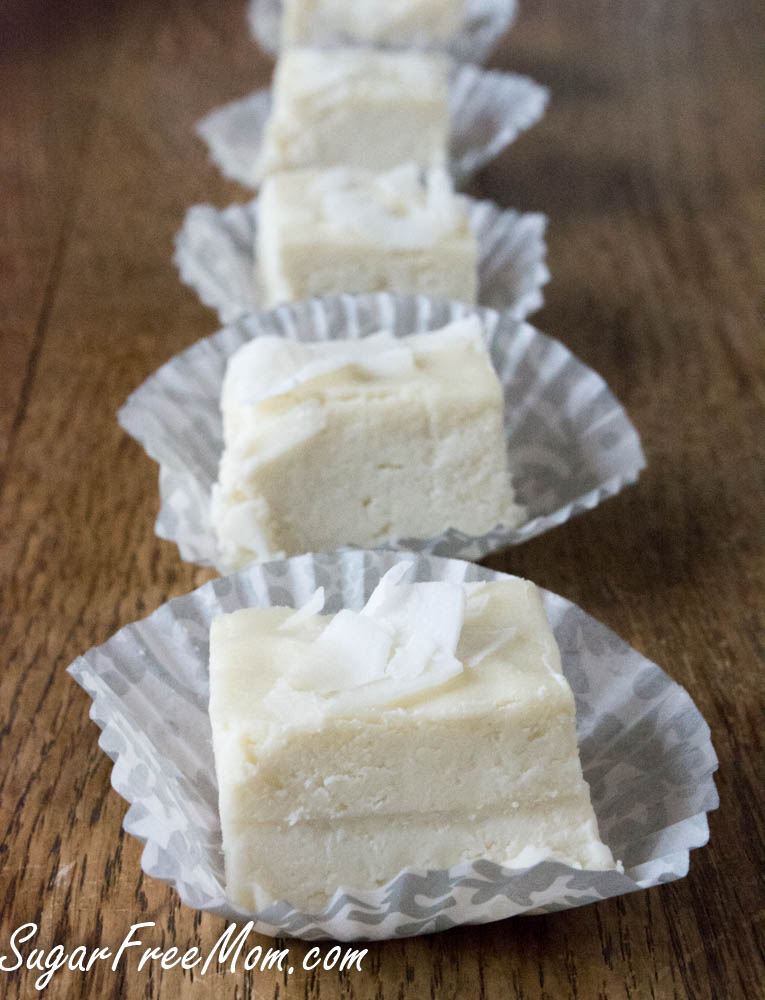 Low Carb White Chocolate
Making white chocolate sugar free was not easy and I attempted it quite a few times with failures before getting it just right. The same experience has resulted with this fudge. Using cacao butter can be difficult, at least for me it's been a challenge. Add something it doesn't like once melted and you've got an oily, uncooperative mess on your hands.
I've had to change around the amounts of coconut butter and cacao butter since my youngest really dislikes the flavor of coconut. The emphasis here is the white chocolate flavor and less coconut. So even if your not a fan of coconut like my little man you won't notice it much at all. The creamy, irresistibly soft texture will win you over in one bite!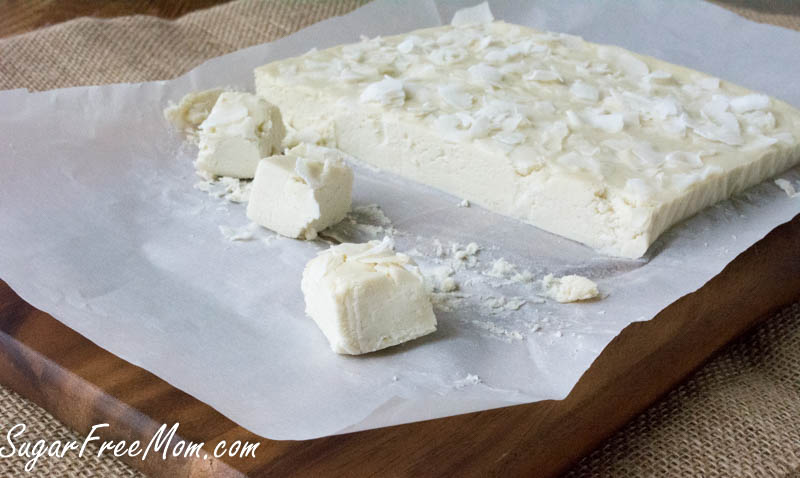 The third time I made it I thought it just melted in your mouth so beautifully that maybe the texture should be firmer. I remember exactly what my oldest teen said, "MOM stop! This is Perfect!"
The picky hubby was won over as well. He's pretty vocal about aftertastes and makes sure to let me know if he notices anything he doesn't like in my desserts. With this, he made sure to tell me there was no aftertaste with the stevia at all. Hallelujah!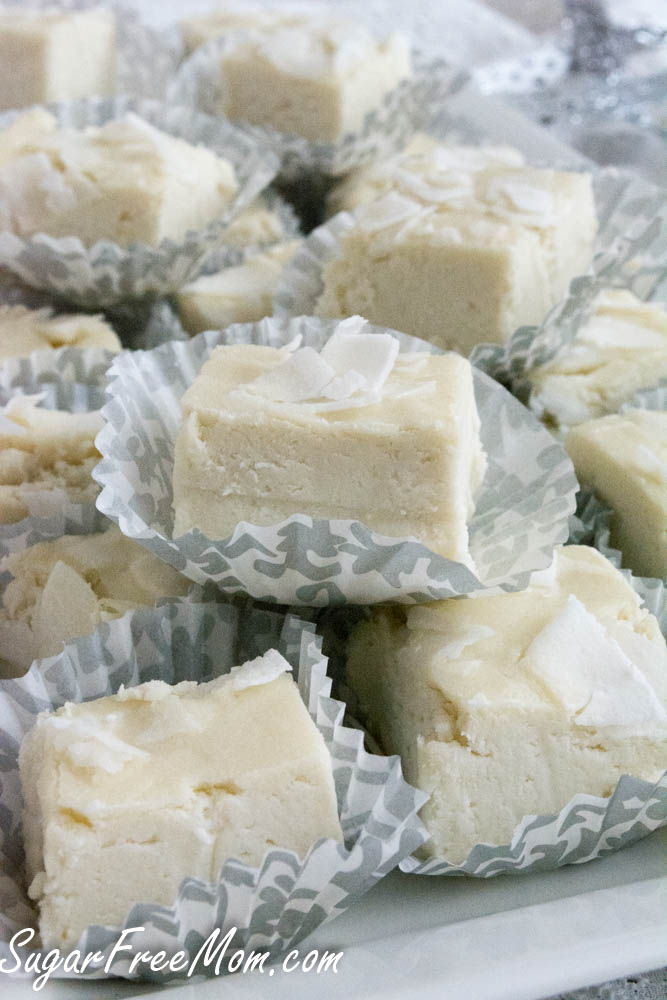 Pillows of white fluffy snow. That's what I see when I look at them. And I love them. You will love them too.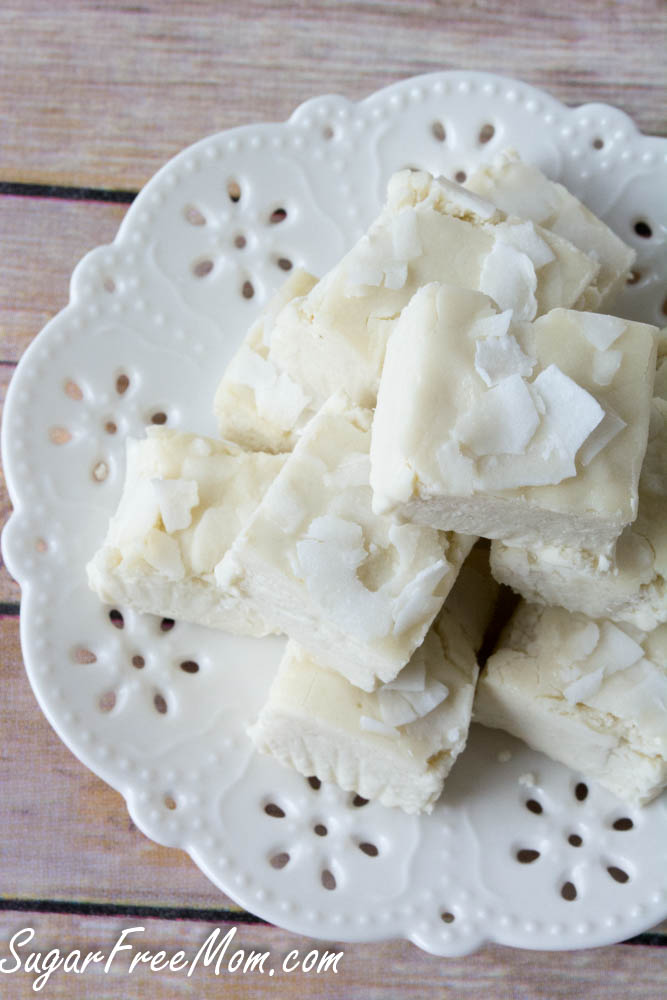 This recipe is perfection my friends. 🙂
P.E.R.F.E.C.T.I.O.N.
Other Fudge recipes you might like: Crock Pot Fudge, Crock Pot Peppermint Fudge, White Chocolate Peppermint Fudge, Maple Refrigerator Fudge, Peanut Butter Fudge and Salted Caramel Cashew Fudge.
Low Carb White Chocolate Fudge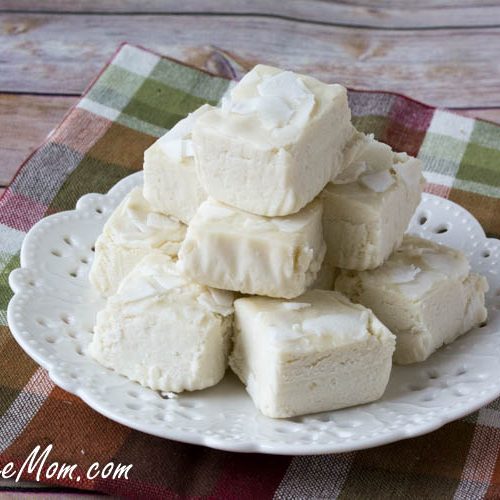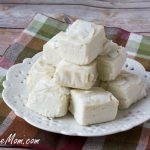 Print
Low Carb White Chocolate Coconut Fudge (paleo, keto)
Instructions
Melt the cacao butter in a sauce pan over low heat.

Stir in the coconut milk, coconut oil and coconut butter.

Continue to stir until completely smooth, no lumps.

Turn off heat and whisk is protein powder, vanilla extract , stevia and salt.

Pour mixture into a parchment lined 8 by 8 pan.

Sprinkle with coconut flakes if desired.

Refrigerate 4 hours or overnight.

Does not need to be kept refrigerated for storage.
Notes
Net Carbs per serving: 1g
Brenda's Notes:
This recipe was first published in December of 2014 and updated with video in Dec.2018.
I would not change a thing to this recipe. I would not substitute this recipe in any way. Why? Because it is absolutely perfect as it is. The only one thing I will say is, if you don't have coconut liquid stevia then use vanilla liquid stevia or plain.  I would not use powdered. I would not use Swerve here. This fudge is so completely smooth it melts in you mouth.
These can stay on the counter and will not get too soft. They were perfect. I've even frozen them and thawed them and they were still perfect.
Nutrition
Serving:
1
piece
|
Calories:
159
kcal
|
Carbohydrates:
2
g
|
Protein:
2
g
|
Fat:
16
g
|
Saturated Fat:
10
g
|
Monounsaturated Fat:
1
g
|
Sodium:
16
mg
|
Potassium:
32
mg
|
Fiber:
1
g
|
Vitamin C:
0.2
mg
|
Calcium:
2
mg
|
Iron:
0.2
mg