Pork piccata is a nice change from the typical chicken piccata recipe. This kale & lemon sauce is the freshest and lightest, but tastiest sauce I think I've ever made! You can certainly walk away from the dinner table feeling confident you've had a light, healthy, won't- weigh- you- down- type of meal.
The original recipe I found in Fitness magazine and it called for spinach. I had some chopped up kale in my fridge that I wanted to use before it went bad so kale was the perfect choice. You could certainly sub in spinach if you like it better.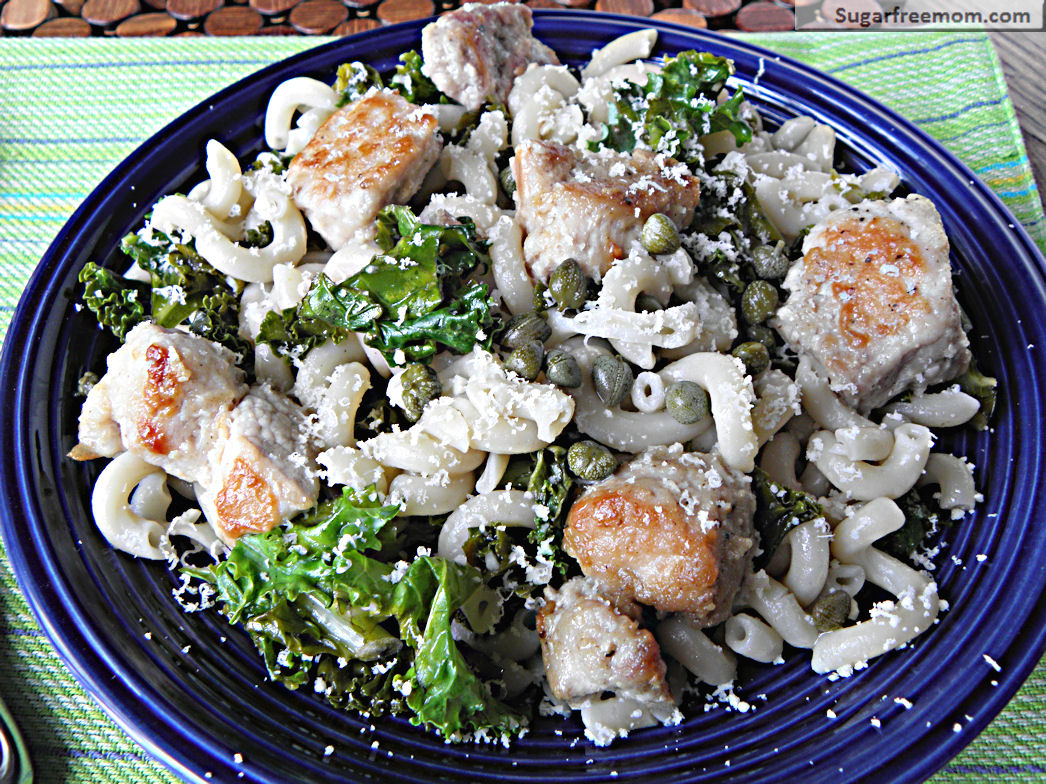 Mine is served over yummy brown rice spiral pasta, but of course use whatever pasta you like. Hubby and I are big fans of capers, but this dish can also still be fabulous with or without them. The lemon and kale sauce takes only a few minutes to cook up.Top with a little grated Parmesan and enjoy!
Now you've got another easy, no oven required meal for the summer!
adapted from fitnessmagazine.com/Feb.2012
Pork Piccata with Kale & Lemon Sauce
[sc:Ziplist]
Ingredients
1-½ pounds pork tenderloin
¼ cup oat flour
½ teaspoon salt
¼ teaspoon pepper
½ teaspoon garlic powder
2 tablespoons olive oil
Kale & Lemon Sauce
1 tablespoon olive oil
3 teaspoons minced garlic
½ cup white wine
8 cups fresh kale, chopped
Juice of 1 lemon & zest
5 teaspoons capers
½ teaspoon salt
Directions
Cut your pork into ½ inch slices. In a large bowl combine oat flour, salt, pepper and garlic powder. Mix well. Add the pork to the flour bowl and stir to coat the pork pieces. Heat your oil in a large skillet over medium high heat. Once hot add your pork and cook until golden brown, turn pieces over and continue to cook until lightly golden and cooked through. Set aside.
Heat another skillet, add oil and garlic and stir for about 20-30 seconds until the smell of the garlic is evident. Add wine and cook for about 3 minutes. Add kale and stir to coat with juices. Cook for 3-5 minutes until kale is wilted or tender to your liking. Turn heat off and add lemon juice, zest, capers and salt. Serve kale & lemon sauce over pasta or rice then add 4 ounces of pork over sauce. Sprinkle with grated Parmesan if desired.
Nutrition Info
Servings: 6* [4 ounces pork each] Calories: 291* Fat: 12g* Cholesterol: 73g* Sodium: 99mg* Carbs: 16g* Fiber: 2g* Sugars: 0g* Protein: 27g* Points+: 7*
Other Pork & Kale recipes you might like: