This Edible Eggless Cookie Dough Dip is Sugar Free, Low Carb and Keto!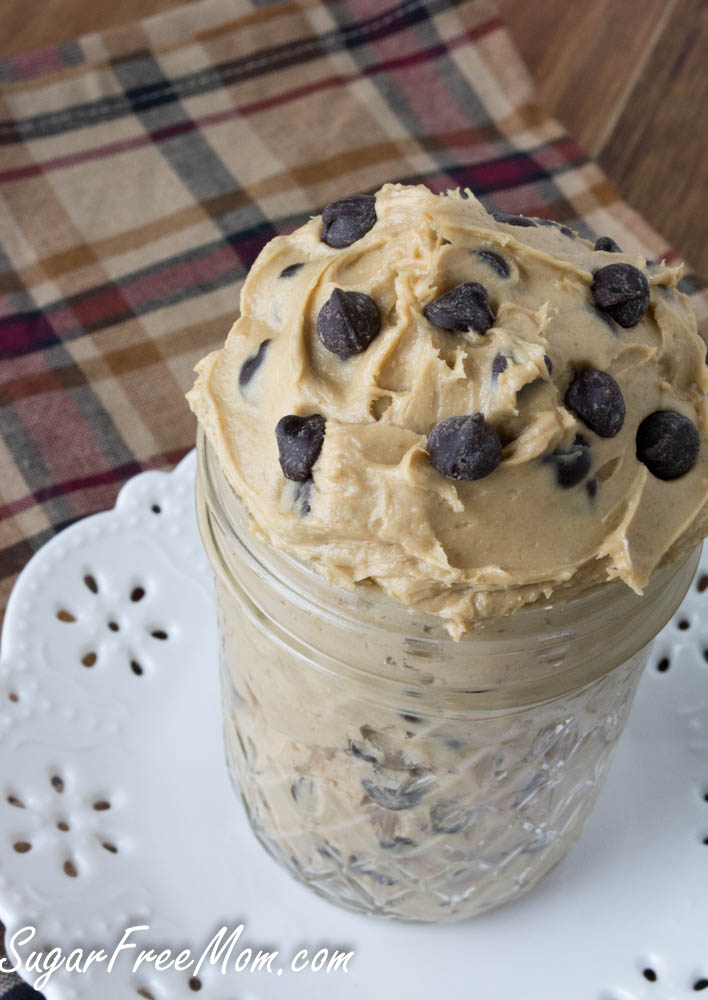 There's something about cookie dough that makes one drool. Is it the creamy texture? The raw and almost fudge like consistency? Or is it just that sinfulness of eating a bite when you know you probably shouldn't?
I'm not sure one can even answer that because it all comes down to the fact that raw cookie dough made with eggs can make anyone pretty sick.
Might not stop you from eating the batter or anything you are baking, but it certainly doesn't sound appetizing to me.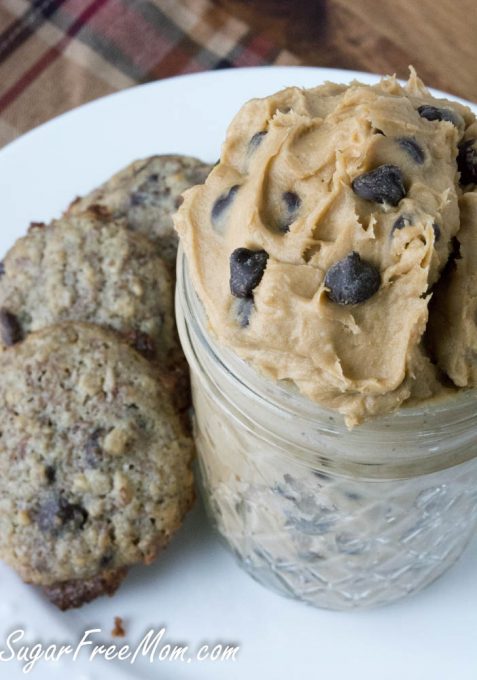 With the threat of salmonella from eating raw eggs, I'd rather avoid the possibility of it at all costs. I've got too much to do and can't get sick like that no matter how tempting raw cookie dough might be.
This recipe came to be because I was recently making a few batches of cookies!! I just posted them a few days ago, my Grain Free Chocolate Chip Cookies you see in the pictures here.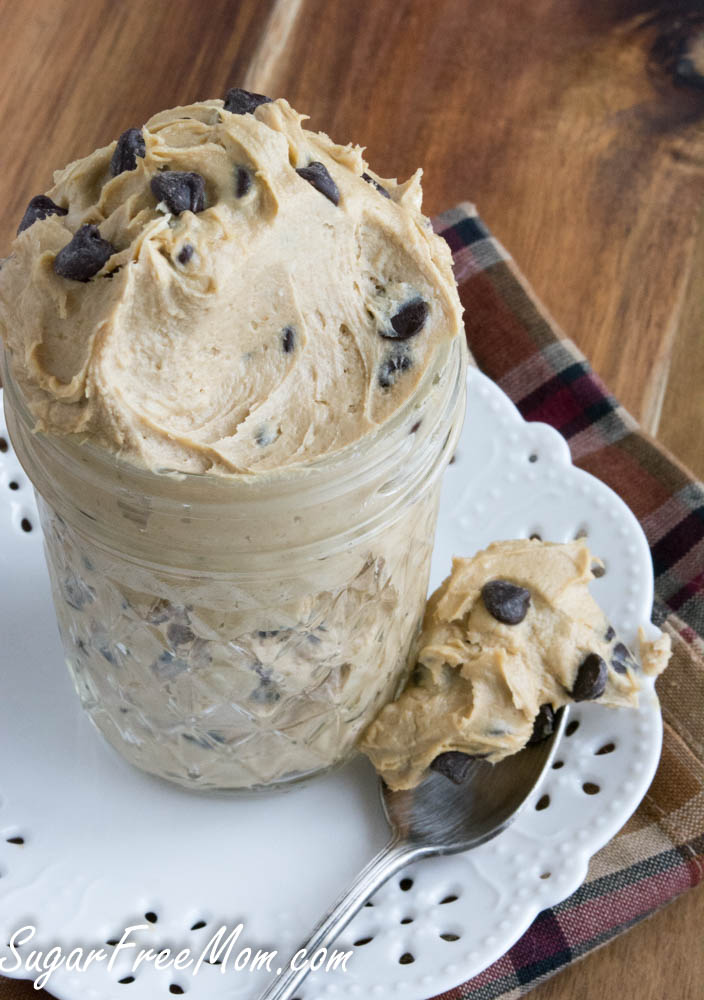 And they are so good and knowing how delicious that cookie batter is, I was tempted to eat just a little. So of course I had to create an edible version that wouldn't make anyone sick. Excluding the eggs all together for this dip version works beautifully and is everything it should be.
Creamy and smooth. Richly decadent. Sinful.
Well no it's not really sinful at all!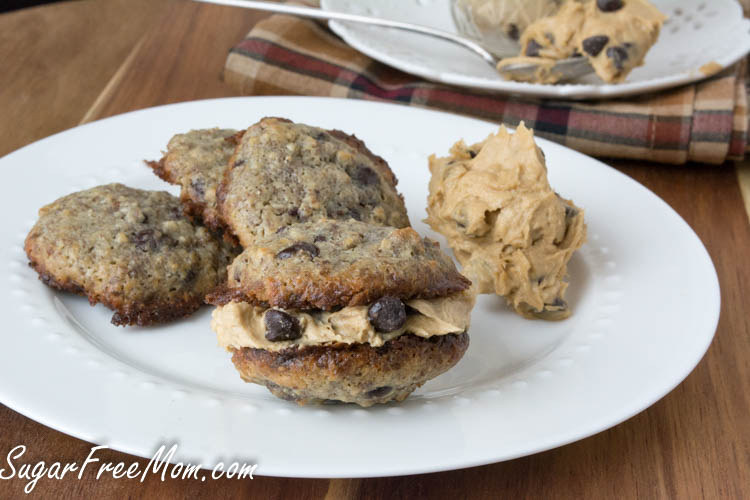 Not sinful at all. Not quite low in calories and fat, but low in carbs and no sugar is a pretty good deal better, than typical cookie dough in my humble opinion.
Anyway if you're a dip lover, I've got a bunch of yummy ones to choose from.
Strawberry Cheesecake Dip, Peanut Butter Dip, Cookies and Cream Dip!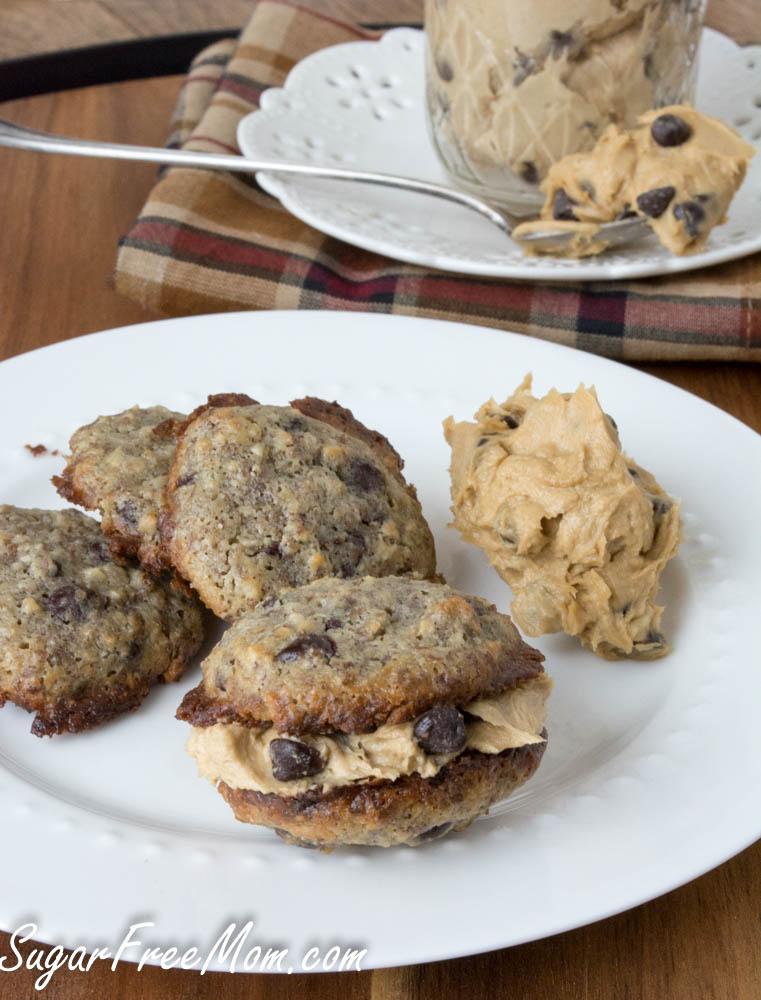 Brenda's Notes:
You'll notice in the video the color of the dip is lighter and in these pictures the color of the dip is darker. The choice or brand you use of the tahini or sunbutter you purchase will vary in color, some lighter and some are darker.
You can use any nut butter of choice you like in place of the tahini paste I used.
You can use whatever sweetener you prefer and the 1 teaspoon of vanilla stevia here makes this only slightly sweet. I would suggest starting out with a small amount of whatever sweetener you use then taste and adjust to your preference. You can always add more if needed.
Enjoy this dip with my Chocolate Chip Cookies or Vanilla Wafers!
This recipe was first published in March of 2015 and updated with a video Feb 2018.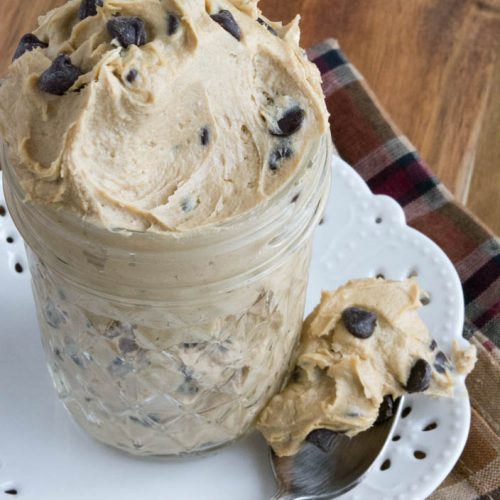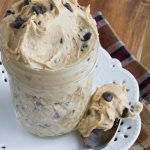 Print
Sugar-Free Cookie Dough Dip (Nut Free)
Instructions
Add the cream cheese to a stand mixer along with vanilla extract and add 1 teaspoon of Vanilla liquid stevia.

Blend until smooth. Blend in the tahini and salt until combined. Scrape down the sides of the mixing bowl and blend in the butter.

Taste and adjust stevia, if needed. Gently stir in the chocolate chips.

Makes 2 cups. Keep refrigerated. Serving size is 2 tbsp.
Nutrition
Serving:
2
tablespoon
|
Calories:
134
kcal
|
Carbohydrates:
1
g
|
Protein:
1
g
|
Fat:
13
g
|
Saturated Fat:
7
g
|
Cholesterol:
30
mg
|
Sodium:
170
mg
|
Potassium:
36
mg
|
Vitamin A:
370
IU
|
Vitamin C:
0.2
mg
|
Calcium:
21
mg
|
Iron:
0.2
mg