After reading the book,"Hungry for Change – Ditch the Diets, Conquer the Cravings, and Eat Your Way to Lifelong",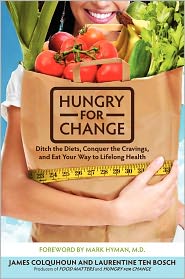 I knew I wanted to try a 3 Day Cleanse for myself. Seeing the Skinny Ms. site advertise the book and cleanse I was ready to give it a try. Since I already eat quite healthy, no refined flours or sugars, I didn't think I'd notice much difference in 3 days. How wrong I was! I am lactose intolerant, but do have some dairy. Removing all forms of dairy, removing animal protein except for egg whites in my smoothies and also removing certain carbs for the cleanse was just what I needed. I felt fantastic and a lot less bloated too and I didn't even remove the caffeine as suggested.
So this 3 day cleanse is simply an adaption from the book I read. It really helped clean my insides so to speak! If you are unsure as to why a cleanse is helpful to your body you can read this post by my friend, Dr. Heather Manley: Get Clean: How and Why to Cleanse. And if you like Dr.Oz, here's a link to his 3 day cleanse.
If you have been unable to kick the sugar habit, this cleanse will certainly kick start you into gear!
*This detox does not include added sweeteners (with the exception of stevia), caffeine, dairy, wheat or gluten, or animal protein (with the exception of egg whites and edamame).
Be sure to drink plenty of water while doing the detox. It's recommended to drink four 12 ounce glasses a day of either spring, filtered or distilled water.
Directions:
Use the breakfast smoothie recipes twice daily. Pick one meal for either lunch or dinner. Drink tea or water throughout the day. Choose up to 2 snacks a day. Continue for 3 days.
Wakeup Drink Recipe:
Breakfast Recipes: (choose one)

Lunch and/or Dinner Recipes: (choose one for each meal)
Snacks:
raw vegetables, an ounce of raw nuts, any of the smoothies above, vegetable soup
As with any change in diet, it is recommended that before beginning the cleanse & detox you check with your doctor. If you are allergic to any ingredients do not include them in your cleanse. You may use an alternative.
Disclaimer: The 3 Day Cleanse and Detox plan provided on this website is for informational purposes only and is not intended as a substitute for advice from a physician or other healthcare professional. The 3 Day Cleanse and Detox has not been officially evaluated by the Food and Drug Administration nor has the results of 3 Day Cleanse and Detox been established as medical fact.
Consult a physician regarding the applicability of the 3 Day Cleanse and Detox with respect to your individual health. If you are nursing or diabetic please consult your physician prior to starting any cleanse.
Sugar-Free Mom makes no warranties or representations regarding the results to be achieved from the 3 Day Cleanse and Detox, and results are likely to vary from participant to participant. Furthermore, SugarFreeMom.com disclaim any and all liability resulting from injuries or damage caused by following the 3 Day Cleanse & Detox.
I'm starting on Monday, Dec.3, 2012. If you would like to participate comment below with the date you are starting. Start anytime after today but before the week is over. Then we can come back here see how everyone did!
MY RESULTS 12-6-12:
I was pleasantly surprised and shocked my body didn't have a caffeine withdrawal from not having my usual 3 cups of coffee in a day. To be honest I thought I would be sluggish and extremely tired as well, I was NOT! In fact I even fell asleep each night without trouble (usually I need to take melatonin). I wasn't hungry during the cleanse and I certainly didn't crave anything in particular, (I think the lemon water/tea really helped with that), but by the 3rd day I really wanted some meat and potatoes, oh and some popcorn with the kids!I am definitely less bloated and my stomach is flatter which after 3 C-sections....ha! you get the point! I haven't weighed myself yet but I will later and check back and let you know. Also, I've had no stomach digestion issues either. Most likely it is from the small amount of dairy I like to have regularly...... ok ok more like daily and I'm dairy intolerant, shame on me.
I lost 2 pounds which is great since this wasn't about losing weight anyway. For me it is pretty awesome since I'm already at an average weight and I didn't starve myself in 3 days to lose 2 pounds.
Lesson of the Cleanse for me: Incorporating a green smoothie each morning started me on a healthy note, a good attitude, a lighter "skip in my step" as opposed to eating my usual oatmeal/eggs. I think I may have a green smoothie Mon-Fri and enjoy a regular breakfast on the weekends. I also realized if I want to fall asleep without trouble I must eliminate the coffee in the afternoon and have tea or decaf. I am hoping I can have just a morning coffee without wanting more. 🙂 As far as the food I eliminated, I know I can not be a vegetarian full time that is for sure, I want meat! BUT I think eliminating it once or twice a week is a great idea because I feel the all the veggies could do their job and release toxins in my body without having to digest animal protein. So for the next two days I am only having some meat at dinner and will continue with the green smoothies and soup/ salad at lunch until the weekend.
Please share your results or what you learned from doing this cleanse.