This Delicious Keto Low Carb, Nut Free, Brown Butter Pumpkin Bread is the perfect fall bread to enjoy with your coffee or tea !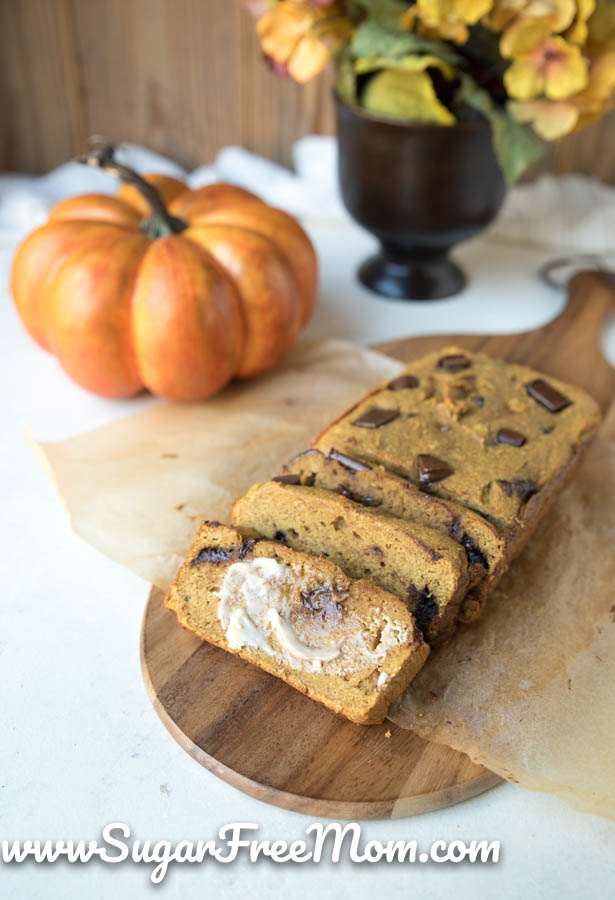 Keto Pumpkin Bread
When you have a fantastic keto bread that everyone loves, it's pretty easy to create other fabulous breads from that base. My Keto Nut Free Coconut Flour Bread is one of those breads that when viral quickly simply because it doesn't need any fancy ingredients and it's super simple with amazing results every time!
Adapting from that bread, I created my Keto Banana Bread that is in my new cookbook, Naturally Keto. I shared it with all of you on my blog as well because so many of you requested that adaptation. I knew I could adapt my bread to become a pumpkin bread but decided on a little twist. The browned butter makes this bread over the top amazing! Keeping it with my traditional coconut flour bread recipe, this Keto Brown Butter Pumpkin Bread is also simple to make, no difficult or hard to find ingredients and also nut free, gluten free, sugar free, and grain free!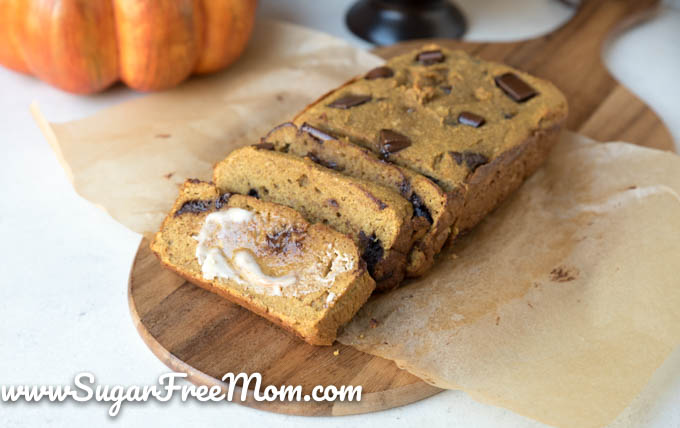 How To Brown Butter
Browning butter is a fabulous way to create a caramel flavor to your butter. It tastes a little sweet and savory at the same time and is just fantastic added to muffins, pancakes and of course breads! It's not difficult to brown butter, but you do need to be careful not to burn it. Using a light colored frying pan will help you better see the color the butter is turning. Before the butter starts browning, it will foam, continue to stir and you will start to see brown bits on the bottom of the pan. Once it's a toasty brown color, take it off the heat and continue to stir it for another minute then add it to you the batter you are working with. Allow it to cool before adding it hot right off the stove to anything that has raw eggs in it, otherwise they will cook with the heat from the butter.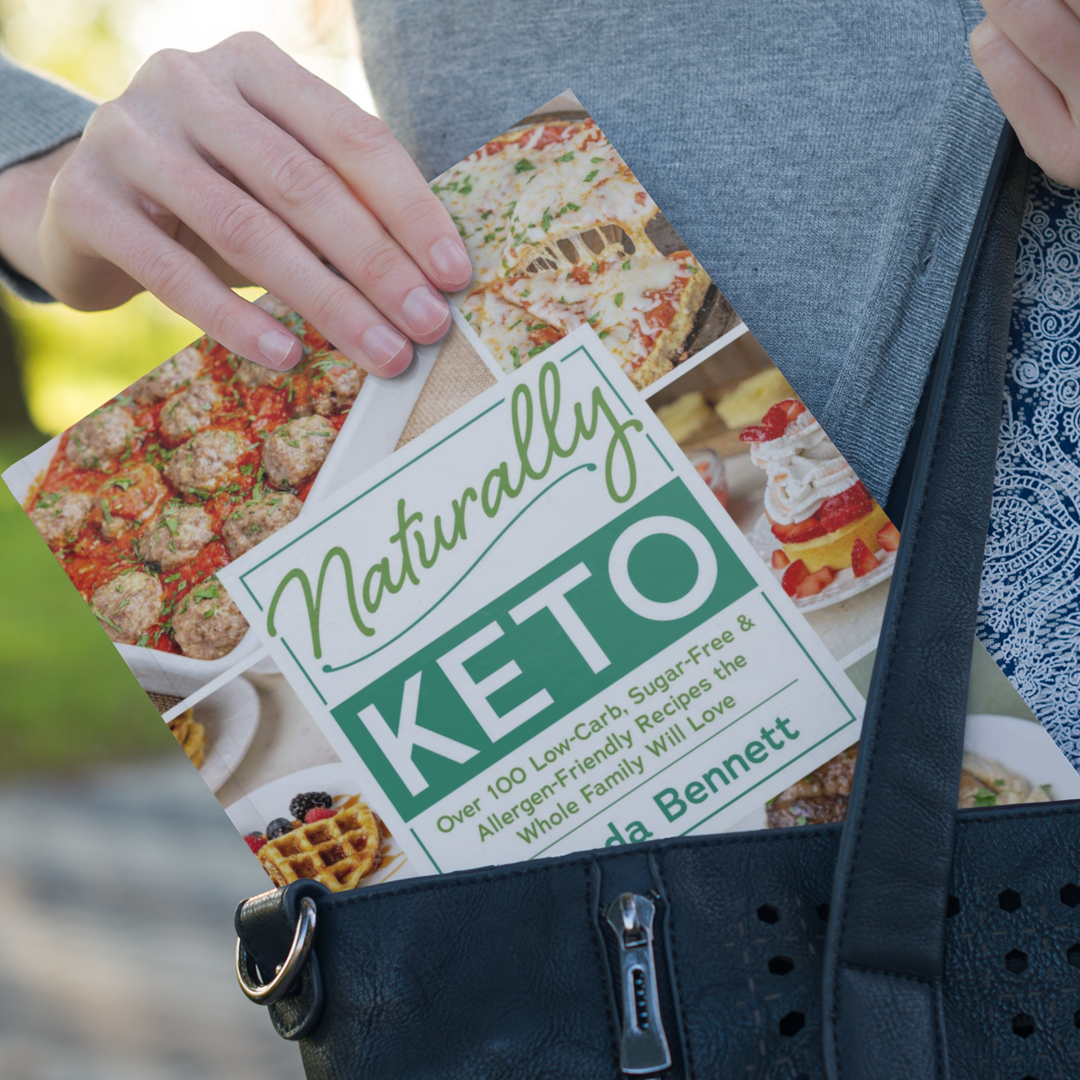 Naturally Keto
Did you know I wrote a cookbook? In case you've not heard, it is epic and it is available now for order! All my best work in one perfect book, full of luscious recipes the whole family will enjoy whether or not they are keto!
Even if you're not actually on a keto diet, you will love the recipes in this cookbook! Real meals for families, nothing too complicated and flavor filled and satisfying! I worked this past year to put together my very best recipes that my family and I absolutely love and request often, and now they are compiled all in one beautiful cookbook. And my favorite part, there are pictures for every single recipe! Not an easy task but I know how worth it is for even me, to be able to see a final product of a written recipe and I wanted to make that happen for this cookbook.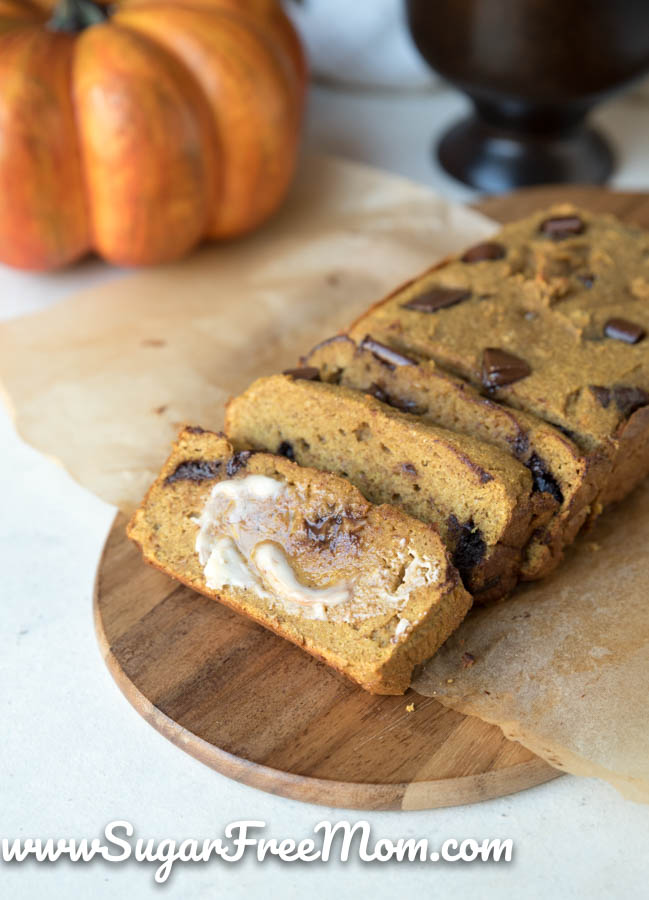 Other Pumpkin recipes you might like:
Keto Brown Butter Pumpkin Bread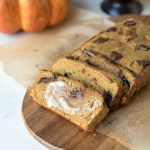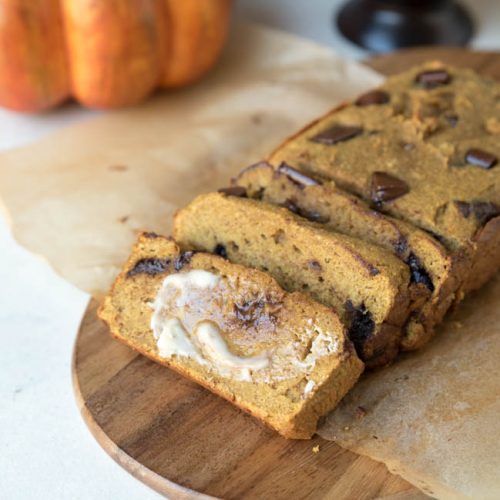 Print
Keto Brown Butter Pumpkin Bread
Instructions
 Preheat the oven to 350 degrees F.

Cut the butter into pieces and heat a light colored skillet over medium heat. As it melts, stir constantly. It will bubble and foam, keep stirring and it will start to brown.  

When it's a shade lighter than you think it should be, take it off the heat so it doesn't burn.

Pour this into a stand mixer with the pumpkin, coconut, flax, baking powder, salt, xanthan gum and Swerve. Mix until combined.

Add the almond milk to the pan you used for browning the butter.Scrape the bottom of the pan with a spoon as the milk is warming through from the hot pan.

Heat the milk for 1-2 minutes then pour into the stand mixer. Add in the pumpkin spice, pumpkin stevia, vanilla and maple extract.

Mix these ingredients on low speed, until smooth and combined.

Once combined well, add in 1 egg at a time. Stir in chocolate chips if desired.

Once combined pour the batter into a parchment lined 8 by 4 loaf pan.

Bake 40-45 minutes or until a toothpick in center comes out clean.

Allow to cool 15 minutes before removing to a wire rack.

Slice, toast and enjoy with butter!

Store wrapped in foil in the refrigerator up to 7 days or freeze up to a month.
Notes
Net Carbs 3g (does not include optional chocolate chips)
This recipe was originally shared as a bonus recipe only for those who pre-ordered my cookbook last October 2019. 
Nutrition
Serving:
1
slice
|
Calories:
128
kcal
|
Carbohydrates:
7
g
|
Protein:
5
g
|
Fat:
9
g
|
Saturated Fat:
5
g
|
Cholesterol:
94
mg
|
Sodium:
159
mg
|
Potassium:
177
mg
|
Fiber:
4
g
|
Sugar:
1
g
|
Vitamin A:
2167
IU
|
Vitamin C:
1
mg
|
Calcium:
81
mg
|
Iron:
1
mg