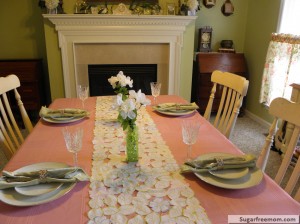 Good Morning! Happy Sunday! Here's our tentative weekly menu for the week ahead. It's a loose schedule, just some ideas of what I will try to cook for the family this week. Doesn't always happen the way it's planned due to children activities, busy schedules, unexpected things that pop up during the week but it's a plan right?
When things happen and I can't make the dinner I planned, I either switch it with something easier for one of the other nights or make a simple frittata which is my fall back plan and there's always grilled cheese or breakfast for dinner too. But frittata's seem to work since I always have eggs, milk, and cheese in the fridge. Another quick meal is quesadilla's. I usually always have some sort of fresh veggies in the fridge and cheese and tortilla wraps so even if they are just vegetable ones and no meat, it's better than grabbing junk food at the ball game or take out on the road, which we don't have the funds for with our family of five anyway. 🙂
Um....you'll notice a lot of chicken recipes this week....well you can blame that on the hubby who went shopping at Sam's Club and came home with a boat load of chicken breasts, on sale of course and he just can't help himself! Needless to say, I've got a lot of chicken to use up in the freezer, but thankfully I have a ton of chicken recipes that will provide variety!!
Have a great week!
Breakfasts
Homemade English Muffins (adapting this recipe)- for egg sandwiches
cereal, berries, yogurt-2x
Homemade donuts! (adapting from here)
Dinners
Tell me, what's your Go-To meal to fall back on when dinners planned don't happen?