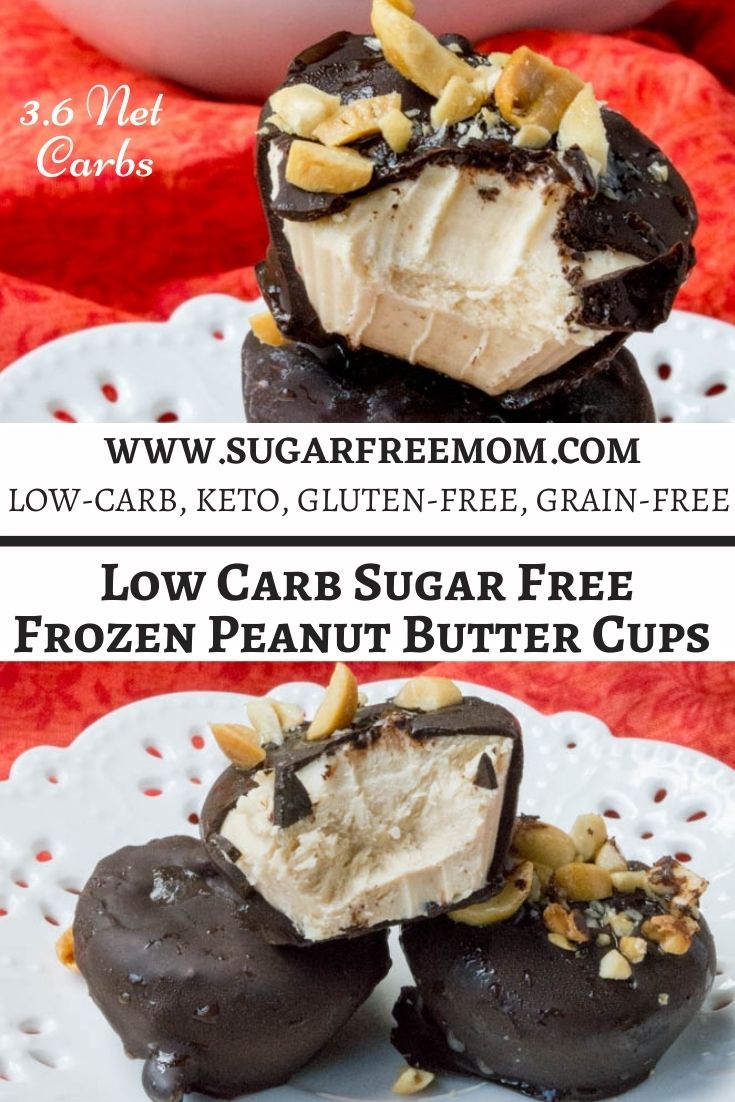 These Frozen Sugar-Free Peanut Butter Cups, or healthy fat bombs, are just as good as traditional Reese's peanut butter cups, only frozen is even better to curb that sweet tooth! Just 3.6 grams of net carbs or 4 total grams of carbs per serving.
Keto Peanut Butter Cup Recipe
These little creamy frozen peanut butter cups are what summer dreams are made of! It's the classic combination of chocolate and peanut butter that has a creamy peanut butter center covered in a smooth milk chocolate and is always a win in my opinion!
Made without added sugar, perfect for a low carb diet, keto diet and gluten free.
Pretty quick prep time with simple ingredients too! The hardest part is waiting for the ice cream to harden before coating them in chocolate and enjoying this sugar free sweet treat!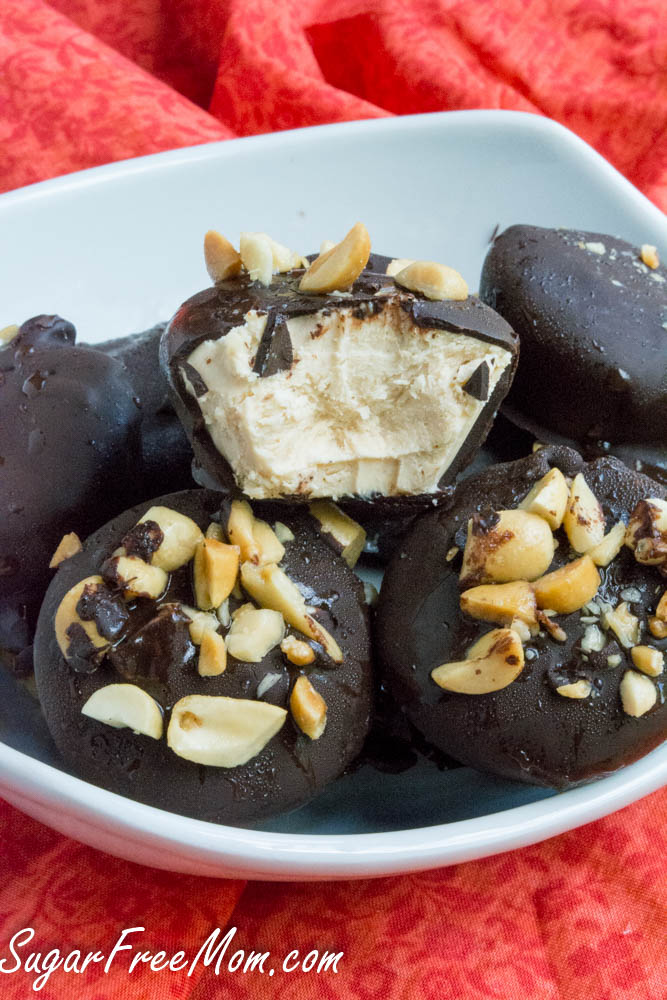 Homemade Peanut Butter Cups in Frozen Form
I'm always looking for easy recipes and favorite treats in the summer. You know the kind that give you the most bang for your buck in the kitchen. The ones that leave you feeling completely satisfied and pretty enough to serve to unexpected summer time guests.
This is one of those recipes to keep in your freezer at all times, especially if your a big fan of peanut butter cups!
Chocolate and peanut butter of course is a classic combo that never gets old. But adding in the frozen aspect and it's even more heavenly.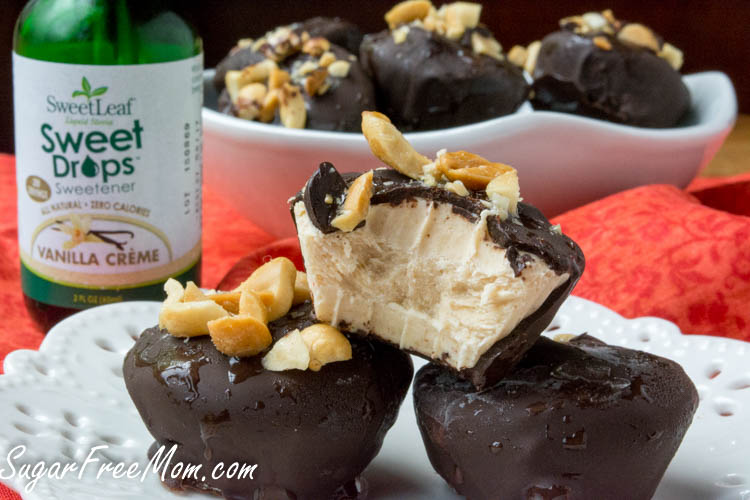 These little keto chocolate peanut butter cups didn't last long in my home at all. Within days my daughter, my hubby, my sister-in-law and I had eaten them all up. And I feel absolutely no guilt whatsoever!
Once you make these, you may never want a regular peanut butter cup again. Just Saying.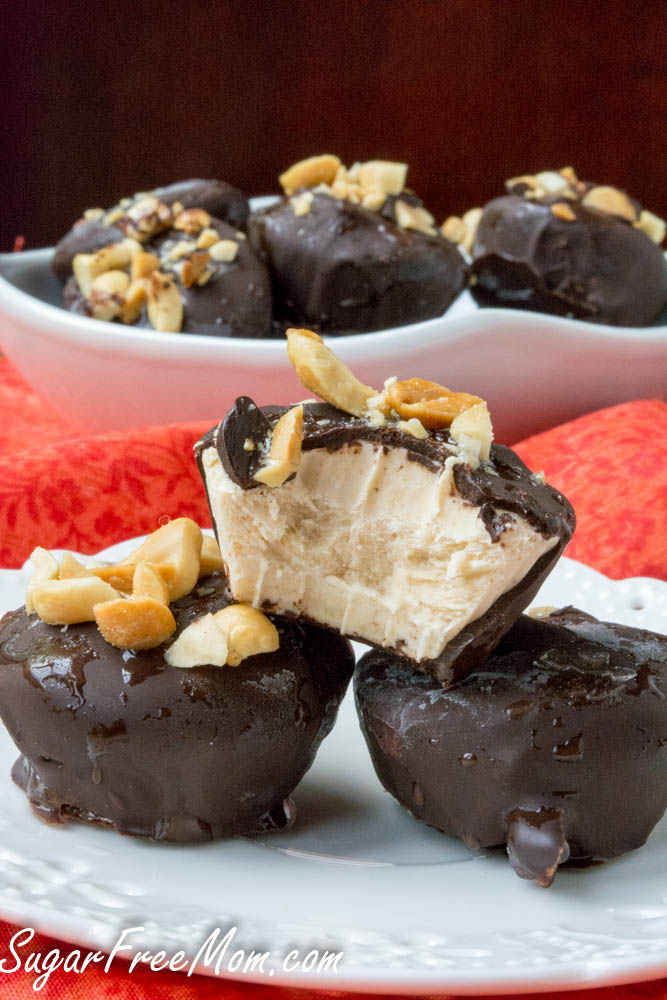 Low Carb Sweeteners
​I don't use artificial sweeteners in any of my recipes. I only use natural sugar free sweeteners like Allulose, Monk Fruit, Stevia and Erythritol.
Most artificial sweeteners like Sucralose, Aspartame, Splenda, etc will usually spike blood sugar studies show. Sugar alcohols like Xylitol, Maltitol and Sorbitol can cause digestive upset, like bloating and cramping and xylitol is deathly to dogs if ingested.
​I realize that many people find that natural sweeteners may have an after taste or artificial flavor, but once you've chosen the sweetener you like best, keep trying and your taste buds will eventually come to like low carb sweeteners.
​Powdered erythritol is the next best thing if you don't want to use the liquid stevia I used in this recipe, but really for best results, liquid stevia, liquid Monk Fruit or Allulose would be my recommendations for any kind of ice cream sugar free treat.
​Feel free to use my Sweetener Guide & Conversion chart to determine how much of another sweetener to use.
The best thing to perfect the sweetness level you want is to always taste before churning or freezing the peanut butter mixture.
You can always add more sweetener but you can't take it away if you add too much so be sure to start with a small amount.
Can I use Maple Syrup?
​You can use any sweetener you prefer since you can simply taste it and decide how much you like for your sweetness level.
Maple syrup is sugar, just like regular table sugar, though it is a more natural form of sugar, it is still sugar which means it will spike your blood glucose. If you're a diabetic, i would not recommend using maple syrup or honey or coconut sugar.
Stick to the low carb sweeteners mentioned above and you will keep your blood sugar balanced. When blood sugar is balanced and doesn't spike, you won't have sugar or carb cravings. When blood sugar is balanced, you will lose weight if you are eating a low carb or ketogenic diet.
​Everyone will need a different amount of carbohydrates to lose weight. Some will be able to enjoy more carbs then others who may have insulin resistance. It's always best to test your own blood sugar after enjoying any low carb dessert to see how it effects you.
Here's my video showing how easy these really are!
More Frozen Low-Carb Treats for Summer
​Chocolate Peanut Butter Fudge Pops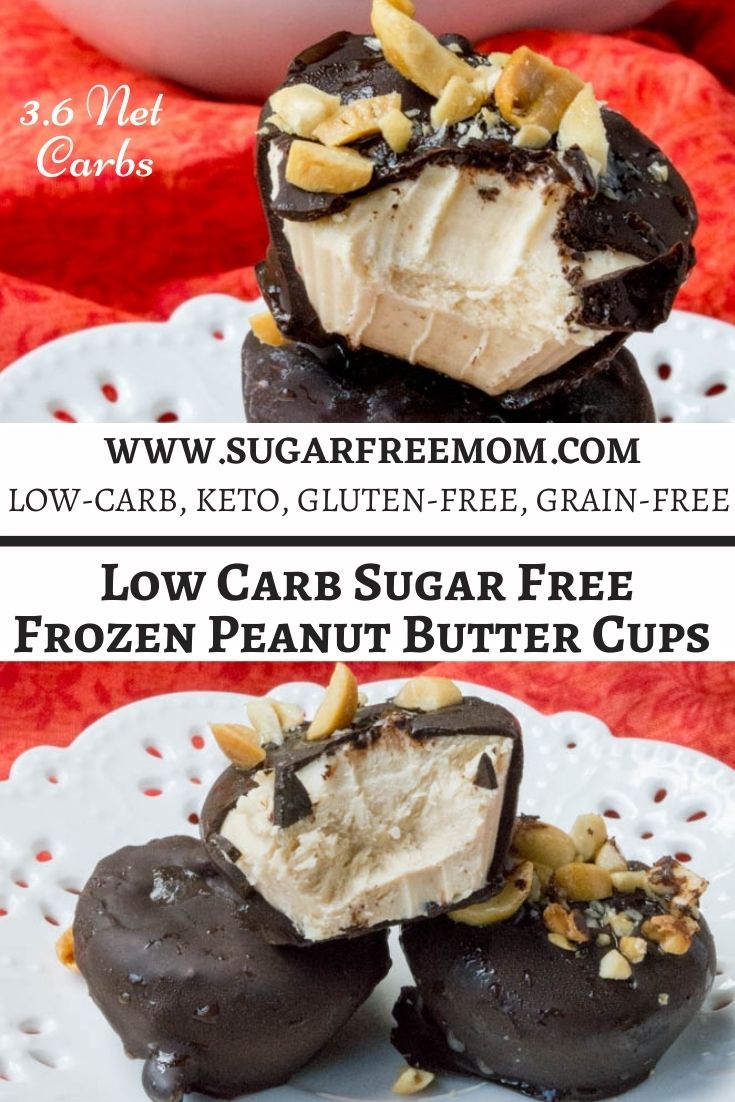 Frozen Keto Peanut Butter Cups Recipe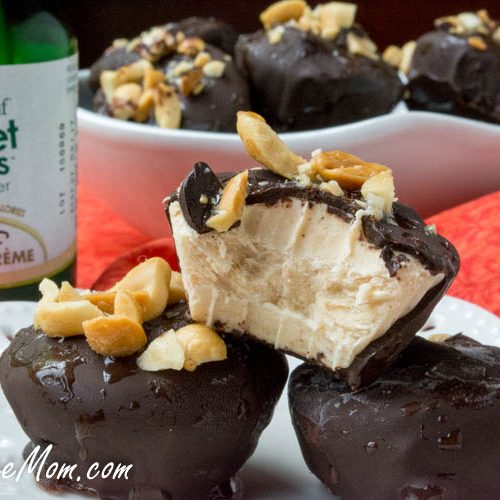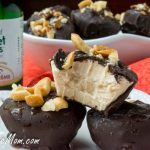 Print
Sugar Free Frozen Peanut Butter Cups
Instructions
In a stand mixer, blend all the ingredients——(except your favorite sugar-free chocolate chips and crushed peanuts)—together until thoroughly combined. Taste and adjust Stevia if needed.

Pour peanut butter filling into mini muffin cups lined with silicone liners or paper liner for easy removal. Freeze for 1 hour before coating with chocolate.

To make outer chocolate coating, simply melt chocolate using a double boiler method or melt in a microwaveable bowl, at 30-second intervals, stirring until smooth.

Remove frozen peanut butter mini cups out of the silicone molds and place onto a baking sheet pan lined with parchment paper. Dip one frozen peanut butter cup into melted chocolate at a time. Remove with a fork and tap excess chocolate on the side of the bowl.

If desired, immediately top each with crushed peanuts before the chocolate hardens. Continue with remaining melted chocolate and mini cups then return to the freezer for at least 30 minutes or until ready to serve. Allow about 5 minutes to come to room temperature to enjoy.

Storage; Store frozen healthy peanut butter cups in an airtight container or sealed container in the freezer for up to 6 months.

​Nutritional information below includes using the chocolate chips for coating these frozen Reese's cups, but does not include optional crushed peanuts.
Notes
Net Carbs: 3.6g
This recipe was first published in 2016.
Nutrition
Serving:
1
mini PB cup
|
Calories:
181
kcal
|
Carbohydrates:
4
g
|
Protein:
3
g
|
Fat:
17
g
|
Saturated Fat:
6
g
|
Polyunsaturated Fat:
0.2
g
|
Monounsaturated Fat:
1
g
|
Cholesterol:
11
mg
|
Sodium:
57
mg
|
Potassium:
15
mg
|
Fiber:
0.4
g
|
Sugar:
1
g
|
Vitamin A:
152
IU
|
Calcium:
11
mg
|
Iron:
0.01
mg