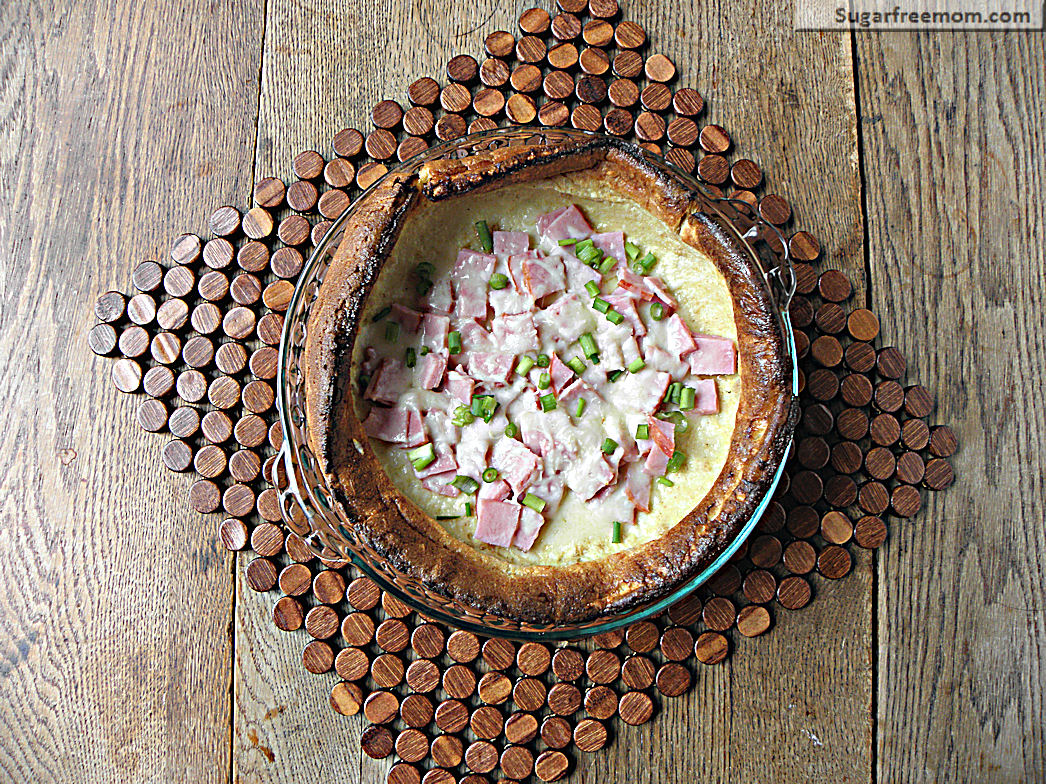 You've surely seen my original puff pancake recipe and all the variations of that with fruit, but this one is a bit different. Baked in the oven in 20 minutes then topped with ham and cheese for a few more minutes makes for a perfect weekend breakfast or even weeknight dinner!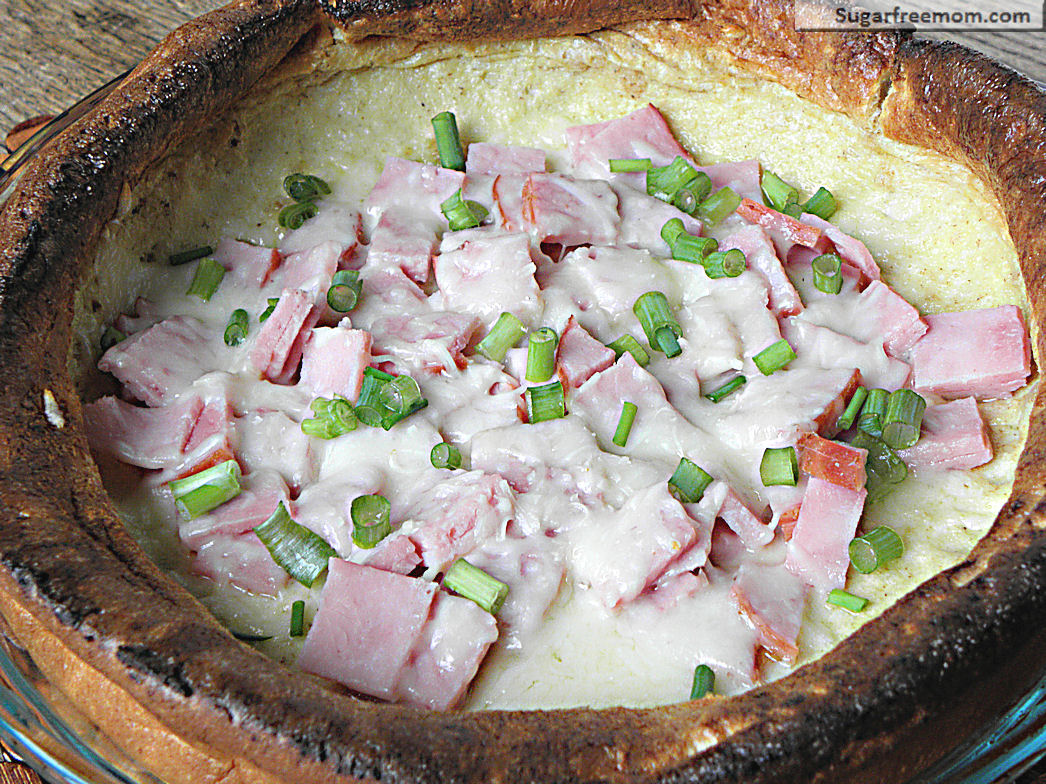 But I know what you're thinking here, that looks a little brown around the crust right? Maybe even kind of burnt? Yep it does. You can say it does, won't hurt my feelings. This is what NOT to do. Do not try to get in a shower while this yummy puff pancake is cooking for 20 minutes expecting your children or hubby to notice the beeping sound of the timer on the oven. 🙂 I still love them and they still devoured it anyway!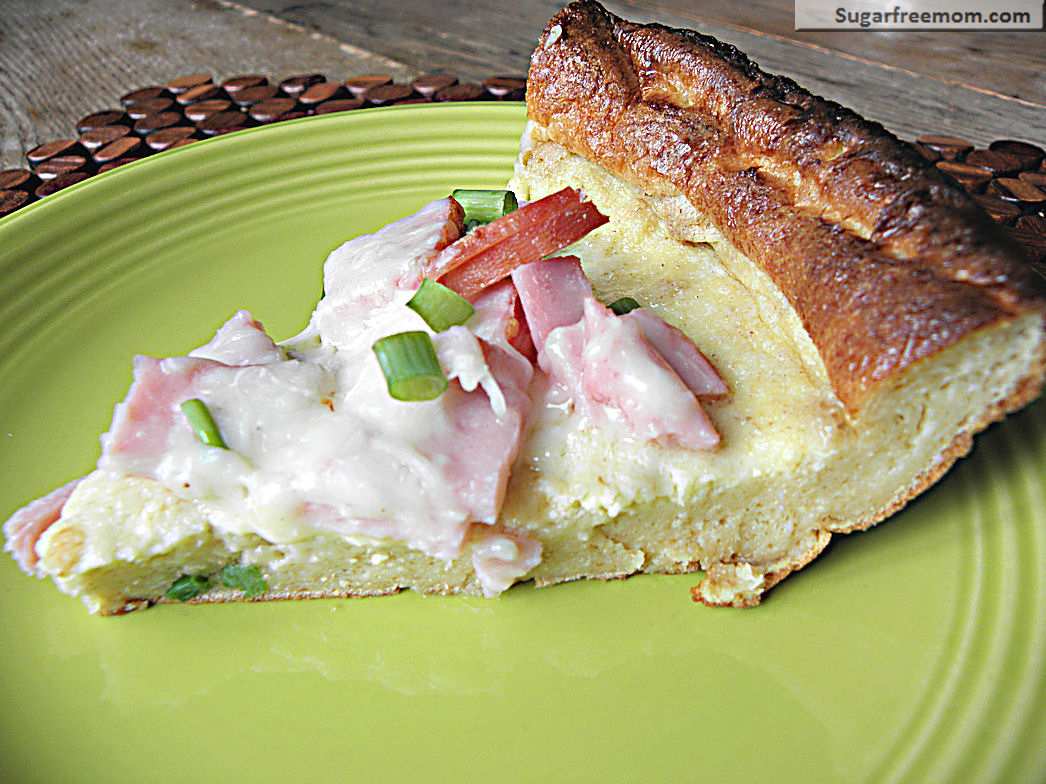 The hubby prefers this pancake over all the other fruity ones I've made. I still like my fruity ones, but this one is nice and filling.
Brenda's Notes:
If you want to change the flour choice, you can. If you want to change the milk choice, you can. This recipe is super adaptable and tastes fantastic with many substitutions I've tried. Enjoy!
You could also use gluten free flour instead of whole wheat and just add 1 teaspoon of baking powder.
You can also make this low carb by using almond flour instead and heavy cream instead of milk.
Ham & Cheese Whole Wheat Puff Pancake
Author:
Prep time:
Cook time:
Total time:
Ingredients
6 eggs
1 cup milk ( I used 1%)
1 cup white whole wheat flour
1 tablespoon butter
1 cup diced ham
½ cup shredded cheese, low fat ( I used Monterey)
optional: chopped scallions, honey
Instructions
Blend the eggs, milk and flour in your blender or whisk by hand.
Let it sit for 30 minutes at room temperature.
For maximum fluffiness, make the batter the night before and set in the fridge until ready to make then let it sit for the 30 minutes to come to room temperature. Preheat oven to 425 degrees and place the butter in your dish to melt while the oven is warming up. Watch carefully so the butter doesn't turn brown.
Pour the mixture into your dish.
Bake for 20 minutes or until edges are puffed and deep golden brown.
Sprinkle ham and cheese in center then return to oven for 3-4 minutes until cheese is melted.
Sprinkle with scallions and top with honey if desired.
Serving size:
⅛th
Calories:
190
Fat:
8g
Carbohydrates:
13g
Sugar:
1g
Sodium:
458mg
Fiber:
2g
Protein:
16g
Cholesterol:
185mg
Notes
Weight Watchers PointsPlus: 5*
Other Puff Pancake recipes you might like: